7.8
Asus ROG G15 2022
Like
Decent battery life
Solid performance
Feels sturdy despite a lot of plastic
Has gaming laptop style
Don't like
Performance drops a lot on battery
Subpar screen
No webcam
When thinking about buying a budget anything, the big question you need to ask is, "Where did they cut corners?"; followed by "Do I care which corners are lying on the floor?" A lot of models will cut memory down to 8GB; that's not a tradeoff you really want to make. Other common manufacturer concessions are the screen, build quality and RGB lighting (for gaming laptops). In the case of the Asus ROG Strix G15, the chosen slashes are on the screen and webcam. For the latter, you'd probably be better off buying a standalone over any Asus would have offered at this laptop's price, anyway. The screen's pretty meh, though.
Asus ROG Strix G15 (G513RC, 2022)
| | |
| --- | --- |
| Price as reviewed | $1,000 |
| Display | 15.6-inch 1,920 x 1,080 144Hz IPS |
| CPU | 3.2GHz AMD Ryzen 7 6800HS |
| Memory | 16GB DDR5-4800 |
| Graphics | 4GB Nvidia GeForce RTX 3050 |
| Storage | 512GB SSD |
| Ports | 2 x USB-C (1 x DP 1.4, PD) , 2 x USB-A 3.2, 1 x HDMI 2.0b, 1 x audio combo |
| Networking | Realtek Gaming 2.5GbE Ethernet, MediaTek Wi-Fi 6E MT7922, Bluetooth 5.3 |
| Operating system | Microsoft Windows 11 Home 22H2 |
| Weight | 4.6 lbs./2.1kg |
Those compromises allow Asus to barely squeeze the G15 under the $1,000 mark. Like many of its competitors, the line starts with a 512GB SSD and Nvidia GeForce RTX 3050 (a last-generation entry-level graphics chip), in addition to a solid AMD Ryzen 7 6800HS processor and 16GB RAM. It's not light at almost 5 pounds, but it's relatively thin.
If you do want to step up from this, it's a relatively big step — up to around $1,200 for a better screen and more storage. Whether that's worth another $200 is between you and your budget gods.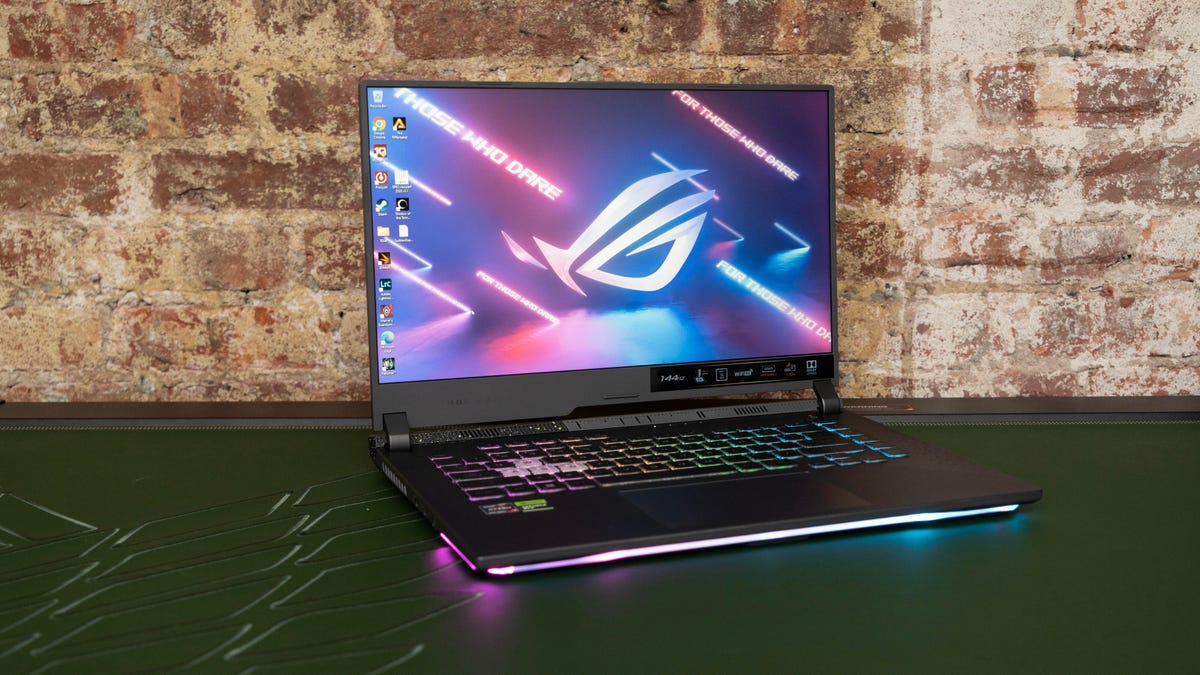 Lori Grunin/CNET
I hesitate to call the screen bad because, in the most basic sense, it does the job. It's surprisingly bright (measured at 333 nits) and displays a picture. Somehow it's got around 1,600:1 contrast (as tested), despite generally appearing washed out.
But the color gamut is about 66% sRGB as tested, which is sad in 2023, and people have noticed if customer reviews are to be believed. In addition to having color uniformity issues, notably having a green cast on the left side, my evaluation unit had noticeable bleed from the edge lighting and visible brightness uniformity issues. (All measurements are performed using the most recent version of Portrait Display's Calman Ultimate software using a Calibrite Display Plus HL. Read more about our monitor testing methodology.) This is not a system to buy for your creativity-on-a-budget needs.
It specs as 144Hz refresh rate, but it doesn't seem to have a pixel refresh speed to match — there's a lot of motion blur. Whether or not that's an issue for you depends on what games you like to play and how much you tend to notice. Of course, if you plan to connect an external monitor to the laptop, those problems may be moot, and the built-in screen should be fine for general productivity-type work.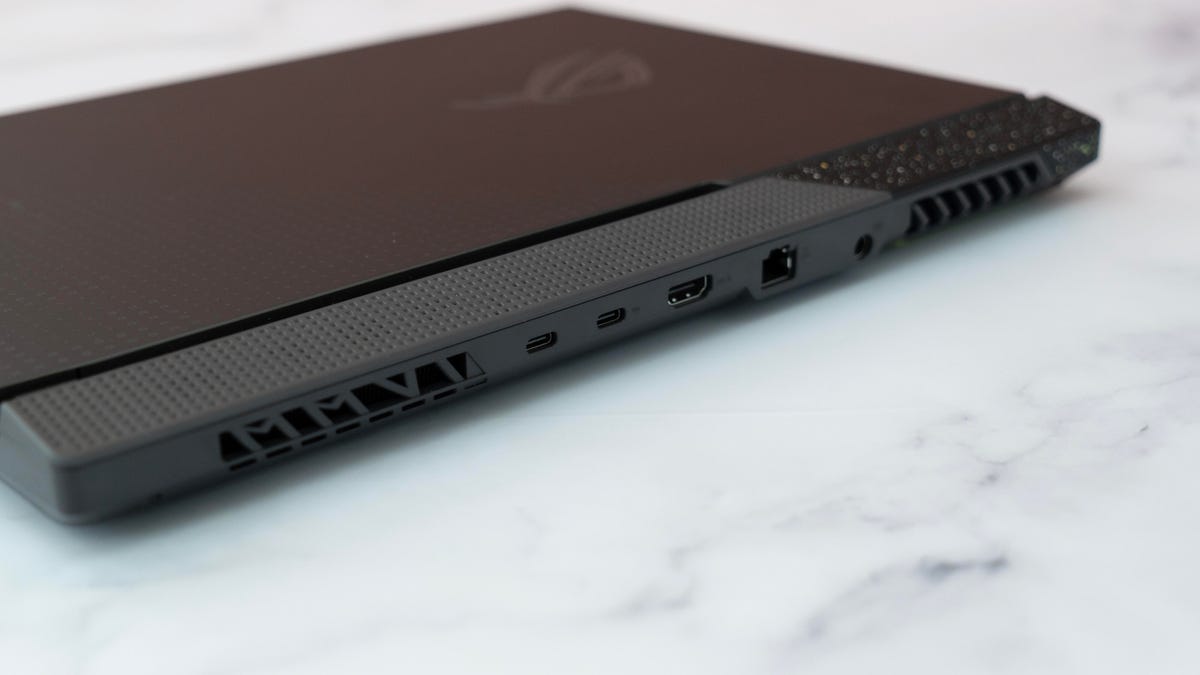 Two USB-C, one HDMI and an Ethernet port are on the back of the system.
Lori Grunin/CNET
The design is pretty nice, both aesthetically and functionally, and feels pretty well constructed despite having a lot of plastic. It uses a power brick — no USB-C charging, but that's pretty typical for the money — but the connector is in the back where it won't get in your way. Most of the connectors are on the back, with two USB-A on the left side: friendly for left-handers connecting a mouse or keyboard, but less great for righties.
There's per-key RGB lighting for the keyboard and underglow, and the keyboard isn't bad. You'd never mistake it for a mechanical and the keys are a little flat and slippery, but it otherwise feels OK, and has different keycaps specifically for WASD.
Asus squeezes as much performance out of the Ryzen CPU and RTX 3050 as it can; Asus usually does manage above-average performance with its gaming laptops. But you won't be able to play some AAA games, or some games well, because the 3050 is relatively low power and only has 4GB of VRAM (which can bottleneck operations that use it, such as retrieving textures). Still, it can be pretty nimble for fast but lightweight 2D games, like Hades and Fortnite.
And while it tested as having an above-average (for this class) seven-hour battery life, unplugged performance drops precipitously at those battery-saving settings: CPU performance dropped by almost half, which makes everything feel more sluggish.
The Asus ROG Strix G15's a pretty good choice if that's your budget cutoff, and definitely a better buy than cheaper models with lesser graphics and 8GB RAM. But if you're pickier you may not be able to get everything you want for that money.
Performance
Geekbench 5 (single core)
Dell G16 7620 1,739Dell G15 5520 1,695Acer Nitro 5 (AN515-58) 1,627Asus ROG Strix G15 (G513RC, 2022) 1,524HP Victus 15 (2023) 1,484Lenovo IdeaPad Gaming 3 1,426 Note: Longer bars indicate better performance
Cinebench R23 (multicore)
Dell G16 7620 17,942Asus ROG Strix G15 (G513RC, 2022) 14,096Dell G15 5520 13,694Acer Nitro 5 (AN515-58) 13,583Lenovo IdeaPad Gaming 3 10,192HP Victus 15 (2023) 9,718 Note: Longer bars indicate better performance
3DMark Time Spy
Dell G16 7620 9,326Acer Nitro 5 (AN515-58) 7,828Lenovo IdeaPad Gaming 3 5,607Asus ROG Strix G15 (G513RC, 2022) 5,566Dell G15 5520 5,520HP Victus 15 (2023) 3,654 Note: Longer bars indicate better performance
Guardians of the Galaxy (High @1920 x 1080)
Dell G16 7620 123Asus ROG Strix G15 (G513RC, 2022) 103Dell G15 5520 84Lenovo IdeaPad Gaming 3 76Acer Nitro 5 (AN515-58) 71HP Victus 15 (2023) 61 Note: Longer bars indicate better performance
Online video streaming battery drain test
Lenovo IdeaPad Gaming 3 488Asus ROG Strix G15 (G513RC, 2022) 438HP Victus 15 (2023) 377Dell G15 5520 307Dell G16 7620 287Acer Nitro 5 AN515-58 277 Note: Longer bars indicate better performance
System configurations
| | |
| --- | --- |
| Acer Nitro 5 AN515-58 | Microsoft Windows 11 Home; 2.5GHz Intel Core i5-12500H; 16GB DDR4 3,200MHz RAM; 6GB Nvidia GeForce RTX 3060; 512GB SSD |
| Asus ROG Strix G15 (G513RC, 2022) | Microsoft Windows 11 Home; 3.3GHz AMD Ryzen 7 6800HS; 16GB DDR5 4,800MHz RAM; 4GB Nvidia GeForce RTX 3050; 512GB SSD |
| Dell G15 5520 | Microsoft Windows 11 Home; 2.5GHz Intel Core i5-12500H; 8GB DDR5 4,800MHz RAM; 4GB Nvidia GeForce RTX 3050; 256GB SSD |
| Dell G16 7620 | Microsoft Windows 11 Home; 2.3GHz Intel Core i7-127000H; 16GB DDR5 4,800MHz RAM; 6GB Nvidia GeForce RTX 3060; 512GB SSD |
| HP Victus 15 (2023) | Microsoft Windows 11 Home; 2GHz Intel Core i5-12450H; 8GB DDR4 3,200MHz RAM; 4GB Nvidia GeForce GTX 1650; 512GB SSD |
| Lenovo IdeaPad Gaming 3 | Microsoft Windows 11 Home; 3.3GHz AMD Ryzen 5 6600H; 8GB DDR5 4,800MHz RAM; 4GB Nvidia GeForce RTX 3050; 256GB SSD |