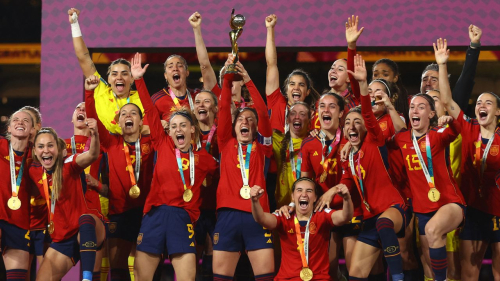 Spain won the Women's World Cup for the first time last month. Carl Recine/Reuters CNN —
The thrill of making history isn't supposed to sour. It is the moment, the magnificent, once-in-a-lifetime feat, that should be the cause of time standing still; cameras panning in slow motion to the overachievers lifting the prize won, ticker tape falling like magic from the sky, extraordinary talent overshadowing everything else. But that is not the world in which we live.
Spain won the Women's World Cup for the first time last month yet, just two weeks on, no one is talking about the success.
The team, talented but young, wasn't supposed to challenge the sport's heavyweights, mainly because many of the country's best players had stayed at home having a year earlier refused to play for their country until standards improved within the national team.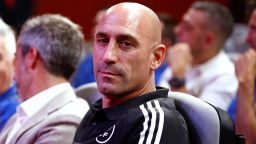 LAS ROZAS, SPAIN – JUNE 12: Luis Rubiales, President of RFEF, is seen during the press conference of Jorge Vilda to announce the squad for the FIFA Women's World Cup at Ciudad del Futbol on June 12, 2023, in Las Rozas, Madrid, Spain. (Photo By Oscar J. Barroso/Europa Press via Getty Images) Europa Press Sports/Europa Press/Getty Images
Even immediately after victory, thoughts strayed to those players who missed out. But this was time for unbridled celebrations for an in-spite-of-it-all triumph. Yet, it was all too short lived.
In that intoxicating, finite pocket of time, Spain's players had the freedom to lose themselves in the victory of their lives. Until the medal ceremony, at least. Then came the kiss, the moment which has eclipsed and become the moment, casting a shadow on soccer and Spanish society, capturing the attention of the world and putting a spotlight on consent, power and entitlement.
Yet, in searching for some light in the darkness, Spain's women now have the world's attention. Because of what happened, and where it happened, their voices are louder now than last September when 15 players wrote to the Spanish soccer federation demanding wholesale changes throughout the coaching staff.
They are being heard; written about, spoken about, thanked by the country's Prime Minister. "The Spain that is coming is feminist. Whether you like it or not," he posted on social media on Saturday. "Make this a turning point," said a social media post from the United Nation's Human Rights office earlier in the week.
Female players past and present are being listened to. The decades-long battle for equality in women's soccer, and society, has a way to go but nothing changes in silence. When there is debate, when there is outrage, there is chance of progress. The fight has more allies, it may have become a little easier.
But before a global audience, a powerful man behaved inappropriately and yet remains in post. For all the discussions, for all the ever-changing developments, the eye of this storm will not pass because one thing has remained a constant: Spain soccer chief Luis Rubiales' refusal to yield.
A lot has happened in the two weeks since Spain beat England under the lights in Sydney. When will it end? Where to begin? To start at the beginning, to when Rubiales placed both his hands on star player Jenni Hermoso's head and kissed her on the lips after she had collected her winners' medal? Or, to fast-forward to the fact that the world champions are set to play later this month but have no players of note willing to wear the national team's colors?
Pictures and footage of Rubiales kissing Hermoso have now been seen by millions, broadcast on news bulletins around the world; creating headlines, sparking protests.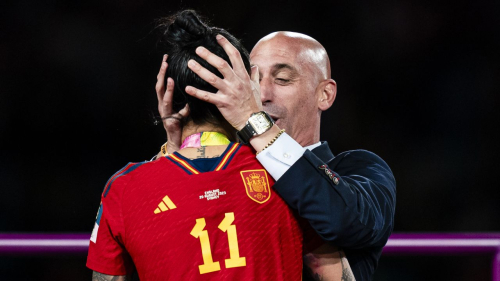 Luis Rubiales (R) pictured kissing Jenni Hermoso after the Women's World Cup final. Noemi Llamas/Eurasia Sport Images/Getty Images
There was an admission from Rubiales a day after the final that he had erred, and again on Friday he said he had made "some obvious mistakes" to bookend last week's defiant 30-minute speech where, despite expectations, he repeatedly refused to resign and was applauded by some in the audience.
The kiss, he says, was consensual, a claim Hermoso firmly rejects, with the player calling it an "impulse-driven, sexist, out of place act without any consent on my part."
It is a story which has had daily, sometimes hourly, developments. Since Rubiales' speech last week FIFA, soccer's global governing body, has suspended the 46-year-old from participating in football-related activities for 90 days, a decision announced less than 24 hours after the Royal Spanish Football Federation (RFEF) threatened legal action against Hermoso and others, escalating the crisis and turning it into a PR disaster for the federation.
Over the course of a weekend, Spain's Women's World Cup-winning team refused to play for the national team until Rubiales is removed, and 11 members of the Spanish national women's soccer program jointly announced their resignations.
There have also been elements of the surreal – this week Rubiales' mother went on hunger strike to support her son and was briefly hospitalized. But beyond the headlines, this is a story which symbolizes the problems within women's soccer and society, of women not being respected or listened to.
"We all want the same thing, right? That there is respect towards our profession, the same that there's been during years, and still is, for the men's side," Spain's two-time Ballon d'Or Winner Alexia Putellas said in a television interview with TUDN.
The Spanish government is attempting to remove Rubiales, all 19 of the Spanish federation's regional presidents have called for him to resign, yet he has not done so.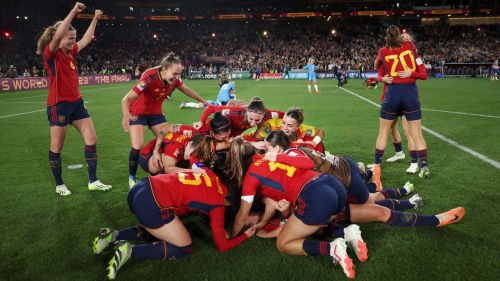 Spain players celebrate after beating England. Maddie Meyer/FIFA/Getty Images
The athletes – the world champions – meanwhile have had their achievements overshadowed, washed over by a current of controversy which has not been of their making.
"We just won the World Cup but nobody is talking about that much because things have happened I wished hadn't," Aitana Bonmatí said after being named UEFA Women's Player of the Year.
It was on August 20 that Spain beat England 1-0 to bring a World Cup which had set new records for global viewing figures to a conclusion, showcasing the best of a sport which has succeeded despite entrenched obstacles rooted in sexism, inequality and a lack of opportunities in this male-dominated game.
Competing in the final were two countries which had once banned women from playing soccer. In Sydney that Sunday night, first-time finalists England and Spain symbolized not only a shifting of the world order within women's soccer, but also that the world had changed for the better.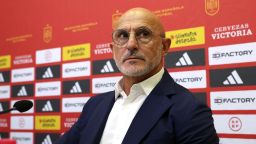 Spain's coach Luis de la Fuente holds a press conference to announce the list of summoned players ahead of the EURO 2024 qualifying football matches against Georgia and Cyprus, at the Ciudad del Futbol training facilities in Las Rozas de Madrid on September 1, 2023. Spain coach Luis de la Fuente apologised today for applauding football federation president Luis Rubiales' speech last week in which he said he would not resign, after his forcible kiss on the lips of Women's World Cup star Jenni Hermoso. (Photo by Pierre-Philippe MARCOU / AFP) (Photo by PIERRE-PHILIPPE MARCOU/AFP via Getty Images) Pierre-Philippe Marcou/AFP/Getty Images
But those seconds on the presentation podium was a reminder, if it were needed, that there is much which hasn't changed. Problems exist, even when they cannot be seen, even if they are not mentioned in national newspapers or make international news.
There are plenty of battles ongoing around the world within the women's game. After failing to agree with Spain's women's league, Liga F, on better conditions and pay, unions representing players called for a strike on Friday during the first two fixtures of the season.
Rubiales' removal or resignation would not solve all the problems female players face, yet there is a positive at least from the solidarity which has been on show these last few weeks.
"Football must respond and rise to this critical moment, not only in Spain, but around the world," was the message posted by global players' union FIFPRO on its social media accounts on Saturday.
Last weekend several soccer teams showed their support for Hermoso, some by wearing wristbands or unfurling banners. Even Jorge Vilda, Spain's head coach whose own position is reportedly under threat, condemned Rubiales' behavior. As each day passes, Rubiales looks an increasingly isolated figure.
England women's head coach Sarina Wiegman dedicated her UEFA Women's Coach of the Year award to the Spanish national team. "We all know the issues around the Spanish team and it really hurts me as a coach, as a mother of two daughters, as a wife and as a human being," Wiegman said.
"It's over," said World Cup winner Putellas in response to Rubiales' speech last week. It may also be a new beginning.