close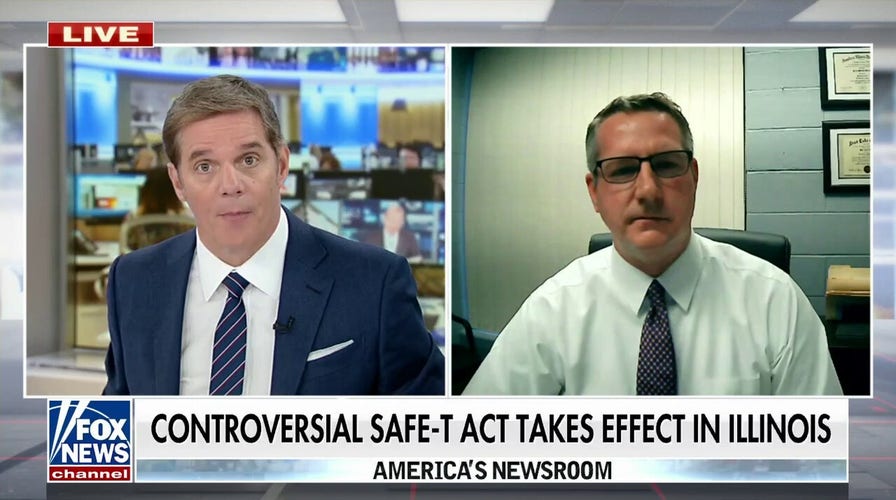 Video
Illinois sheriff warns SAFE-T Act is 'very concerning' for law enforcement
Franklin County, Illinois Sheriff Kyle Bacon explains the possible impacts of the controversial SAFE-T Act that recently took effect in his state.
An anonymous person reportedly affiliated with Antifa has claimed responsibility for a recent fire at a bank in Portland, Oregon, as retaliation for the recent arrests of five alleged domestic terrorists in Atlanta.
A two-alarm fire broke out at the Bank of America branch on Southeast 37th Avenue and Southeast Hawthorne Boulevard in southeast Portland at 3:15 a.m. on Dec. 31, according to local KGW8.
No injuries were reported at the scene and the Portland Fire Investigations Unit is still investigating the cause of the fire, but Portland police confirmed that it is being investigated as arson, according to the outlet.
An anonymous person with apparent ties to Antifa subsequently assumed responsibility for the incident, as reported by journalist Andy Ngo.
"Last night I broke into a Bank of America in Portland, Oregon and started a large fire. According to news reports, the fire grew quickly and took firefighters more than an hour to extinguish," read the individual's statement, which was posted to the blog Abolition Media.
5 LEFTIST GEORGIA PROTESTERS CHARGED WITH DOMESTIC TERRORISM AFTER ATTACKING POLICE AT 'COP CITY' SITE
"I attack for revenge against capital for the hell it creates, to break the illusion of police control that usually protects it, and just because I can," the statement continued.
"Bank of America funds the Atlanta Police Foundation and a thousand other projects of control. Earlier that day, the six friends in Atlanta charged with 'domestic terrorism' were released from jail. May this fire bring them some warmth in winter," the post added.
'DEFUND THE POLICE' AFTERMATH CREATED 'RIPPLE EFFECT' THAT ENDANGERS EVERYONE, LAW ENFORCEMENT SOURCE SAYS
"Long live anarchy!" the post concluded.
The Portland Police Bureau told Fox News Digital that investigators "are considering any and all potential evidence as they pursue the suspect or suspects in the recent bank arson that caused significant damage to the building."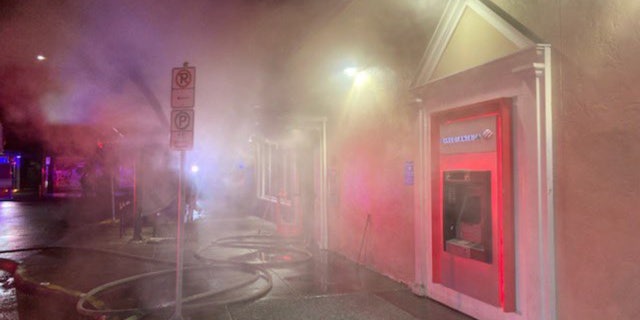 A two-alarm fire broke out at the Bank of America branch on Southeast 37th Avenue and Southeast Hawthorne Boulevard in southeast Portland at 3:15 a.m. on Dec. 31.
(Portland Fire & Rescue)
The post on Abolition Media noted the anonymous communiqué was first posted on "Scenes from the Atlanta Forest," a blog referring to left-wing resistance against the future site of a police training center in the woods outside Atlanta.
DEMOCRAT-RUN TOURIST TOWN IN NORTH CAROLINA SEES VIOLENT CRIME SPIKE AS POLICE DWINDLE: 'PERFECT STORM'
The Georgia Bureau of Investigation (GBI) conducted a raid on Dec. 13 at a location referred to as the Autonomous Zone near the forested location of the future Atlanta Public Safety Training Center.
The location had been occupied by far-left extremists who had traveled from other parts of the country in an attempt to prevent the construction of the facility.
Serena Hertel, left, and Francis Carroll.
(Dekalb County Sheriff's Office)
Five individuals were arrested at a protest at the location after protesters threw rocks at police cars and attacked EMT workers with rocks and bottles at a fire station near the site, according to a Dec. 14 press release from the GBI.
The GBI reported that during the raid they discovered explosive devices and gasoline.
CLICK HERE TO GET THE FOX NEWS APP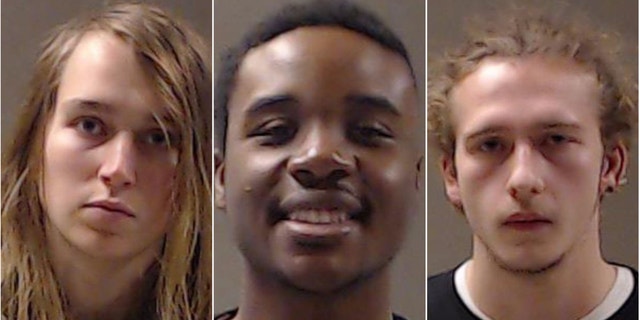 From left: Nicholas Olson, Arieon Robinson and Leonardo Vioselle.
(DeKalb County Sheriff's Office)
Serena Abby Hertel, 25, Leonard Voiselle, 20, Nicholas Dean Olson, 25, Francis M. Carroll, 22, and Arieon Robinson, 21, were arrested and charged with domestic terrorism and other offenses.
Fox News' Andrew Mark Miller contributed to this report.
Jon Brown is a writer for Fox News Digital. Story tips can be sent to [email protected].