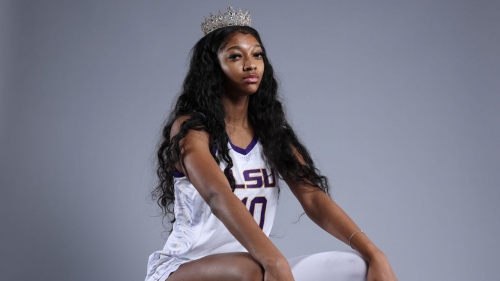 Angel Reese poses for a portrait during media day at 2023 NCAA women's basketball Final Four.
Justin Tafoya/NCAA Photos/Getty Images

CNN
—
Shaquille O'Neal knows a thing or two about success. The four-time NBA champion and one of the league's greats has walked the walk while also talking the talk.
And so when he praises another athlete, it comes with some gravitas and expertise behind it.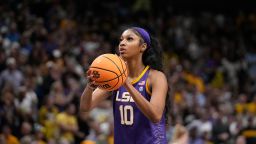 LSU's Angel Reese during the second half of the NCAA Women's Final Four championship basketball game against Iowa Sunday, April 2, 2023, in Dallas.
Darron Cummings/AP
Angel Reese says she will visit White House with LSU team
On Tuesday, O'Neal called Louisiana State University (LSU) forward Angel Reese the "greatest athlete" to come out of the school.
"She's probably the greatest athlete ever to come out of LSU sports. You heard it here first," O'Neal said on 'The Big Pod.' "Male and female. Ever."
"Because, guess what? She delivered. She delivered that package. See, a lot of us got the package, and we still got the package in our truck. She delivered that package. So, you know, there's a lot of names you could throw around – men and women – but she's probably the greatest athlete.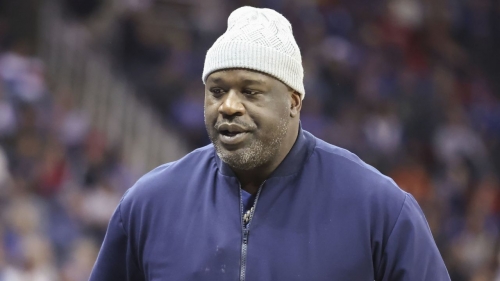 O'Neal attends the Big 12 basketball tournament championship game between the Texas Longhorns and Kansas Jayhawks on March 11, 2023.
Scott Winters/Icon Sportswire/AP
"Some people are going to exclude it to women athletes. I'm not doing that. She's the greatest athlete to ever come out of LSU."
Reese had an excellent 2022 season as she played a pivotal role in LSU winning its first ever NCAA women's college basketball championship title.
She was named an unanimous first-team All-American for her performances this season, as well as being named the women's March Madness' Most Outstanding Player.
Reese averaged 23 points, 15.4 rebounds and 1.6 blocks per game over the course of LSU's season.
However, it's arguable the 20-year-old's talents have been overlooked amid last week's controversy over whether Reese would visit the White House – traditionally, the national champions receive an invitation.
Receiving praise from O'Neal is high recognition, who himself had a stellar career at LSU before being drafted with the No. 1 overall pick in the 1992 NBA draft.
He was twice named a first-team All-American and received the Adolph Rupp Trophy as NCAA men's basketball player of the year in 1991.
O'Neal later had his No. 33 retired at LSU, was inducted into the school's Hall of Fame as well as college basketball's Hall of Fame.
LSU has a prestigious record of churning out talented athletes; from O'Neal and fellow basketball Hall of Famer Pete Maravich to track and field star's Lolo Jones and Armand Duplantis.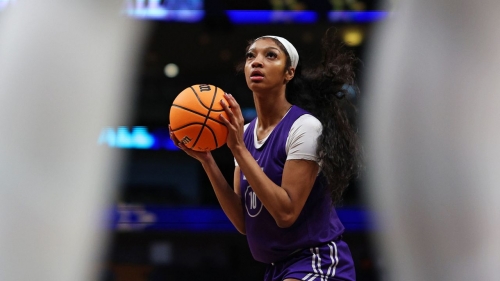 Reese prepares to shoot during practice before LSU's NCAA women's Final Four semifinal game on March 30.
Tom Pennington/Getty Images
O'Neal compared her to the success that current Cincinnati Bengals quarterback and LSU star Joe Burrow had at the school, winning the college football national championship title in 2019 as well as the Heisman trophy.
"She is the greatest athlete to ever come out of LSU because she got it done. Joe Burrow got it done a couple of years ago, but she is way more athletic than he is," O'Neal said.