Hollywood divorces can turn ugly, and often include nasty custody battles over children and sometimes, pets.
Actor Andrew Shue was recently photographed handing off the dog he shares with Amy Robach amid reports of her affair. Shue and Robach join a long list of public figures who split time with their furry family members after their romances ended.
Cheryl Burke and Matthew Lawrence finalized their divorce in 2022, but the couple continued to battle over custody of their French Bulldog, Ysabella. The "Dancing with the Stars" pro took to Instagram last week to announce that she was awarded full custody of their pet.
Johnny Depp and Amber Heard famously went through a very public divorce and in 2017, and the "Aquaman" actress was awarded custody of the couple's two adopted pups, Pistol and Boo.
ANDREW SHUE REUNITES WITH ESTRANGED WIFE 'GMA' HOST AMY ROBACH AMID REPORTED T.J. HOLMES AFFAIR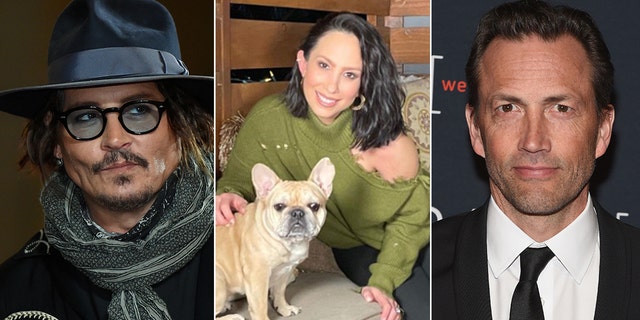 Johnny Depp, Cheryl Burke and Andrew Shue are among Hollywood stars with pets caught up in their divorces.
(Getty Images/ Cheryl Burke Instagram)
Family law attorney Holly Davis, who has a long history of high net worth divorce cases, spoke with Fox News Digital about how pets are treated following a separation.
"Dogs are not humans, and in legal terms, they are essentially considered property. They are sometimes even assigned a property value, and are placed on the divorce asset spreadsheet as part of the list of the inventory of the estate that is divided upon divorce. But in application, judges and lawyers understand that dogs are much more than property, and in some cases, divorcing couples are willing to spend tens of thousands of dollars litigating who gets the dog in the divorce, and Courts will let them," she shared.
Here's a closer look at some A-listers who have encountered custody battles over their pets post-split.
Andrew Shue, Amy Robach
On Jan, 12, Andrew Shue and Amy Robach were spotted handing off their pup in the streets of New York City amid allegations of Robach's affair with her "GMA3" co-anchor, T.J. Holmes.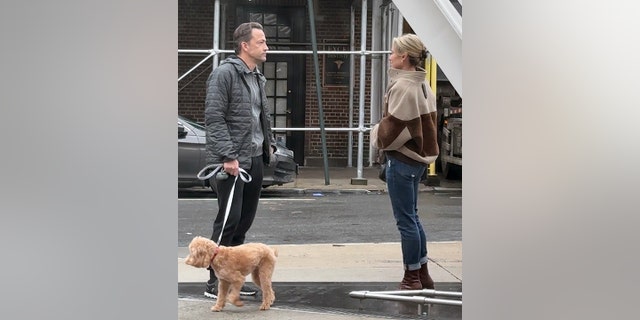 Amy Robach handed off the family dog, Brody, to her estranged husband Andrew Shue.
(TheImageDirect)
Robach handed Shue the leash of their golden pal, Brody, and had a conversation before going their separate ways. Robach has been spotted on several occasions walking the dog on the streets of New York since news of the reported affair broke.
ABC PULLS MARRIED 'GMA3' ANCHORS AMY ROBACH, T.J. HOMES OFF AIR AS EXTRAMARITAL AFFAIR CAUSES 'DISTRACTION'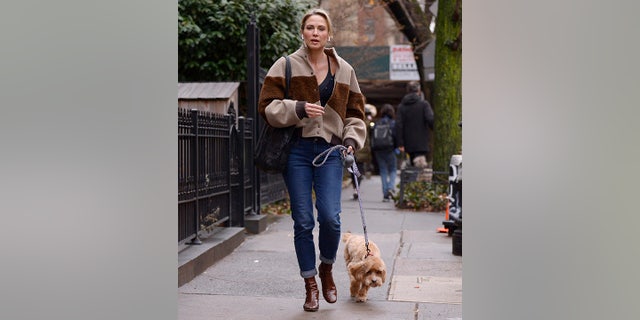 Amy Robach was seen walking her dog before the meetup with Andrew Shue.
(TheImageDirect)
In December, tabloids were flooded with stories that Robach and Holmes, both separately married, had entered into a relationship, causing their respective relationships to come to an end.
Robach, who is on her second marriage, has been married to "Melrose Place" actor Shue since 2010. The two both have children from previous relationships, Robach has two daughters and Shue has three sons.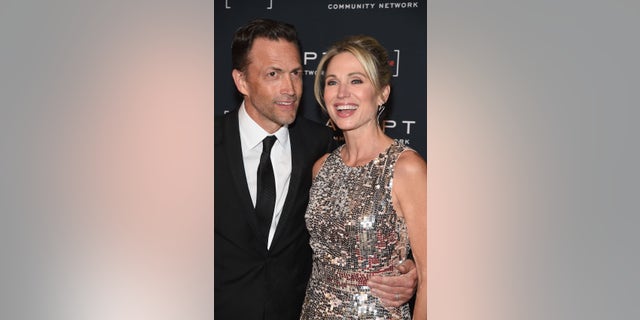 Amy Robuch and Andrew Shue were married in 2010.
(Gary Gershoff)
Despite the affair reports, there has been no official confirmation that Robach and Shue have filed for divorce.
Cheryl Burke, Matthew Lawrence
Cheryl Burke and Matthew Lawrence were battling over custody of their French Bulldog, Ysabell, with Burke ultimately coming out victorious.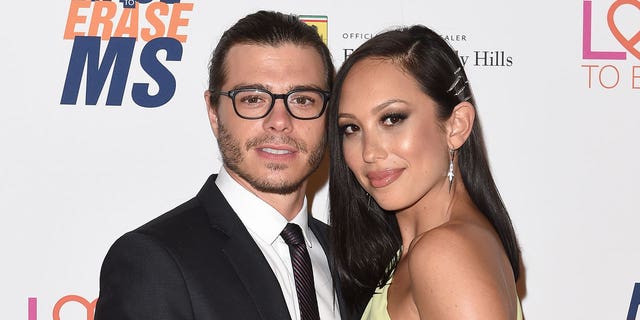 Cheryl Burke and Matthew Lawrence fought over custody of their French Bulldog, Ysabella.
(Getty Images)
The "Dancing with the Stars" veteran and Lawrence finalized their divorce in September with a settlement but did not see eye-to-eye when it came to Ysabella.
'DWTS' PRO CHERYL BURKE FILES FOR DIVORCE FROM MATTHEW LAWRENCE
Burke took to Instagram to announce the good news. "Officially a FULL TIME dog mom… 2023, we're off to a great start!" she captioned her post, sitting with Ysabella on the couch.
 

 
 

 
 
View this post on Instagram
 

 
 
 

 
 

 
 
 

 
 
In October, Burke addressed the custody battle over Ysabella with Lawrence on an episode of her podcast, "Burke in the Game."
CHERYL BURKE RETURNS TO WEDDING VENUE FIVE DAYS AFTER FILING FOR DIVORCE FROM MATTHEW LAWRENCE
"I am now officially divorced. This all happened on premiere night of 'Dancing With the Stars,'" Burke said. "But it is still not over because we have to go to trial — unless he all of a sudden calls it off — but that will happen in January."
She continued, "I am still really hurt by the whole situation because that is my dog. Ysabella is my daughter; I am a dog mom. I couldn't even imagine my life without her. I could just cry right now."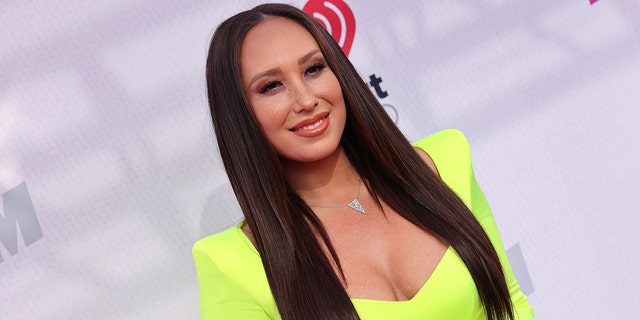 Cheryl Burke announced on Instagram that she has sole custody of Ysabella.
(Photo by David Livingston/FilmMagic)
The two-time Mirrorball champion and the "Mrs. Doubtfire" star tied the knot in 2019, but Burke filed for divorce in February 2022, citing "irreconcilable differences."
The pair had shared a long romantic history dating back to 2007, when they first became linked. They announced their breakup the following year but rekindled their romance in 2017 and got engaged in 2018.
Johnny Depp, Amber Heard
Johnny Depp and Amber Heard had a very public divorce, as well as Depp's $50 million lawsuit against the "Aquaman" actress for defaming him in a Washington Post op-ed. Although the couple's abuse allegations dominated the headlines, they also battled over custody of their two adopted dogs, Pistol and Boo.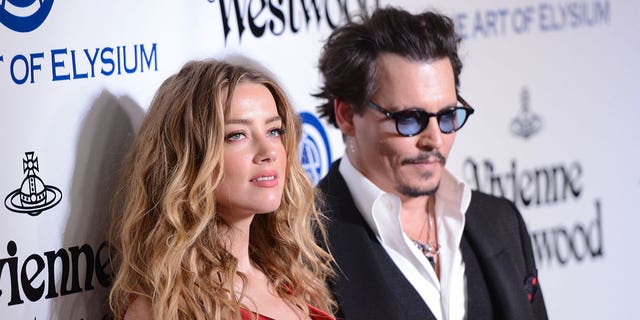 After divorcing in 2017, Amber Heard and Johnny Depp reached an agreement on custody of their pets.
(Getty Images)
According to Entertainment Tonight, Heard was able to keep her pup, Pistol, who was a gift from her ex-girlfriend, Tasya can Ree. The source noted that she believed Heard would also get custody of Boo, which was reportedly Depp's dog. The "Pirates of the Caribbean" actor did not want the dogs split up.
AMBER HEARD SETTLES DEFAMATION CASE WITH JOHNNY DEPP FOR $1M
 

 
 

 
 
View this post on Instagram
 

 
 
 

 
 

 
 
 

 
 
The Daily Mail reported that Heard got also custody of their horse, Arrow, in 2017.
Last summer, a Virginia jury awarded Depp $15 million after finding that his ex-wife had defamed him by casting herself as a victim of domestic abuse in a 2018 op-ed. Judge Penney Azcarate reduced the judgment to $10.35 million.
 

 
 

 
 
View this post on Instagram
 

 
 
 

 
 

 
 
 

 
 
As of last month, Heard agreed to pay Depp $1 million to settle his defamation claim against her.
By inking the deal, Depp is letting Heard, 36, slide on the full $10.35 million judgment he was awarded by a jury.
Blake Shelton, Miranda Lambert
Blake Shelton and Miranda Lambert reached a divorce settlement in 2015 after tying the knot in 2011.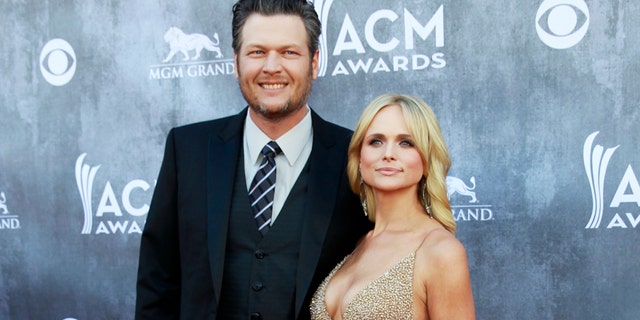 Blake Shelton and Miranda Lambert split in 2015.
(Reuters)
Lambert is a huge animal lover and even co-founded a non-profit, MuttNation Foundation, in 2009 with her mother.
BLAKE SHELTON AND MIRANDA LAMBERT ONE YEAR LATER: WHO WON THE BREAKUP BATTLE?
Following the celebrity couple's divorce, a source told Us Weekly that Lambert got custody of her pets and a horse Shelton gifted her, and the "Voice" coach kept his personal horse.
 

 
 

 
 
View this post on Instagram
 

 
 
 

 
 

 
 
 

 
 
The couple shared pups Delta Dawn, Delilah, two golden retrievers Jessie and Waylon and a hound, Betty. In 2013, Lambert did a cover story for Modern Dog magazine where she shared she always adopted her pets and spoke about which animal was closest to Shelton.
"Betty is Blake's dog in every way," Lambert said at the time. "We found her and her sister on the side of the road in Oklahoma around our neighborhood. She acts just like Blake, as she's the most mischievous and loving thing in the world. She travels with both of us off and on."
 

 
 

 
 
View this post on Instagram
 

 
 
 

 
 

 
 
 

 
 
At the time of their split, a source told Us Weekly that the couple was still "working" out custody of their animals.
Britney Spears, Kevin Federline
Britney Spears and Kevin Federline wed in 2004 and split in 2007. Although the couple reached a joint custody agreement over their children, Sean and Jayden, the "Toxic" singer eventually lost custody of her sons.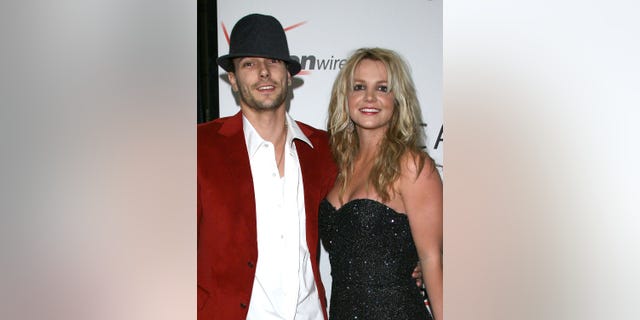 PETA urged Kevin Federline to gain sole custody of the couple's pets following divorce from Britney Spears in 2007.
(Photo by Jason Merritt)
After their divorce, PETA wrote a letter to Federline, urging him to gain sole custody of their pups.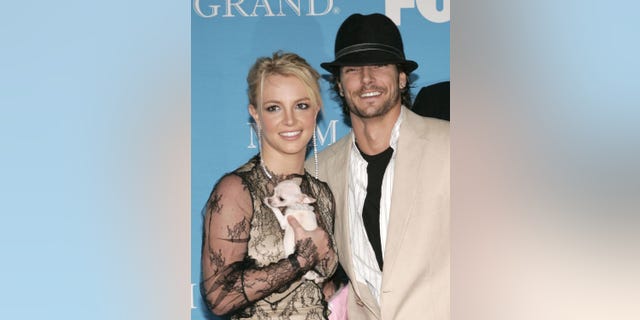 Britney Spears and Kevin Federline on the red carpet with their dog in 2004.
(Getty Images)
"We know that this is a particularly difficult time for you and your children. We are writing to you today to urge you to amend your filing with the court to also seek consideration for your children's bond with the companion animals they have come to know and to request that the judge also grant you custody of these animals," the letter, penned in 2007, read.
BRITNEY SPEARS' SON BREAKS SILENCE ON THEIR RELATIONSHIP: 'I JUST WANT HER TO GET BETTER'
"For the sake of your children and the animals who are at risk while in Ms. Spears' custody, we hope that you will do the right and best thing for all involved and pursue a custody order for the animals so that your sons can continue to have the company of the animals they've grown to adore. If you have any other thoughts, we stand ready to assist you in placing the animals in a loving environment," the letter added.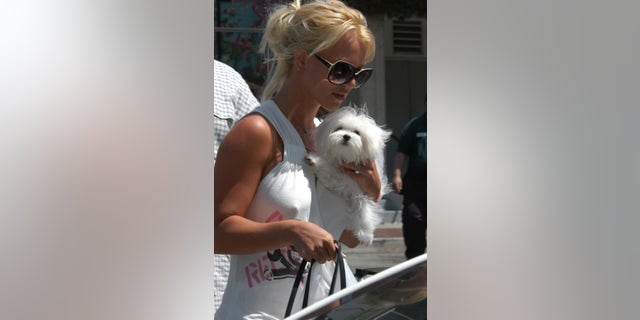 Britney Spears out with her dog in Los Angeles in 2004.
(Photo by Bauer-Griffin/GC Images)
It is unknown who gained custody of the couple's pets.
Drew Barrymore, Tom Green
After tying the knot in 2001, Tom Green filed for divorce six months after his wedding to Drew Barrymore.
The couple battled over custody of their Labrador retriever, Flossie, with Barrymore coming out victorious, according to The Hollywood Reporter.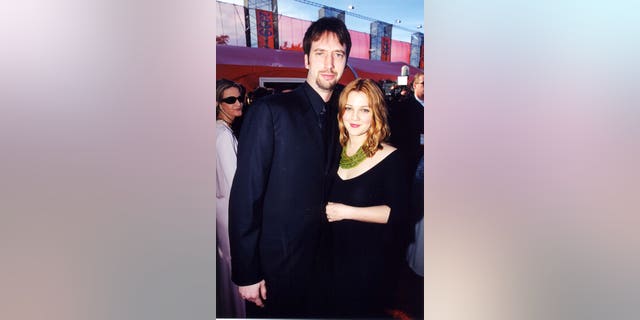 Tom Green and Drew Barrymore at the 2000 Academy Awards.
(Photo by Jeff Kravitz/FilmMagic)
Flossie was coined the couple's "hero" dog after the pup saved both Barrymore and Green's lives by waking them up in a house fire in 1998.
Hugh Hefner, Crystal Harris
Hugh Hefner and Crystal Harris broke off their engagement in 2011.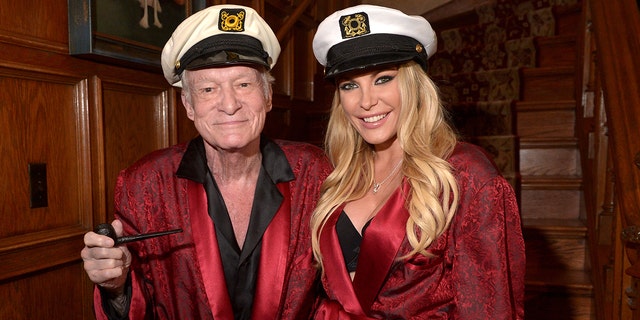 Hugh Hefner and Crystal Harris married in 2012 and stayed together until his death in 2017 at the age of 91. 
(Getty Images )
After Harris originally agreed to allow Hefner to have custody of their Cavalier King Charles Spaniel, Charlie, she changed her mind six months later.
CLICK HERE TO SIGN UP FOR THE ENTERTAINMENT NEWSLETTER
But Hefner was able to keep custody of Charlie, The Hollywood Reporter noted. In 2012, the Playboy founder was featured on National Geographic's "Dog Whisperer."
The couple reunited and tied the knot in December 2012. The couple was married until Hefner's death in Sept. 2017. He was 91 and died of natural causes.
 

 
 

 
 
View this post on Instagram
 

 
 
 

 
 

 
 
 

 
 
Crystal is currently a dog mom to another Cocker Spaniel, Lady. She recently celebrated the pup's 9th birthday.
Jennifer Aniston, Justin Theroux
Jennifer Aniston and Justin Theroux wed in 2015, but announced their separation in 2018. Although the couple never had children, the "Wanderlust" co-stars shared three dogs: Dolly, Sophie and Clyde.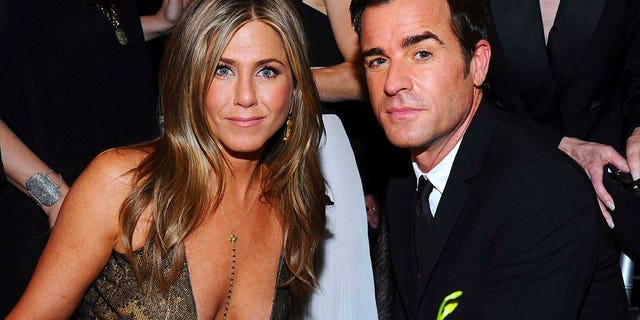 Jennifer Aniston and Justin Theroux split in 2018, but co-parented their three dogs.
(Photo by Vince Bucci/Invision/AP)
According to Entertainment Tonight, the pups remained in Aniston's home in Los Angeles, while Theroux lived on the East Coast in New York.
In July 2019, Aniston and Theroux mourned the death of their dog, Dolly. Theroux took to Instagram at the time to share that Dolly was "surrounded by her entire family."
 

 
 

 
 
View this post on Instagram
 

 
 
 

 
 

 
 
 

 
 
CLICK HERE TO GET THE FOX NEWS APP
Aniston commented on his post, "ANGEL," with a sad face and several red heart emojis.
Fox News Digital's Caroline Thayer and Rebecca Rosenberg contributed to this report