MILWAUKEE—Biotech entrepreneur Vivek Ramaswamy said the United States is in the middle of a "national identity crisis," telling Fox News Digital that Americans have a "real choice" in the GOP presidential primary – vote for "incremental reform from traditional Republicans" or "something of a revolution," telling Fox News Digital that he stands "on the side of revolution."
In an interview with Fox News Digital on the sidelines of the first Republican presidential primary debate, Ramaswamy said the United States is turning into "something that is foreign to the Founding Fathers' vision in 1776."
"I do think the real choice we face in this primary is, do you want incremental reform from traditional Republicans? Or do you want something of a revolution?" he said. "I stand on the side of revolution, and I don't apologize for that – that makes some other people nervous – but that's the fact of the matter of who I am and what I stand for in this race."
ALL EYES ON THE GOP PRESIDENTIAL PRIMARY DEBATE! SIGN UP NOW TO STREAM LIVE
He added: "And I have a feeling that's what the people in this country are actually going to choose."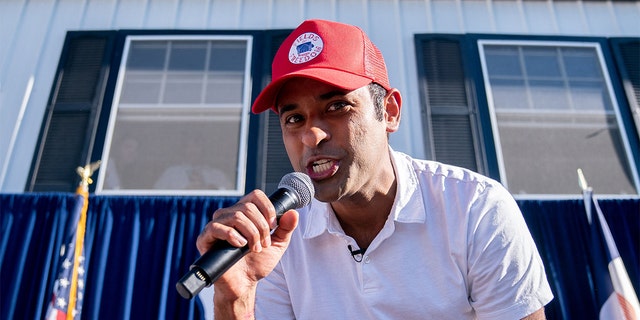 Vivek Ramaswamy raps after doing a Fair Side Chat with Gov. Kim Reynolds at the Iowa State Fair in Des Moines on Aug. 12, 2023. (Stefani Reynolds/AFP via Getty Images)
Ramaswamy, a 38-year-old billionaire, is a first-generation American, husband and a father of two little boys.
"I am the embodiment of the American dream, and I say that with a sense of gratitude and a sense of duty," he said. "I think we have a duty to create that American dream for my two sons and their generation and I have no confidence that's automatically going to happen."
Ramaswamy told Fox News Digital that he believes the greatest threat to the United States right now is "our deep loss of national self-confidence."
"I think we're in the middle of a national identity crisis where people can't even answer the question of what it means to be an American and that loss of national identity is, I think, the deepest threat we face," he said. "That might sound like an unconventional answer to some people because they talk about the economy, foreign policy – I think those are big challenges as well, but they are downstream of our loss of self-confidence."
He added: "If you know who you are, you can stand up with spine on the global stage. If you know who you are, you can take risks and succeed through American capitalism as I did and so many others have living the American dream – that's how you grow an economy."
OPINION: VIVEK RAMASWAMY COULD SURPRISE EVERYONE AT FIRST REPUBLICAN DEBATE
But Ramaswamy said that "all starts with answering the question of who we really are as Americans."
"Answer that with conviction – the rest becomes that much easier," he said.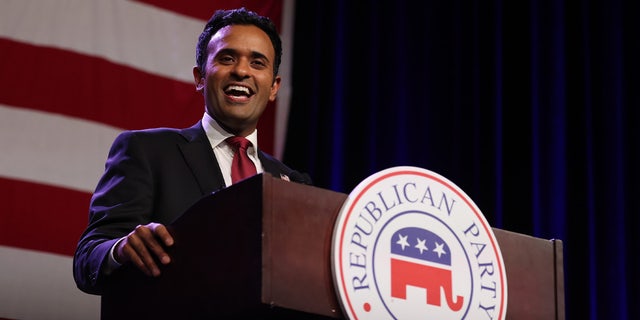 Vivek Ramaswamy speaks at the Republican Party Of Iowa's annual Lincoln Dinner in Des Moines on July 28, 2023. (Rachel Mummey/Bloomberg via Getty Images)
Ramaswamy will stand in the second place spot on the debate stage Wednesday night, alongside Florida Gov. Ron DeSantis, who will stand in the center.
To prepare, Ramaswamy said he will spend the day with his family. But leading up to the debate, he told Fox News Digital, he has been traveling and meeting with voters.
"It is a great way to prepare – especially if you take questions from voters," he said. "Those are harder questions than I often get from the media, so that has been the best form of debate prep."
DON'T MISS: SIGN UP AND WATCH THE FIRST REPUBLICAN PRESIDENTIAL PRIMARY DEBATE ON FOXNEWS.COM.
He added: "We feel we're ready, and tomorrow is just the first of many to come."
Ramaswamy said he is the only candidate on the stage who has not been in a debate.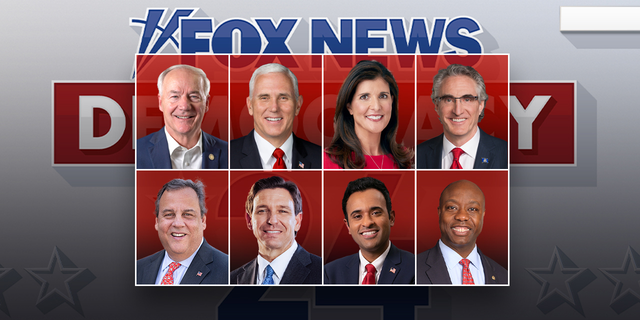 "For me, it is going to be a bit of a warmup," he said, pointing to other primary debates scheduled in the coming months. "Over the course of the fall, I'm really confident I'll get to introduce myself and let the people of this country know who I am and what I stand for."
Fox News Channel is partnering with the Young America's Foundation to host the first GOP presidential primary debate on Aug. 23 in Milwaukee. The debate begins at 9 p.m. Eastern and will also be live-streamed by social media sponsor Rumble.