close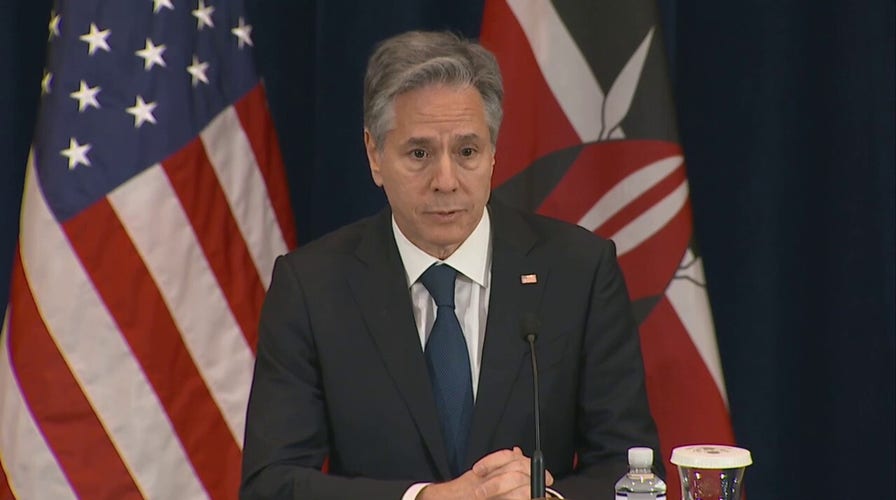 Video
Blinken acknowledges attacks on Sudan convoys carrying Americans
Secretary of State Antony Blinken acknowledges attacks on Sudan convoys carrying Americans
Violence in Sudan's capital continued Tuesday as rival military factions compete for power, with civilians and some Americans caught in the crossfire.
Among the reported figure of some 14,000 Americans living in Sudan, Trillian Clifford and her 18-month-old daughter are currently sheltering in place in her apartment in Khartoum amid a fierce military standoff that brings Sudan on the brink of another civil war.
Clifford, from Ashland, Massachusetts, and her daughter, Alma, have been trapped for 10 days. Clifford is a preschool teacher and has been teaching abroad for a decade with stays in Cairo and Mumbai. This was her first year teaching in Sudan.
As fighting intensifies in Khartoum and across the country, basic necessities such as food, water and fuel are quickly running out.
PRESIDENT BIDEN CALLS CIVIL WAR IN SUDAN 'UNCONSCIONABLE' AS US EMBASSY PERSONNEL EVACUATE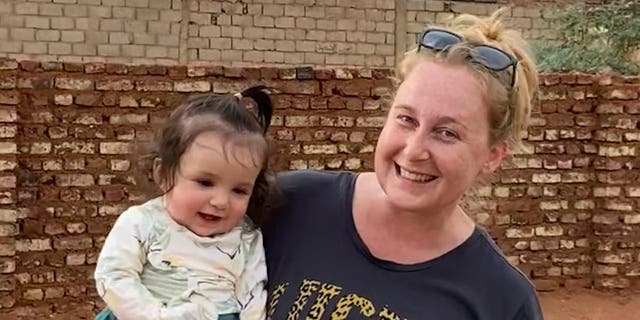 Trillian Clifford and her daughter are trapped in Sudan as the fighting continues. (Rebecca Winter, Jack Kiryk and Trillian Clifford)
"Trillian is extremely grateful to a security guard who, on the first night of Eid al-Fitr, risked his life to deliver food and water to the teachers sheltering in her building. She is heavily rationing her supplies as she is not sure if or when more will be available to her," Trillian's sister-in-law, Rebecca Winter, told Fox News Digital in a statement.
Rebecca and her family were able to keep in touch with Trillian through texting and occasionally on FaceTime when internet service was stable. Presently internet and cell service are down across Sudan as fear and uncertainty grows.
"We are terrified on her behalf," Winter added.
The U.S. began evacuating diplomatic staff from its embassy in Khartoum and temporarily suspended operations, but diplomatic and consular work continues in the country. The U.S. also doesn't have an exact handle on the number of Americans who are trapped inside the country.
"We don't have a good fix on the number of Americans, who are there at any given time, including – now. We do know, of course, the number of Americans who have registered with us, and with whom we're in very active touch. And of those, I would say some dozens have expressed an interest in leaving," Secretary of State Antony Blinken said during a press conference Tuesday.
Clifford remains stranded in her apartment as gunfire and explosions ring throughout the city.
In an emailed voice memo to WBUR in Boston, Clifford said, "So I am here with my 18-month-old daughter, and we are in a relatively safe location. Although I would have to add, as a caveat, that it feels like nowhere in the city is particularly safe. We are hearing a lot of gunshots and explosions. There's definitely aircraft flying over continuously throughout the day. And we are taking the orders from the [U.S.] Embassy – and from our employers as well – very seriously to stay low to the ground, stay as far away from windows as possible and to stay hidden, because this is a very, very dangerous situation to be involved in." WBUR reported.
Fierce urban fighting has nearly crippled Khartoum, a city of about 6 million people. So far, over 420 people have died and more than 3,700 people have been injured since the conflict broke out, according to the World Health Organization.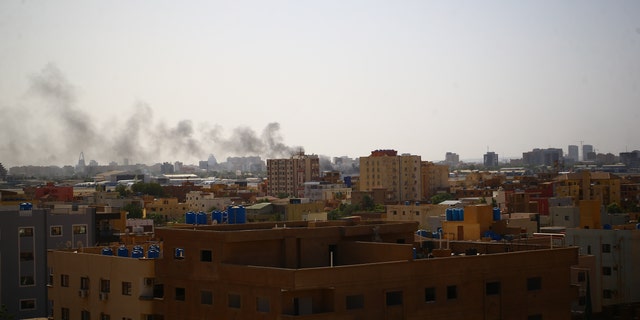 Smoke rises during clashes in Khartoum, Sudan on April 20, 2023. (Stringer/Anadolu Agency via Getty Images)
STATE DEPARTMENT ISSUES TRAVEL ADVISORY FOR SUDAN AMID ARMED CONFLICT
"The current fight leaves Sudanese citizens and civilians as victims in the fight between the two armed leaders. This war has derailed for the moment the hope to return to civilian, democratic government and forced focus on matters of survival," Susan Stigant, director of the Africa program at the U.S. Institute of Peace, told Fox News Digital.
Clashes broke out in Khartoum on April 15 between the Sudanese armed forces led by Gen. Abdel Fattah al-Burhan and Gen. Mohamed Hamdan Dagalo, widely known as "Hemedti," leader of the paramilitary force known as the Rapid Support Forces (RSF). The RSF grew out of the pro-government Arab militia known as the Janjaweed that committed mass atrocities and human rights violations in the Darfur region of Sudan in the early 2000s.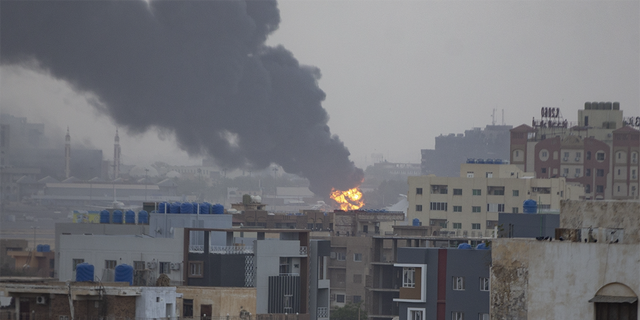 The death toll in ongoing clashes between Sudan's military and the paramilitary Rapid Support Forces is growing. (Mahmoud Hjaj/Anadolu Agency via Getty Images))
The two had been in an uneasy alliance since the 2019 overthrow of Sudan's longtime dictator, Omar al-Bashir, who ruled the country since 1989. Together, the generals ruled the country with civilian groups that were influential in the mass protest movement that helped topple Bashir. Following the removal of Bashir, it looked as if Burhan and Hemedti would commit to a civilian-led government in Khartoum.
Burhan, backed by his deputy Hemedti, staged a coup and dissolved the civilian-military power-sharing government in October 2021, ending the transition to civilian democratic rule.
The recent tensions center on the timetable and process by which Hemedti's RSF would be integrated into the regular Sudanese armed forces as part of a deal to end the political deadlock brought about by the coup in 2021. Burhan wanted a two-year timeframe for integrating the RSF while Hemedti wanted a 10-year timeline. The command structure of the armed forces was another point of contention. The ultimate goal was to have a unified military, with Hemedti falling under the command of Burhan.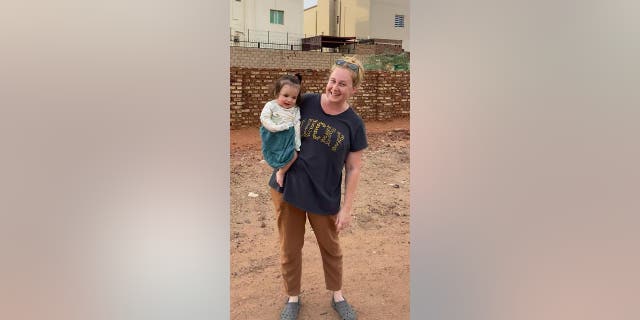 Trillian Clifford and daughter have been caught up in the fighting in Sudan. (Rebecca Winter, Jack Kiryk and Trillian Clifford)
CLICK HERE TO GET THE FOX NEWS APP
The United States and other governments have called for an immediate cessation of hostilities, but Burhan and Hemedti show little sign of backing down.
"The timing also indicates that Burhan and Hemedit had lost confidence in the political process and calculated that violence was the best way to achieve their respective objectives," Stigant said,
One of the major issues that led to the October 2021 coup was the threat the civilian government might pose to some business interests. Burhan and the armed forces control a large swath of Sudan's economy and its patronage networks are extensive. Hemedti also controls a vast patronage network, including the gold mining industry, and has been able to enrich himself and his supporters.