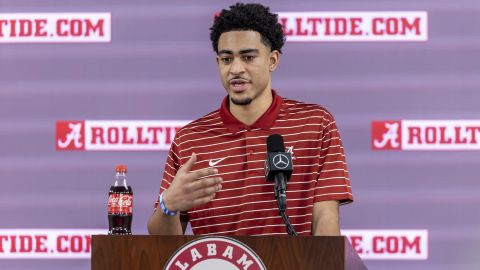 Bryce Young declares for the 2023 NFL Draft.
Vasha Hunt/AP

CNN
—
Alabama's star quarterback Bryce Young announced on Monday that he will be declaring for the 2023 NFL Draft where he could be the No. 1 overall pick.
During a press conference at Alabama's athletic facility, Young – along with two of his teammates, edge rusher Will Anderson Jr. and running back Jahmyr Gibbs – announced their decision to leave the school and put their names in for the draft.
Later on Monday, Alabama defensive back Brian Branch announced his intention to enter the draft on social media.
All four enter the draft as potential first round picks, with Young arguably the best prospect overall and therefore in the running to be taken with the first pick.
The announcement, which came after they all helped Alabama to a 45-20 Sugar Bowl win over Kansas State on Saturday, is no surprise for Young, who has been highly touted for a number of years after he was Mac Jones' back up during the Crimson Tide's title run in 2020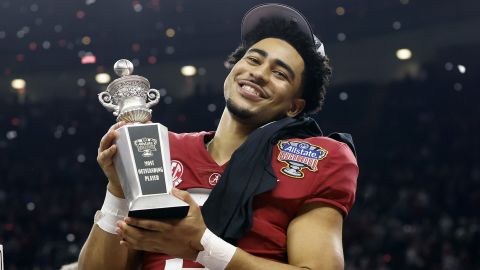 Young holds the Most Outstanding Player trophy as he celebrates after Alabama's victory over Kansas State at the Sugar Bowl.
Butch Dill/AP
When Jones was selected in the first round by the New England Patriots in the 2021 NFL Draft, Young enjoyed a prolific two years as the Alabama's starting quarterback.
He became the 2021 Heisman Trophy winner after a record-breaking year for Alabama in which Young set the school record for single-season passing yards (4,872) and touchdowns (47).
This season, Young threw for 3,328 yards and 32 touchdowns in three fewer games than last season, therefore becoming the only quarterback in Alabama history to throw for 3,000-plus yards in two seasons.
The 21-year-old's time in Tuscaloosa comes to an end with a 80:12 touchdown to interception ratio.
"Throughout this process, I'm going to give everything. I'm going to work my best to make sure I'm at my best wherever I end up," Young said, per the Alabama website, as he looked ahead to the next stage of his career.
"And then, I'm going to do everything in my power to give success to whatever franchise takes me."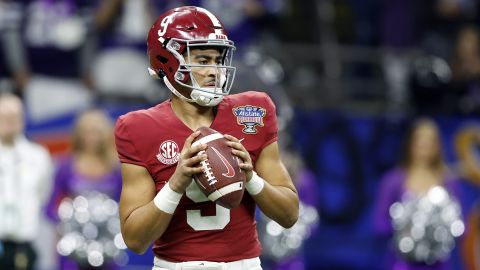 Young throws a pass during the first half of the Sugar Bowl game against Kansas State.
Butch Dill/AP
Along with Ohio State's CJ Stroud and Kentucky's Will Levis, this year's NFL draft is shaping up to have a number of top-level quarterback prospects.
With one week of the season remaining, the Houston Texans hold the No. 1 pick with a 2-13-1 record with the Chicago Bears not far behind with a 3-13 record.
While the Texans are in need of a starting quarterback, the emergence of Justin Fields in his second year will probably mean the team will choose to address other areas.