close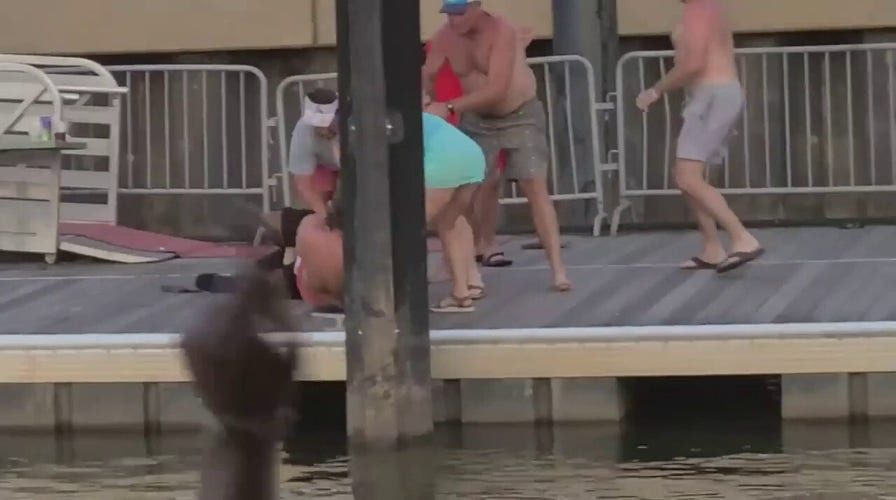 Video
Massive brawl at Montgomery, Alabama riverfront dock caught on video
A fight broke out on a riverfront dock in Montgomery, Alabama, over the apparent docking of a pontoon boat. (Credit: Christa)
Alabama authorities on Monday said four arrest warrants were issued in connection with a massive brawl at a riverfront when a group of people appeared to attack a dockworker as onlookers screamed and recorded the chaos.
Montgomery Police Major Saba Coleman said more warrants could be issued after authorities review more footage of the brawl, that drew nationwide attention. Police said Sunday that several people were detained and charges are pending.
Montgomery Mayor Steven Reed said police will hold a briefing Tuesday to provide an update on the situation.
"While there is a lot of activity and interest in this, we know that we'll come through this together as a community collectively as we have other situations," Reed told news outlets on Monday, according to al.com. Reed said no one has been arrested yet.
NYPD SEEK HELP IDENTIFYING MORE SUSPECTS AFTER TWITCH INFLUENCER KAI CENAT GIVEAWAY DEVOLVES INTO MASSIVE RIOT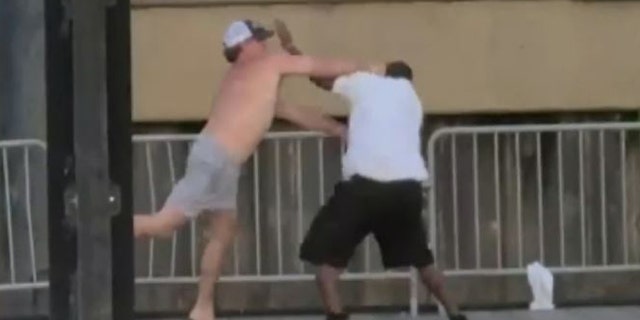 The dock worker, pictured right dressed in a white shirt, is punched in the head by a man following an argument. (Christa)
The fight was captured from a boat of onlookers at the Riverfront Park around 7 p.m. Saturday.
The fight appeared to start when a crew member of a city-operated riverboat tried to get a pontoon boat moved that was blocking the riverboat from docking. A man is seen shoving a crew member, who took off his cap and threw it in the air.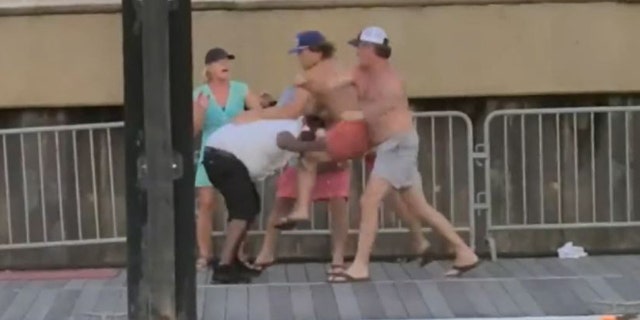 A fight between a group of people and a city employee escalated after a verbal altercation over the apparent docking of a pontoon boat along the river at the Riverfront Park in Alabama.  (Christa)
The conflict escalated when several other people joined in and attacked the employee, who was punched and kicked while on the ground.
An onlooker recording the melee is heard shouting: "Help the brother!"
One person is seen swimming to the dock to apparently help the worker being attacked. Onlookers intervened and pulled the individuals off the worker, who then is seen standing up on his own and walking down the dock.
A separate video shows that several passengers then confront the pontoon boat group after the riverboat docked, sparking another brawl before police officers intervened.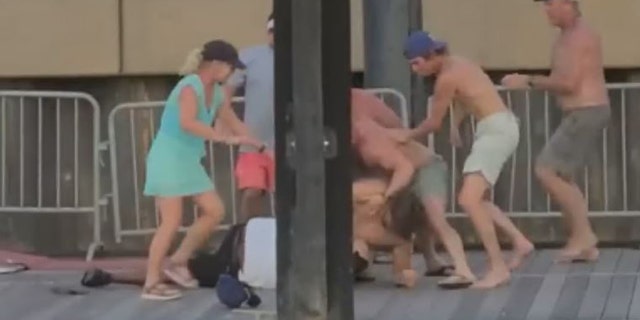 Other individuals rush the riverboat worker and tackle him to the ground. (Christa)
CLICK TO GET THE FOX NEWS APP
The employee and suspects named in the warrants have not been identified by authorities.
The Associated Press contributed to this report.
Louis Casiano is a reporter for Fox News Digital. Story tips can be sent to [email protected].