Former Vice President Al Gore on Thursday outlined a global effort run by "machine-learning" artificial intelligence is essentially spying on individual facilities in every country in the world to measure their emissions of greenhouse gases and target the world's largest emitters.
At the World Economic Forum in Davos, Switzerland, Gore formally introduced attendees to the initiative known as Climate Tracking Real-Time Atmospheric Carbon Emissions, or Climate TRACE. The initiative has led to a website that allows for real-time tracking of emissions in any area of the world, which Gore said is allowing climate activists, reporters and others to identify high-priority industries and regions for emissions reduction programs.
"It's a non-profit coalition that uses artificial intelligence to process data from 300 existing satellites and from 30,000 land, sea and air base sensors and multiple internet data streams to use artificial intelligence to create machine-learning algorithms to zoom in on every single significant source of greenhouse gas (GHG) pollution," Gore said of Climate TRACE.
Gore showed how Climate TRACE uses these inputs to zoom in on specific facilities and assess how much they contribute to GHG emissions.
AL GORE GOES ON 'UNHINGED' RANT ABOUT 'RAIN BOMBS,' BOILED OCEANS, OTHER CLIMATE THREATS AT DAVOS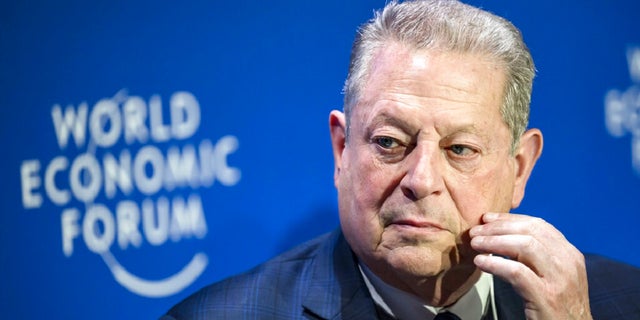 Al Gore on Thursday outlined how the Climate TRACE initiative is being used to measure greenhouse gas emissions all around the world.
(AP)
"This is a steel plant that I'm using as an example," he said as he zoomed in on close-up shot of a facility in Indiana. "We track it on a constant basis. Google Earth has helped us with this particular style of video."
Gore showed how thermal heat readings can be generated for each individual facility and how that information can be turned into aggregate readings for regions and countries. He said the technology available to Climate TRACE can be used for very precise intelligence gathering, including "how many cooling fans are operating" on the rooftop of a single facility.
ENVIRONMENTAL GROUPS PLAY KEY ROLE IN BIDEN ADMIN FOREIGN POLICY, EMAILS SHOW
"We can show you exactly what's happening, whether [emissions are] going up or down," he said.
Satellite images on their own are not good enough, Gore said, because of the "noise" in the atmosphere that makes it hard to determine emissions levels. "With artificial intelligence, you can look at the smoke plume, you can look at the infrared," he said.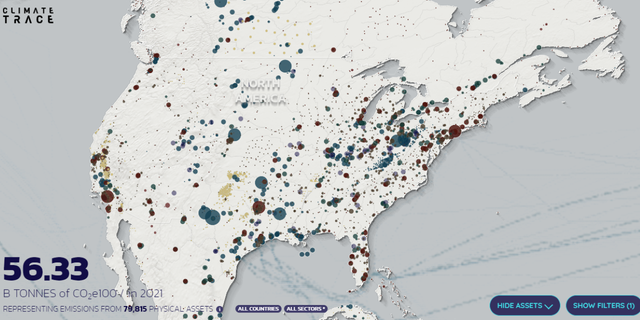 Climate TRACE uses artificial intelligence to track greenhouse gas emissions around the world.
(Climate TRACE/screenshot)
During his presentation, Gore zoomed in on a spot in Texas that was heavy with emissions readings.
"Here's the single largest emissions site in the world in Texas," he said. "Here's a New Mexico site in the Permian Basin. Oil and gas is the largest source overall. This is a confined animal feeding lot operation. This is the highway system in Houston, Texas. This is another oil and gas field."
"You can do this in every country, every region, every sector," Gore said. "We can tell you the top emitting assets in every country."
Gore said the largest sources of emissions are oil and gas fields, which he said made up half of the top 50 emitters globally. He also repeated a finding that Climate TRACE made last year, which is that oil and gas facilities emit more than three times the amount of GHG that they report.
Data pulled from Climate TRACE shows that China is the largest emitter of GHG, followed by the U.S., India, Russia and Japan.
AL GORE SAYS INFLATION REDUCTION ACT MAINLY CLIMATE CHANGE BILL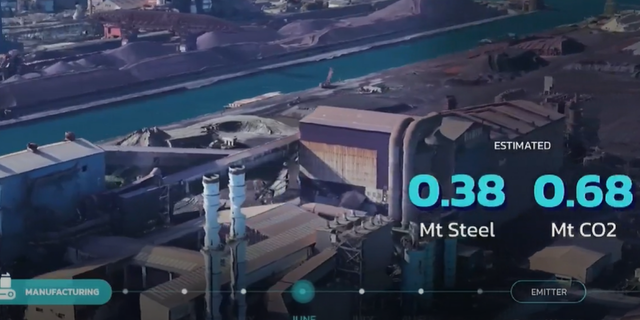 An image from Al Gore's presentation in Davos, Switzerland on Climate TRACE shows specific emissions data on a single facility in the U.S.
(Climate TRACE/screenshot)
Gore said the initiative today monitors about 70,000 sites around the world, but said 70 million sites would be under surveillance by the end of the year. He said data pulled from Climate TRACE can be used by "NGOs and activists trying to prioritize their campaigning, finance companies, journalists, researchers" and others.
The Climate TRACE coalition is comprised of 11 NGOs: Blue Sky Analytics, Carbon Yield, Earthrise Media, Global Energy Monitor, Hypervine.io, Johns Hopkins Applied Physics Laboratory, Ocean Mind, RMI, TransitionZero, Watt Time, and a group of researchers working for Gore in Nashville, Tennessee.
CLICK HERE TO GET THE FOX NEWS APP
Gore said the group benefits from about 100 other contributors, including Airbus, Bloomberg LP, Duke University, Georgetown University and Michigan State University.