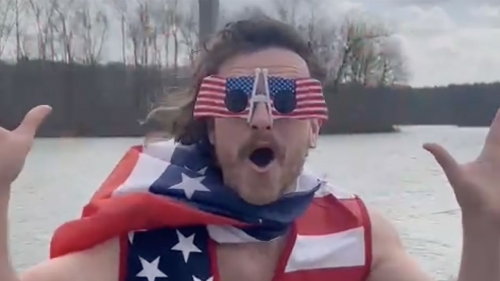 Iain Ward has dedicated his life to raising as much money as possible for charity.
Iain Ward

CNN
—
When he was diagnosed with terminal cancer in 2020, Iain Ward was sure about one thing – he wasn't interested in any "pity party."
Doctors had discovered a cancerous tumor growing in his brain after the Irishman had taken part in a voluntary medical trial and, after tests, he was told he had around five years left to live.
But speak to the 33-year-old now and you'll hear a man with an enviable perspective on life; someone who has accepted his hand but who is determined to use it for good.
Since his diagnosis, Ward has dedicated his life to raising as much money as he possibly can and is currently cycling across the US with a friend, Adee Phelan, for mental health and cancer charities.
As well as the mammoth cycle ride – which Ward describes as a "gigantic commute" – he also wants to break the world record for most money raised by a single person running a marathon and the fastest marathon dressed as a video-game character.
"I could get very upset about the bad poker hand that I've been dealt, but at the same time, it's almost arrogant of me to not look at the other amazing poker hand that I've been dealt simultaneously," he tells CNN Sport, adding that his cancer has given him clarity on life.
The pair, with a small support crew, set off from New York City last month and have estimated it will take them around two months to cover the 3,400 miles to Los Angeles, CA.
Ward has been documenting moments of his journey on his social media channels, which have exploded in popularity in recent months.
'The King Of Chemo' has almost five million followers on TikTok, where he posts motivational, and humorous, videos tracking his journey.
However, despite raising money for charity, Ward is not primarily looking for donations. Instead, he wants you to follow him on social media.
That way, he can get corporations to pay him for advertising their products, which he then donates to charity.
"The priority is to just get a social media channel that is so huge that it's undeniable, it cannot be ignored," he says.
"I like to think it's eventually going to become easy enough, almost like a robotic pitch, where you can just show the numbers and show the results and then I have a lot of money donated to cancer research."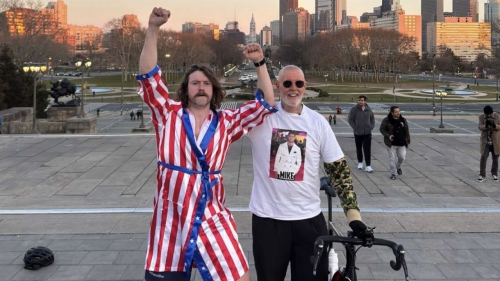 Ward (L) and Adee Phelan are cycling across the US to raise money for mental health and cancer charities.
Iain Ward
'Freakish luck'

Despite his diagnosis, Ward says he appreciates the "freakish luck" that has followed him throughout his life.
That may seem like a jarring statement for a man with terminal cancer to say but Ward's philosophy to life doesn't allow him to dwell on the negatives.
He's thankful that doctors were able to diagnose his illness before he experienced any symptoms – after all, it's what has allowed him to take on these challenges.
He says he's also grateful to be part of the "elite club" to undergo and survive a craniotomy – a surgical procedure which removes a part of the bone from the skull to expose the brain.
There was also good fortune involved in how he ended up cycling across the US.
He had previously been looking to raise money for an epic run across the country when Phelan reached out to him via Instagram.
Phelan suffers with depression and was planning to cycle across the US to raise money for mental health and suggested Ward join him for a week.
In their first meeting together, it became clear that the pair were going to tackle the whole challenge together instead – despite Ward admitting that he's not a huge fan of cycling.
A fitness fanatic, who particularly enjoys weightlifting, Ward says he didn't do much training for the feat but says he was aware of the main challenges that might present themselves.
"I hope this doesn't sound arrogant, but I'm experienced enough to know that the hardest thing that we are going to do has nothing to do with your physical fitness ability," he says, speaking about the trip.
"It's going to be your tolerance of having a really sore bum, which you can't train for.
"We probably aren't going to be sweating a huge amount except for when we're going through the desert, when it gets closer to the summer.
"If we're going to be doing like five hours a day, we're not going to be going hard. It's going to be like a gigantic commute. It's not going to be a race."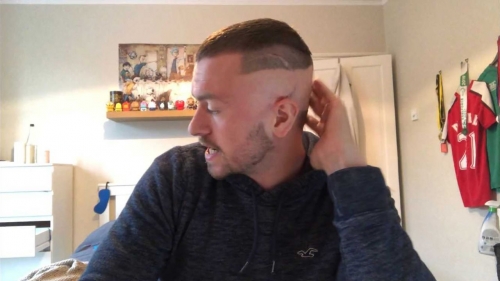 Ward shows the scar on his head after undergoing a craniotomy.
Iain Ward
Dark moments

A small documentary crew is following the pair throughout their trip and Ward, a natural in front of camera, is enjoying the process of filming.
The goal is to sell the documentary, hopefully as a series to Netflix, which can then be used to raise even more money for charity.
Stops at the Grand Canyon and Las Vegas are still to come and Ward seems to be loving every minute, that much is clear from his videos on social media.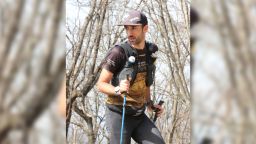 Aurélien Sanchez was one of three finishers at this year's Barkley Marathons
Alexandre Ricaud
Few people have ever finished the Barkley Marathons. Thanks to cheeseburgers and a power nap, Aurélien Sanchez became one of them
But while he permeates an unrelenting optimism online, he admits there have been moments since his diagnosis when things have gotten too much – albeit fleeting.
He remembers the "negative emotions flushing over me" when the doctor told him the seriousness of his illness and occasionally gets a "slap in the face" when he finds himself reading about the life expectancy for people in his position.
But dwelling on such things is not an option for Ward, who is as adept at mastering his mind as much as his body.
"I do put my head in the sand about the whole situation," he admits. "But I think I do that for a logical reason.
"I can't just stare at a research paper and then change survival rates. So if I can't change it, I don't believe I should focus on it. Whereas there are things that I can control and I can change and I choose to focus on those."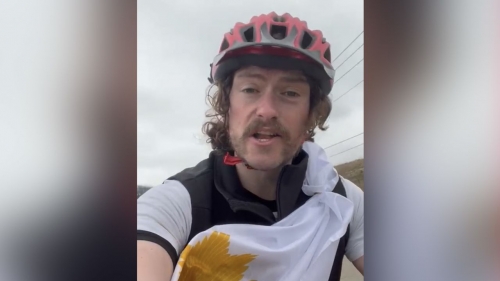 Ward says he didn't do any specific cycling training before setting off on his journey.
Iain Ward
Controlling his life

In his interview with CNN Sport, the concept of control becomes a thread throughout his answers.
To a certain extent, his diagnosis stole control of his life, but Ward doesn't want to become defined by his illness.
In those moments of solitude, when it's just him and the bike, or just him and his footsteps, he has time to reflect on everything that's been thrown his way.
"It's about being able to go through the path that you choose in life," he says, agreeing that control is, in some ways, akin to freedom.
"But sometimes your path in life is like a railroad," he adds. "You just need to get on and whatever way you've gotten on it will naturally guide you in that direction as opposed to being in a car where you have the actual control of the steering wheel.
"I think actually that's a fairly suitable metaphor."
Ward has big plans once his cycle across the US is over. There is the small matter of breaking world records in marathon running and he also wants to, one day, circumnavigate the entire globe by manpower (cycling, running, walking) only.
These are lofty plans by anyone's standards, but Ward says he has the determination and enthusiasm to make them a reality.
Ward has clearly plenty of life left to live.