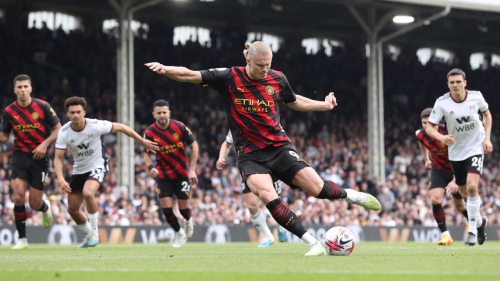 Haaland scores from the penalty spot against Fulham — one of the 51 goals he has netted this season.
Jacques Feeney/Offside/Getty Images

CNN
—
Erling Haaland's arrival at Manchester City last summer was met with equal measures of excitement and curiosity.
At the age of 22, the Norwegian forward had already established himself as one of the best goalscorers in European football – first at Red Bull Salzburg, then with two prolific seasons at Borussia Dortmund.
But now he was moving to a team already replete with attacking talent and a league in which big-name signings have come and gone without leaving an impression.
Would he adapt to life in the Premier League? The answer has been yes, emphatically – even to the extent that Haaland has surpassed the expectations of some of his greatest admirers during his first 10 months at Man City.
"I didn't expect him to break the records in the first season, to be honest, but I knew that he would fit in – that the team, the coach, the environment would take him to a higher level," Otto Addo, the former Ghana manager who mentors young players at Dortmund, tells CNN Sport.
The numbers behind Haaland's first season defy belief. He's scored 51 club goals in 47 games this season: 35 in the Premier League, 12 in the Champions League, three in the FA Cup and one in the League Cup.
Only Dixie Dean, who scored 63 in the 1927/28 season, has more goals in English football during a single top-flight campaign.
Haaland's Premier League tally, which includes four hat-tricks, is a league record for a single season, breaking the previous mark held jointly by Alan Shearer and Andy Cole.
Shearer and Cole recorded their 34-goal seasons at a time when Premier League teams played 42 games, rather than the current 38; Haaland currently has four games remaining to add to his haul, including when City faces Everton on Sunday.
Forming a potent partnership with midfielder Kevin De Bruyne – perhaps the best passer of the ball in European football – Haaland has made an immediate impact at City.
But De Bruyne's laser-like passing hasn't been the sole reason for his success, nor the excellence of teammates Jack Grealish, Rodri, or Bernardo Silva, to name a few. Haaland, Addo observes, has modified his game to devastating effect since arriving in the Premier League, taking his pace, power, and deadly finishing to another level.
"I think he's learned to be patient, to wait for the situation in the box and to take the right runs inside the box," Addo says.
"Even though there were games where you didn't see him too much on the ball, you could see that he was always ready. Even if it's in the last minute, he's always ready to score, always ready to make the right run in the right situation."
Addo and Haaland attend a Borussia Dortmund training session in March 2021.
Mario Hommes/DeFodi Images/Getty Images
Addo, a former Dortmund player and Ghanaian international, oversees the development of the Bundesliga club's talented crop of young players. He believes Haaland became a more complete player in Germany, scoring a greater number of right-footed and headed goals, as well as improving his movement off the ball in defense and attack.
The pair have written to each other from time to time over the past year and Haaland gave gifts to some of his former coaches after Dortmund and City played each other in the Champions League earlier this season.
"As a human being, I'm happy for him," says Addo. "He has the mindset, he has the ability to score, to run, to have the right positions, to be hungry. If he keeps this hunger, which I guess he will, then surely, he will be the best striker ever."
Addo recalls times when Haaland would score two or three goals in a game for Dortmund, only to be angry with the coaches when he was substituted off.
"This is the mentality you wish on every player – that he's never satisfied, that he doesn't relax, he doesn't feel comfortable even though he scores a lot of goals," says Addo. "He always wants more."
Haaland's finishing has been at its deadliest this season when he's inside the penalty area, according to Opta data from Stats Perform, which shows 11 of his 35 league goals coming from inside the six-yard box.
Scoring goals has always been at the heart of Haaland's game, ever since he was a young boy playing in Bryne – a town of around 12,000 people on the southwestern tip of Norway.
At the age of 16, he moved from Bryne to Molde FK to play in the top flight of Norwegian football under the guidance of former Manchester United manager Ole Gunnar Solskjaer; from there, he made his name with Salzburg, Dortmund, and now Man City.
"Erling had an incredible journey in the sense that he has taken to the next level perfectly," Alf Ingve Berntsen, who coached Haaland for eight and a half years as a youth player at Bryne, tells CNN Sport. "In a way, it's natural for him just to keep doing what he has always done."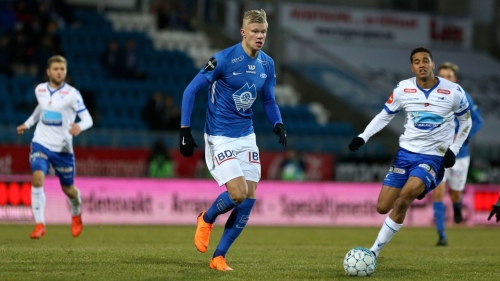 Haaland started his professional career at Molde in Norway.
Andrew Halseid-Budd/Getty Images
Berntsen makes sure to watch all of Haaland's games, so long as they don't clash with the schedule of his beloved Liverpool team. He finds a certain novelty in watching the powerful forward – now six-foot-four and reportedly carrying 12 kilograms of muscle compared to 15 months ago – exhibit the same qualities as when he was a young kind.
"In practice, just like now, he scored a lot of goals. He smiled a lot and trained a lot, so in a funny way, it's quite like now," says Berntsen.
"If you see the matches now, many of his movements are familiar … he has quite the same playing style as before. The main thing with Erling was he scored a lot of goals and was funny and loveable guy."
With his move to Man City, Haaland followed in the footsteps of his father, Alf Inge – a former defender and midfielder who also had stints at Nottingham Forest and Leeds. His mother, Gry Marita Braut, was a Norwegian heptathlon champion.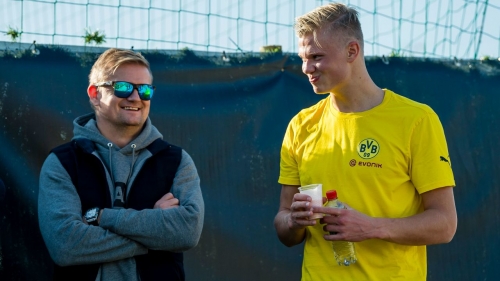 Like father, like son.
Alexandre Simoes/Borussia Dortmund/Getty Images
A figure of influence over his son's professional career, Alf-Inge even caused a stir in the stands during this week's Champions League semifinal when he was moved to a different seat after taunting Real Madrid fans at the Bernabéu.
But when Haaland was a youth player at Bryne, it was rare to see his father on the sidelines at training sessions.
"He left Erling on his own because he could see that Erling had fun, developed, got better and better and better in a good, safe environment with friends," says Berntsen.
"As it became clear that Erling is something special and he had to move from Bryne to Molde … Then his father became very important, of course, and he had to prepare Erling for how to meet a new job, how to be accepted in the world, how to be a professional."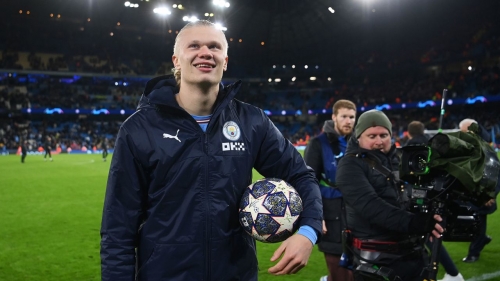 Haaland holds the match ball after scoring five against RB Leipzig in the Champions League in March.
Michael Regan/UEFA/Getty Images
Haaland's professionalism is a quality regularly singled out by teammates and coaches as a reason for his success.
Manchester City midfielder İlkay Gündoğan said he is the first to arrive at the training ground, while Grealish has called Haaland "the best professional I have ever seen" when it comes to diet, treatment, and recovery.
At Dortmund, Addo says that Haaland had his own personal trainer to help with physical conditioning, explaining how "even if he's off the pitch, he does a lot on his body."
His dedicated approach has already reaped rewards; more goals, records, and accolades are likely to be a mainstay of Haaland's career if he is able to stay healthy.
"He's still young and he will improve even more," says Addo. "He will be the best player on this planet one day. He's very close now – maybe the best player already."