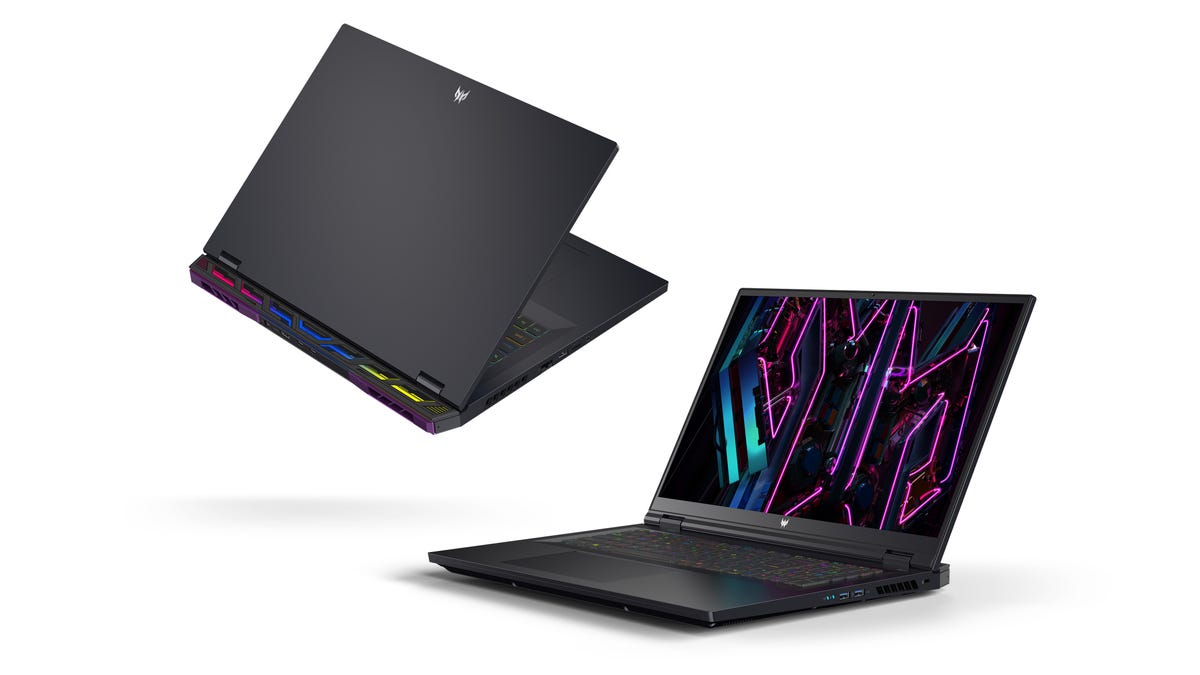 Acer is hoping you'll have room on your desk for its new 18-inch Helios gaming laptop.
Acer
If you've yearned for gaming laptops with larger displays, you'll be happy with what's coming in 2023 from Acer. The new 16- and 18-inch Predator Helios gaming laptops announced at CES 2023 feature the latest 13th-gen Intel Core processors, Nvidia GeForce RTX 40 series graphics, enhanced cooling, big, beautiful displays and, of course, a lot of lights.
Predator Helios is a premium gaming line, so Acer will offer the best in new components inside. Along with the latest Intel and Nvidia options, they'll support up to 32GB of DDR5-4800 RAM and up to 2TB PCIe Gen4 NVMe solid-state drives in RAID 0. The components will be kept cool with "dual custom-engineered fifth-gen AeroBlade 3D metal fans and vector heat pipes in the shape of rectangles for improved heat transfer," Acer said in its announcement.
The Helios 16 will come with three 2,560×1,600-resolution display options with a 165Hz or 240Hz refresh rate or a Mini LED panel with a 250Hz refresh rate, 100% P3 color gamut and a peak brightness over 1,000 nits. The 18-inch Helios has those panel options as well as an entry-level 1,920×1,200-pixel display at 165Hz.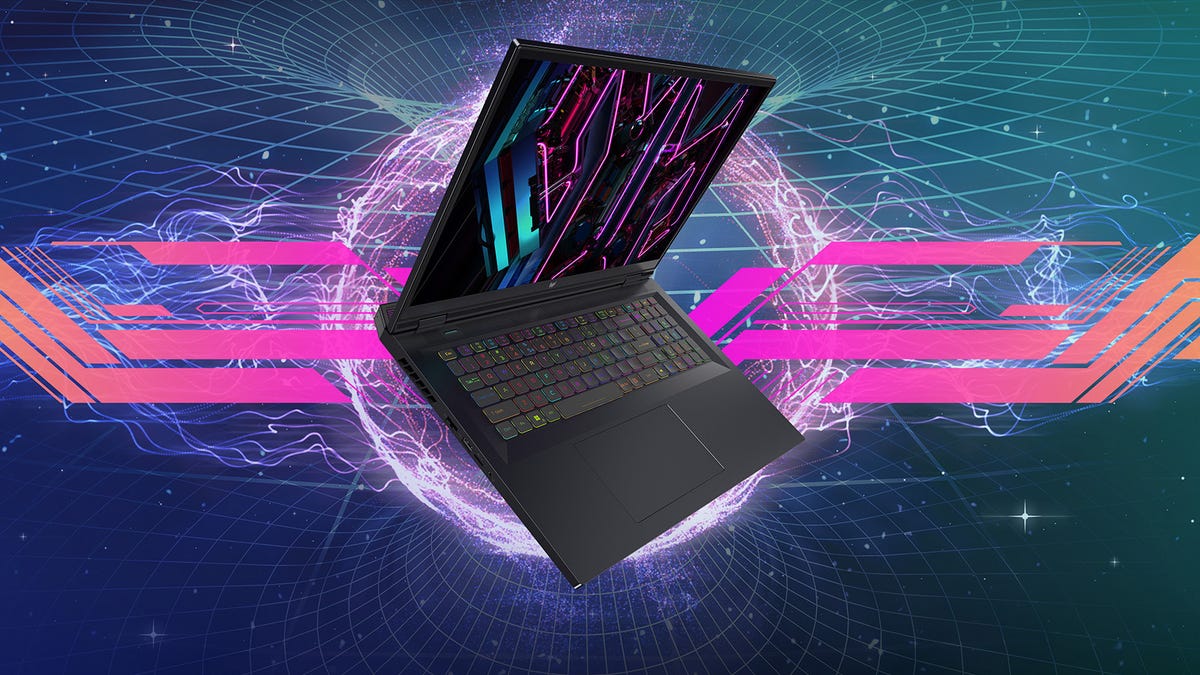 Predator Helios 18

Acer

The new designs use a mini-LED backlit keyboard with deep 1.8-millimeter key travel. The per-key lighting uses less power while giving the keys bright, uniform color. A customizable RGB light bar also runs across the top of the back vents. 
The Predator Helios 16 is expected in March starting at $1,650 with the Helios 18 following in April with a starting price of $1,700. Both laptops are expected to be available in Europe a month earlier than in the US, though. Pricing for the UK and Australia wasn't immediately available, but the price for the Helio 16 converts to approximately £1,370 or AU$2,445.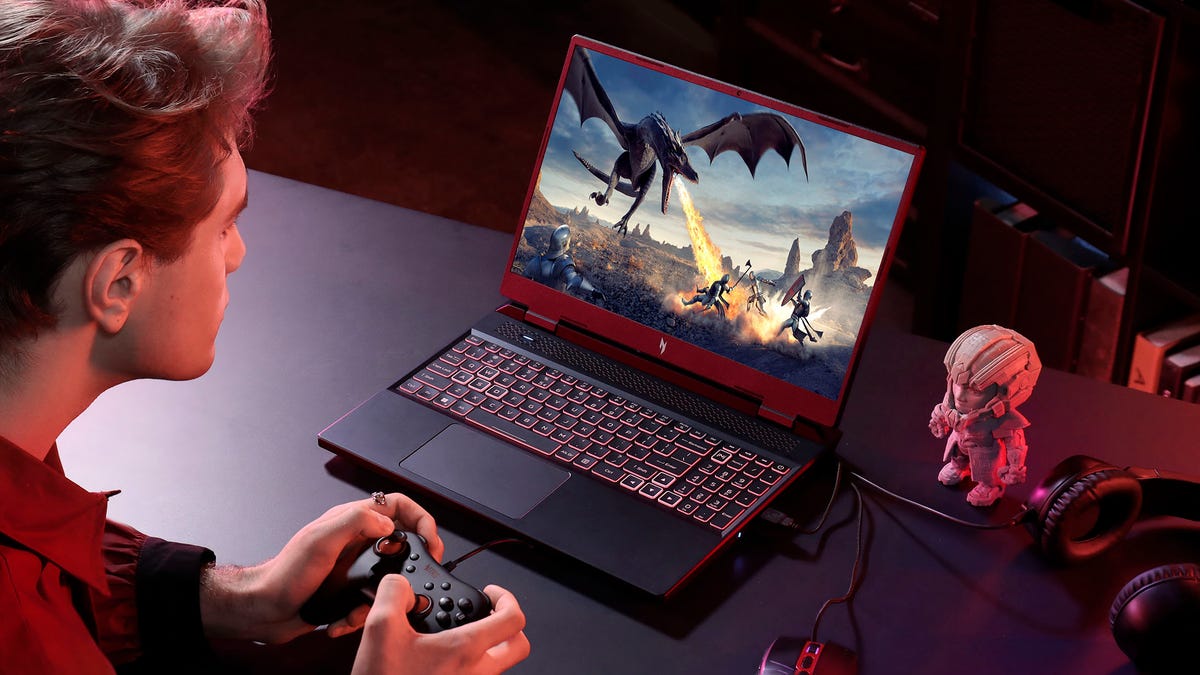 Acer Nitro 16 gaming laptop.

Acer

Acer also introduced new Nitro gaming laptops for those who want a bigger display still but at a lower entry price. Available in 16- and 17.3-inch sizes, the new Nitro gaming laptops will also be available with the latest Intel and Nvidia chips, up to 32GB of DDR5 memory and up to a 2TB PCIe Gen4 SSD for storage. Display options will include a 2,560×1,600-pixel panel with a 165Hz refresh rate on the 16-inch version and either a 144Hz or 165Hz full-HD or 165Hz quad-HD display on Nitro 17. 
Both the Acer Nitro 16 and 17 are expected in May with a starting price of $1,200.