close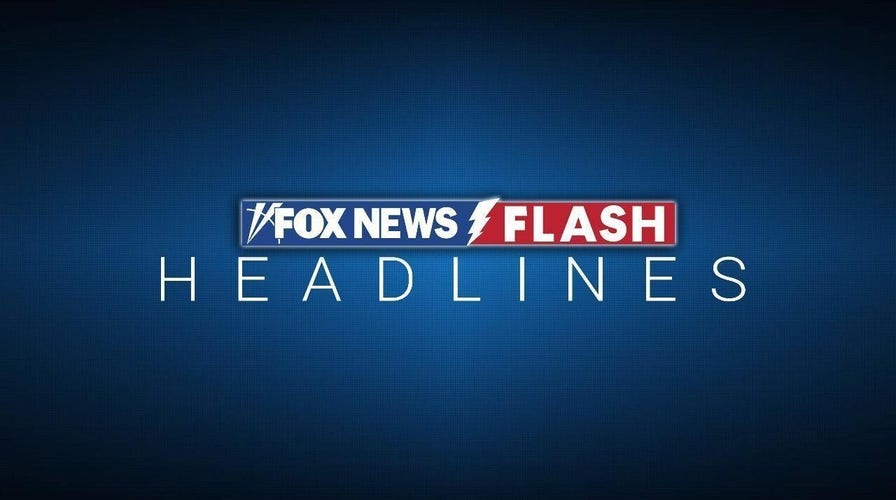 Video
Fox News Flash top headlines for June 2
Fox News Flash top headlines are here. Check out what's clicking on Foxnews.com.
They fan out in groups, mostly women, plodding in rain boots across the soggy wet sands of the inlet, making the most of the low tide.
Hustling along with rakes and buckets, they chat and laugh gaily. These are clam diggers, or as they call themselves, "the peasant farmers of the sea."
Ruddy-faced from the coastal winds and hard work, they wear colorful headscarves and ordinary house clothes, cutting a perfect oil-painting landscape against the striking blue sky and wispy white clouds in the chilly hours at the break of dawn.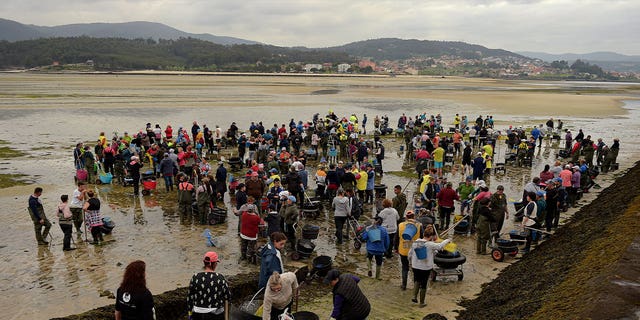 A large crowd gathers in the lower estuary of Lourizan before starting their day as clam collectors in northern Spain on April 20, 2023.  (AP Photo/Alvaro Barrientos)
Clam collecting in the expansive inlets of Spain's northwestern region of Galicia is a deep-rooted tradition, handed down from generation to generation.
"My mother made me become a shellfish collector," says Mari Carmen Vázquez, 57, head of the Lourizan inlet collective of clam collectors. "There was no other future."
In times past, the women of Lourizan village would trawl the wet sands while their husbands went to sea, often for several months at a time.
Two very basic techniques are used: One is with a rake to scrape the mushy sand, and bucket as many clams as possible. Other collectors don neoprene waterproofs or river-fishing clothing and wade waist-deep into the cold waters further out in the inlet. They use a rake linked to a metal cage to scrape and sift the sand from the seabed before bringing up the catch.
SPAIN EXPERIENCED HOTTEST, DRIEST APRIL ON RECORD IN THE COUNTRY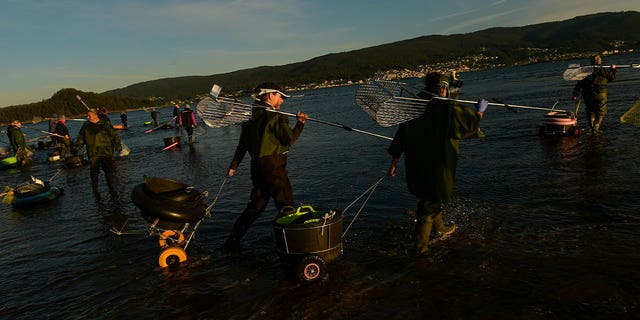 Clam diggers walk in the lower estuary of northern Spain on April 18, 2023, as they make most of the low tide. (AP Photo/Alvaro Barrientos)
These diggers are allowed around 22 pounds in total of two different types of clams each day. Tides and weather dictate when they can work, but there are also periods when water contamination forces a ban on shell fishing. These days, they admit, clams of all types are much scarcer, possibly because of climate change.
The collectors sell their catch at the town fish market from where it is distributed to fishmongers across the country before ending up as expensive dishes at restaurants and homes.
MADRID MUSEUM TO OPEN NEW GALLERY NEXT MONTH WITH 5 CENTURIES OF SPANISH ROYAL COLLECTIONS
Clam digger Dolores Pazos, 62, pauses as she removes sand to search for clams in northern Spain on April 20, 2023.  (AP Photo/Alvaro Barrientos)
The clam fields are replenished constantly by sowing, or planting baby clams that can't be sold. Already harvested areas are cordoned off to allow them to recuperate, maintaining a cyclical and sustainable industry.
The women relate that decades ago, the job was much tougher, with no protective clothing and no social security to cover for down periods. Many of them didn't even know how to swim.
"It was looked down upon. Nobody wanted to do it," says Fátima Seoane, 52, who helped her mother and grandmother when she was a child. "People called us scavengers."
CLICK HERE TO GET THE FOX NEWS APP
Nowadays, their jobs are regulated and they are guaranteed a wage of sorts, giving them some economic independence — so much so that there are waiting lists for permits that can take years to obtain.
The clam diggers work about three hours a day over 15 or 16 days a month. On average they bring in $107 a shift, depending on market prices.
"I wouldn´t change this job for another." says Seoane. "It's very comfortable, there are no bosses, we have our laughs, you work at your own rhythm and when you want to rest, you rest."