Cookies may sound deliciously appealing on the surface. Allowing cookies on your devices and browser have a sweet side and occasional bitter aftertaste if not managed properly.
First, the basics of how cookies work with browsers will go a long way to helping know when to accept or reject them.
While cookies are designed in the hopes of giving you a more pleasurable browsing or surfing experience, many have feared that accepting cookies means that you are willingly giving away your personal information, and making yourself vulnerable to hackers and malware. But is this true?
SPAM TEXTS ARE OUT OF CONTROL, SAY ALL 51 ATTORNEYS GENERAL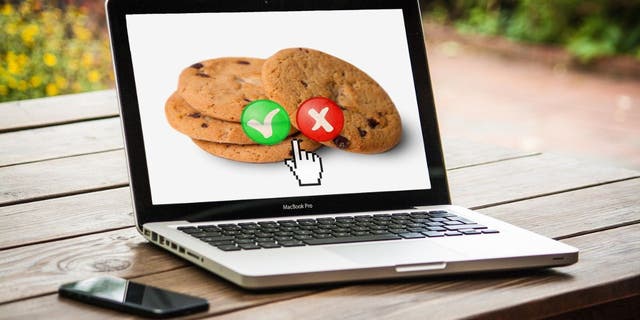 Cookies are text files, which are used to collect data.
What exactly are cookies?
In a nutshell, cookies are text files that are used to collect data. Cookies begin storing information upon your connection to the website, labeling your data with an ID uniquely related to your computer. This allows the website to gather information unique to you and your previous activity on the website.
Websites use cookies primarily to make your web browsing experience more pleasurable by tracking how you used the website. If you return, they can promote and display things based on your previous visit by recognizing your computer.
For example, if you visited an online store, on your next visit, the website can promote items they think you might like based on what you previously viewed or purchased. Most websites also use cookies as a means of making their website more navigable and accessible to the broader public.
How exactly do cookies work
10 TRICKS FOR DOING AN EFFECTIVE GOOGLE SEARCH
Once you log on to a website, your web server transfers the cookie to your browser
Your computer then stores the cookie on your hard drive.
There are three major types of cookies you will likely come across while surfing the internet:
Persistent Cookie
These cookies store data for an extended period
They come with an expiration date, anywhere from a few days to a few years after your first visit
Session Cookies
Session cookies last only as long as your browser is open
Once you close your browser, all of your information will be deleted.
Third-Party Cookies
Also known as "tracking cookies", these cookies track your wider online behavior
Information collected from a single website visit is shared with advertisers
This advertiser will then be able to promote items on your social media based on your browsing history.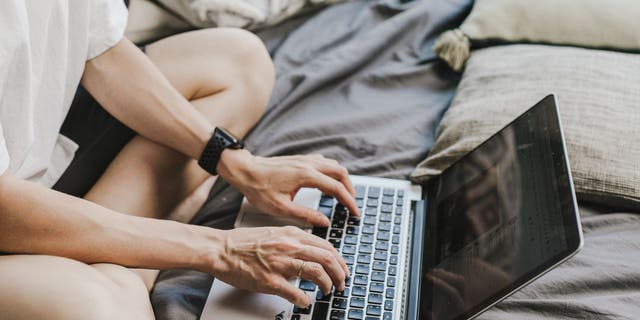 Cookies are text files, which are used to collect data.
(Cyberguy.com)
When cookies become problems
TECH TIP: THE 6 TOP-EXPERT-REVIEWED MODEMS
The potential for your browsing history and other sensitive information to be easily tracked poses a privacy and security risk. Namely, they collect a lot of your personal information, including your IP address, browsing history, and should you have been tracked by third-party cookies, your information can be sold to advertisers who will then target you.
Cookies are not immune to cyberattacks. A more dangerous scenario is when your computer or device is not secured with strong passwords and up-to-date security software. This information could potentially be accessed by cybercriminals who are skilled at prying into cookies that store credit cards, financial login credentials, and other sensitive information.
If privacy and security weren't concerning enough, there is also a risk that a cookie could cause problems with website performance. This can happen when you have a large number of cookies stored on your device causing the browser you use to experience a slowdown.
When should I not allow cookies?
Many websites will not allow you to access them without accepting cookies. And as long as it is a secure, trusted website, allowing cookies enabled should pose no threat. If a website you visit seems strange or untrustworthy, you should not allow cookies. One easy way of determining this is by checking the website address in your browser. Make sure there is a lock at the beginning of the URL address. This means that all data on the website is encrypted.
You may at times be prompted to enable or accept third-party cookies. These are the type of cookies that target you the most. It's probably best to decline to accept third-party cookies if you want to be extra cautious since you have no control over where your information might end up.
SEND A FUN MESSAGE WITH THESE IPHONE TRICKS
Is it possible for me to manage my cookies?
Thankfully, Google Chrome like many browsers has an easy way for you to manage stored cookies:
Click the Chrome Menu
Click Preferences
Click Privacy And Security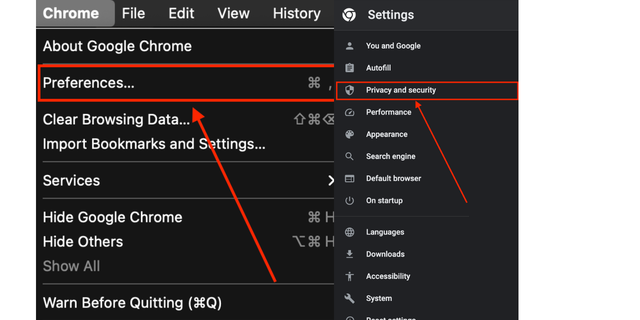 Cookies are text files, which are used to collect data.
(Cyberguy.com)
Click Cookies and Other Site Data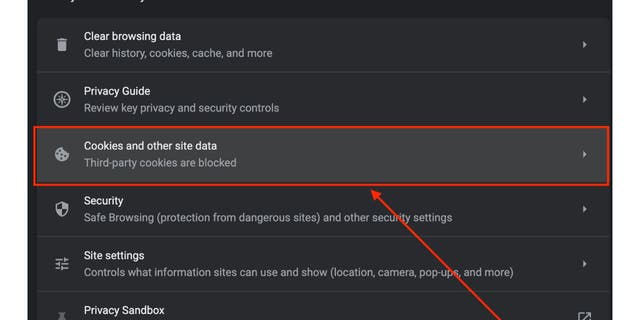 Cookies are text files, which are used to collect data.
(Cyberguy.com)
Here you will have several options, including whether to block all cookies.
Cookies are text files, which are used to collect data.
(Cyberguy.com)
HOW TO FIND YOUR LOST MACBOOK
Blocking all cookies isn't recommended as it might make accessing certain websites impossible and make logging into websites you visit frequently less convenient.  Blocking third-party cookies prevents your browsing activity across multiple sites to be recorded easily.
Ways to keep your private information safe
While your information on encrypted sites is the safest, particularly if you have third-party cookies blocked, we still might find ourselves accidentally allowing cookies on an unsafe website.  That instantly puts our online safety at risk. There are two ideal ways to keep yourself protected should this happen to you.
Use a VPN
A virtual private network, or VPN, hides your IP address by re-routing your data through an encrypted tunnel. This makes your online and browser history next to impossible to track. I choose ExpressVPN as the best VPN. Benefits of a VPN include:
CLICK TO GET KURT'S CYBERGUY NEWSLETTER WITH QUICK TIPS, TECH REVIEWS, SECURITY ALERTS AND EASY HOW-TO'S TO MAKE YOU SMARTER
adds a layer of enhanced security
prevents Internet service providers from monitoring your online activity
offers a way around geo-fencing blocks
can help increase your connection speeds
Limited time deal for CyberGuy readers for more of my review visit CyberGuy.com/VPN
Install trusted antivirus software for safer browsing
Having reliable antivirus protection running on your computer is best at warning you if a website you are visiting is trustworthy or not before you are even able to give your personal information to an untrustworthy site.
One of the top antivirus apps for all devices including both Android and iPhone is TotalAV.   Their product is full of features to keep you safe from malware and protect you when browsing the internet including ransomware protection, real-time antivirus protection, elimination of viruses and malware, a tool to free up your computer's space, plus more.
CLICK HERE TO GET THE FOX NEWS APP
It's worth a small price to pay to keep your personal information, data, and all of your devices safe from hackers.
See my expert review of the best antivirus protection by searching 'Best Antivirus' at CyberGuy.com.