close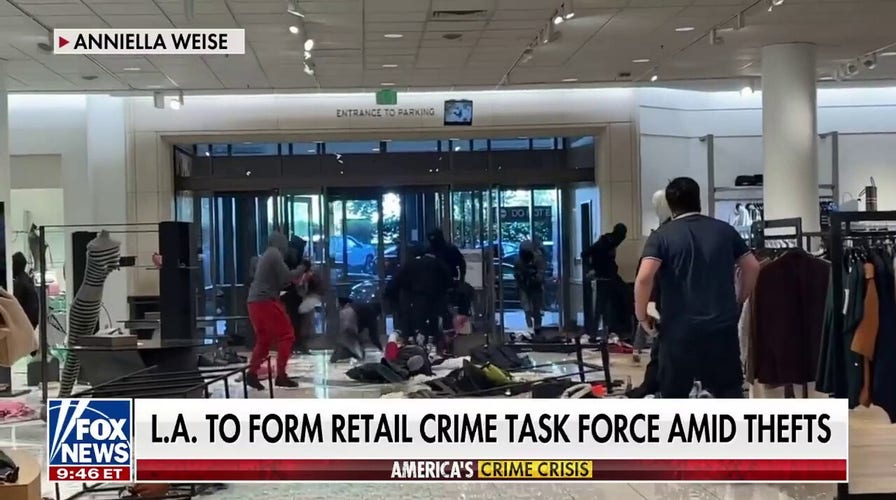 Video
Los Angeles forming crime task force to address 'flash mob' robberies
Fox News' Jeff Paul provides details on Los Angeles Mayor Karen Bass' plan to work with the LAPD and sheriff's department to combat the rise in retail thefts. 
Three young women were killed when their Uber ride was struck by a speeding driver during a gnarly multi-vehicle collision at a Los Angeles intersection early Sunday, according to reports.
Preliminary information from California Highway Patrol said the crash happened shortly before 5:30 a.m. in the Westmont neighborhood near the intersection of Vermont Avenue and Century Boulevard. Authorities said a white Mercedes-Benz sedan was traveling northbound on Vermont at a high rate of speed when it crashed head-on into a black Honda sedan operated by an Uber rideshare driver. A witness told KTLA it appeared the white Mercedes had been traveling at around 80-85 mph, possibly speeding to beat the red light.
The black Honda sedan was reportedly stopped at the light, waiting to make a left turn. The impact of the crash sent it spinning across the road.
Three female passengers who were riding in the back seat were killed. One of those woman was said to have been ejected from the vehicle.
TEXAS SENDS 10TH MIGRANT BUS TO LOS ANGELES AFTER MAYOR DECRIES MOVE AS 'POLITICAL ACT'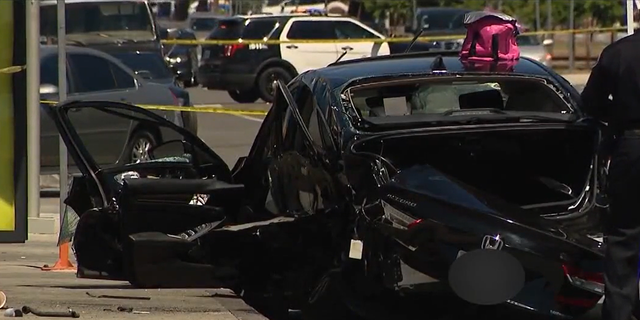 A black sedan operated by an Uber driver was struck in Los Angeles by a speeding driver. (FOX 11)
"I was trying to help the two girls in the back," Victor Gonzalez, a witness, told KTLA. "I started shaking them, you know, and talking to them and waking them up, but they weren't responding, and they weren't breathing."
Responding officers found one person lying in the street after having been ejected from the vehicle, while another person needed to be extracted from a vehicle at the crash site.
The Los Angeles County Coroner's Office has identified the three deceased as Juvelyn Arroyo, 23, Veronica Amezola, 23, and Kimberly Izquierdo, 27.
Another passenger, a young man, who was riding in the front passenger seat, and the female Uber driver were both rushed to the hospital.
The Uber driver was in critical condition, while the surviving passenger suffered serious injuries but was alert and said to be in stable condition, according to FOX 11 Los Angeles.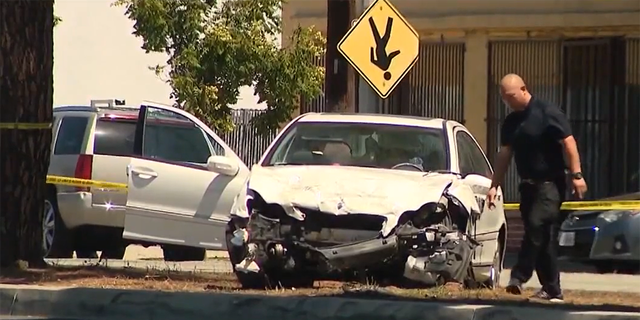 White Mercedes involved in fatal Los Angeles crash. (FOX 11)
Police told FOX 11 there was only one person in the white Mercedes, the driver, who is also in the hospital. It's unclear if he will face charges.
LOS ANGELES-AREA CRIME TASK FORCE MAKES 11 ARRESTS LINKED TO BRAZEN SMASH-AND-GRAB ROBBERIES
"He [passed] the vehicles that were stopped at the red light, doing the right thing. He passes on the left side of them, into the turn lanes and goes around them and strikes the victims," LAPD Detective Ryan Moreno said of the Mercedes driver. "And you're talking about going 85, 90 miles an hour at least."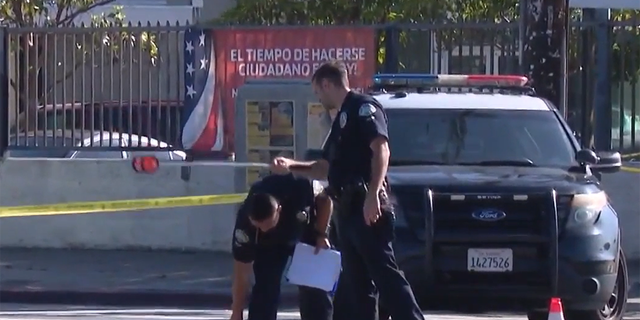 LAPD officers remained at the scene of a deadly collision. (FOX 11)
"It's just frustrating," Sgt. Clarence Perkins added. "Because just think about if you just drive the speed limit, slow down, obey the laws of the land, this wouldn't happen. This is actually preventable."
CLICK HERE TO GET THE FOX NEWS APP
Police were working to interview witnesses and acquire more video to determine if there was a reason the Mercedes driver was speeding at the time of crash – or if the driver was simply callously defying traffic laws. Officials initially said they did not believe drugs or alcohol played a factor, according to KTLA.
Investigators have not ruled out the possibility he was fleeing another crime scene, according to FOX 11.
Danielle Wallace is a reporter for Fox News Digital covering politics, crime, police and more. Story tips can be sent to [email protected] and on Twitter: @danimwallace.