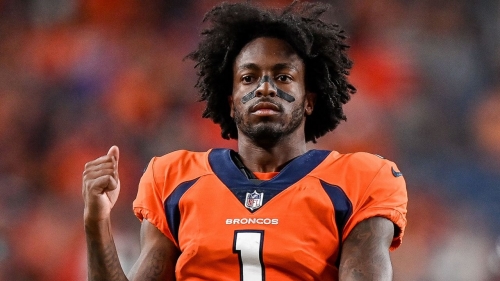 KJ Hamler looks on from the sideline during a preseason NFL game against the Minnesota Vikings at Empower Field at Mile High on August 27, 2022 in Denver.
Dustin Bradford/Getty Images/FILE

CNN
—
Denver Broncos wide receiver KJ Hamler is stepping away from the NFL for treatment after being diagnosed with a heart issue, the 24-year-old player announced Monday on Instagram.
"After feeling some chest pains while working out on the break before camp started (last Tuesday), I got everything checked out and was diagnosed with mild heart irritation, called pericarditis," Hamler wrote. "I've got a great treatment plan with medicine and am taking a quick break to get this all taken care of so I can get back to doing what I love."
Pericarditis is inflammation in the layers of tissue lining the heart. It's often caused by respiratory infections or conditions like lupus or rheumatoid arthritis. It's usually mild, clearing up in days or weeks with rest or over-the-counter medications. More severe cases may need surgery.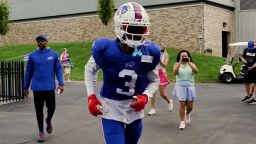 Video of Damar Hamlin in pads at Monday's Bills practice.
From Buffalo Bills
Damar Hamlin takes another step in comeback as he puts on pads at Buffalo Bills practice
"I will be back on the field – better and stronger than ever – as soon as possible this season! I feel great physically and this is very frustrating for me to deal with," Hamler said. "I'll get past this just like everything else on this journey! I will continue to elevate. I forever stand on business. This is not a farewell, this is not a good bye, this is a see you soon as I take a break for my health."
Denver on Monday waived Hamler with a non-football illness – a roster designation for players who have suffered injuries or illness not related to football activities. Players starting the season on the list can be activated after the fourth regular season game, according to NFL.com.
The 2020 second-round draft pick out of Penn State has played in only 23 games in three seasons as he has battled several injuries. In 2021, Hamler suffered a season-ending ACL injury while trying to make a catch in a September game against the New York Jets, according to the team's website. He battled a hamstring injury in 2022.
Hamler has 42 receptions, 620 receiving yards and three touchdowns in his career.
CNN has reached out to the Broncos and the NFL for comment.
CNN's Katherine Dillinger contributed to this report.