Nearly every House Democrat Wednesday voted against legislation that would require immediate medical attention for babies who are born alive after an attempt was made to abort them.
The House passed the Born-Alive Abortion Survivors Protection Act, which says any infant born alive after an attempted abortion is a "legal person for all purposes under the laws of the United States." Doctors would be required to care for those infants as a "reasonably diligent and conscientious health care practitioner would render to any other child born alive."
The bill passed 220-210, and all 210 of the "no" votes came from Democrats.
Following that level of care, doctors would be required admit those infants to a hospital for further care. Any violation of this standard would result in fines and imprisonment for up to five years, or both.
Republicans argued on the floor that comments from Virginia's former Democratic Gov. Ralph Northam are an example of why the law needs to be clarified to protect newborn infants who survive abortions. Northam was talking about third-trimester abortions and appeared to indicate support for delivering babies that might still be alive before taking their life outside the womb.
REPUBLICANS TO CONDEMN PRO-CHOICE ACTIVIST VIOLENCE AFTER ROE ROLLBACK WITH RESOLUTION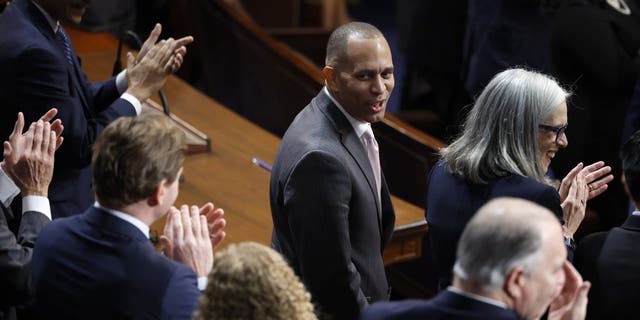 U.S. House Democratic Leader Hakeem Jeffries, D-N.Y., and other House Democrats voted against a bill Wednesday requiring medical care for infants who survive abortion.
(Photo by Chip Somodevilla/Getty Images)
"We all know in 2019, then-Gov. Northam of the state of Virginia stated this: 'The infant would be delivered, the infant would be kept comfortable, the infant would be resuscitated if that's what the mother and the family desired, and then a discussion would ensue between the physicians and the mother,'" said Rep. Jim Jordan, R-Ohio.
"The cavalier attitude he displayed towards human life is just wrong," Jordan said. "It is simple. Infants born alive following an abortion are kids, are children. All newborns deserve the same level of care."
Nonetheless, Democrats overwhelmingly rejected the bill. Some, like Rep. Jerry Nadler, D-N.Y., argued that the bill would set up new requirements that would "directly interfere with the doctors' medical judgment and dictate a medical standard of care that may not be appropriate in all circumstances."
He and other Democrats said the requirement to eventually take infants who survive abortion to a hospital may not be in the best interest of the family.
Several others rejected Republicans' stated purpose for bringing up the bill and accused the GOP of trying to outlaw abortion, although the bill places no new limit on abortion.
NEW YORK PRO-LIFE PREGNANCY CENTER ALLEGEDLY 'FIREBOMBED' BY LEFT-WING GROUP, INVESTIGATION LAUNCHED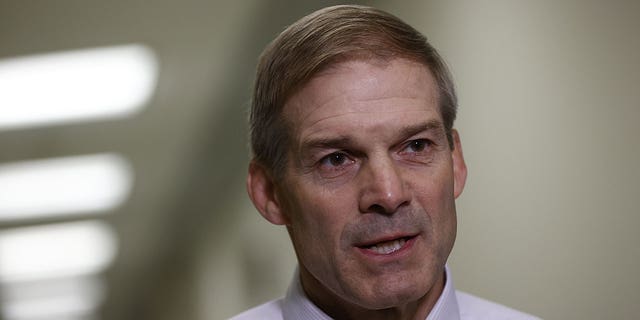 Representative Jim Jordan, a Republican from Ohio, argued in favor of legislation calling for medical care for abortion survivors, a bill Democrats widely rejected.
(Ting Shen/Bloomberg via Getty Images)
"We all know what this is about. It is not about the protection of newborn children. It's about control," said Rep. Sydney Kamlager-Dove, D-Calif. "It's about the nation-wide abortion ban that Republicans have been itching to enact since the overturning of Roe v. Wade."
House Minority Leader Hakeem Jeffries, D-N.Y., accused Republicans of bringing up the bill "as part of your march to criminalize abortion care, to impose a nationwide ban, to set into motion government-mandated pregnancies."
Rep. Suzanne Bonamici, D-Ore., also cast the bill as an attempt to ban abortion, and said it is "extremist, dangerous and unnecessary."
Rep. Mary Scanlon, D-Pa., said she opposes the GOP's "grotesque attempt to politicize abortion care and criminalize doctors."
NORTH CAROLINA PREGNANCY CENTER DEFIANT AFTER PRO-ABORTION VANDALISM: 'SPIRITUAL WARFARE'
2019 comments from former Virginia Gov. Ralph Northam were cited by Republicans as a reason why the bill is needed.
(AP Photo/Steve Helber)
Some Democrats said the bill is unnecessary because it is already illegal to kill newborn infants, but Republicans accused Democrats of opposing the legislation to further their radical agenda of abortion on demand.
"Taking the life of unborn children right up to their birthday, and then as Gov. Northam has pointed out, even after that," Jordan said. "We want to make sure that 'even after that' part never happens."
"I find it absurd, I find it unconscionable that this would be a matter of discussion on this body, that we would not render medical aid to the most innocent amongst us, an unborn child that is born alive after the most traumatic circumstances possible," said. Rep. Derrick Van Orden, R-Wis.
CLICK HERE TO GET THE FOX NEWS APP
"This is not about a woman's access to abortion," he said. "This is about the sanctity of life and the basic dignity of a human child."
House passage of the bill sends it to the Democrat-controlled Senate, which is unlikely to act on it.