For the second weekend in a row, former Vice President Mike Pence's cross-country book tour for his memoir "So Help Me God" is taking him to a prominent mega church with an extremely influential pastor who was a strong supporter of former President Donald Trump.
Pence travels to the Cornerstone Church in San Antonio, Texas on Sunday, where he'll sit down with pastor John Hagee. A week earlier, the former vice president and longtime champion of the social conservative movement was in Dallas for a similar visit with Robert Jeffress, senior pastor at the First Baptist Church.
And on Friday, ahead of his return to Texas, Pence was in the nation's capital to attend a breakfast and hold a reception with evangelical leaders and activists, who were attending the annual March on Life on the Mall in Washington, D.C.
EVANGELICAL VOTE AT STAKE FOR 2024 REPUBLICAN PRESIDENTIAL HOPEFULS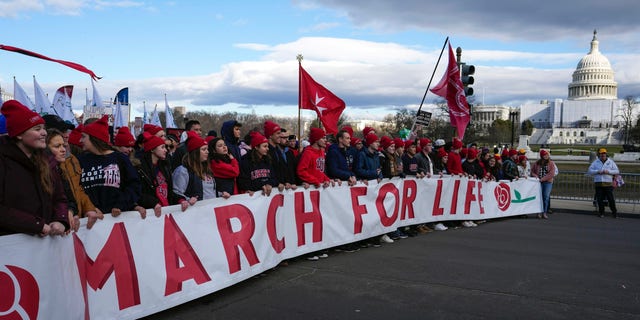 With the U.S. Capitol in the background, anti-abortion demonstrators march toward the U.S. Supreme Court during the March for Life, Friday, Jan. 20, 2023, in Washington. 
(AP Photo/Alex Brandon)
The gathering was the first since last year's move by the Supreme Court's conservative majority to overturn the nearly half decade old landmark Roe v. Wade ruling. The blockbuster opinion erased the established constitutional right to an abortion and threw the combustible issue back to the states.
TRUMP'S IN, BUT WHERE'S EVERYBODY ELSE? WHY THE 2024 GOP PRESIDENTIAL RACE IS OFF TO A SLOW START
"As we move forward, we must have the courage of our convictions. Let us renew our commitment to proudly championing the cause of life in our statehouses, courthouses, in the halls of Congress, and in our communities," Pence said on Friday.
With Pence as his running mate, Trump won the White House in 2016, thanks in part to strong support from White evangelical voters. Social conservatives, who make up a key portion of the GOP's base, once again backed the Trump-Pence ticket in 2020 by large margins.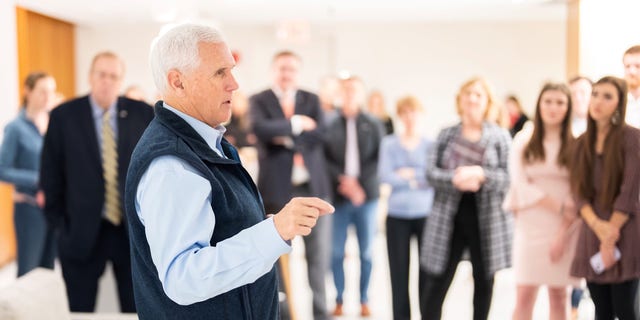 Former Vice President Mike Pence meets with social conservative leaders and activists on the morning of the annual March for Life rally opposing legalized abortion, in Washington, D.C., on Jan. 20, 2023
(Andrea Hanks for Advancing American Freedom)
During his four years in the White House, Trump provided the social conservative movement with plenty of victories. The biggest was his filling of the federal courts with scores of conservative-minded judges, including three justices on the Supreme Court who contributed to last year's abortion ruling.
Trump campaign spokesman Steven Cheung told Fox News in a statement, touted that the former president's "unmatched record speaks for itself," and that "there has been no bigger advocate for the movement than President Trump."
2024 WATCH: TRUMP'S IN – WHAT ABOUT DESANTIS, PENCE, AND THE OTHER POTENTIAL GOP PRESIDENTIAL CONTENDERS
But as he runs for the White House a third time, it's no sure bet that evangelical voters will once again flock to Trump, as they'll likely have other choices – such as Pence, former Secretary of State Mike Pompeo, Florida Gov. Ron DeSantis, and others friendly to the social conservative movement who are also mulling presidential bids.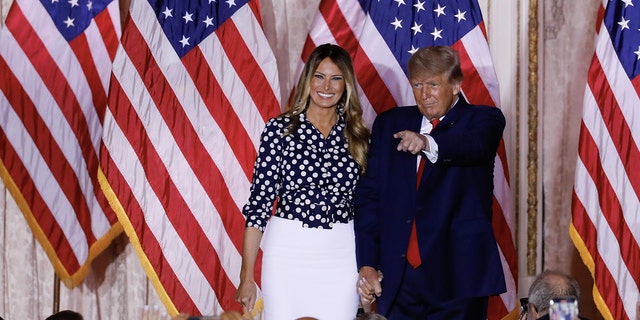 Former President Donald Trump arrives to speak with former First Lady Melania Trump, left, at his Mar-a-Lago Club in Palm Beach, Florida, on Tuesday, Nov. 15, 2022.
(Eva Marie Uzcategui/Bloomberg via Getty Images)
Trump's 2024 campaign launch was panned by plenty of political pundits, and he's been criticized by Democrats and some Republicans for controversial actions and comments he's made the past two months. He was also blamed – in the wake of a lackluster performance by the GOP in the midterm elections – for elevating polarizing Republican nominees who ended up losing in November.
Earlier this month, Trump pushed back, blaming the GOP losses on Republicans' handling of the abortion issue, "especially those that firmly insisted on No Exceptions, even in the case of Rape, Incest, or Life of the Mother, that lost large numbers of Voters."
"Also, the people that pushed so hard, for decades, against abortion, got their wish from the U.S. Supreme Court, & just plain disappeared, not to be seen again," Trump also charged in a social media posting.
And in a radio interview the day after Jeffress met with Pence, Trump accused the pastor and other social conservative leaders who are staying neutral in the early days of the 2024 GOP presidential nomination race of "disloyalty." And he doubled down on his blame of the anti-abortion movement for the disappointing results at the ballot box in November.
Jeffress, in a Fox News interview ahead of his sit down with Pence, said that if the former vice president runs," he'll certainly be a strong contender."
Trump's the only major candidate so far to launch a campaign, but Pence and plenty of other likely or potential White House contenders are already courting social conservatives.
"It really boils down to arithmetic, not moral theorizing," Ralph Reed, a longtime social conservative political leader and the founder and chairman of the Faith & Freedom Coalition.
"There is no path to the Republican nomination for president in 2024 without, in my opinion, not only appealing centrally, as a core part of one's message to those voters, but I think winning a plurality of those voters in a crowded field."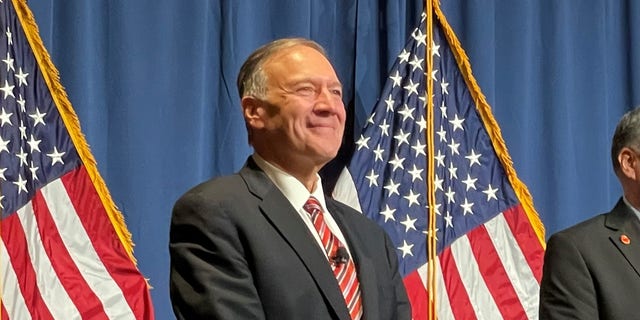 Former Secretary of State Mike Pompeo keynotes the Hillsborough County, New Hampshire GOP's annual Lincoln-Reagan fundraising dinner, in Manchester, N.H. on April 7, 2022.
(Fox News )
Pompeo has long showcased his faith during his years as a congressman from Kansas, and as CIA director and later America's top diplomat in the Trump administration.
"People of faith — especially evangelicals — matter enormously in our elections," Pompeo told Fox News. "These are Americans who understand that the American idea is deeply rooted in Judeo-Christian values, especially basic respect for life and the fundamental dignity of every person. It is of the utmost importance that conservatives provide policies and leadership that deliver good outcomes for these faithful Americans."
Another friend to social conservatives is DeSantis, who cruised to a 19-point gubernatorial re-election victory in Florida last November.
The governor, a former congressman, saw his popularity soar among conservatives across the country the past three years, courtesy of his forceful pushback against coronavirus pandemic restrictions and his aggressive actions as a conservative culture warrior going after media and corporations. The governor, who has rivaled and even eclipsed Trump in some 2024 polling, has already pushed legislation in the opening days of his second term that is popular with conservatives.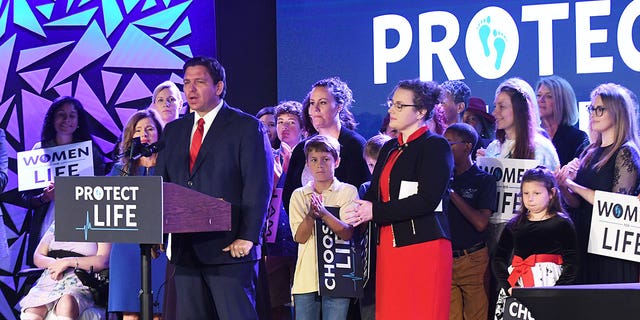 Gov. Ron DeSantis of Florida speaks to pro-life supporters before signing Florida's 15-week abortion ban into law at Nacion de Fe church in Kissimmee, Florida on April 14, 2022
(Paul Hennessy/SOPA Images/LightRocket via Getty Images)
Among his past actions that many evangelicals have applauded – DeSantis signed into law a bill banning abortion after 15 weeks of gestation, he urged his state's medical boards to ban puberty blockers and transgender surgery for minors and has targeted LGBTQ instruction in schools.
Some prominent evangelical leaders in Florida, including Tom Ascol of the Grace Baptist Church, have praised DeSantis.
While he's likely to have serious competition for the social conservative vote, no one is counting Trump out.
"I think that, eventually, if not immediately, evangelicals will end up coalescing around former President Trump again," Jeffress, one of Trump's earliest supporters in the 2016 campaign, said.
CLICK HERE TO GET THE FOX NEWS APP
And Reed said that Trump "will be a formidable candidate, and he will have strong support. And he will get a very fair hearing from voters of faith, I assure you."
But he pointedly added "I think there'll be a diversity of views as to who the best candidate will be."