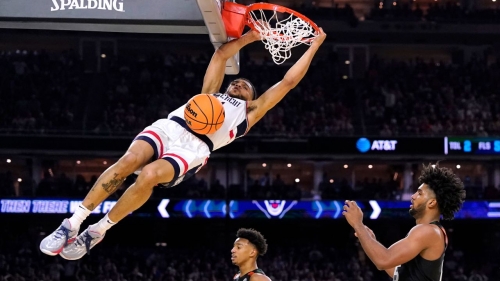 Connecticut guard Andre Jackson Jr. dunks the ball over Miami forward Norchad Omier, right, during their Final Four game.
David J. Phillip/AP

CNN
—
After a March Madness filled with twists and surprises – all four No. 1 seeds failed to reach the Elite Eight for the first ever time in NCAA men's basketball tournament history – it is time for the grand finale as UConn faces San Diego State on Monday for the title.
But, if the final matchup is somewhat of a surprise for all those filling out their brackets before the tournament, it is the culmination of an impressive month for both the No.4 UConn and No.5 San Diego State.
UConn has an opportunity to win its fifth title in 25 years but, despite this pedigree, it has not appeared in a championship game since 2014.
"It means a lot to us. It means everything we work for," star forward Adama Sanogo said after reaching the final. "The work has paid off, and still going and keep working and be able to go Monday night."
The Huskies shook off this long streak of underperforming from the very first game of this tournament. They won their first two games by an average scoring margin of 19.5 points, before demolishing No. 3 seed Gonzaga by 28 points in the Elite Eight.
The thumping victory was the biggest winning margin in the Elite Eight for 31 years, as UConn held the 'Zags to a season-low 54 points.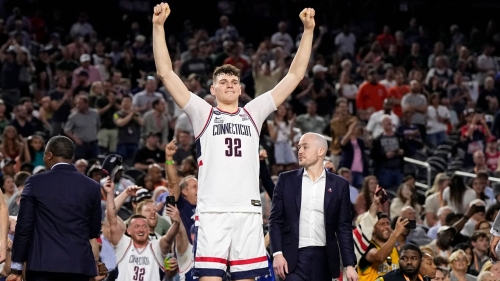 Connecticut center Donovan Clingan celebrates after defeating Miami.
Brynn Anderson/AP
"We feel like we're the best defense in the nation," UConn guard Tristen Newton said, according to ESPN. "We feel like people don't play teams like us every year. The Big East is a real physical league, and coming from those conferences, I don't feel like they have teams that play defense like the Big East does."
Then, in the Final Four, Sanogo and Donovan Clingan helped shut down the threat posed by Norchad Omier, as UConn defeated No.5 Miami 72-59.
"The effort that these guys gave defensively was unbelievable," UConn head coach Dan Hurley said in his post-match press conference.
"What Adama did in his matchup with one of the most physical interior guys we've faced. What Tristen was able to do in terms of his floor game, in his first half, in particular."
Sanogo's double-double, contributing 21 points, 10 rebounds, 9-for-11 from the floor, sealed victory.
Against the San Diego Aztecs, however, UConn will face a similarly imperious defense which was on full display in the Final Four, limiting FAU to just eight shots after halftime.
San Diego State's defense has been key to its success and negated the threat posed by top-seed and tournament favorite Alabama in the Sweet 16, blocking eight shots and forcing 14 turnovers as the Aztecs won 71-64.
San Diego State sealed its spot in Monday's title game in the most dramatic way possible as Lamont Butler's buzzer-beater sunk Florida Atlantic to win 72-71, prompting delirious celebrations on court.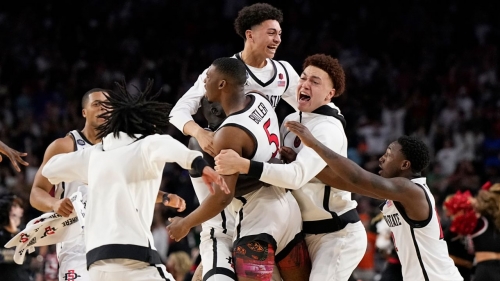 San Diego State guard Lamont Butler (5) celebrates with teammates after scoring the winning basket in the Final Four.
Brynn Anderson/AP
"Coach decided to call a timeout at the end," Butler told reporters afterwards in a press conference.
"It was about seven seconds after we got the ball, and he told me to go downhill, get something at the rim. They did a good job cutting me off. Once I looked up, it was two seconds left, I knew I had to make a shot. I got to a shot I'm comfortable with. Went to a pull-up; glad it went in."
In the Elite Eight too, the Aztecs only just squeaked past their opponent after a controversial foul call with 1.2 seconds remaining and the game tied at 56 going the Aztecs' way.
Before this season, San Diego State had never even reached the Elite Eight but has shown in its last two games that it has the will to go all the way.
"We've always been knocked down," said the Aztecs' Matt Bradley afterwards, according to ESPN. "But the biggest thing we always do is get back up and keep fighting."