close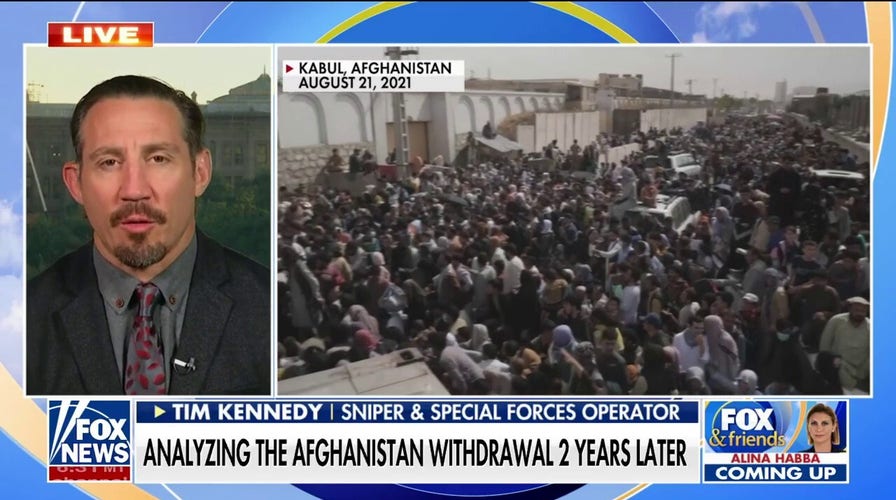 Video
Afghanistan withdrawal was missing 'proper strategic approach': Tim Kennedy
'Save Our Allies' co-founder Tim Kennedy joined 'Fox & Friends' to discuss the chaotic withdrawal two years later and his take on why he believes some of the tragic nature of the exit could have been avoided. 
Two years after President Biden oversaw the United States military's exit from Afghanistan, a move that effectively handed over control of the country back to the Taliban, its leaders continue to deny Afghan girls and women access to education and employment.
This August marked the second anniversary of the Taliban takeover of the country, and their chief spokesman Zabihullah Mujahid told The Associated Press that a ban on female education would remain in place. He also suggested there would be no other changes to the policies, which include Afghan women being banned from classrooms, most jobs and much of public life.
Mujahid was reluctant to discuss the restrictions on girls and women, but the Taliban, who view their rule in Afghanistan as open-ended and draw legitimacy from Islamic law, have effectively eliminated women from contributing to society.
He said, "Everything will be under the influence of Sharia."
TALIBAN MARKS 2-YEAR ANNIVERSARY OF RETURN TO POWER IN AFGHANISTAN, HAILS 'GREAT VICTORY'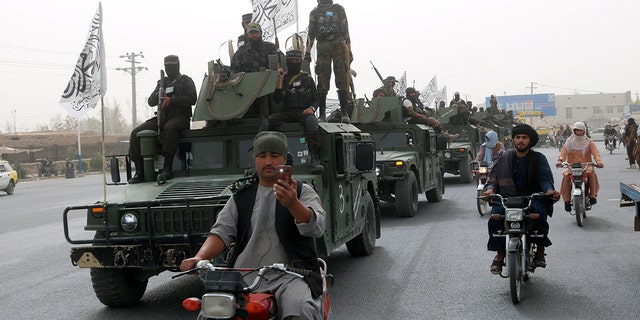 Taliban fighters patrol on the road during a celebration marking the second anniversary of the withdrawal of U.S.-led troops from Afghanistan, in Kandahar, south of Kabul, Afghanistan, Tuesday, Aug. 15, 2023. (AP Photo/Abdul Khaliq)
To mark the anniversary, Tuesday was declared a public holiday. However, women, largely barred from public life, were not allowed to participate in the festivities.
In Kabul, pickup trucks crammed with men and boys wound their way through the city. Men swarmed Martyrs Square, taking selfies and clambering onto a monument. Boys posed with rifles.
Approximately 300 miles south of the capital, in the southern city of Kandahar, the spiritual birthplace of the Taliban, young men rode through the city on bicycles, motorcycles and cars, waved flags and brandished weapons. Toddlers clutched small white Taliban flags bearing a photo of Defense Minister Maulvi Mohammad Yaqoob.
The Taliban has also implemented public executions, lashings and stonings since taking control of Afghanistan.
No threat to the Taliban rule
Less than a year after the Taliban seized control of Kabul on Aug. 15, 2021, as U.S. and NATO forces withdrew from the country after two decades of war, a ban on girls attending school beyond sixth grade became the first flurry of restrictions against women.
The status quo is not changing, according to the Taliban spokesman.
The Islamic government "will serve for as long as it can and as long as the emir (the supreme leader) isn't removed for doing something that goes against Sharia," he said, referencing Islamic law, or Sharia.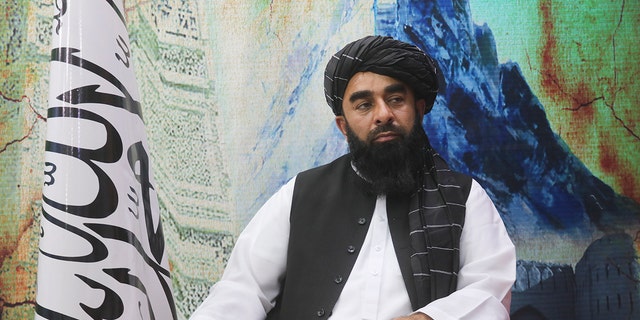 Taliban spokesman Zabihullah Mujahid sits during an interview in Kandahar, Afghanistan, Monday, Aug. 14, 2023. On the second anniversary of their takeover of the country, Mujahid said the Taliban will stay in power for a long time and for as long as God wants. (AP Photo/Abdul Khaliq)
Mujahid said the Taliban-led government is acting responsibly, and that Afghans crave consensus and unity. "There is no need for anyone to rebel," Mujahid said, claiming their rule faces no threat from inside or outside the country.
He also said the Taliban do not need the help of others when asked why the Taliban are not enlisting Muslim-majority countries with Sharia-based systems to restart female education.
"Everything will be under the influence of Sharia," said Taliban spokesperson Zabihullah Mujahid
Supreme leader Hibatullah Akhundzada is seen as the leading force behind the classroom ban, which was issued unexpectedly in March 2022, just as Kabul-based government ministers said they were preparing to allow girls from seventh grade and up to return to school.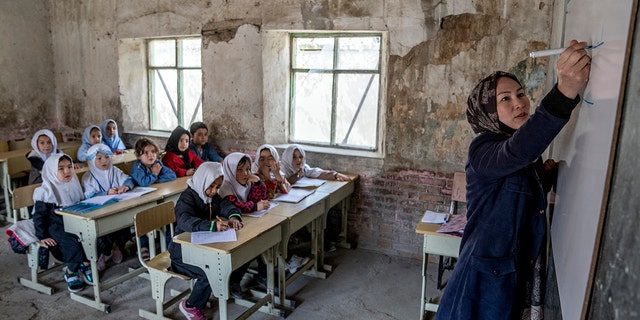 A teacher leads a girl's class on the first day of the school year, in Kabul, Afghanistan, on Saturday, March 25, 2023. (AP Photo/Ebrahim Noroozi)
Mujahid said there was disagreement among religious scholars on female education and suggested that maintaining harmony was more important than getting girls and women back into classrooms.
Defiant in the face of international pressure
Speaking to reporters in Washington, Secretary of State Antony Blinken insisted the path to a more normal relationship between the Taliban and other countries would be blocked "unless and until" the rights of women and girls were supported.
The spokesperson also addressed international isolation, largely due to the restrictions on women and girls, saying it is not a pressing concern for the Taliban leadership.
"Our interaction with China, Russia, Tajikistan, Uzbekistan, Turkmenistan, Iran, Pakistan and other countries in the region is official," he said. "We have embassies, travel, consulates. We have businesses. Traders come and go and transfer goods. These are all the things that mean the recognition of officialdom."
Taliban rulers are responsible for "the most egregious, vicious and indefensible violation of women's rights and girls' rights in the world today," said U.N. Special Envoy for Global Education Gordon Brown
An alliance of rights groups, including Amnesty International, said the Taliban should be pressured to end violations and repression and investigated for alleged crimes under international law, including gender persecution against women and girls.
U.N. Special Envoy for Global Education Gordon Brown told a virtual U.N. press conference on Tuesday that the International Criminal Court should prosecute Taliban leaders for a crime against humanity for denying education and employment to Afghan girls and women.
Taliban rulers are responsible for "the most egregious, vicious and indefensible violation of women's rights and girls' rights in the world today," he said.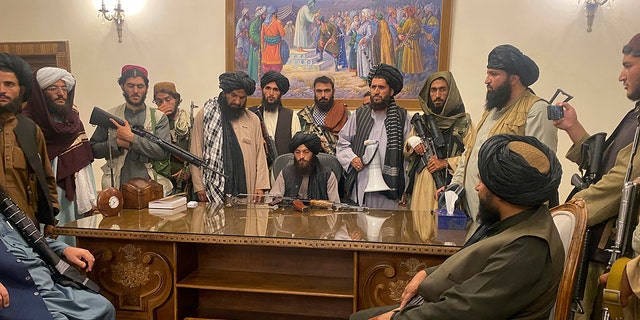 Taliban fighters take control of the Afghan presidential palace after Afghan President Ashraf Ghani fled the country, in Kabul, Afghanistan, Sunday, Aug. 15, 2021. (AP Photo/Zabi Karimi)
Aid agencies, rights groups and the U.N. this week issued a statement condemning the Taliban's rule and warning of the humanitarian crisis gripping the Afghan population.
"Two years ago, the Taliban seized power in Afghanistan. Since then, the policies they have imposed on the Afghan population have resulted in a continuous, systematic and shocking rescinding of a multitude of human rights, including the rights to education, work, and freedoms of expression, assembly and association," the United Nations Human Rights Office said in a statement signed by other rights groups. "Consistent credible reports of summary executions and acts tantamount to enforced disappearances, widespread arbitrary detention, torture, and ill treatment, as well as arbitrary displacement have caused increased concern."
Repeating their oppression from the 1990s
The Taliban's current grip over Afghanistan and its systemic oppression of women mirrors the same control the Taliban exerted when it first came to power over Kabul in 1996.
Immediately after the Taliban took power in Kabul, its leaders forced nearly all women to quit their jobs, restricted access to medical care for women, brutally enforced a dress code and limited the ability of women to move about the city freely, the State Department reported in 2001. It also closed the women's university.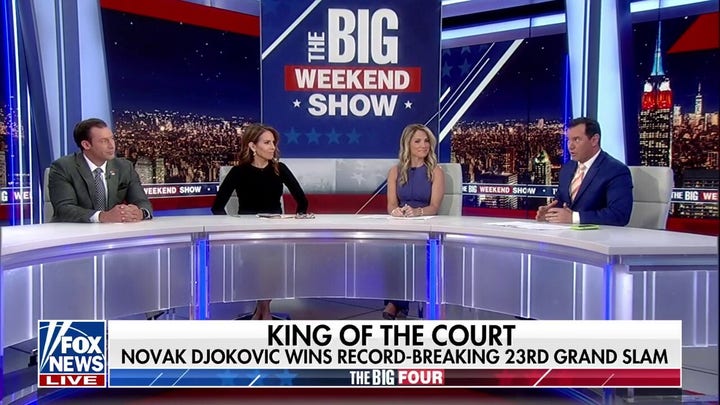 Video
The Taliban then perpetrated egregious acts of violence against women, including rape, abduction and forced marriage, the State Department said.
"Women are imprisoned in their homes and are denied access to basic health care and education. Food sent to help starving people is stolen by their leaders. The religious monuments of other faiths are destroyed. Children are forbidden to fly kites, or sing songs… A girl of seven is beaten for wearing white shoes," then-President George W. Bush said to the Warsaw Conference on Nov. 6, 2001.
Afghanistan under the Taliban had one of the worst human rights records in the world, the State Department said at the time.
CLICK HERE TO GET THE FOX NEWS APP
Prior to the rise of the Taliban, the State Department said, "Women in Afghanistan were protected under law and increasingly afforded rights in Afghan society. Women received the right to vote in the 1920s; and as early as the 1960s, the Afghan constitution provided for equality for women. There was a mood of tolerance and openness as the country began moving toward democracy. Women were making important contributions to national development."
"In 1977, women comprised over 15% of Afghanistan's highest legislative body. It is estimated that by the early 1990s, 70% of schoolteachers, 50% of government workers and university students, and 40% of doctors in Kabul were women. Afghan women had been active in humanitarian relief organizations until the Taliban imposed severe restrictions on their ability to work.",
The U.S. military fought in Afghanistan from Oct. 7, 2001, to Aug. 15, 2021, with all remaining troops pulled by Aug. 31.
Fox News' Greg Norman and The Associated Press contributed to this report.