close
Video
Fox News Flash top headlines for March 31
Fox News Flash top headlines are here. Check out what's clicking on Foxnews.com.
The bodies of two more migrants who died trying to cross from Canada into the United States, were found Friday, bringing the death toll to eight, including two children, police in the Mohawk Territory of Akwesasne said.
The bodies of six people, described as members of two families of Romanian and Indian descent, were found Thursday in a marshy area of the St. Lawrence River, which forms the Canada-U.S. border.
Akwesasne Mohawk Police Chief Shawn Dulude said authorities were still looking for a man, identified as Casey Oakes, 30, who was last seen Wednesday operating a boat that was found next to the bodies.
6 BODIES FOUND NEAR NEW YORK, QUEBEC BORDER
A police helicopter spotted the latest two bodies in the water.
"A total of eight bodies have now been recovered from the waters. All are believed to have been attempting illegal entry into the United States from Canada," Dulude said.
A child discovered Friday was a Canadian citizen and a member of the Romanian family, Dulude said. The body of an adult woman believed to be an Indian national was also recovered.
Dulude said he didn't know if Oakes was alive or not, adding that he was a person of interest.
The territory is known for being a transit point for the trafficking of humans and contraband because of its location. And in February, police in Akwesasne reported an increase in human smuggling into the Mohawk territory.
"Our community has been exploited by this," said Grand Chief Abram Benedict of the Mohawk Council of Akwesasne. "This is not the first time that tragedy has happened in our community like this. We've had other losses."
Weather conditions in the area were rough Wednesday night, said Lee-Ann O'Brien, deputy chief of the Akwesasne Mohawk Police Service.
O'Brien said six of the bodies were located during a search for Oakes who was reported missing Thursday. Oakes of Akwesasne was last seen Wednesday around 9:30 p.m. boarding a small boat departing from the east end of Cornwall Island, located in the St. Lawrence River and on the Ontario side of the Mohawk territory.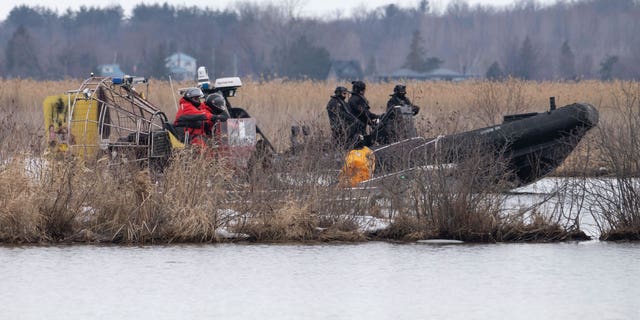 Two more migrants have been found dead in the St. Lawrence River along the Canadian border. (Ryan Remiorz/The Canadian Press via AP)
"This is a heartbreaking situation," Canadian Prime Minister Justin Trudeau said. "We need to understand properly what happened, how it happened and do whatever we can to minimize the chances of this ever happening again."
The Akwesasne Mohawk Police Service said the first body was located around 5 p.m. Thursday in a marsh. The area was searched further by a police marine unit with the help of the Canadian Coast Guard and the Hogansburg Akwesasne Volunteer Fire Department.
Air support units with the Quebec provincial police and Ontario Provincial Police also assisted.
Post-mortem and toxicology tests have been ordered to determine the cause of the deaths.
Akwesasne police say there have been about 80 people trying to cross illegally into Canada or into the United States through the Mohawk territory since January, and most of them have been of Indian or Romanian descent.
Akwesasne straddles the Canada-United States border, and has territory in Quebec, Ontario and New York state.
"There's always been people coming through here," Dulude said. "I've always been worried about it. It's just that now there's more attention."
He said it's mostly people going south to the U.S. and it is rare that someone comes north.
Tony Jackson, an Akwesasne resident, said the weather Wednesday, when Oakes was last seen, was calm during the day but later turned rough.
"The east wind around here creates a lot of waves, five feet tall, maybe taller," Jackson said. He said he believed Oakes's boat was less than six meters (20 feet) long.
Crossing the river on a little boat with many people on board, "that called for disaster," he said.
CANADIANS FRUSTRATED BY MIGRANT SURGE, ILLEGAL BORDER CROSSINGS: 'NO POLITICAL WILL TO FIX THIS'
He said he had never heard Oakes talk about transporting migrants. But Jackson said he had personally witnessed groups of migrants crossing through fields with bags in hand and also occasionally seen boats carrying large groups of people across the river.
"A couple of times in one month, you'll see a couple of them walking down the road with all their bags," he said.
In April 2022, six Indian nationals were rescued from a sinking boat in the St. Regis River, which runs through Akwesasne Mohawk Territory. A seventh person, spotted leaving the vessel and wading ashore, was later identified as a U.S. citizen. U.S. Customs and Border Protection officials described what happened as a human smuggling incident.
Trudeau and U.S. President Joe Biden announced a plan last week to close a loophole to an immigration agreement that allowed thousands of asylum-seeking migrants to move between the two countries along a back road linking New York state to Quebec.
The deal closing an illegal border crossing point about 105 kilometers (66 miles) east of Akwesasne took effect Saturday. O'Brien said it has nothing to do with the closure of the Roxham Road illegal crossing into Canada.
CLICK HERE TO GET THE FOX NEWS APP
Early last year, a Florida man was charged with human smuggling after the bodies of four people, including a baby and a teen, were found in Canada near the U.S. border in what authorities believe was a failed crossing attempt during a freezing blizzard between Manitoba, Canada and North North Dakota. The dead were Indian nationals trying to enter the U.S.