close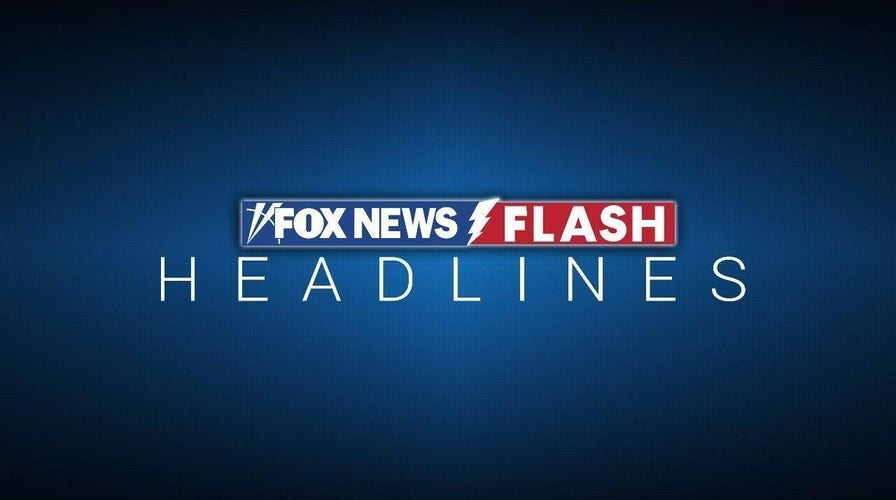 Video
Fox News Flash top headlines for March 22
Fox News Flash top headlines are here. Check out what's clicking on Foxnews.com.
Two anti-government activists in Cambodia were charged in court Wednesday with insulting the king and incitement to commit a felony for comments they made on social media about Prime Minister Hun Sen and King Norodom Sihamoni.
Yim Sinorn and Hun Kosal, both associated with the opposition Cambodia National Rescue Party, which was dissolved by court order in 2017, could face up to seven years in prison if convicted by the Phnom Penh Municipal Court.
The two men were arrested after Hun Sen, who has held power for 38 years, claimed to be offended by their online observations about watching a Tuesday television broadcast of him and the king attending a torch-lighting ceremony for the 32nd Southeast Asian Games, which Cambodia will host in May.
Hun Sen claimed their comments about how he interacted with the king implied he was showing disrespect and usurping the king's status. He accused the two of trying to drive a wedge between him and the monarch, who is the head of state but wields no real political power.
COLLECTION OF CENTURIES-OLD CAMBODIAN JEWELRY RETURNS TO SOUTHEAST ASIAN COUNTRY
Speaking at a graduation ceremony in the capital Phnom Penh, Hun Sen declared he made no disrespectful signs or gestures and told all television stations to replay video of the ceremony so the Cambodian people could watch and make their own judgments.
"Why would you have ill-intentions against us? What is your real purpose?" Hun Sen asked. He charged that the comments were intentional and slanderous, and he would not forgive them.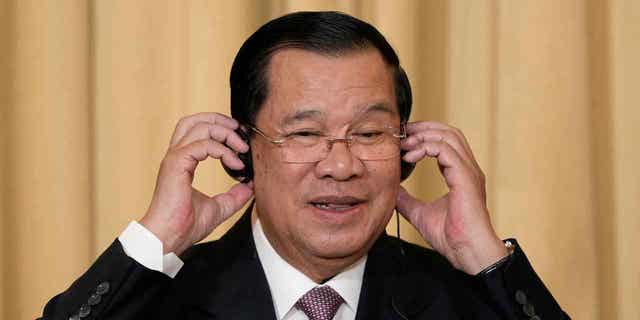 Cambodia's Prime Minister Hun Sen attends a press conference at the Elysee Palace, in Paris, on Dec. 13, 2022. Two Cambodian activists were charged with insulting the king and prime minister on social media. (AP Photo/Francois Mori, File)
The actions against the two activists drew criticism from New York-based Human Rights Watch.
CAMBODIAN ARTWORK LOOTED DURING KHMER ROUGE ERA RETURNED BY US AUTHORITIES
"Freedom of expression is going extinct under PM Hun Sen's government as the national election approaches in July. Simply sharing opinions on Facebook about a government ceremony should not be considered a crime, so the truth of the matter is political activists Yim Sinorn and Hun Kosal did nothing that they should be detained for," said Phil Robertson, the group's deputy Asia director, in a statement.
Robertson said the two activists "are likely to face a long period in detention followed by a kangaroo court trial on fabricated, politically motivated charges." He called for their immediate and unconditional release.
CLICK HERE TO GET THE FOX NEWS APP
Earlier this month, prominent opposition leader Kem Sokha was convicted of treason and sentenced to 27 years of house arrest, another in a long series of blow in a campaign by the government to silence its critics or drive them out of the country.
Kem Sokha's arrest in September 2017 marked the beginning of a fierce campaign by Hun Sen's government to use the courts — widely considered to be under its influence — in a crackdown on dissent. Since then, most other top government critics have fled Cambodia to escape what were generally seen as politically inspired prosecutions.