"1923" fans haven't seen the last of Harrison Ford.
Paramount+ on Friday announced that the show is returning for a second season, and Ford revealed he'll be back as Jacob Dutton.
"Yeah," the actor answered quickly when "Today" host Savannah Guthrie asked about his plans to return.
The 80-year-old also admitted he doesn't have any desire to retire in the near future.
"The idea of not working doesn't make much sense to me. It's really where I feel most alive," Ford said.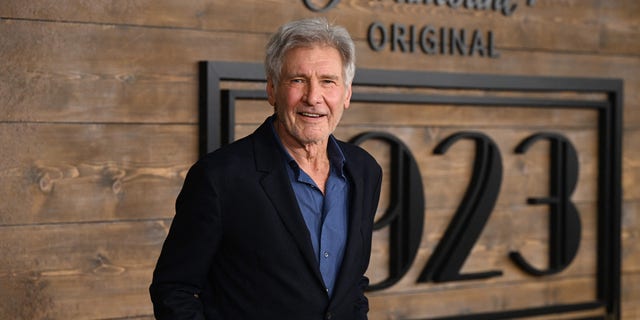 Harrison Ford revealed he will be returning for season two of "1923."
(ROBYN BECK/AFP via Getty Images)
'YELLOWSTONE' EFFECT: KEVIN COSTNER, HARRISON FORD, SYLVESTER STALLONE BRING OLD SCHOOL MALE LEADS BACK TO TV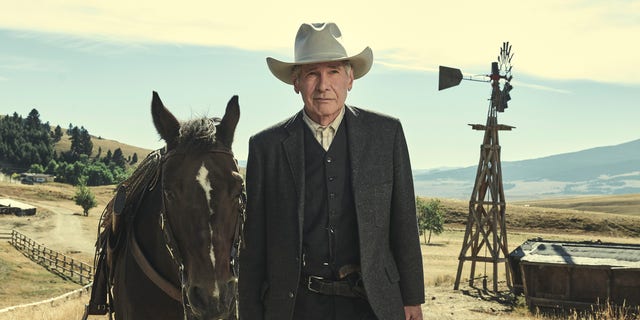 Harrison Ford stars as Jacob Dutton on "1923."
(James Minchin III/Paramount+)
In "1923," Ford plays an ancestor of John Dutton, played by Kevin Costner on "Yellowstone." Helen Mirren stars in the series as Ford's wife Cara Dutton.
The show, created by Taylor Sheridan, follows the Dutton family and explores the early 20th century along with all the hardships of the era, including Western Expansion, Prohibition and the Great Depression.
HARRISON FORD RESPONDS WITH NSFW ANSWER WHEN ASKED ABOUT CO-STAR, SAYS HELEN MIRREN IS 'STILL SEXY'
Ford previously told Fox News Digital, "Taylor Sheridan is certainly one of those people that is the most extraordinary talents of our current time, and I'm having a really good time doing this."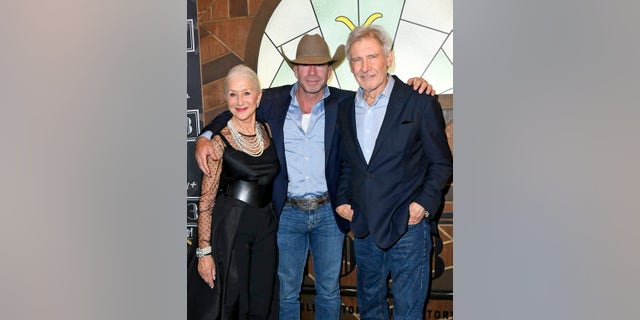 From left, Helen Mirren, Taylor Sheridan and Harrison Ford pose at the Las Vegas premiere of "1923."
(Mindy Small/Getty Images)
As for Mirren, the "Blade Runner" star confessed he thinks Mirren is "still sexy" during an appearance on CBS' "The Late Show" on Wednesday.
Ford also gushed over his 77-year-old co-star's acting skills in the "Yellowstone" prequel saying, "It's been remarkable to watch her. There's a lot of physical action, and she just jumps right in and does stuff you don't imagine Helen Mirren would do… Dame Helen Mirren."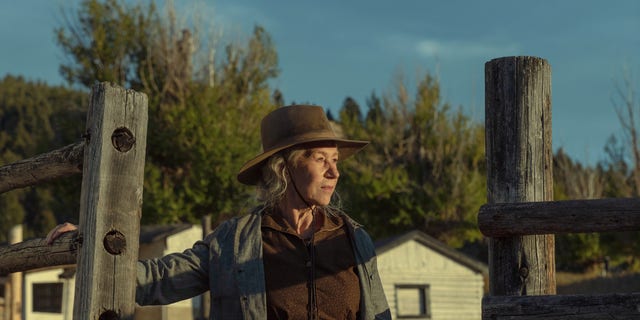 Helen Mirren portrays Cara Dutton on "1923."
(Emerson Miller/Paramount+ )
CLICK HERE TO SIGN UP FOR THE ENTERTAINMENT NEWSLETTER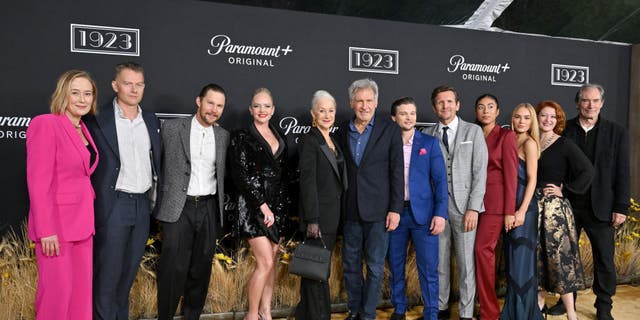 From left, Jennifer Ehle, James Badge Dale, Brian Geraghty, Marley Shelton, Helen Mirren, Harrison Ford, Darren Mann, Sebastian Roché, Aminah Nieves, Michelle Randolph, Kerry O'Malley and Timothy Dalton attend the Los Angeles premiere of "1923."
(Axelle/Bauer-Griffin/FilmMagic)
Ford has been a superstar in Hollywood since he appeared as Han Solo in "Star Wars: Episode IV – A New Hope" in 1977.
When asked on "Today" if he's thought about "what his life might have been like" if acting didn't work out in his favor, the "Indiana Jones" star had an unexpected answer.
"At the risk of not being appropriately reflective, I never think about it," he said with a laugh.
"I'm going for reflective here," Guthrie replied.
"That's what my wife [Calista Flockhart] is always wanting," Ford said, smiling. "The direction she wants me to go, but I'm too busy trying to figure out what I'm doing right now."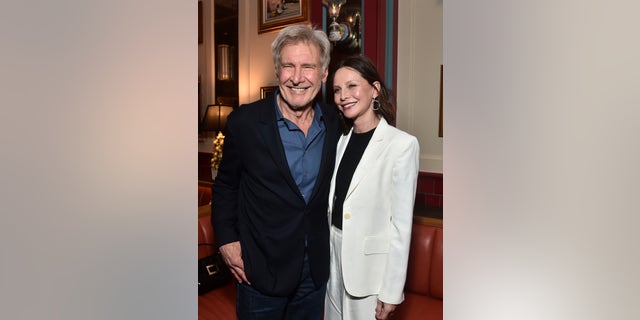 Harrison Ford and Calista Flockhart have been married for 12 years.
(Alberto E. Rodriguez/Getty Images for Paramount+)
CLICK HERE TO GET THE FOX NEWS APP
What he's doing right now is keeping himself busy.
In addition to "1923," which will return from its winter hiatus on Sunday, Ford is currently starring with Jason Segel on "Shrinking" on Apple TV+.
He also has a string of films on the way, including "Indiana Jones and the Dial of Destiny," "Captain America: New World Order" and "Thunderbolts."