Milwaukee Bucks are bidding to stop a run of three-straight defeats to the Toronto Raptors and take the Eastern Conference Finals to a Game 7 decider.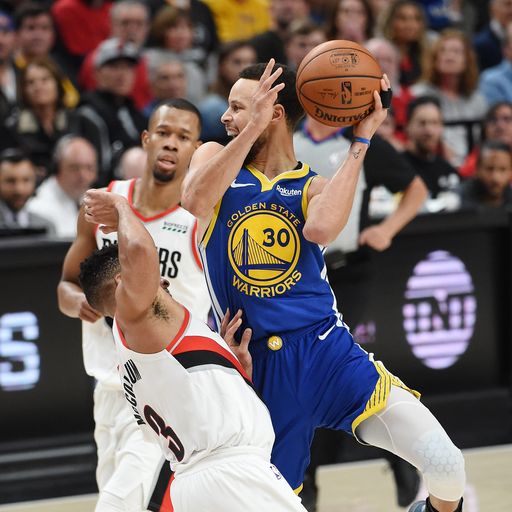 Playoff Picture: How Things Stand
How are the Conference Finals unfolding?
Toronto Raptors 3-2 Milwaukee Bucks
Game 1: Raptors 100-108 Bucks | Report | Box Score
Game 2: Raptors 103-125 Bucks | Report | Box Score
Game 3: Bucks 112-118 Raptors (2OT) | Report | Box Score
Game 4: Bucks 102-120 Raptors | Report | Box Score
Game 5: Raptors 105-99 Bucks | Report | Box Score
Game 6: Bucks @ Raptors, May 26, 1:30am
Game 7 if necessary: Raptors @ Bucks, May 28, 1:30am
All games broadcast live on Sky Sports Arena
Only a win will do for the Bucks as they head north of the border to take on the Raptors at Scotiabank Arena in Game 6 of the Eastern Conference Finals. Lose and they will send Kawhi Leonard's team to their maiden NBA Finals.
After finishing the NBA with the best regular season record and suffering just one defeat in the playoffs coming into this series, when the Bucks took the opening two games it looked like they were locked in for a first NBA Finals appearance in 45 years.
But the Raptors hit back in style and now lead the series 3-2 after rattling off three straight games against a Bucks team that had only lost back-to-back encounters once during the regular season.
2:08
Kawhi Leonard scores 35 points with nine assists, seven rebounds and two steals in the Toronto Raptors' victory over the Milwaukee Bucks
The fact the third victory, a 105-99 win on Friday morning, actually came on Milwaukee's home floor was even more eye-opening, considering the Bucks' dominance at Fiserv Forum throughout both the regular season and postseason.
Toronto got it done with a remarkable comeback after the Bucks started the match on an 18-4 run and held a double-figure lead at the end of the first period.
But the Raptors methodically sliced seven points from the hosts' advantage during the second and stayed in it during the third, before eventually pulling away with a 33-point final period, with Leonard capping off yet another spectacular performance by contributing 15 in the last 12 minutes.
Leonard finished with a game-high 35 points, the fourth time in the series with more than 30 points and he also added nine assists, seven rebounds and two steals.
Fred VanVleet continued his hot shooting with a clutch 21 points, going 7-of-9 from three-point range to lead the bench. Kyle Lowry followed with 17 points, seven rebounds, six assists and one steal while Pascal Siakam notched a 14-point and 13-rebound double-double.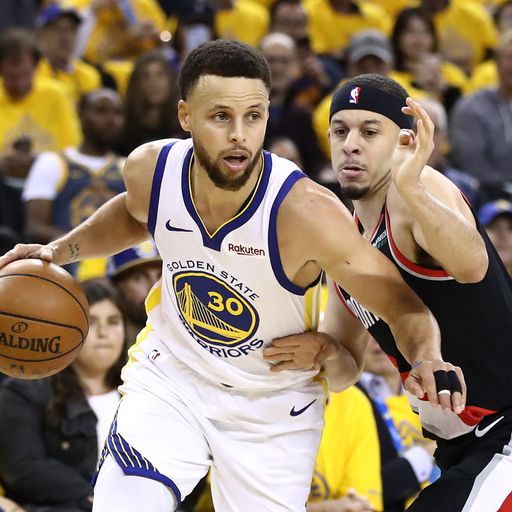 Get NBA news on your phone
Want the latest NBA news, features and highlights on your phone? Find out more
Unsurprisingly, Giannis Antetokounmpo paced the Bucks with 24 points, six assists and one block but only managed six rebounds, less than half what he averages.
Eric Bledsoe contributed 20 points, four rebounds and two assists but committed four turnovers as his offensive groove continues to elude him.
Malcolm Brogdon re-entered the starting five and pitched in with an 18-point, 11-rebound double-double that also included six assists, while Brook Lopez furnished 16 points and eight boards.
The production levels through the Milwaukee team will have to improve, however, if they are going to push this to a series decider.
3:19
Grant Hill and Isiah Thomas look ahead to Game 6 between the Bucks and the Raptors
The Raptors will once again list Patrick McCaw (questionable) and OG Anunoby (abdomen) as out for Saturday's game while the Bucks are without any fresh injury concerns to report, despite Antetokounmpo appearing to have a slight ankle problem towards the end of Game 5.
Key Battle – Giannis Antetokounmpo vs Kawhi Leonard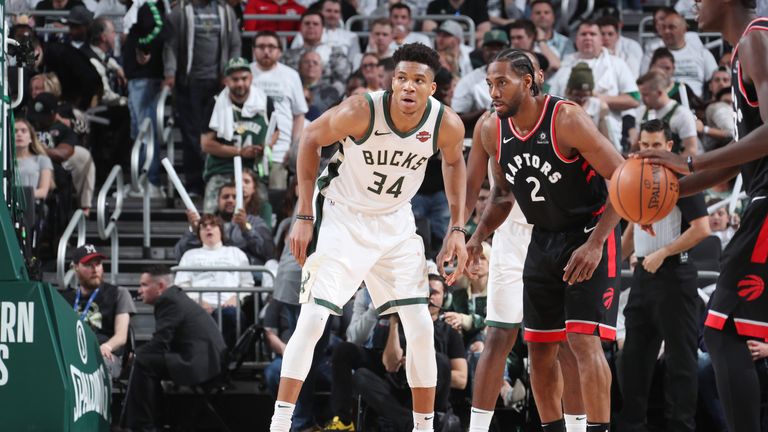 Image:
Giannis Antetokounmpo and Kawhi Leonard match up during Game 1 of the Eastern Conference Finals
These, quite simply, are the two players who have the ability to haul either of their teams to the NBA Finals almost single-handedly.
When the Bucks surged to wins in the opening two games, the Greek Freak was at the heart of things for his team averaging 27 points, 15.5 rebounds and 5.5 assists.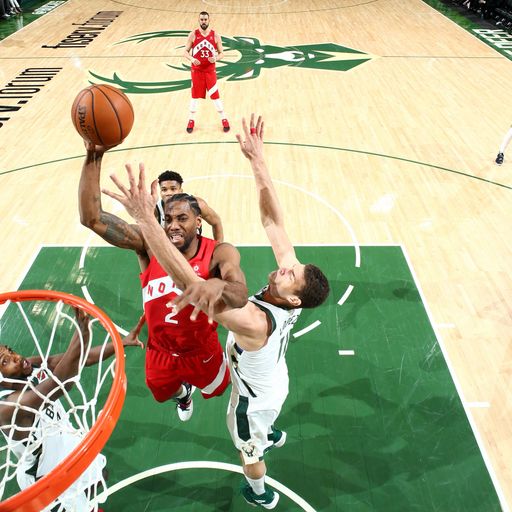 Follow Sky Sports NBA on Twitter
See the NBA's best plays and stay up to date with the latest news
After that though, Toronto have adjusted tactically and it appears to be affecting his numbers, which have been pretty erratic since.
In Game 3, Antetokounmpo gobbled up 23 rebounds, but mustered only 12 points. His glass-eating then cratered in Games 4 and 5 to an average of just eight across the two games, although his number of points did come up again. Altogether, it was a far cry from his performances at the start of the series.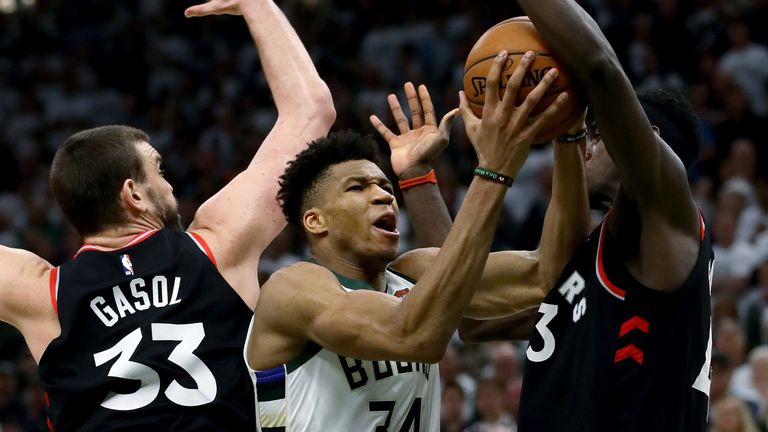 0:50
Giannis Antetokounmpo posted 24 points and 14 rebounds in Milwaukee Bucks' win over the Toronto Raptors in Game 1 of the Eastern Conference Finals
The main beneficiary of his and the Bucks' struggles is Leonard, who is asserting himself with the composure of a man who has been over the course before – as he has with the San Antonio Spurs, when he won the Championship and NBA Finals MVP in 2014 – on both ends of the floor.
The big difference, though, is his usage rate offensively as part of this Raptors team, which has soared from when he was with San Antonio.
His highest average number of field goals attempted in the playoffs with the Spurs was 16.8 per game, but with the Raptors, he's averaging more than 21 shots in each contest.
Crucially, his efficiency has remained steady despite the added output, and he's hitting more than 51 per cent of his shots overall and over 41 per cent from three, again, despite a record number of attempts.
Live NBA: Milwaukee @ Toronto
Sunday 26th May 1:30am
Leonard's added playoff experience has come to the fore as this series has progressed but Giannis is an MVP frontrunner for a reason and the Bucks were the best team in the regular season, so he easily has it in him to produce the magic needed to see them through.
What these two players do on Sunday night will have a huge bearing on whether we see a Game 7 – regardless of Giannis' promise to the Bucks fans.
Last time out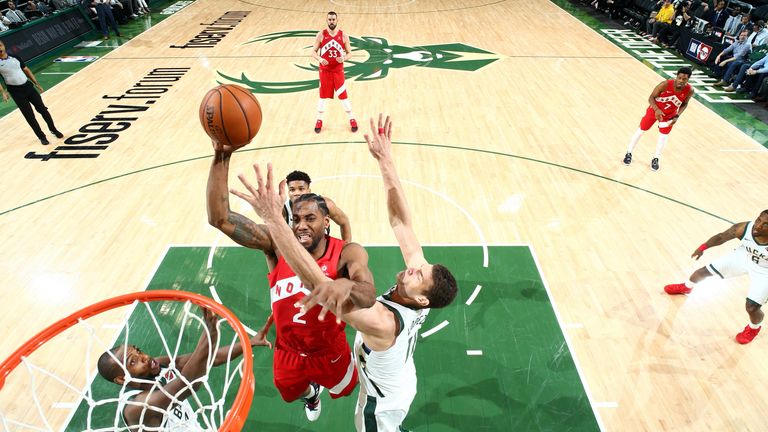 3:13
Highlights of the Toronto Raptors' 105-99 victory over the Milwaukee Bucks in Game 5 of the Eastern Conference Finals
Numbers game
62 – The number of points Leonard either scored or assisted on in Game 5, a career-high for him. If he repeats that feat in Game 6, the Bucks' season will more than likely be over. They have to shut him down better or it will be the Raptors who face the Golden State Warriors in the NBA Finals.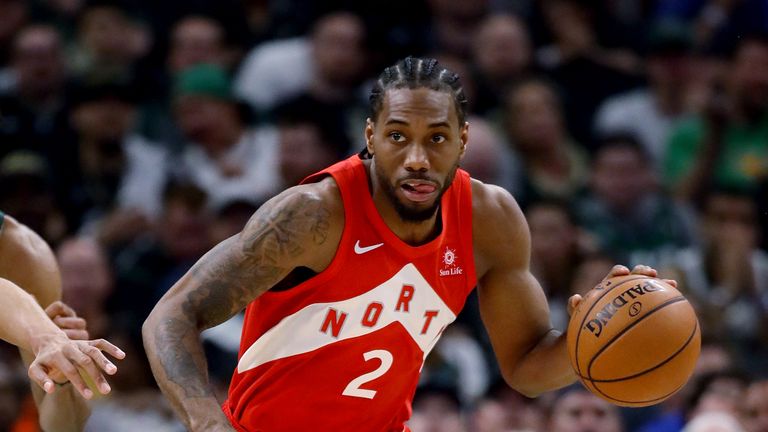 Image:
Kawhi Leonard is now the overall points leader in the 2019 NBA Playoffs
52.5 – This is the remarkable number of rebounds the Bucks have averaged across their playoff contests this year, up even from their regular season mark of 49.7 which led the league. It's held steady during this series as well and theoretically, this level of rebounding should provide them with some easy chances to pick up extra points offensively and also stop opponents having more than one chance to score on each trip up the court – thus putting pressure on them to shoot better to succeed against Milwaukee. To put it in context, the Bucks are claiming nearly 10 more rebounds than the Raptors every game during the playoffs. They have to find a way to make that advantage on the glass work for them if they are to come through the East.
82.3 – The percentage of successful free throws for Toronto in the playoffs. It's the best mark of any team and a jump from their 80.4 per cent regular season mark, which was third-best in the league. Conversely, the Bucks have dropped from hitting 77.3 per cent of free throws in the regular season to just 73 per cent during the postseason. With playoff matches coming down to such fine margins, that could be a key factor.
One to watch (Bucks) – Khris Middleton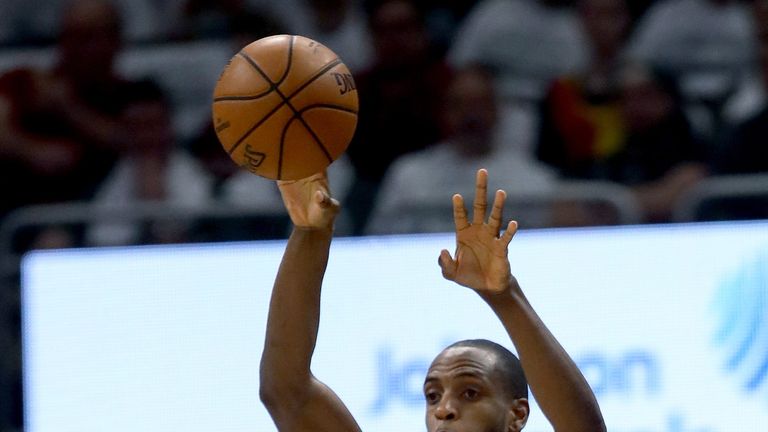 Image:
Khris Middleton lofts a pass during Milwaukee's Game 1 win over Toronto
Without doubt the most peculiar line in the boxscore of Game 5 was Khris Middleton's. He is usually the second scoring option for Milwaukee but just couldn't get anything going on the offensive end on his home court, ending the game with just six points on 2-for-9 shooting. He did, however, manage to record a double-double of 10 boards and 10 assists. But the loss of his scoring output (he is averaging over 17 points a game in this year's playoffs) was a bitter blow for the Bucks and they will need a bounce-back game from him if they are to have any chance of forcing a Game 7.
One to watch (Raptors) – Pascal Siakam
Image:
Pascal Siakam handles the ball during Game 3 of the Eastern Conference Finals
Pascal Siakam is the favourite to win the NBA's Most Improved Player award and it's no real surprise given that the Cameroonian has evolved into a critical piece for Toronto. As a power forward who rebounds superbly, defends stoutly as well as having the ability to score in the paint and from deep, he can be a force on any given night for Toronto on both ends. In this year's playoffs he has been vital, from his transcendent opening series against the Magic until now in the Eastern Conference Finals. One more strong performance from Siakam could see him and his teammates get the chance to play on the biggest stage in all of basketball.
Game 6 takes place in Toronto in the early hours of Sunday morning (1:30am) live on Sky Sports Arena.
Want to watch the NBA but don't have Sky Sports? Get the Sky Sports Action and Arena pack, click here.