Milwaukee Bucks star Eric Bledsoe is cratering offensively in the Eastern Conference Finals series with the Toronto Raptors – NBA analyst Mark Deeks explores the key areas of concern for the team's starting point guard.
Live NBA: Milwaukee @ Toronto
Sunday 26th May 1:30am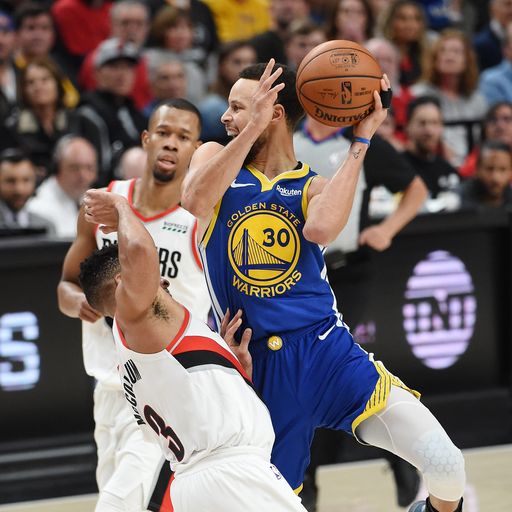 Playoff Picture: How Things Stand
How are the Conference Finals unfolding?
Well, now. This is a series.
The Toronto Raptors scored the first road win of the Eastern Conference Finals early on Friday morning, pulling out a vital 105-99 victory over the Milwaukee Bucks to take a 3-2 lead. They now only need to win one of the next two games to advance to the NBA Finals for the first time in franchise history. And the next game is at home for them, something which seemed to provide their defense with extra energy in games three and four.
Indeed, it has been Toronto's half-court defense that has turned the series around. After throwing away a very winnable game one with the last vestiges of the annual Raptors playoff jitters, and looking overmatched in an easy game two Bucks victory, the Raptors have now won three straight by creating a half court defensive plan that Milwaukee have yet to break.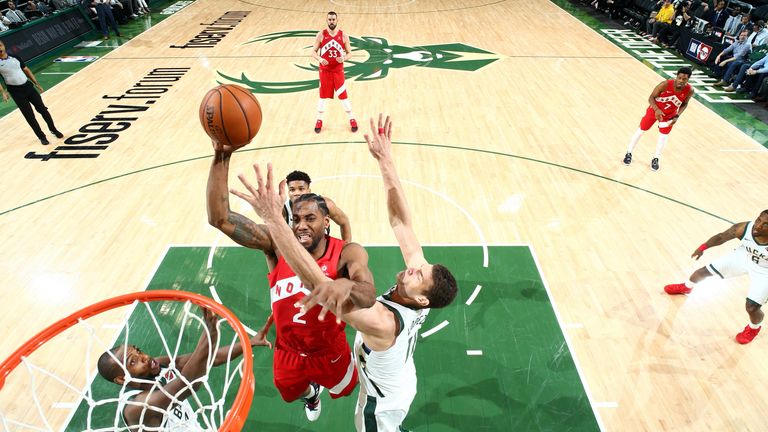 3:13
Highlights of the Toronto Raptors' 105-99 victory over the Milwaukee Bucks in Game 5 of the Eastern Conference finals
Defense is partly schematics, partly effort, and right now, the Raptors are replete with both. The headline battle is of Milwaukee's Giannis Antetokounmpo and Toronto's Kawhi Leonard, a battle that Kawhi – the rare and special two-way superstar – is winning. Even when not accounting for his offensive performances, such as his 35-point, 9-assist performance in Game 5, Leonard's defensive versatility combined with his ability to check Antetokounmpo one on one in a way that no one else in the league has ever successfully demonstrated for more than short spurts has been at the core of what has turned the series back around.Stats bear out Bledsoe's struggles
To reverse the scoreline once again, then, Milwaukee are going to have to do something different to break through the half-court defense of the Raptors. They are going to have to find players who can move a defense around, be a decoy, take and make good looks, create efficient shots, make the right decisions and execute them. And although the shallowness of their bench in this series has been a factor, the weaker link in these Eastern Finals has been the man at the helm at what is supposed to be the primary playmaking position – starting point guard Eric Bledsoe.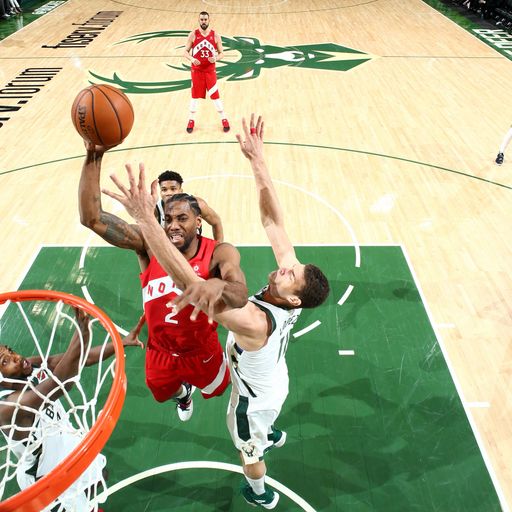 Follow Sky Sports NBA on Twitter
See the NBA's best plays and stay up to date with the latest news
In the series so far, Bledsoe sports unimpressive averages of 10.6 points, 4.2 rebounds and 3.6 assists per game. He has shot 28.8 per cent from the field and 15.4 per cent from three-point range, and the 6-14 shooting, 20-point performance he had in game five is doing a lot to even drag those numbers up to that level. Without it, he is averaging only 8.3 points per game on 24.4 per cent from the field and 10.5 per cent from the long line.
Even in that game five performance, though, things were far from fixed. Bledsoe started well, scoring seven points in the first four minutes after recording only five in the whole of Game 4. Yet as the game got into the close final stages, it was his decision-making that cost Milwaukee a chance at winning the game.
Recurring turnovers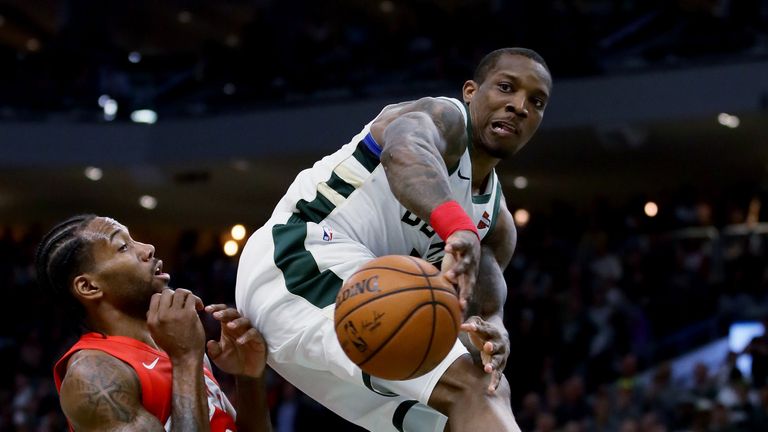 Image:
Eric Bledsoe throws an off-balance pass in mid-air under pressure from the Toronto defense
Down three points with 34 seconds left, Bledsoe drove into the paint and had a clear lay-up. As one of the best finishers at the rim at the point guard position – indeed, in the entire league – this is exactly where he should be and exactly the sort of shot he should be taking. The exact position, even, in which he had so badly struggled to get to through four games. Yet for some reason, Bledsoe chose to pass up what was for him an easy two in favour of an ambitious pass to the corner, where Malcolm Brogdon was closely contested. The pass never got there cleanly, and where they should have been cutting the lead to one, the Bucks instead turned it over.
3:19
Grant Hill and Isiah Thomas look ahead to Game 6 between the Bucks and the Raptors.
Such a play is not an anomaly for Bledsoe, not in Game 5 of the Eastern Conference Finals nor at any other time. A sub-par outside shooter, his offensive game is instead based on his ability to get to the rim and finish; strong, athletic and with long arms, he does this both in transition and in the half court with some regularity. On a high-paced, well-spaced Bucks team, he has found a home; nine years into his NBA career, Bledsoe's two most efficient ones from both scoring and turnover perspectives have been his two in Milwaukee. Nevertheless, as is so often the case, the 29-year-old's weakness is right next to his strength – to see him drive to the rim with no obvious purpose, unsure whether to drive or to pass, finding trouble and turning the ball over or forcing an inefficient attempt, has always been a part of the Eric Bledsoe experience.
To pass up that layup opportunity for a theoretical three speaks to either not wanting the pressure of the big late-game shot, going for the inefficient three when the very efficient two was available, or both. That is to say, it was either backing down from the big moment, or a poor decision on the move by a player who does that quite a lot. Neither is good news.
Shooting woes
Toronto in this series are backing off Bledsoe, allowing him to shoot. And quite rightly. In the playoffs as a whole, Bledsoe is hitting only 17.5 per cent on wide open three-point shots (i.e. with no defender within six feet of him). To put that into some context, even Giannis, a famously poor shooter, is hitting 31.6 per cent of his.
You would think that sagging off a talented driver like him and daring him to shoot would have the side-effect of giving him a running start on drives to the rim, just as Giannis routinely exploits whenever anyone dares him to shoot from outside. Bledsoe, though, has been neither aggressive nor confident, indecisive in his decisions, passing up the opportunity to attack sometimes when it has been there, while looking off (or not noticing) the mismatches that his team mates have elsewhere. Rhythmically, he has been all over the place. There is no flow to his game right now.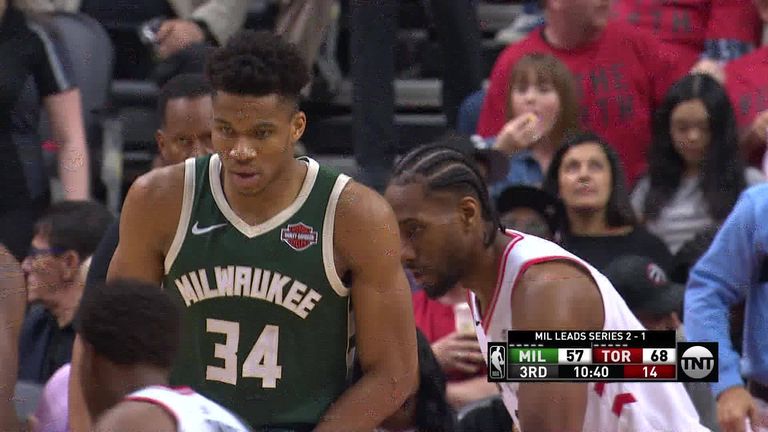 0:16
Eric Bledsoe is rejected by Kawhi Leonard on a drive to the rim during Game 4
Compounding this is the fact that Bledsoe is the rare player who shoots better from outside off of his own dribble than off the catch. On the entire 2018/19 season, he has hit just 29.3 per cent of his three-pointers off the catch as opposed to 38.4% on pull-ups, shooting roughly the same amount of each. Combined, then, the Bucks currently have at the lead guard spot a player who cannot shoot when off the ball, yet who makes poor decisions and fractures the offensive flow when he is on it.No more margin for error
Bledsoe is discombobulated right now offensively, going when he should stop and stopping when he should go, at a time that the Bucks simply cannot afford him to be.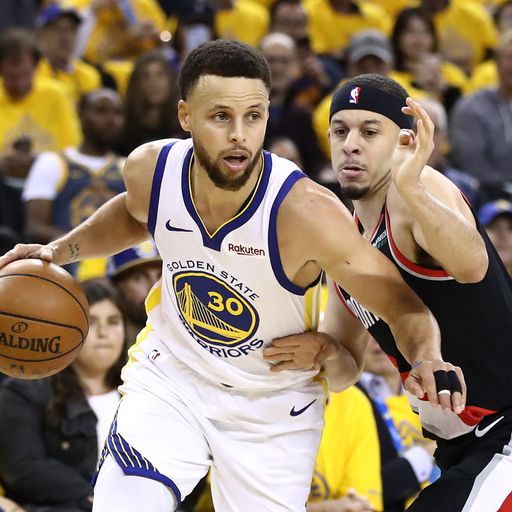 Get NBA news on your phone
Want the latest NBA news, features and highlights on your phone? Find out more
On the same day as Game 5, Bledsoe was named to the All-NBA Defensive First Team. Using those same physical tools, Bledsoe has further blossomed on that end of the court as a Buck, helped by the strength of the unit around him. Offensively, though, he needs to help that same unit right back. The Bucks cannot break the conundrum that is the Raptors' defense when their lead guard has lost his role.
Game 6 takes place in Toronto in the early hours of Sunday morning (1:30am) live on Sky Sports Arena.
Want to watch the NBA but don't have Sky Sports? Get the Sky Sports Action and Arena pack, click here.