Indiana Fever rookie Teaira McCowan hit a buzzer-beating reverse layup on her debut to seal an 81-80 win for the visitors over the New York Liberty as the WNBA season opened in dramatic fashion.
Friday night's scores
Indiana Fever 81-80 New York Liberty
Dallas Wings 72-76 Atlanta Dream
Indiana Fever 81-80 New York Liberty
Capping a furious fourth quarter with seven lead changes and ties in the final six minutes, McCowan entered the game following a timeout when Tina Charles put the Liberty ahead by a point with seven seconds to go. Erica Wheeler took an inbounds pass and delivered to veteran Candice Dupree at the top of the key. As the clock wound down, the 14-year pro read a mismatch and found the rookie in her pro debut for the game-winner.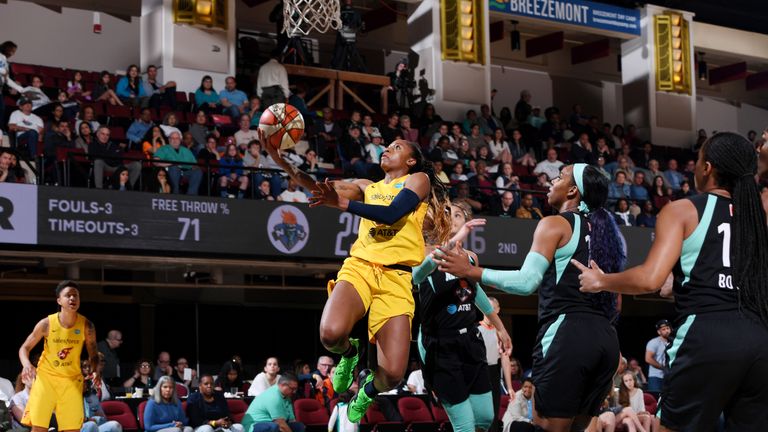 Image:
Tiffany Mitchell of the Indiana Fever goes for the layup against New York Liberty
McCowan, the third overall pick in the WNBA Draft, finished with 11 points and six rebounds, impacting the game in each sequence she played. Tiffany Mitchell led Indiana with a career-high 22 points on the help of 13-of-14 free throw shooting.
Mitchell and McCowan scored 33 of Indiana's 35 points off the bench. Erica Wheeler paced Fever starters with 16 points and Dupree added 12 with a team-high seven rebounds.
Charles powered New York with a double-double of 32 points and 12 rebounds including 10 of the Liberty's last 13 points, while Kia Nurse added 12 points and Reshanda Gray also finished in double figures with 10.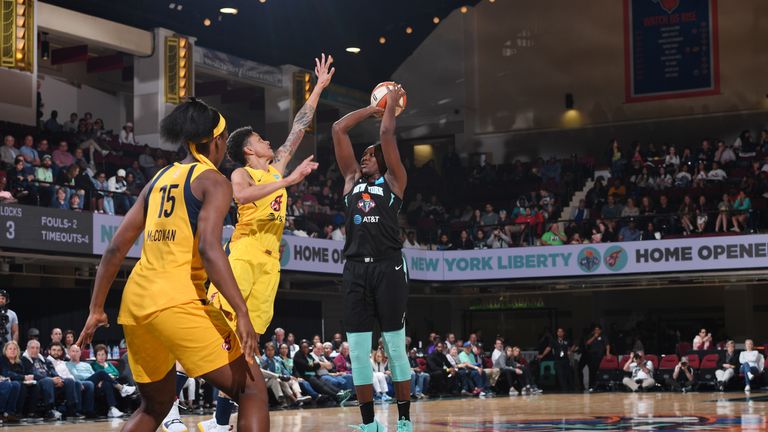 Image:
Tina Charles takes a shot over an Indiana Fever defender
But Mitchell was pivotal for Indiana in the Fever's fourth-quarter charge. She spearheaded a 9-2 Indiana sequence that knotted the score at 67 with 6:09 to play and neither team led by more than three the rest of the way. Wheeler gave the Fever a three-point lead on a floating bank shot with 2:48 left, but Rebecca Allen tied the score for New York with a three-pointer on the ensuing possession.
Mitchell, after hitting her first 12 free-throw attempts, missed her 13th attempt but made her 14th to lift the Fever to a 79-78 lead and the Fever had a chance to make it a two-possession game with 13 seconds to go, but Betnijah Laney missed a pair of free throws to give the Liberty what appeared to be a final possession.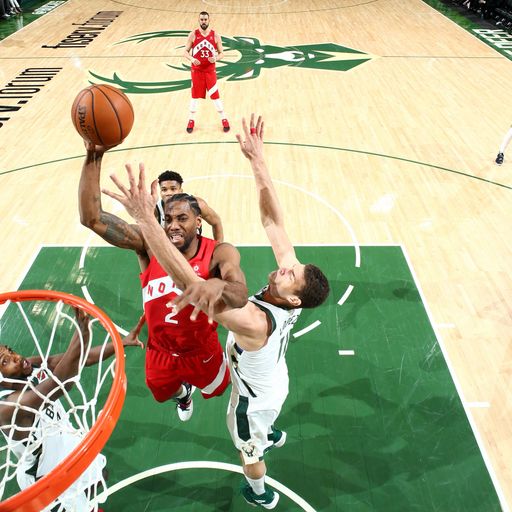 Follow Sky Sports NBA & WNBA on Twitter
See the NBA's and WNBA's best plays and stay up to date with the latest news
Out of a Liberty timeout and another by the Fever, Charles was fouled in the paint and promptly hit both free throws as New York retook the lead with seven seconds left.
Indiana called its last timeout, McCowan entered the game again and the Fever won in dramatic fashion, to end a six-year run of opening night defeats.
Dallas Wings 72-76 Atlanta Dream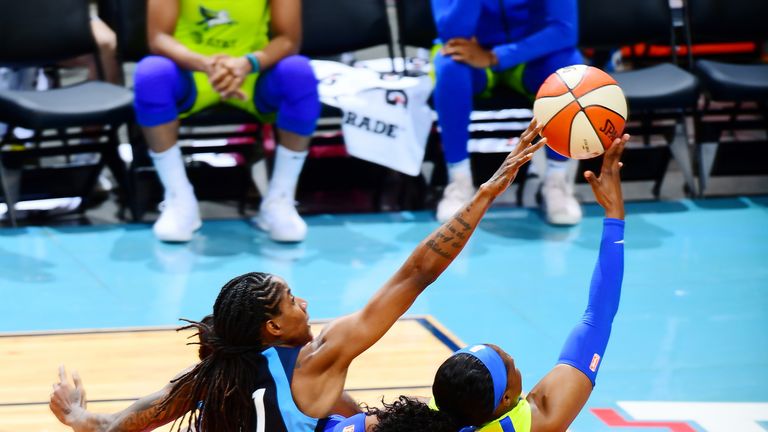 Image:
Atlanta Dream star Jessica Breland chases back to make a block
A strong defensive effort late in the game helped the Atlanta Dream come from behind to secure victory in their WNBA season opener against the Dallas Wings.
Jessica Breland scored 17 points, including a late go-ahead three-point play, and Atlanta held Dallas without a field goal in the final two minutes as the Dream rallied to beat the Wings 76-72 on Friday night.
The Dream led the WNBA in opponent field goal percentage (42.3 per cent) last season and Dallas made just 26 of 74 shots in this encounter.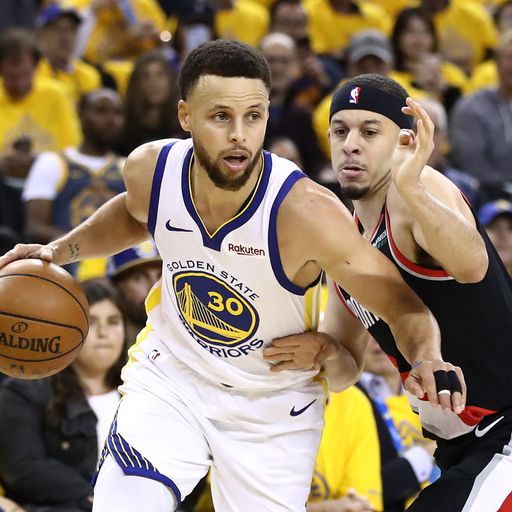 Get NBA & WNBA news on your phone
Want the latest NBA and WNBA news, features and highlights on your phone? Find out more
Atlanta won the final period 29-17 to overturn an eight-point Wings lead, with Renee Montgomery notching up 15 points to supplement Breland's efforts. But Tiffany Hayes, a first-team all-WNBA selection last year, scored only five points while making only two of eight shots from the field, missing all four of her attempts from beyond the arc.
Allisha Gray had 14 points off the bench to lead Dallas who will be encouraged by the performances of two of their rookies. Arike Ogunbowale had 12 points whilst Brooke McCarty-Williams tallied up eight points and eight assists.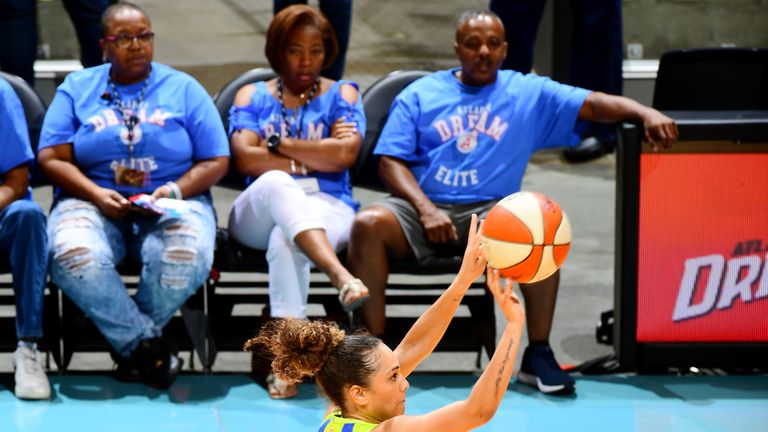 Image:
Brooke McCarty-Williams shoots the ball against the Atlanta Dream
Imani McGee-Stafford's layup gave Dallas a 67-65 lead. McCarty-Williams' steal set up Gray's layup, stretching the lead to four points. Another steal by Gray set up her free throws for a 71-65 advantage.
Following a three-pointer by Montgomery, Brittney Sykes made two of three free throws and grabbed the rebound on the miss to set up Breland's go-ahead three-point play with 1:17 remaining and the hosts saw out the victory at State Farm Arena.
Want to watch basketball but don't have Sky Sports? Get the Sky Sports Action and Arena pack, click here.