The Denver Nuggets' rapid rise from lottery team to upper echelons of the Western Conference has been powered by the play of their young bench stars, writes Sky Sports NBA analyst Mark Deeks.
Live NBA: Denver @ Washington
Last season, the Denver Nuggets failed to make the playoffs. They got about as close as one can get, finishing with a 46-36 record and missing out only on the final day of the season when they lost a play-in game with the Minnesota Timberwolves. They nonetheless failed, and finished in the lottery for the fifth consecutive season.
Sky Live: Nuggets @ Wizards
As a result, the improved team they have this season is built on a core of players that are not battle-tested, who have not been there before.
After another four-game winning streak, this year's Denver team sport a 47-22 record, good for second in the highly-competitive Western Conference and only half a game back on the defending champion Golden State Warriors, who continue to show the ability to flick a switch even if they are not the regular season behemoth they once were.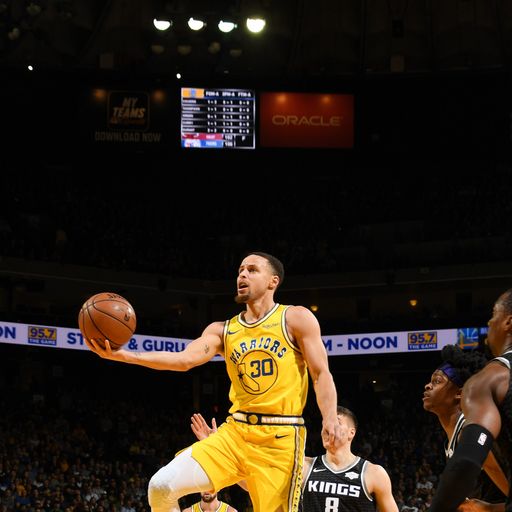 Follow Sky Sports NBA on Twitter
See the NBA's best plays and stay up to date with the latest news
Yet conventional wisdom holds that the advantage in the postseason goes to those who have been there before, who know about the pressure, the increased intensity, the burdens of responsibility that come with postseason play. And there is, of course, some truth to that.
The counter-argument is that not being burdened by memories of previous – after all, no one is battle-tested until they have had their first battle. The Nuggets will be hoping that the latter holds true, particularly as they have been driven to these new heights by the impact of their young bench.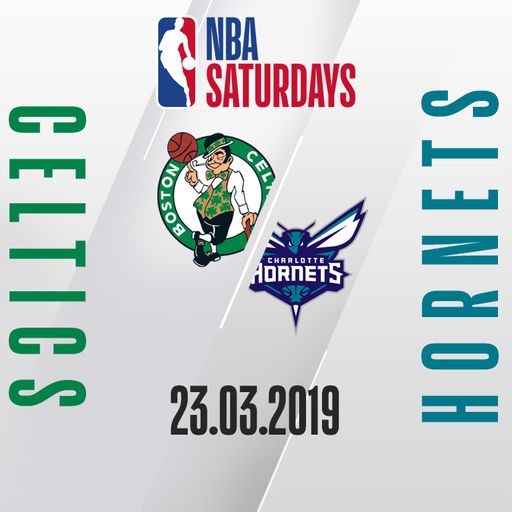 Celtics @ Hornets free on Sky Sports
Watch Boston Celtics take on Charlotte Hornets via a free live stream on Saturday at 10pm
The standard starting five of Jamal Murray, Gary Harris, Will Barton, Paul Millsap and Nikola Jokic have only been able to play 205 minutes across 12 games together. And the fact that this is somehow still the highest number of minutes of any five-man line-up Denver has had all season speaks to quite how much of a patch-up job they have had to do throughout the season.
At the crux of why this line-up has been so little used has been injuries. Harris, in particular, has been in and out of the line-up since late November and has been far from his best since returning.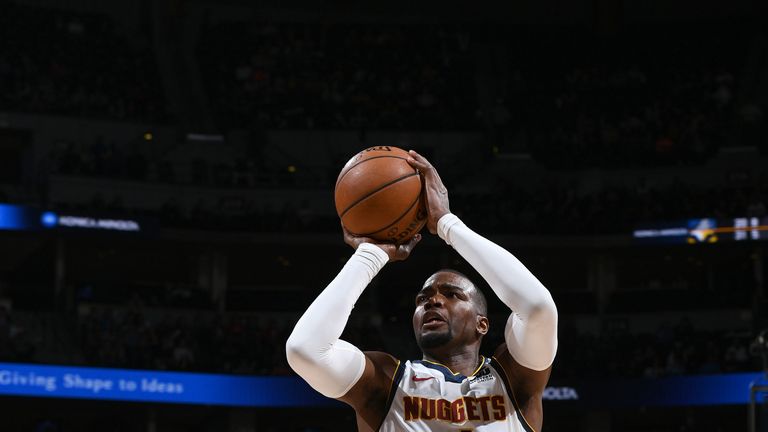 0:20
Paul Millsap beat the buzzer with a halfcourt heave as the Denver Nuggets routed the Minnesota Timberwolves
Despite playing a relatively high total of 58 games so far, Millsap missed a key stretch of the season in which the Nuggets played the Thunder, Raptors, Spurs (twice) and the Clippers in an eight-game stretch.
After being injured in only the second game of the season, Barton missed nearly the next three months of action. And since returning from that absence, he has been far too dribble-happy and shot-happy offensively to a degree that has more often than not been hurtful rather than helpful.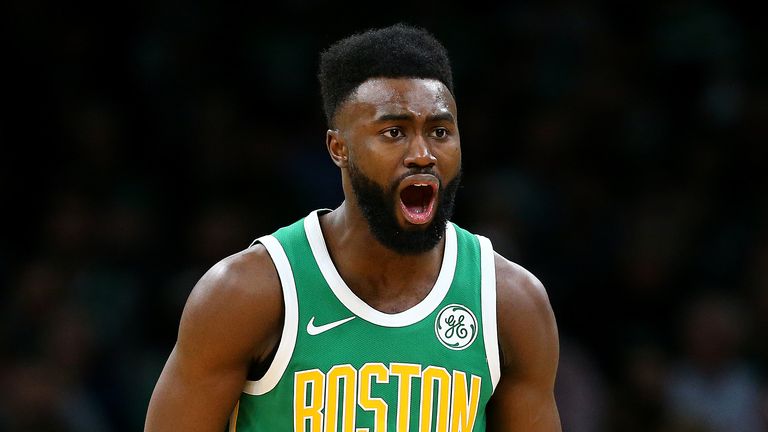 1:46
Highlights of the Denver Nuggets' 114-105 road win over the Boston Celtics
Basic logic dictates that a team almost always starts its best players, especially when those five players are theoretically a very cohesive unit together. With a net rating of +17.3 in those 205 minutes as a unit, and a +33.7 rating in the mere 65 minutes they managed together last season, the available evidence confirms the theory, small sample size notwithstanding.
To go from the lottery to a mere half game out of first place, then, speaks to some tremendous play from those filling in.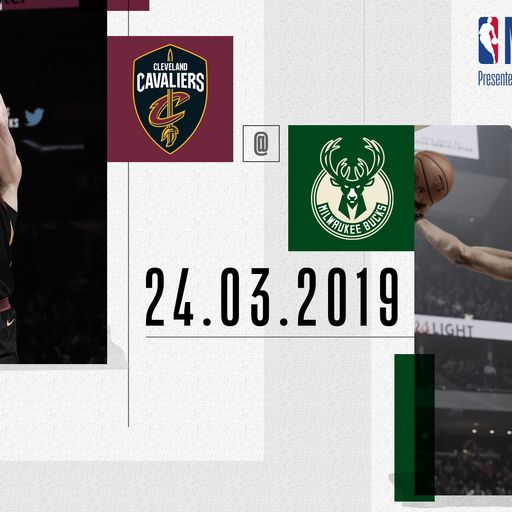 NBA Primetime on Sky Sports
The Cavaliers visit the Bucks on NBA Primetime – watch live on Sky Sports Arena on Sunday at 8:15pm
As we looked at previously, the infusion of interior defense offered up by reserve center and increasingly regular reserve power forward Mason Plumlee forms a large part of the Nuggets' improved depth and the improvements to the defense and record that they have driven.
Plumlee's defense dovetails nicely alongside Jokic, covering for his weakness while also being a good passing option for a center, keeping the offense moving when Jokic the elite point center is out of the game.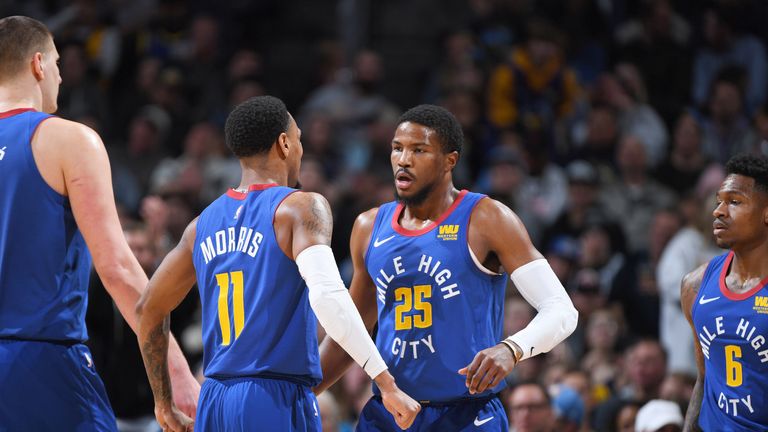 Image:
Monte Morris celebrates with Malik Beasley
It is in the backcourt and on the wings, however, that the value of the added depth can be found.
The Isaiah Thomas experiment did not work. Missing the team's first 56 games due to injury, Thomas was ineffective upon his return, no longer the shot-maker he once was and still as ineffectual of a defensive player as ever. Then again, the Isaiah Thomas experiment did not need to work in light of the continued development of sophomore point guard Monte Morris, the epitome of efficiency.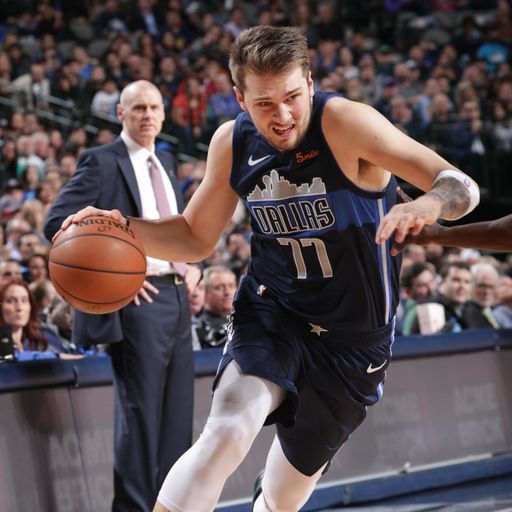 Get NBA news on your phone
Want the latest NBA news, features and highlights on your phone? Find out more
Morris's most distinct attribute as a player is in almost never turning the ball over. He sports a ridiculously low average of 0.7 turnovers per game despite averaging 24.3 minutes per contest, an amazingly low number for any player that becomes outright astounding when compared to his 3.8 assists per game and his role as a primary ball handler.
Only Langston Galloway, Gary Clark, Dirk Nowitzki, Tony Snell and Justin Jackson have lower turnover ratios among rotation players, and none of those players are bringing the ball up or taking dribbles before they shoot.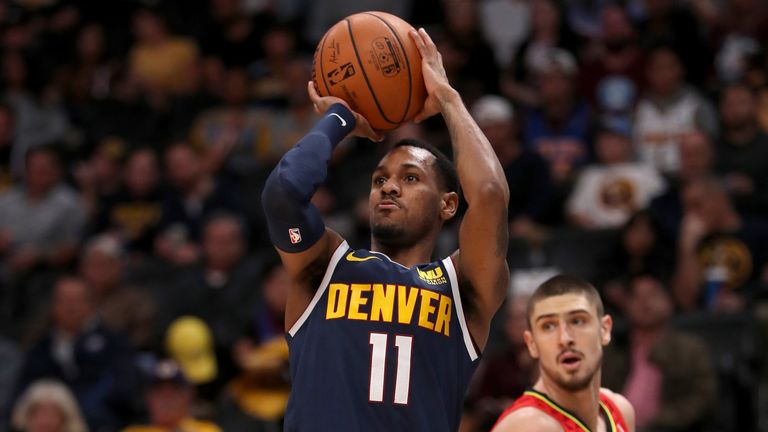 Image:
Morris fires a jump shot
Morris combines this with excellent judiciousness in when to score himself. Despite his small frame and lack of explosion, he shoots excellently on both pull-up two-point jumpers and catch-and-shoot three-pointers, hitting 47.1 per cent of his jump shots overall.
The ideal foil for an elite point center such as Jokic is a player who can consistently bring the ball over halfcourt, get it to him, work off that threat, hit the resultant open shots, reset the ball whenever needed and can make something happen off the dribble if needs be. Morris is exactly that player.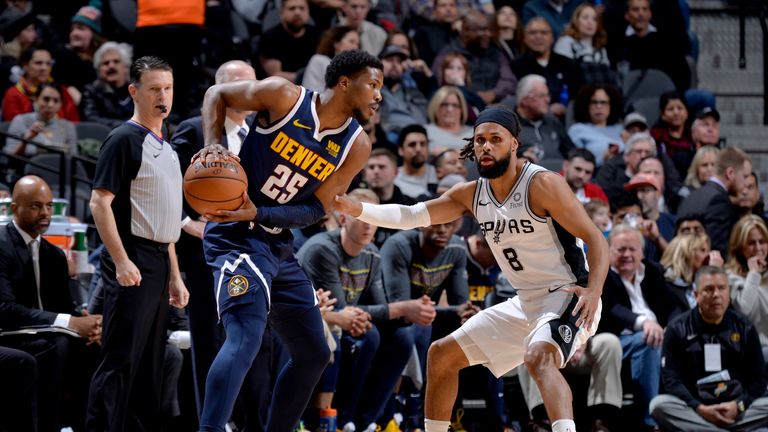 Image:
Beasley handles the ball against the San Antonio Spurs
Alongside Morris, third-year guard Malik Beasley has become one of the NBA's best pure shooters. Not seeing the court much over his first two seasons, and doing little in the time he did manage, Beasley has shown up this season with an elite jump shot, hitting 42.1 per cent of his three-point attempts, almost all of the catch-and-shoot variety.
Also competing on defense, Beasley has become the archetypal three-and-D player that the NBA now yearns for from its non-star wings. Notwithstanding Harris's career to date and the injuries that have caused his limited impact, it is fair to say that this year, Beasley has outplayed him.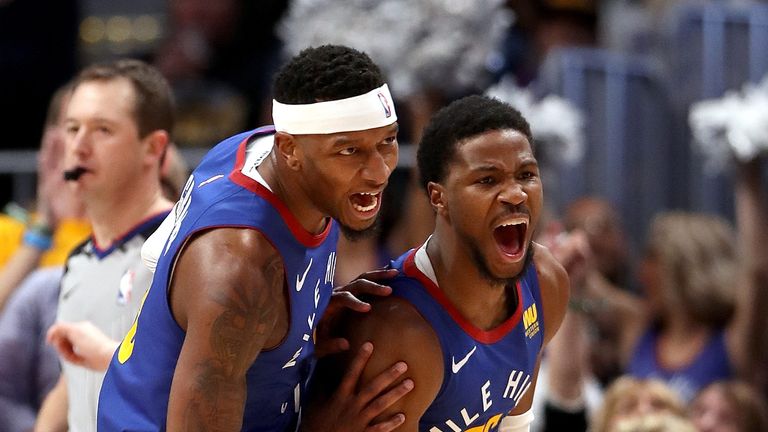 Image:
Beasley celebrates with team-mate Torrey Craig
Beasley's defense is commensurate with that of sophomore Torrey Craig, who remains a key part of the rotation as a modern-day Trenton Hassell. Craig is not the shooter or scorer that Beasley is, yet his dogged defensive efforts and physical play on the perimeter gives some teeth to a Nuggets defense that, while it has not sustained the excellence with which it began the season, can still turn up the gears with the right personnel.
Alongside him, third-year forward Juancho Hernangomez has reversed the lost season he had in 2017-18 with a much more confident and impactful offensive role in 2018-19, getting his shot back and filling in at both forward spots when needed.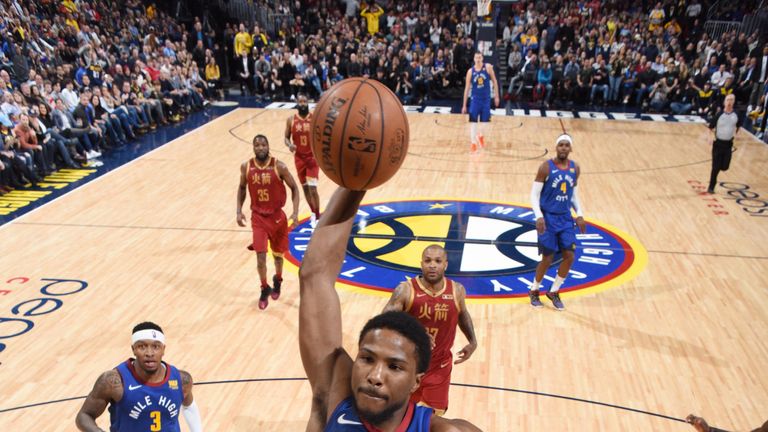 0:31
Malik Beasley provided a brilliant finish from a Paul Millsap no-look pass on his way to a career-high 35 points against the Rockets
Between the starting and bench fives, the Nuggets have an extremely efficient halfcourt offense, and a much-improved defense. They do not need Thomas when they have the excellent fits of Morris and Beasley off the backcourt bench, and they can offset the absences of Barton and Millsap with the line-up flexibility offered up by their forward depth.
If Harris can get healthy, Barton can find his rhythm and Trey Lyles can rediscover his shot, the Nuggets will have a legitimate 11-man rotation should they want it, and excellent match-up potential versus any opponent.
Thursday night's games
Denver Nuggets @ Washington Wizards, 11pm, live on Sky Sports Arena
Minnesota Timberwolves @ Charlotte Hornets, 11pm
Utah Jazz @ Atlanta Hawks, 11:30pm
Detroit Pistons @ Phoenix Suns, 2am
Dallas Mavericks @ Sacramento Kings, 2:30am
Indiana Pacers @ Golden State Warriors, 2:30am
The new Nuggets are almost all the same as the old Nuggets; every single member of the potential 11-man rotation was a member of last year's lottery team as well.
But apart from those hampered by injury, every single member of that rotation is a better player than last year, too.
Want to watch the NBA but don't have Sky Sports? Get the Sky Sports Action and Arena pack, click here.