LeBron James scored 29 points as the Los Angeles Lakers fought back from a 19-point deficit to stun the Houston Rockets at Staples Center.
Thursday night's scores
Houston Rockets 106-111 Los Angeles Lakers
Sacramento Kings 123-125 Golden State Warriors
Miami Heat 102-106 Philadelphia 76ers
Boston Celtics 97-98 Milwaukee Bucks
Portland Trail Blazers 113-99 Brooklyn Nets
Phoenix Suns 98-111 Cleveland Cavaliers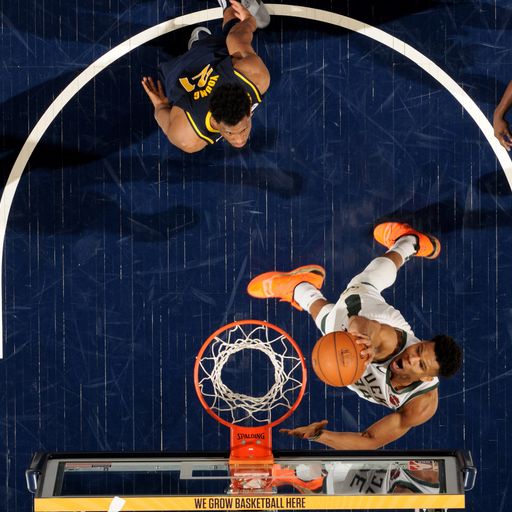 Conference standings
Who's leading the East? Who's leading the West?
Houston Rockets 106-111 Los Angeles Lakers
The Los Angeles Lakers rallied from 19 points down in the third quarter to defeat the visiting Houston Rockets 111-106 on Thursday night.
LeBron James had 29 points and 11 rebounds for the Lakers, who avoided their second-ever season sweep against the Rockets.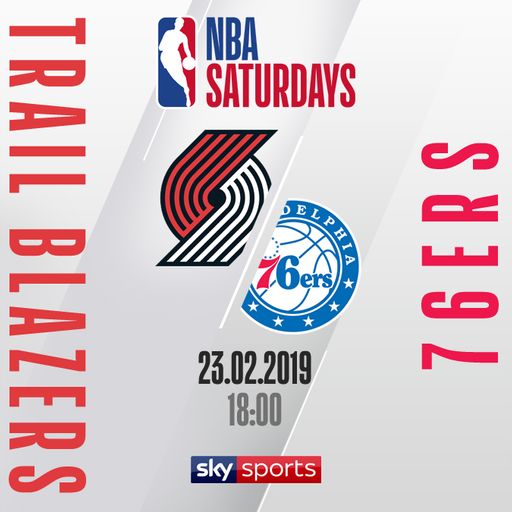 Blazers @ 76ers free on Sky Sports
Watch Portland Trail Blazers take on Philadelphia 76ers via a free live stream on Saturday at 6pm
Brandon Ingram finished with 27 points and 13 rebounds, Kyle Kuzma scored 18 points, Reggie Bullock had 14 points and JaVale McGee finished with 11 as all five starters scored in double figures for Los Angeles.
The Rockets were back to full strength for the first time in two months, and the trio of James Harden, Chris Paul and Clint Capela helped Houston to an early double-digit lead in the first game back from the weeklong All-Star break.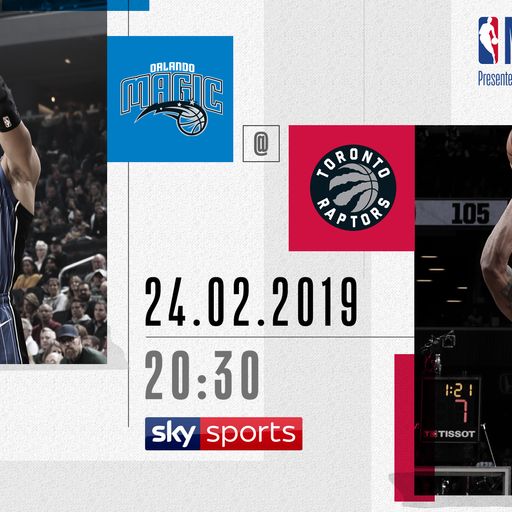 NBA Primetime on Sky Sports
The Magic visit the Raptors on NBA Primetime – watch live on Sky Sports Arena on Sunday at 8:15pm
Harden got into early foul trouble before finished with 30 points for his 32nd consecutive 30-point game. The NBA's leading scorer at 36.6 points per game entering the night, Harden fouled out with 1:24 left and Houston trailing 105-99.
Paul had 23 points, 10 rebounds and nine assists, and Capela had 12 points and 11 rebounds in his return after missing 15 games due to a thumb injury.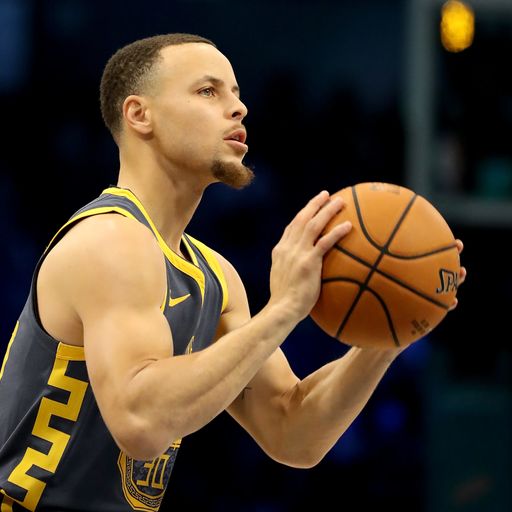 Follow Sky Sports NBA on Twitter
See the NBA's best plays and stay up to date with the latest news
The Lakers moved ahead for good on two free throws by James for a 99-97 lead with 4:15 left.
Houston had taken a seven-point lead into the fourth quarter after leading by as many as 19 in the third. The Lakers started their comeback by closing the third quarter with a 15-4 run to get with single digits.
Sacramento Kings 123-125 Golden State Warriors
Stephen Curry bombed in 10 three-pointers in a 36-point performance that allowed the Golden State Warriors to complete a season-series sweep of the Sacramento Kings with a 125-123 victory in Oakland.
The four-game sweep was the Warriors' fourth in the past six seasons over their Northern California rival, but it was hard-earned. There was just a 12-point total margin of victory in the four wins, after the Warriors had earned earlier one-, five- and four-point triumphs.
In a fourth quarter that featured five lead changes and four ties, Curry broke the last tie and gave Golden State the lead for good at 107-104 on a three-pointer with 7:00 remaining.
Curry added a ninth and a 10th three-pointer as the Warriors went up 117-111 with 1:43 to play, but the Kings wouldn't go away.
Harrison Barnes countered with a three-pointer to cut the Sacramento deficit in half, and Buddy Hield nailed a pair of threes in the final 19 seconds to get the Kings within 125-123 with 10.3 seconds left.
The Kings then got a shot at a tie after Andre Iguodala missed two free throws with 7.4 seconds remaining, but Hield air-balled a 15-footer under heavy pressure from Klay Thompson just before time expired.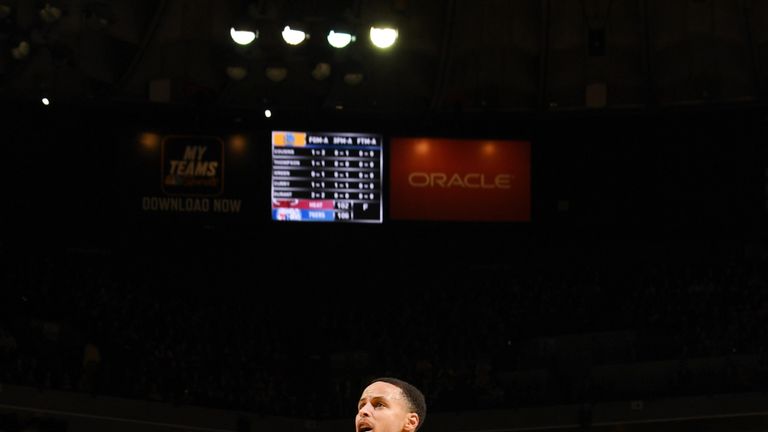 Image:
Stephen Curry goes to the basket against Sacramento
Curry shot 10-for-16 from three-point range en route to his fifth game this season with 10 or more threes.
DeMarcus Cousins recorded 17 point and 10 rebounds for Golden State while Kevin Durant chipped in with 28 points and seven blocks.
Marvin Bagley III led the Kings with 28 points to go with a game-high 14 rebounds. Hield finished with 19 points, De'Aaron Fox 18 and Bogdan Bogdanovic 14.
Miami Heat 102-106 Philadelphia 76ers
Tobias Harris scored 23 points and grabbed 11 rebounds and Ben Simmons scored 21 points as the host Philadelphia 76ers held off the Miami Heat 106-102.
Boban Marjanovic had 19 points and 12 rebounds for his fifth double-double this season while Jimmy Butler added 18 points. JJ Redick contributed 13 as the Sixers won without injured All-Star center Joel Embiid and reserve forward Furkan Korkmaz.
Dwyane Wade led the Heat with 19 points while Dion Waiters added 18 and Kelly Olynyk had 15.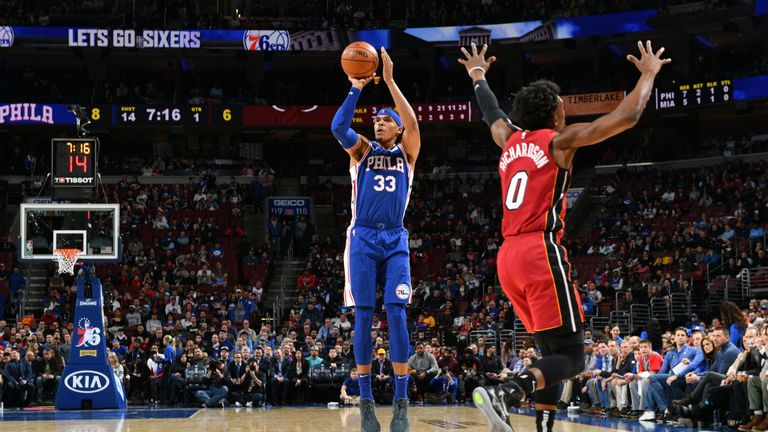 Image:
Tobias Harris rises up to shoot a three-pointer against Miami
Simmons scored eight straight points late in the third, but the Sixers were behind 75-73 at the end of the quarter. Down 90-88, Redick and Harris each hit a three-pointer and Simmons finished an alley-oop for a 96-90 Sixers lead with 5:01 left.
The Heat responded as Josh Richardson drained a trey from the top of the key to close within 96-95 with 3:39 remaining. Wade then made a turnaround jumper, and the Heat went back in front 97-96.
Redick's difficult, twisting three-pointer with 1:04 left pushed the Sixers ahead 103-99, and they held on from there.
Boston Celtics 97-98 Milwaukee Bucks
Giannis Antetokounmpo recovered from a slow start to score 30 points and grab 13 rebounds as the Milwaukee Bucks returned from the All-Star break to earn a 98-97 victory over the visiting Boston Celtics on Thursday night.
Khris Middleton scored 15 points for the Bucks, including a tie-breaking three-pointer with 32.5 seconds remaining.
The Bucks improved their NBA-best record to 44-14 while winning for the 15th time in their past 17 games and the ninth time over their past 10 games.
Kyrie Irving scored 22 points and Al Horford added 21 for the Celtics, who lost for just the fourth time in their past 16 games. Irving had missed the last two games before the break with a knee strain, although he did play 25 minutes Sunday in the All-Star Game.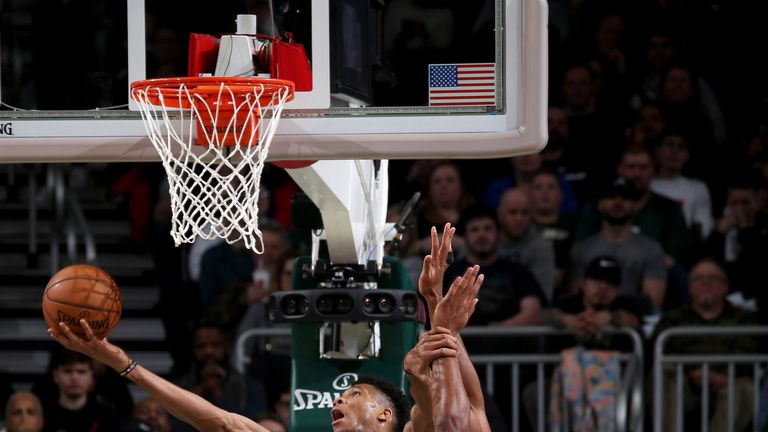 Image:
Giannis Antetokounmpo makes a spectacular reverse over Al Horford
Irving made a lay-up with 27.5 seconds left to cut Boston's deficit to one, but he missed a wild left-handed shot for the win at the buzzer.
Antetokounmpo recorded his 41st double-double of the season. Middleton added 13 rebounds while Brook Lopez had 10 points.
Jayson Tatum scored 17 and Jaylen Brown added 15 for the Celtics, who saw their four-game road winning streak end. Horford had 17 rebounds, and Tatum had 10.
Portland Trail Blazers 113-99 Brooklyn Nets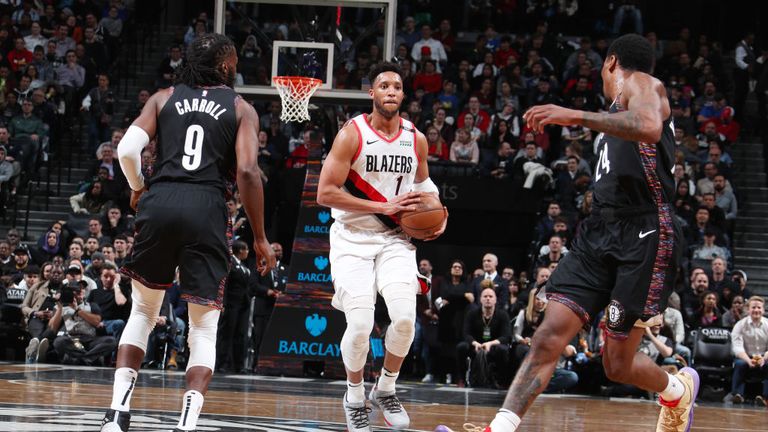 1:44
Highlights of the Portland Trail Blazers' visit to the Brooklyn Nets in week 19 of the NBA
Jusuf Nurkic collected 27 points and 12 rebounds as the Portland Trail Blazers opened a seven-game road trip with a 113-99 road victory over the Brooklyn Nets.
Nurkic made 10-of-15 field-goal attempts, tied his season high for points and recorded his 27th double-double as the Blazers won for the 13th time in 19 games.
Portland recorded the win by pulling away down the stretch on a night when All-Star guard Damian Lillard had a quiet scoring performance. Lillard finished with 13 points on 5-of-21 shooting but added eight assists to go along with eight rebounds.
CJ McCollum added 21 points for Portland, who shot 43.8 per cent from the floor and outscored the Nets 23-10 in the final seven-plus minutes. Reserve Enes Kanter made his debut for Portland and contributed 18 points and nine rebounds.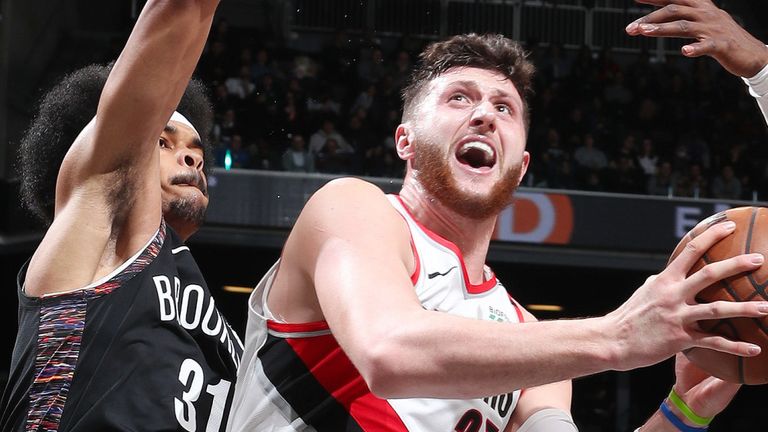 Image:
Jusuf Nurkic battles Jarrett Allen in the paint
Reserve Allen Crabbe led the Nets with 17 points. Ed Davis added 15 points off the bench but All-Star guard D'Angelo Russell was held to 14 thanks to 4-of-16 shooting.
The Blazers took an 84-72 edge into the fourth but the Nets stormed back by scoring 12 straight points and cut the deficit to 90-89 a long jumper by DeMarre Carroll with 7:25 left.
Portland countered with a 7-1 run and took a 97-90 lead on a three-point play by Maurice Harkless with 4:39 left. The Blazers iced the game with 3:21 to play on a three-pointer by Lillard, and a dunk by Nurkic with 2:03 left extended the gap to 106-97.
Phoenix Suns 98-111 Cleveland Cavaliers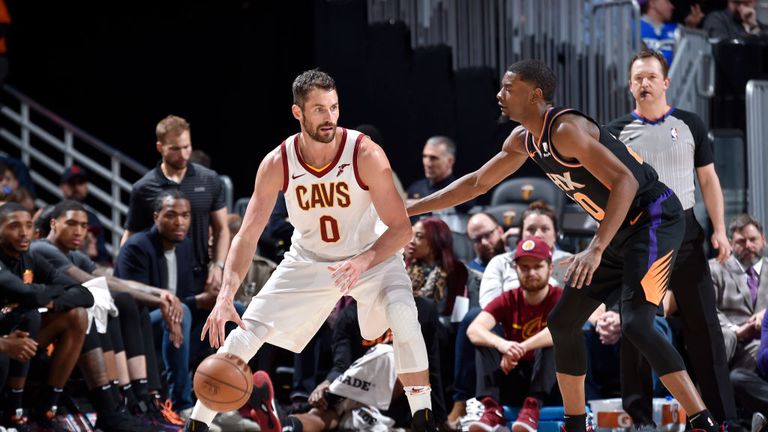 1:44
Highlights of the Phoenix Suns' visit to the Cleveland Cavaliers in week 19 of the NBA
Kevin Love, making his third appearance of the season since missing 50 games through injury, scored 16 points and grabbed 11 rebounds to lead the Cleveland Cavaliers to a 111-98 win over the visiting Phoenix Suns.
The loss was the 16th straight for the Suns, a franchise record. The Cavaliers have now won eight straight against the Suns.
Love missed most of the first half of the season with a toe injury and has had his playing time restricted. Against the Suns, he went 6-of-13 from the field in 22 minutes, going 3-of-8 from beyond the arc and committing four turnovers.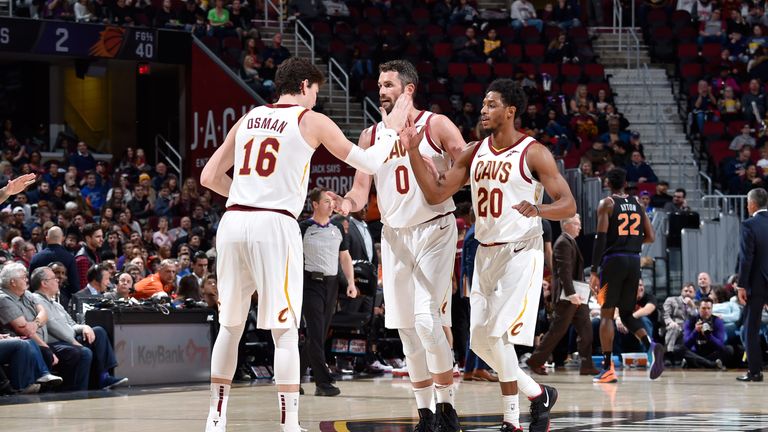 Image:
Kevin Love is congratulated by team-mate Cedi Osman
Besides Love, Cleveland's balanced offense had four other players score in double figures. Clarkson and Larry Nance Jr came off the bench and finished with 15 and 14 points respectively.
Cedi Osman led Cleveland with 19 points. His 25-foot jumper put the Cavs back up 10 with 7:31 to go. Nance followed with a dunk to doom any chance the Suns had of snapping their losing streak.
Want to watch the NBA but don't have Sky Sports? Get the Sky Sports Action and Arena pack, click here.