The NBA All-Star game returns to Charlotte for the first time since for the first time since 1991 with a glittering cast ready for the eagerly-anticipated match-up between Team LeBron and Team Giannis.
The introduction last year of a new format, which abandoned the old East v West model in favour of two captains picking from a pool of players, produced an excellent game that saw Team LeBron beat Team Curry by just three points – and fans will be hopeful of more of the same this year after an entertaining draft.
Live NBA All-Star Game
Monday 18th February 1:00am
The received wisdom is LeBron has the stronger team. His team has more All-Star experience with 91 appearances between them compared to Team Giannis' 49, while his roster also has a higher overall field-goal percentage, steals, dunks and blocks count on the season.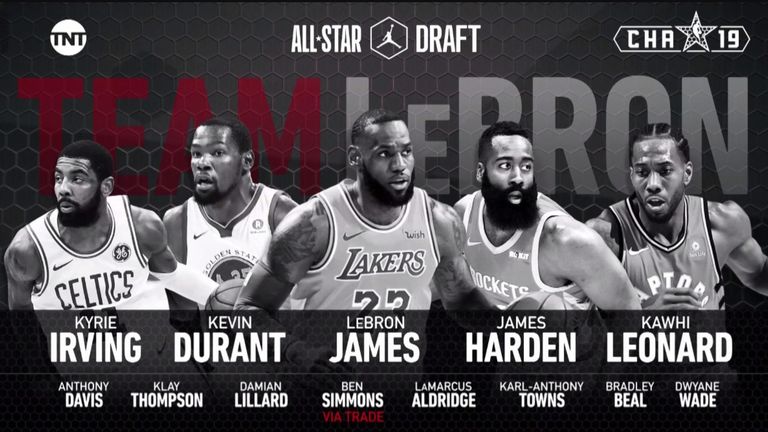 Image:
Team LeBron roster for 2019 All-Star Game
In James Harden, LeBron also has the league's hottest hand and reigning MVP. That Harden dropped to the second-to-last pick among the starters is astonishing, although his possession-heavy scoring does not necessarily lend itself to the All-Star spectacle.
Meanwhile, four of the five debutants – Nikola Jokic, Khris Middleton, Nikola Vucevic and D'Angelo Russell – are on Giannis' side of the court, with some suggesting the Greek Freak was tied by his loyalty to Middleton with the first reserve pick, allowing LeBron a clear run at Anthony Davis.
Giannis does has the better defensive team and in Joel Embiid the only bona-fide center on either line-up, but given defence is less of a factor in the larger spaces of an All-Star game, this advantage may turn out to be moot.
Image:
Team Giannis roster for 2019 All-Star Game
However, Russell Westbrook plays as hard as anyone in All-Star games and any team with the range shooting of Steph Curry and Kemba Walker – playing in front of his home crowd – is going to be a threat. Curry is yet to win an MVP award in five All-Star appearances. He is surely due his place in the sun.
With the two seven-footers in the game on his side, Giannis will also hope his team can dominate the boards.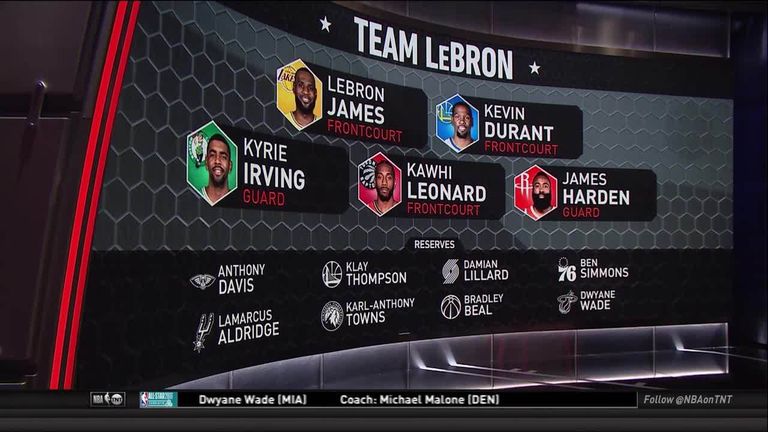 3:50
LeBron and Giannis explain their selections for the 2019 All-Star Game
Dallas' Dirk Nowitzki was one of two special additions to the rosters by NBA Commissioner Adam Silver – Miami's Dwyane Wade was the other – and if he plays he will become the second 40-something to appear in the All-Star Game after Kareem Abdul-Jabbar.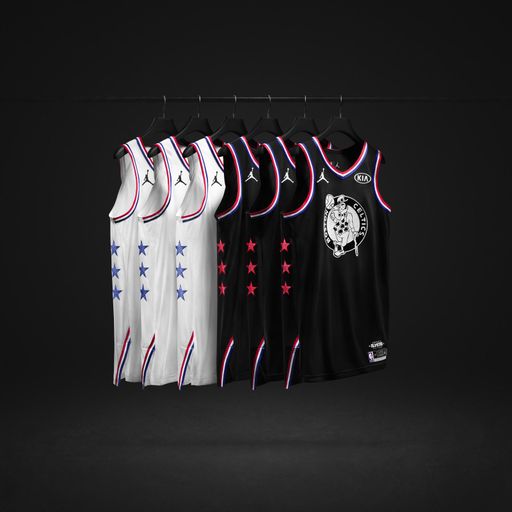 All-Star 2019 uniforms revealed
Take a look at what LeBron James, Giannis Antetokounmpo and their team members will be wearing when they play in the 2019 NBA All-Star Game.
One of the most interesting sub-plots to the All-Star draft was LeBron's courting of potential free agents. Five of his first six picks – Kevin Durant, Kyrie Irving, Kawhi Leonard, Anthony Davis and Klay Thompson – all hit free agency or the trade market this summer.
Giannis joked LeBron was "tampering", but there seems little doubt LeBron was looking for any advantage he can get in drawing players to the Lakers at the end of the season.
The best of Team LeBron:
12:05
Check out the season's best plays made by members of LeBron James' All-Star squad
The best of Team Giannis:
11:32
Check out the best plays made this season by members of Giannis Antetokounmpo's All-Star squad
The numbers game:
1991 – Charlotte previously hosted NBA All-Star in 1991, when the Hornets were in their third season.
56 – Hornets Chairman Michael Jordan will turn 56 on the same day as the 2019 NBA All-Star Game.
15 – LeBron James is set to tie Kobe Bryant for the most starts in NBA All-Star Game history.
3 – Giannis Antetokounmpo will become the first Bucks player to start three consecutive All-Star Games.
21 – The San Antonio Spurs, represented by LaMarcus Aldridge, have had at least one player selected to 21 consecutive All-Star Games, the NBA's longest active streak.
14 – Dirk Nowitzki is now a 14-time All-Star selection after being named by NBA Commissioner Adam Silver as a special roster addition for the 2019 All-Star Game. Wade is the other special roster addition.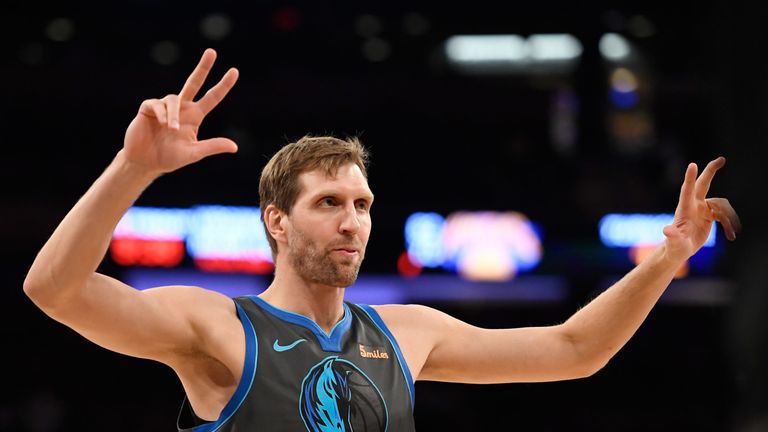 Image:
Dirk Nowitzki is making his 14th All-Star appearance
2 – Kyle Lowry has joined Chauncey Billups as the only two players to make five NBA All-Star teams after not being selected to any of their first eight seasons.
45 – Mike Budenholzer is the Milwaukee Bucks' first NBA All-Star Game head coach in 45 years.
What they are saying:
Steph Curry on returning to the area where he grew up:
"I'm going to do whatever I can to highlight, like showcase the city. And celebrate it for what it meant to me and my journey. Our family and my dad, in terms of where he is in all the record books of Charlotte – Kemba Walker just passed him I think for all-time scoring – but he has other records that talks about his longevity there."
Kyrie Irving on playing with LeBron again:
"I'm excited just to be an All-Star, getting picked by the fans, as well as the media. I'm truly grateful. It gives us another chance to go out there and play together."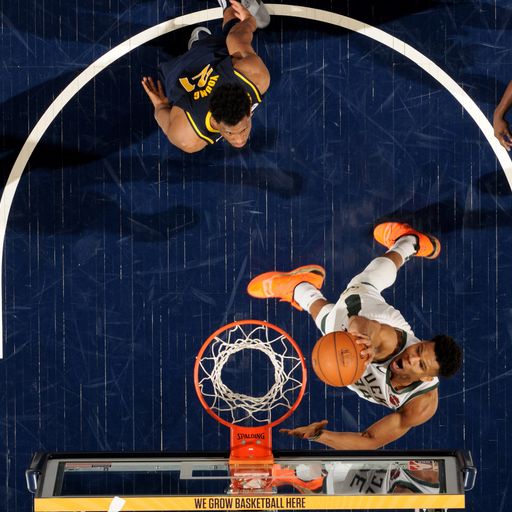 Follow Sky Sports NBA on Twitter
See the NBA's best plays and stay up to date with the latest news
LeBron on playing with Dwyane Wade:
"Probably my worst All-Star Game by far playing with that guy," he joked. "I can't believe I'm sharing another All-Star Game with Dwyane Wade, my least favourite person in the world.
"Nah, it's going to be special, that's for sure, man. It's his last hoorah and to be part of All-Star Weekend is going to be a treat."
Kemba Walker on playing in Charlotte:
"Charlotte means a lot to me. This city has embraced me – allowed me to be who I am, allowed me to grow as a man. I just love the city. This team drafted me, believed in me when I was young."
Want to watch the NBA but don't have Sky Sports? Get the Sky Sports Action and Arena pack, click here.