With excitement building ahead of the 2019 All-Star game, now would be the perfect time to check out the behind-the-scenes footage of last year's event, which saw Team Stephen take on Team LeBron in the first edition of the revamped format.
In a change from the traditional East v West match-up, the league changed to the draft-style format where the two captains picked their teams from a pool of players.
In the video, you'll see Giannis Antetokounmpo thanking Curry for his pick – with Steph admitting he just didn't want the giant Milwaukee Buck dunking on him – while Kevin Hart gives his prediction for the game.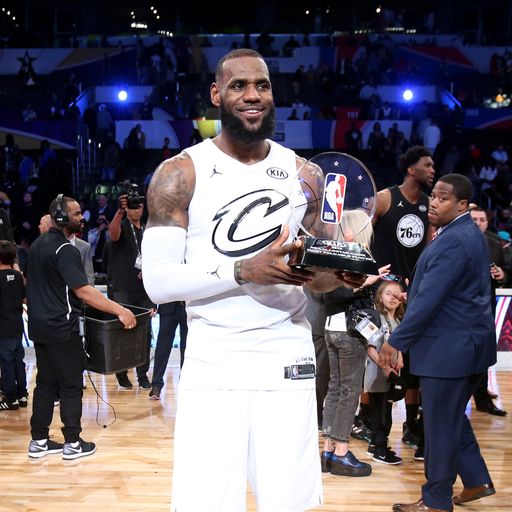 Watch All-Star Weekend live on Sky Sports
The All-Star game, Slam Dunk Contest, Rising Stars Challenge and Three-Point Contest all live on Sky Sports Arena
And while it may be All-Star weekend and a chance to show off the skills to the fans, from on-court chatter to sideline speeches it's clear that both teams were taking it very seriously.
Curry dishes up a floating three-pointer right over LeBron, whose monster bounce pass to Anthony Davis then sets up a huge slam.
Meanwhile Giannis breezes past Kevin Durant for what has become one of his trademark wide-arm dunks.
And the change to the format worked. A thrilling game in Los Angeles saw Team LeBron run out 148-145 winners, with Curry unable to land a game-tying three-pointer in the final seconds as three of LeBron's team-mates pushed him into the corner.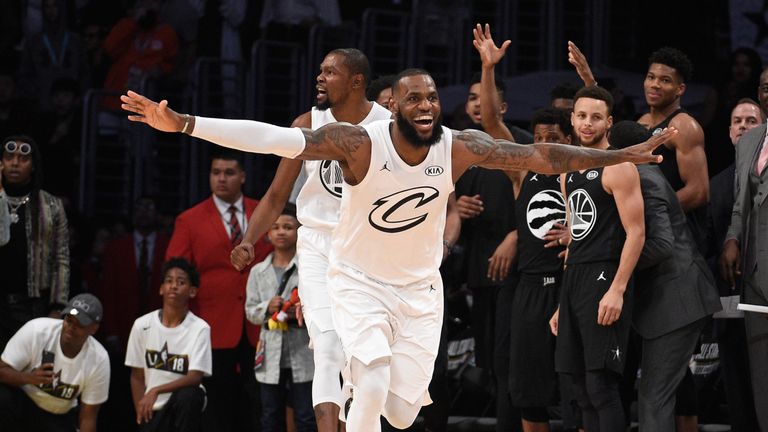 Image:
LeBron James celebrates as Steph Curry looks on at the end of the 2018 All-Star Game
LeBron's whoop of delight – accompanied by Curry's visible frustration – is clear at the final buzzer. These guys came to win and we can expect more of the same this weekend.
Click on the video above for the perfect warm-up to the 2019 All-Star Weekend, then check out the most outrageous dunks from last year below.
Dennis Smith Jr features plenty, while Victor Oladipo engages in some cosplay with a Black Panther mask before throwing it down and Donovan Mitchell channels Vince Carter with a reverse 360 slam that is enough for him to win the Dunk Competition.
Click on the video below to see the best dunks from the 2018 Weekend…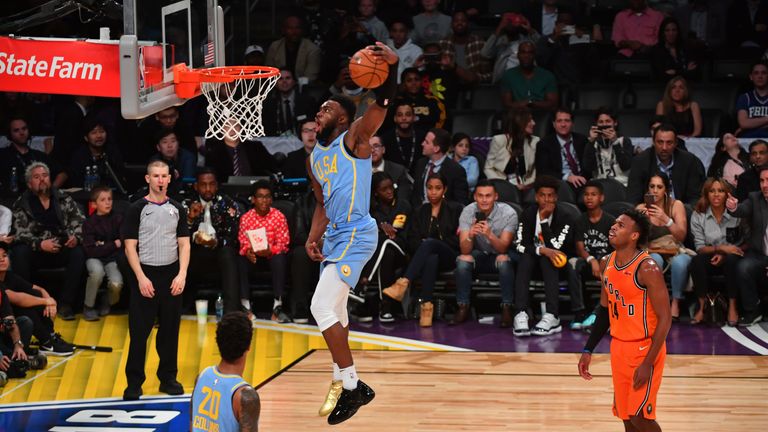 4:23
Relive the most thunderous slams from the 2018 NBA All-Star Weekend
Want to watch the NBA but don't have Sky Sports? Get the Sky Sports Action and Arena pack, click here.