Jabari Parker, along with Bobby Portis, was traded from Chicago Bulls to the Washington Wizards on Wednesday.
On Saturday, they returned to the United Center to haunt their former team in the Wizards' 134-125 victory over the Bulls.
While Portis pulled in 12 rebounds and gave the Bulls bench plenty of glares, Parker was especially effective at the other end, scoring 20 points and going 60 per cent from the field.
NBA: LA Lakers @ Philadelphia
Monday 11th February 9:00pm
Otto Porter Jr, who went the other way it the trade, scored 17 points for the Bulls, but it felt like an afterthought, and Parker made sure everyone in Chicago would remember his return with this huge dunk on his former team.
Click on the video above to watch Parker slam home, and then below, check out the top 10 plays of the night from the other eight games around the league.
Saturday's results
Atlanta Hawks 120-129 Charlotte Hornets
Boston Celtics 112-123 LA Clippers
Chicago Bulls 125-134 Washington Wizards
Houston Rockets 112-117 Oklahoma City Thunder
Indiana Pacers 105-90 Cleveland Cavaliers
Memphis Grizzlies 99-90 New Orleans Pelicans
Milwaukee Bucks 83-103 Orlando Magic
New York Knicks 99-104 Toronto Raptors
Utah Jazz 125-105 San Antonio Spurs
From Chris Paul's slick move to find Kenneth Faried in Houston's ding-dong clash with the Oklahoma City Thunder, to Melvin Frazier Jr's windmill slam for the Magic in their win over the Bucks, there was plenty to admire on Saturday night.
There was even some joy for fans of the hapless Knicks. They may have slumped to a franchise-record-tying 26th straight defeat, but Dennis Smith Jr's alley-oop lay-up off the glass for DeAndre Jordan was just bliss.
Click on the video below for all of our top 10 plays of the night…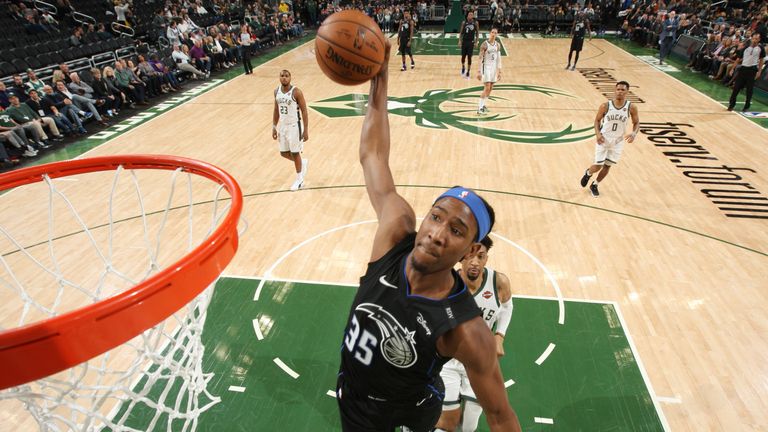 2:04
Check out the best ten plays from this Saturday in the NBA.
Want to watch the NBA but don't have Sky Sports? Get the Sky Sports Action and Arena pack, click here.