Kevin Durant and Klay Thompson were in stellar shooting form as the Golden State Warriors thrashed the San Antonio Spurs.
Wednesday night's scores
San Antonio Spurs 102-141 Golden State Warriors
Houston Rockets 127-101 Sacramento Kings
Washington Wizards 129-148 Milwaukee Bucks
Denver Nuggets 130-135 Brooklyn Nets
New Orleans Pelicans 125-120 Chicago Bulls
Charlotte Hornets 93-99 Dallas Mavericks
Phoenix Suns 88-116 Utah Jazz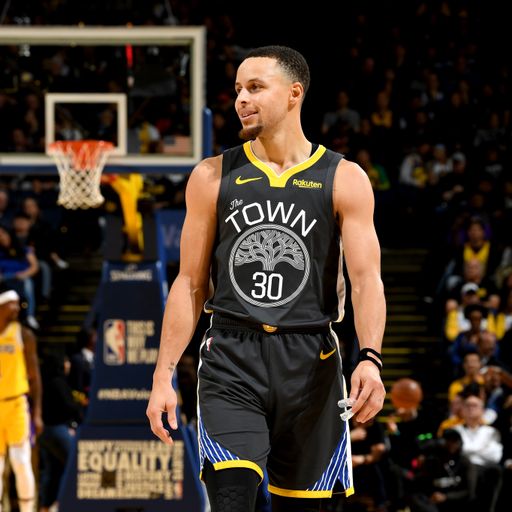 Conference standings
Who's leading the East? Who's leading the West?
San Antonio Spurs 102-142 Golden State Warriors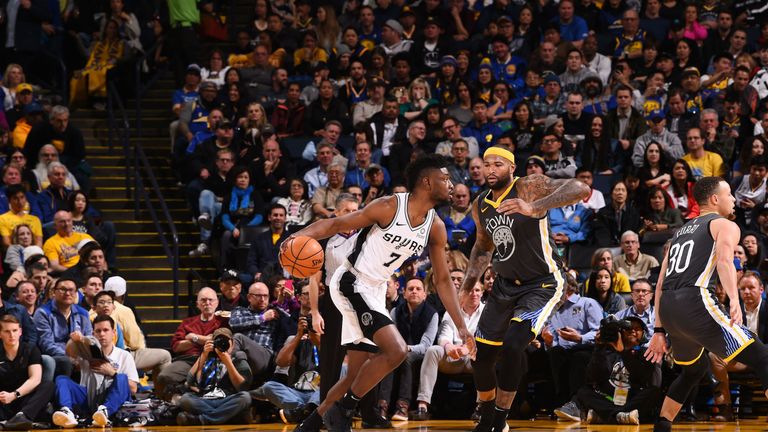 2:10
Highlights of the San Antonio Spurs' visit to the Golden State Warriors in Week 17 of the NBA
The Golden State Warriors made 24-of-25 shots bridging the second and third quarters on Wednesday night, breaking open a close game en route to a 141-102 shellacking of the short-handed San Antonio Spurs in Oakland.
The Spurs elected to rest their top two scorers, LaMarcus Aldridge and DeMar DeRozan, in the second game of their eight-game 'Rodeo Trip', with the second half of a back-to-back looming on Thursday night against the Trail Blazers in Portland.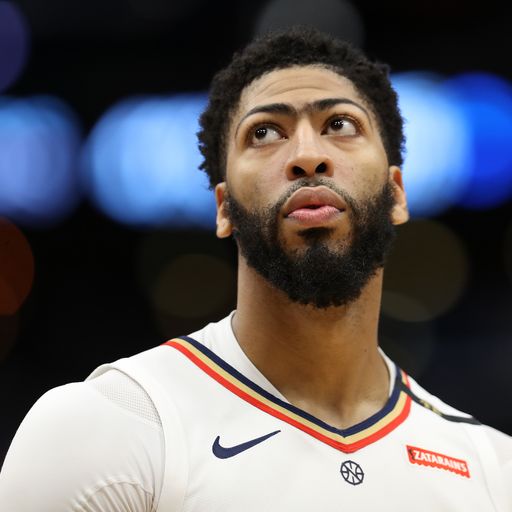 Trade Deadline Tracker
Follow the latest done deals and rumoured moves ahead of Thursday evening's trade deadline
Facing a team that held them to 92 points in November, the Warriors led just 49-45 late in the second period before finishing the half 7-for-7, extending the advantage to 66-52 at half-time.
The two-time defending champs then made their first seven shots of the second half, a flurry they extended to 17-of-18 while turning the contest into a 114-81 blowout in the final minute of the third period.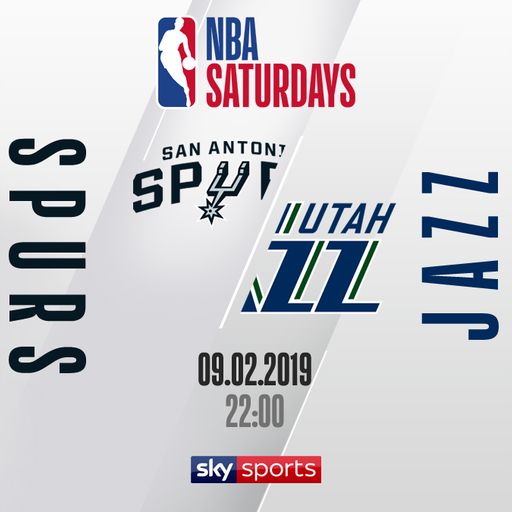 Spurs @ Jazz free on Sky Sports
Watch San Antonio Spurs take on Utah Jazz via a free live stream on Saturday at 10pm
The Warriors scored 49 points in the quarter, giving them 115 for three periods, the most ever allowed through three quarters in the Gregg Popovich era in San Antonio.
Klay Thompson had 26 points and Kevin Durant 23 for the Warriors, who won for the 13th time in their last 14 games. Durant also found time in his 29 minutes to record team highs with eight rebounds and nine assists.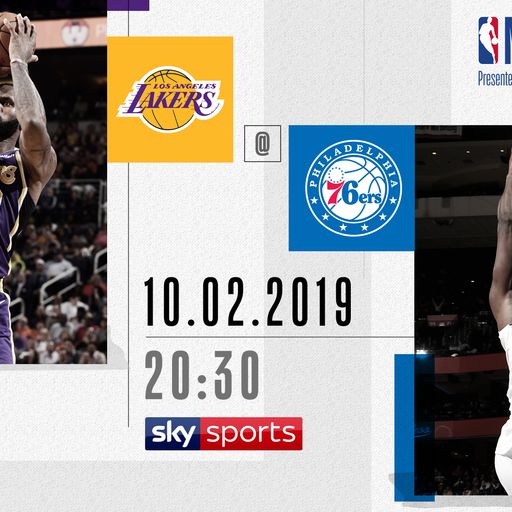 NBA Primetime on Sky Sports
The Lakers visit the 76ers on NBA Primetime – watch live on Sky Sports Arena on Sunday at 8:30pm
Stephen Curry had 19 points, DeMarcus Cousins 15, Andre Iguodala 11 and Kevon Looney 10 for Golden State, who accumulated 42 assists, the most by the Warriors this season.
Pressed into his first start of the season with three regulars out of action, Patty Mills made four three-pointers to lead the Spurs with 16 points. Rudy Gay added 15 points, Davis Bertans 12, Dante Cunningham 11 and Bryn Forbes 10 for San Antonio.
Houston Rockets 127-101 Sacramento Kings
1:14
Highlights of the Houston Rockets' trip to the Sacramento Kings in Week 17 of the NBA
With James Harden leading the way in scoring for a 33rd consecutive game, the visiting Houston Rockets turned a second-quarter eruption into a 127-101 victory over the Sacramento Kings.
Harden posted 36 points on 13-of-26 shooting and extended his streak of consecutive 30-plus-point games to 28. He hit 8-of-13 three-point attempts after entering play having shot 31.9 per cent from deep over his previous 12 games.
In the first half, Harden was 6-of-7 from beyond the arc while producing 25 points.
Gerald Green (25 points) and Eric Gordon (20) helped shoulder the scoring load for Houston, shooting a combined 15-of-31. Green and Gordon went 6-of-13 on three-point tries in the first half, teaming with Harden to end the suspense early while snapping the Kings' seven-game home winning streak.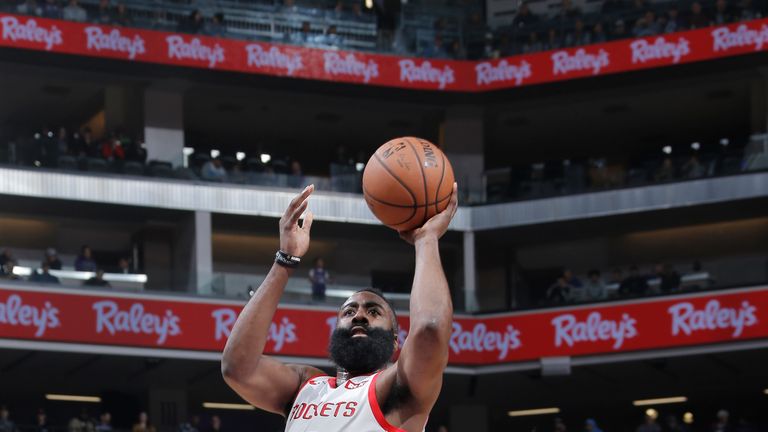 Image:
James Harden scores in the lane against Sacramento
Chris Paul (15 points, 11 assists) and Kenneth Faried (13 points, 11 rebounds) added double-doubles for Houston, who closed a four-game road trip with three consecutive victories.
Buddy Hield scored 20 points for Sacramento while Bogdan Bogdanovic and Frank Mason added 13 apiece. Nemanja Bjelica paired 15 points with six rebounds, posting nine points and five boards in the first quarter when the Kings hung tough despite committing six turnovers.
The Rockets delivered the knockout blow with a 34-8 second-quarter blitz. Houston led 74-42 before Hield stroked a three-pointer with 1:17 left in the half, the Kings' first field goal in more than four minutes. Houston led by as many as 37 points and enjoyed a 17-0 run in the decisive period.
Washington Wizards 129-148 Milwaukee Bucks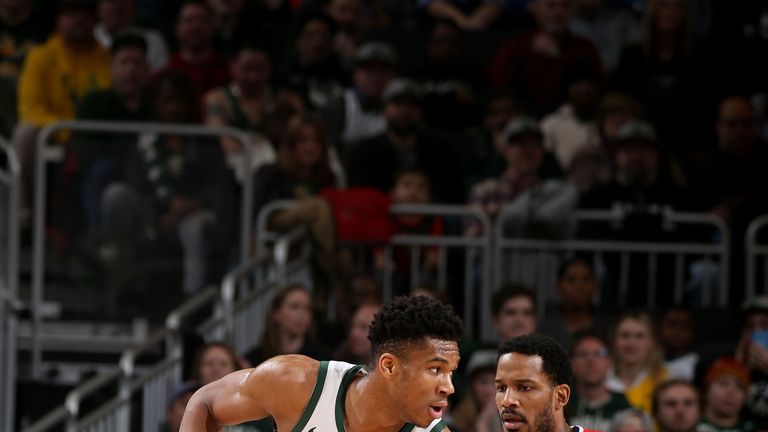 2:03
Highlights of the Washington Wizards' trip to the Milwaukee Bucks in Week 17 of the NBA
Giannis Antetokounmpo scored 43 points while Eric Bledsoe added 22 points and 11 assists as the Milwaukee Bucks routed the visiting Washington Wizards 148-129 for their fifth straight win.
Antetokounmpo made 17-of-21 field goal attempts, including 3-of-3 from three-point range as Milwaukee beat the Wizards for the second time in less than a week.
Bradley Beal scored 30 for the Wizards, who allowed a season-high point total in losing their third straight. Thomas Bryant had 26 points and 14 rebounds for Washington while Tomas Satoransky had 16 points and 10 assists.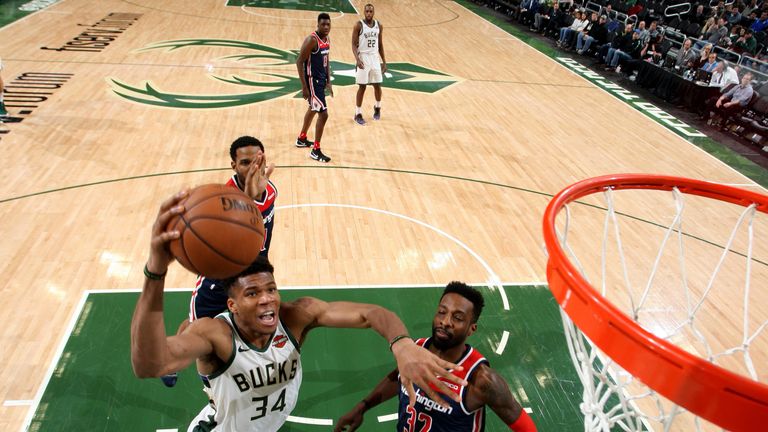 Image:
Giannis Antetokounmpo rises to score at the rim
Beal, 25, became the youngest player in NBA history to make 1,000 three-pointers.
Washington, who by 13 to start the fourth quarter, scored six straight points to pull within 120-113. The Bucks responded and Bledsoe's dunk with 8:00 remaining capped a 13-0 run that put the Bucks up by 20 points.
Denver Nuggets 130-135 Brooklyn Nets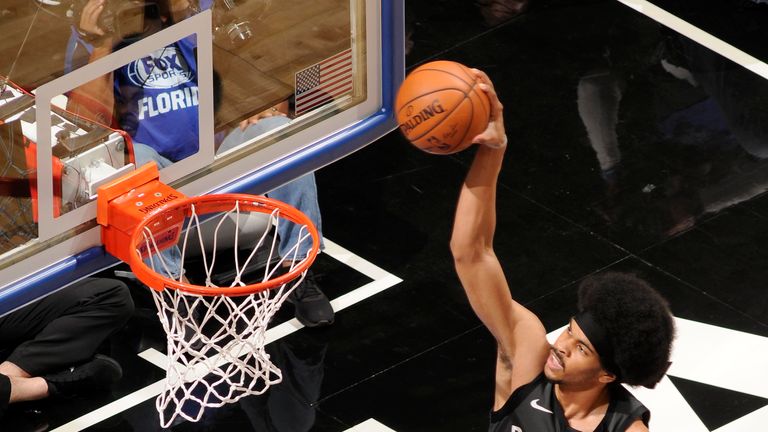 1:45
Highlights of the Denver Nuggets' clash with the Brooklyn Nets in Week 17 of the NBA
D'Angelo Russell posted 27 points and 11 assists as the Brooklyn Nets stopped a three-game losing streak with a 135-130 victory over the visiting Denver Nuggets.
Russell shot 10-of-23 from the field, including 6 of 9 on three-pointers, and posted his sixth double-double of the season. The All-Star guard also recorded at least 25 points and 10 assists for the second time in his career as the Nets won for the 14th time in their last 16 home games.
Reserve DeMarre Carroll contributed 18 points, 10 rebounds and six assists as the Nets shot 51.1 per cent, handed out a season-best 36 assists and withstood some shaky moments in the final minutes. Joe Harris added 17, Treveon Graham chipped in 16 and Jarrett Allen and Rondae Hollis-Jefferson had 15 each.
Nikola Jokic recorded his 10th triple-double of the season by recording 25 points, 14 rebounds and 10 assists as Denver lost their second straight game after winning six in a row.
Mason Plumlee added a season-high 24 points before fouling out as Denver shot 50.5 per cent. Jamal Murray finished with 19 points and 11 assists after missing six games with a sprained right ankle.
The Nets held a 108-87 lead into the fourth before a three-pointer by Russell and two by Graham pushed the lead to 117-96 with about nine-and-a-half minutes left. The Nuggets cut it to 131-125 on a jumper by Murray with 46 seconds remaining but Napier found Hollis-Jefferson for a cutting lay-up on the next possession to make it 133-125.
Denver had a slim chance to complete a dramatic comeback when Murray hit a three-pointer with four seconds left to make it 134-130 but Napier iced the game at the free-throw line.
Charlotte Hornets 93-99 Dallas Mavericks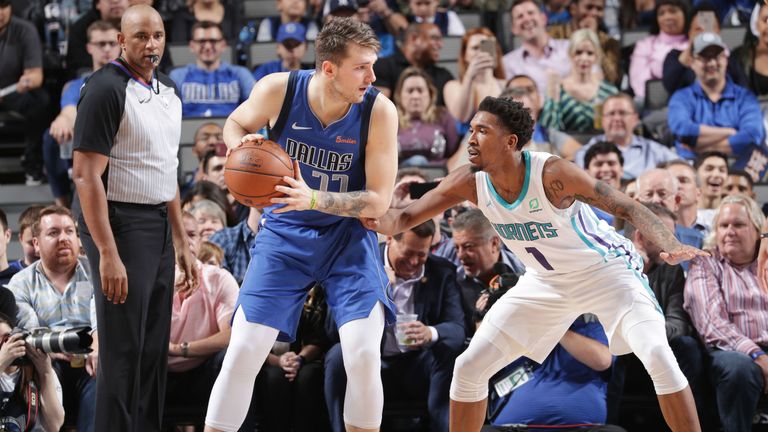 1:44
Highlights of the Charlotte Hornets' visit to the Dallas Mavericks in Week 17 of the NBA
Runaway rookie of the year favorite Luka Doncic recorded the third triple-double of his career and shook off poor shooting to produce late fireworks in a 99-93 defeat of the visiting Charlotte Hornets.
Doncic, just 3-of-16 from the floor with under four minutes to play, came up with a nifty finish at the rim and drew the foul for a three-point play and then followed up with a three-pointer to put the Mavs ahead for good, 94-88, in an ugly game that was close throughout.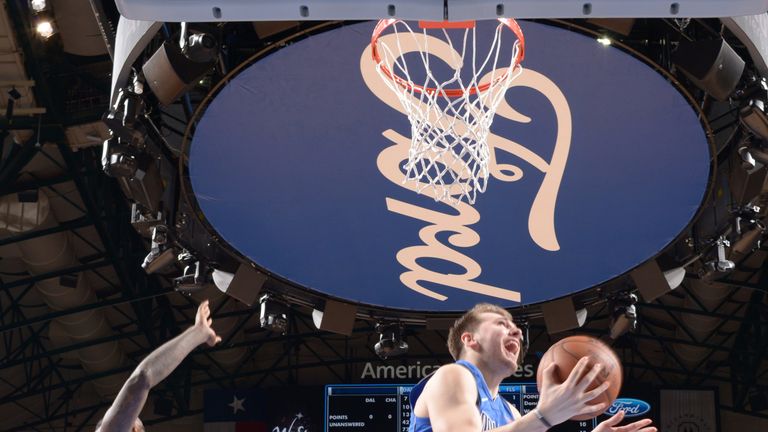 Image:
Luka Doncic makes an acrobatic plays at the basket
The 19-year-old Slovenian finished with a team-high 19 points on 5-of-20 shooting – just 2 of 10 from beyond the arc – along with 11 assists and 10 rebounds. His total floor game stole the spotlight from All-Star Kemba Walker, who led the Hornets with 30 points.
Dorian Finney-Smith recorded his second career double-double with 15 points and 10 rebounds, and Maxi Kleber and Dwight Powell each had 11. Tim Hardaway Jr made his debut with 12 points on 5-of-16 shooting.
New Orleans Pelicans 125-120 Chicago Bulls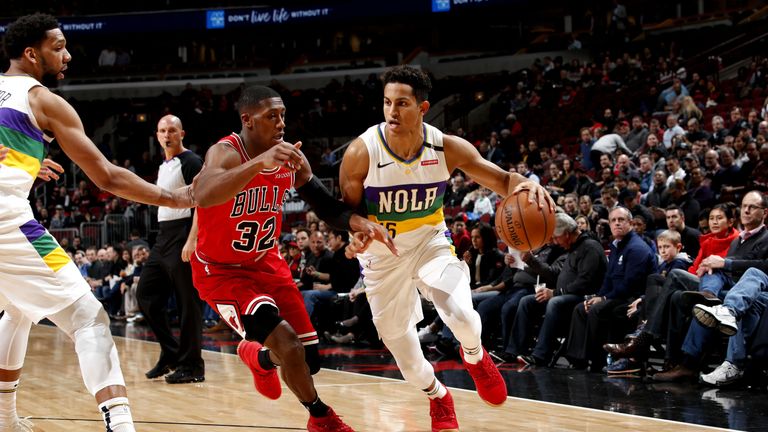 1:12
Highlights of the New Orleans Pelicans' clash with the Chicago Bulls in Week 17 of the NBA
Julius Randle returned from a six-game absence to score 31 points and lead a balanced New Orleans offense as the visiting Pelicans defeated the Chicago Bulls 125-120.
Randle, who had been sidelined by an ankle injury, was joined in double figures by Cheick Diallo (18 points), Jrue Holiday (18 points and 11 assists), Jahlil Okafor (13 points) and Darius Miller and Kenrich Williams (12 points each) as the Pelicans won for just the second time in eight games.
The Pelicans chose not to play All-Star forward Anthony Davis, who requested a trade last week while sidelined by a finger injury that has since healed enough for him to be cleared to play.
Lauri Markkanen had 30 points and 10 rebounds, Zach LaVine scored 28 points, Kris Dunn added 18 and Robin Lopez had 11 to lead the Bulls, who lost for the sixth time in seven games.
The Bulls made two quick three-pointers and got within 93-90 early in the fourth quarter. Randle and Holiday each made a three as New Orleans built the lead to 105-94.
The Pelicans led by 11 with two minutes left, but saw Chicago get within five with 1:14 remaining. That was the closest the Bulls got.
Phoenix Suns 88-116 Utah Jazz
1:19
Highlights of the Phoenix Suns' trip to the Utah Jazz in Week 17 of the NBA
Donovan Mitchell scored 21 points and Rudy Gobert added 16 points and 12 rebounds as the Utah Jazz had more than enough Wednesday to beat Phoenix 116-88 and hand the short-handed Suns their 12th consecutive defeat.
Royce O'Neale and Joe Ingles added 15 points each for the Jazz, who have just two victories in their past four games but are 11-3 over their past 14 contests dating back to January 9.
Josh Jackson scored 27 points for the Suns, picking up the slack in the backcourt in the absence of Devin Booker, who did not play because of a tight right hamstring.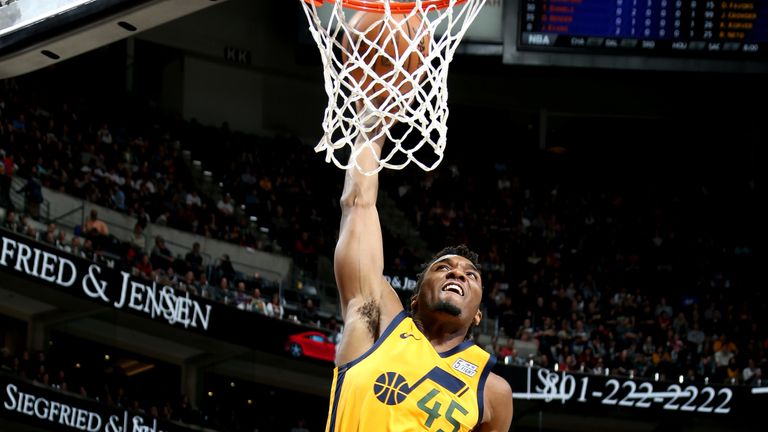 Image:
Donovan Mitchell rams home a dunk
Jackson has scored at least 25 points in three consecutive games and four times in his past eight games after not reaching that number in any of his first 48 contests.
Derrick Favors scored 14 points and Ricky Rubio added 13 with nine rebounds for the Jazz.
Deandre Ayton scored 20 points and Kelly Oubre Jr added 16 for the Suns, who have not won a game since defeating the Denver Nuggets on January 12.
Want to watch the NBA but don't have Sky Sports? Get the Sky Sports Action and Arena pack, click here.