Every week, we look back over the previous seven days of NBA action and identify the players who made noise on – and in some cases – off the court. Which players dominated the headlines in NBA week 16?
Kyrie Irving – Boston Celtics
Kyrie's elite offensive skills and clutch scoring where on full display as he powered Boston to wins over the New York Knicks and Oklahoma City Thunder. His performance against the Thunder featured 30 points (on 14-of-19 shooting), 11 assists and a critical floater with 23 seconds remaining to seal a 134-129 victory.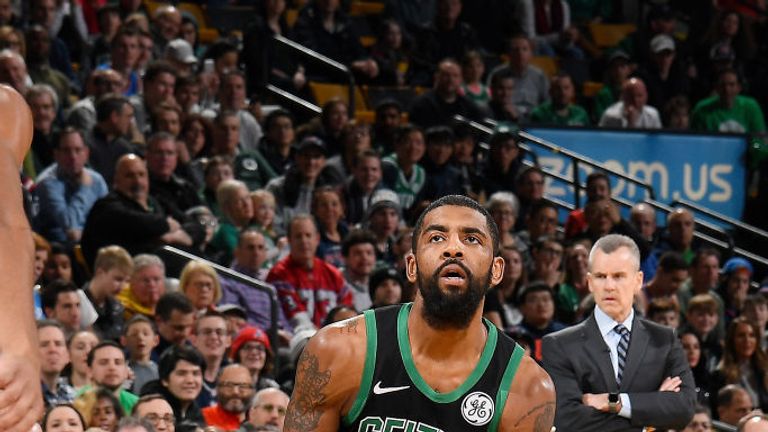 1:57
Kyrie Irving had 30 points and 11 assists to help the Celtics take down the Thunder, 134-129
But the real drama generated by Irving came off the court. Having previously assured Celtics fans he intended to re-sign with the team this summer, Kyrie walked back those comments ahead of Friday night's clash with the Knicks, telling reporters questioning his whereabouts next season "Ask me on July 1" and saying "I don't owe anybody [expletive deleted]."
That sent the New York crowd into a frenzy that night. Irving scored 23 points as the Celtics crushed the lowly Knicks while chants of "We want Kyrie" rolled around Madison Square Garden.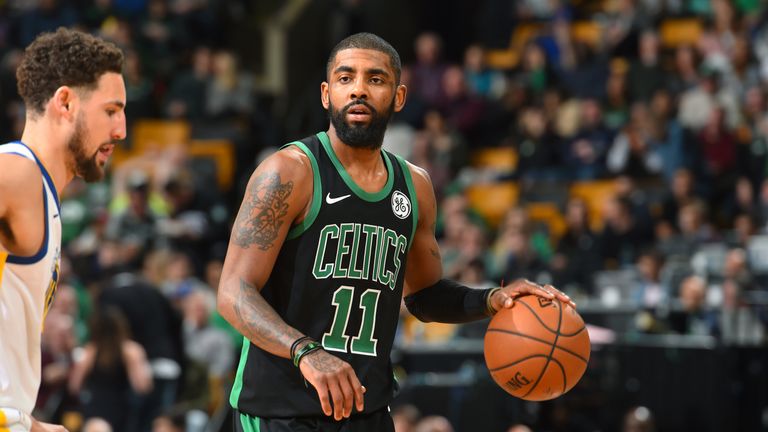 1:29
Kyrie Irving appreciated the reception he received from the Knicks crowd on Friday night, but says his focus remains on the Celtics and the championship
Speaking after the game, Irving said his focus remains on delivering a title for the Boston Celtics but did not elaborate on his plans for next season.
The Knicks, who traded away Kristaps Porzingis on Thursday night, now have cap space for two max contract free agents.
Dirk Nowitzki – Dallas Mavericks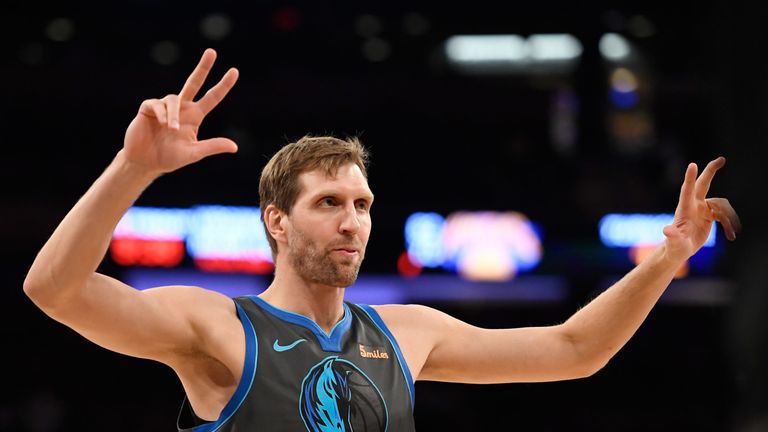 Image:
Dirk Nowitzki salutes the MSG crowd after making a three
Now in a record 21st campaign with the Mavericks, Nowitzki's contributions on the court in what most suspect will be his swansong season are now limited to 10-15-minute cameos off the Dallas bench.
But that doesn't mean the 'Tall Baller from the G' can't command attention. The former league MVP had a high-profile week, receiving an invite – along with Dwyane Wade – to play in the All-Star Game (for the 14th time) and to participate in the Three-Point Shootout on All-Star Saturday Night.
In fact, Nowitzki will be busy on every day of All-Star Weekend after also being named as the coach of Team World in the Rising Stars Challenge on All-Star Friday, where he will coach his Mavericks team-mate, rookie sensation Luka Doncic.
Doncic took to Twitter perhaps hoping for some preferential treatment from his freshly-appointed All-Star coach, only to be rebuked by some vintage dead-pan Nowitzki humour.
You gotta earn your minutes, son. https://t.co/gcLWfORHiw
— Dirk Nowitzki (@swish41) January 30, 2019
James Harden – Houston Rockets
Just when you thought James Harden's scoring feats couldn't possibly get any better, the Rockets guard completed January by reaching new ground, becoming the first man in NBA history to average at least 40 points, eight rebounds and seven assists for a calendar month.
January: 43.6 PPG | 8.7 RPG | 7.6 APG @JHarden13 is the first player in @NBAHistory to average at least 40 points, 8 rebounds and 7 assists per game in a calendar month (min. 5 games).
🏀: #Rockets x #MileHighBasketball
⏰: 10pm/et 📺: ESPN pic.twitter.com/esZcjz0hKz
— NBA (@NBA) February 1, 2019
Unsurprisingly, that feat earned 'The Beard' Western Conference Player of the Month honours for the second successive month and the seventh time in his career, the most by a Rockets player in franchise history.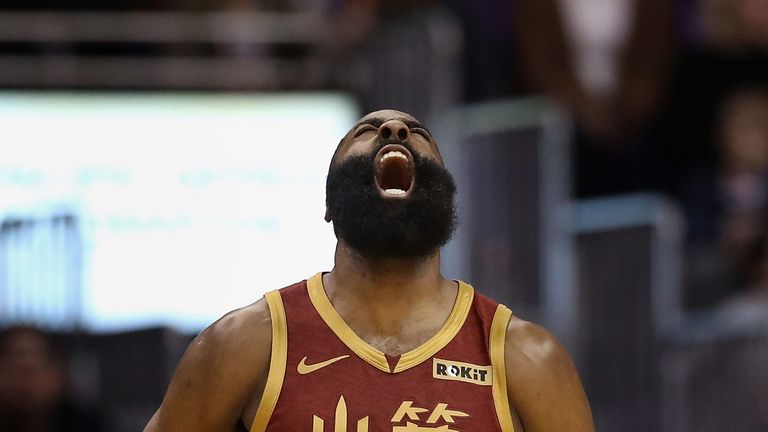 2:02
James Harden extended his 30-point scoring streak to 27 games with a 44-point performance against the Phoenix Suns
For the month, Harden averaged a mind-blowing 43.6 points, 8.7 rebounds, 7.6 assists, 2.1 steals and 1.2 blocks. According to the Elias Sports Bureau, that marked the seventh-highest scoring average in a single month in NBA history with a minimum of 10 games played. Wilt Chamberlain holds the top six spots.
Rudy Gobert – Utah Jazz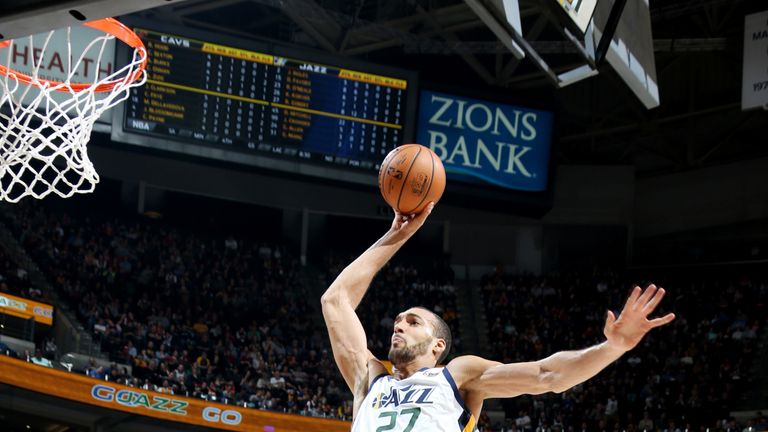 Image:
Rudy Gobert dunks during Utah's rout of Cleveland
No one likes to see a big man cry, but when the big man in question is 7ft 1in Utah Jazz center Rudy Gobert, it seems even sadder.
The 'Stifle Tower', along with team-mate Donovan Mitchell, was snubbed when the Western Conference All-Star reserves were announced. When Eric Walden of the Salt Lake Tribune asked Gobert for his reaction, it produced an emotional response.
Rudy grew increasingly emotional speaking with the media about his All-Star snub. Said his mom called him crying. Said he wrote and deleted several messages on social media. Finally, he grew too emotional to speak, and walked off, wiping away tears. pic.twitter.com/UkFX2nUrt8
— Eric Walden (@tribjazz) February 1, 2019
Utah Jazz president Steve Starks offered Gobert support via social media soon after Gobert learned he would not be making his maiden All-Star appearance, posting: "Rudy deserved to be named an All-Star. Complete nonsense and we need more integrity and accountability. If the coaches vote than their ballots should be made public."
Not everybody agreed. Golden State Warriors' irritant-in-chief Draymond Green had his say, mocking Gobert's emotional reaction and sparking a beef that could run and run.
I guess I should cry too… no Charlotte? 😢😢😢
— Draymond Green (@Money23Green) February 1, 2019
The Frenchman, however, did receive some words of encouragement from Atlanta veteran Vince Carter after posting 25 points and 13 rebounds in the Jazz's win over the struggling Hawks.
pic.twitter.com/coQuhsdxfI
— Utah Jazz (@utahjazz) February 2, 2019
Nikola Jokic – Denver Nuggets
Serbian center Jokic was named the Western Conference Player of the Week for the third time this season after leading the Nuggets to a 4-0 week with averages of 22.0 points, 11.8 rebounds, 8.0 assists and 2.0 steals while shooting 55 per cent from the field.
Numbers don't lie. Check the scoreboard. #MileHighBasketball pic.twitter.com/wUROKjgRR3
— Denver Nuggets (@nuggets) February 4, 2019
Jokic started the week by helping the Nuggets earn their largest comeback victory in franchise history after trailing by 25 in the third quarter at Memphis on January 28. He then registered 20 points, 13 rebounds, 10 assists and three steals in 37 minutes for his eighth triple-double of the season at New Orleans on January 30.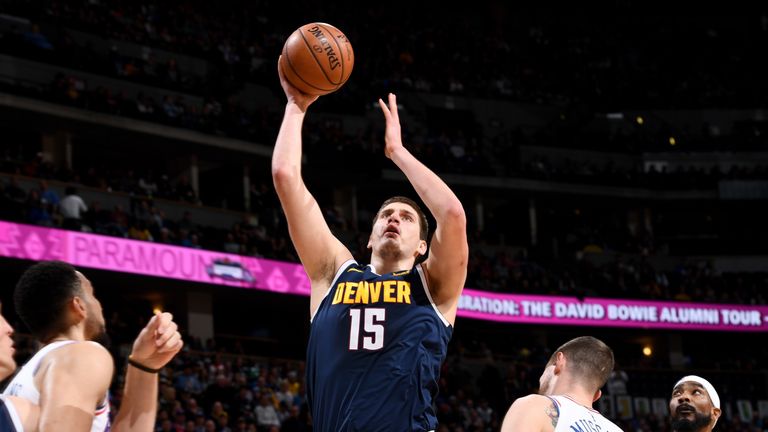 0:26
Watch Nikola Jokic set up a Monte Morris' three with an outrageous pass
Jokic capped off the week the with his ninth triple-double of the season the following night as the Nuggets captured a 107-106 road win at Minnesota which helped earn head coach Michael Malone and his staff the honour of coaching Team Lebron at All-Star 2019.
Jokic is the first Nuggets player since Carmelo Anthony (2006-07) to win the award three times in a season.
Want to watch the NBA but don't have Sky Sports? Get the Sky Sports Action and Arena pack, click here.