The veteran presence of Trevor Ariza, traded to Washington in December, has been a key factor in helping the Wizards get their season back on track.
Live NBA: New York @ Washington
Thursday 17th January 7:45pm
Now in his 15th year in the NBA, there's little the 33-year-old small forward has not experienced in the league.
Originally drafted as a 19-year-old by the New York Knicks in 2005, Ariza has known the highs of winning a title with the Los Angeles Lakers, the pain of falling short in game seven of the Conference finals with the Houston Rockets and the frustration of toiling on struggling teams like this season's Phoenix Suns.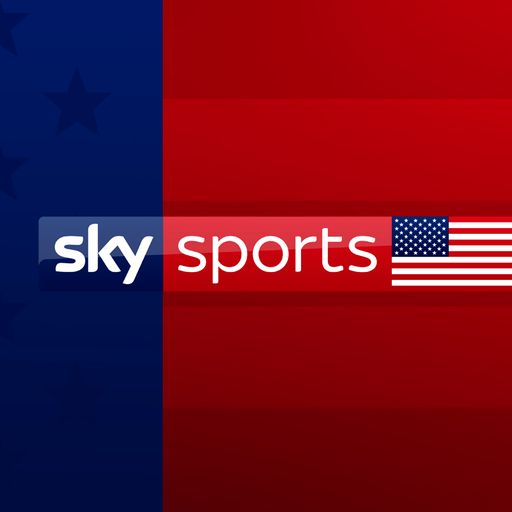 Get Sky Sports USA
Want to watch the NFL or NBA on the Sky Sports USA channel? Upgrade here
That frustration ended in December as the Suns traded him to the Wizards in exchange for Kelly Oubre Jr. Ariza had played in Washington before, between 2012 and 2014, and his return to 'The District' has helped transform a campaign that appeared to be falling apart into a second-half-of-the-season playoff push.
His veteran experience and calm demeanour have proven to be the perfect antidote for a team in desperate need of cohesion and direction.
"He's been super-important. It's his 15th year [in the league]. He's the ultimate 'vet'.
Wizards Markieff Morris. on Trevor Ariza
Ariza, in typical fashion, played down his importance, carefully selecting his words before explaining: "I would say that maybe just a little bit more experience has helped this team go towards more of a calmer direction and the pieces are fitting together and we're building and getting better as we go every day."
Losing franchise star John Wall for the season to surgery for a heel injury could have been the killer blow to a season that began with reported locker room tension and subsequent on-court underachievement.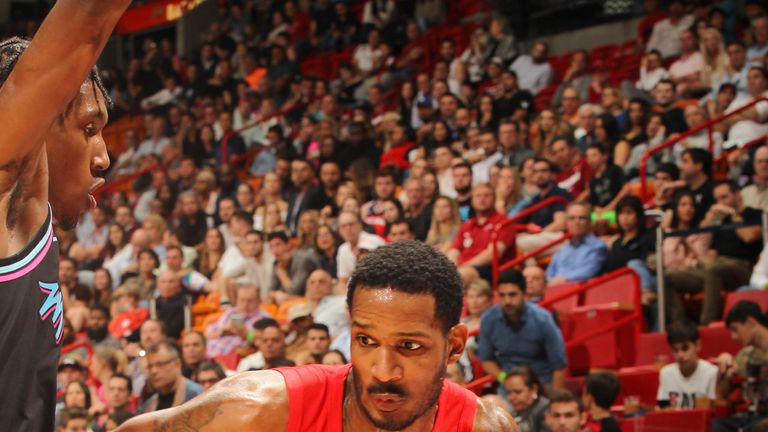 Image:
Trevor Ariza drives at the Miami Heat defense
Instead, in Wall's absence, the Wizards – inspired by a string of outstanding performances by Bradley Beal – have started to haul their way back up the Eastern Conference rankings.
They are 4-3 since the turn of the year with impressive victories over the high-flying Milwaukee Bucks, Philadelphia 76ers and Oklahoma City Thunder to their name.
They prepare to face the New York Knicks at The O2 just two-and-a-half games behind the Charlotte Hornets, occupants of the eighth and final playoff place in the East.
Even their most recent loss, a dramatic double-overtime loss to the Toronto Raptors in which the Wizards, led by 43 points from Beal, battled back time and time again before falling 140-138 was illustrative of a team that had rediscovered its heart. It was a performance they were not capable of producing earlier in the season.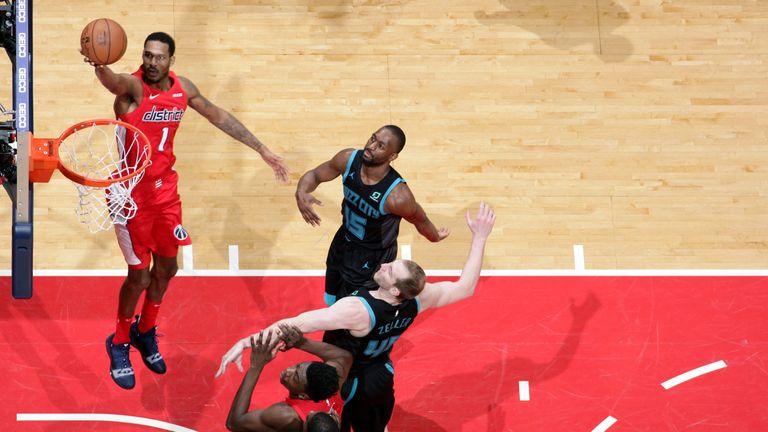 Image:
Ariza scores with a lay-up against Charlotte
"One thing about the NBA season is that it is long and you have a lot of games to play," Ariza said. "When someone like [John Wall] goes down, you don't really recover. You just try to find different ways to make your team go. That's what we've been doing."
While Ariza shied away from taking any of the credit for the Wizards' upturn in form, his team-mates were effusive in their praise for him.
"He has been super-important," said Wizards forward Markieff Morris. "It's his 15th year [in the league]. He's the ultimate 'vet'. He's still playing 35 minutes a night at the age of 33. He's a guy who is much-needed."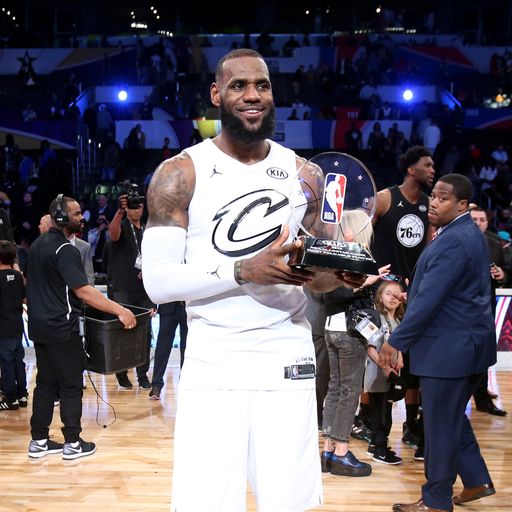 VOTE: NBA All-Star 2019
Make your selections for the best players in the East and the West
Second-year center Thomas Bryant, who has stepped up into a larger role due to the prolonged absence of Dwight Howard, echoed those sentiments.
"[Ariza's arrival has] been very big," Bryant said. "We needed a guy a like 'Trev'. There are a lot of things he does that don't show up on the stat sheet. And there's a lot of things he does that do. We need him out there.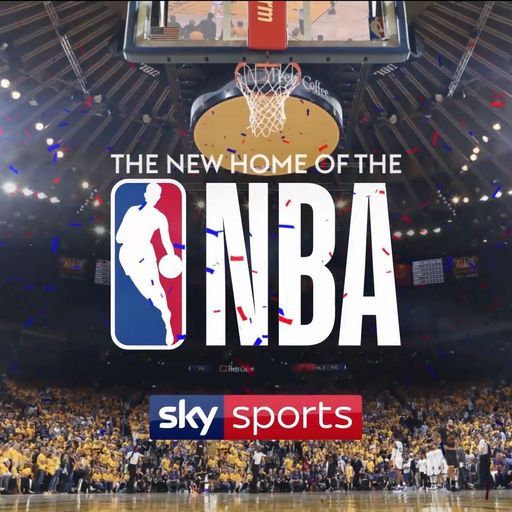 Get NBA news on your phone
Want the latest NBA news, features and highlights on your phone? Find out more
"Everybody has been locking in. It takes time, getting adjusted to a new team. We've brought in guys to help us and they have helped. It takes time for everything to start clicking. I feel like we're in a pretty good place."
Asked if Ariza's influence extended to helping him navigate NBA life off the court, Bryant said: "He's a great 'vet' off the court, too."
But when asked to reveal the best off-court tip Ariza had given him, Bryant was coy in his response. He thought, smiled, thought again and then laughed before he admitted: "I can't say that to you, man!"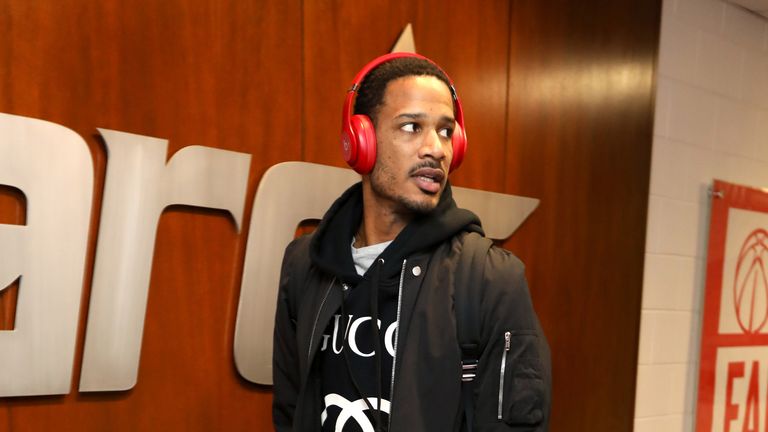 Image:
Ariza arrives for a Wizards' home game
With renewed purpose to their season, the once-fragmented Wizards locker room is now on the same page.
"We're trying to make a playoff push," said Morris. "We have a bunch of guys that haven't been playing all year who are now stepping in, playing hard and trying to get wins."
"We can still make the playoffs," said Bryant. "I still got faith in us."
Does the veteran Ariza think the Wizards will make the postseason? "Absolutely. Any time we step on the court I feel like we have an opportunity to win. That's what we're [in London] to do. We want to continue to try and win every game that we play."
Want to watch the NFL or NBA on the Sky Sports USA channel but don't have Sky Sports? Get the Sky Sports Action and Arena pack, click here.