Bradley Beal will be looking to enhance his ever-growing reputation as one of the NBA's leading guards when the Washington Wizards take on the New York Knicks in London on Thursday, writes Mark Deeks.
This week, Washington Wizards point guard, All-Star and supposed franchise point guard John Wall underwent season-ending heel surgery, marking the second consecutive season in which his campaign has been cut short by injury. Not an ideal first 18 months after signing the fifth-largest contract in NBA history, to be sure.
Live NBA: New York @ Washington
Thursday 17th January 7:45pm
In theory, Wall's injury is to be the death knell on what was already proving to be a fairly brutal Wizards season. With a lowly 13-22 record at the conclusion of Wall's final game on Boxing Day, and closer to the tanking spots than the playoffs, the Wizards appeared to be facing the end of a four-in-five year playoff stretch, struggling through a season further anchored by significant injuries to starting big men Markieff Morris and Dwight Howard, and without the salary cap flexibility or trade assets to do much about this quagmire any time soon.
In practice, though, the team seem to be better without Wall. And one player definitely is.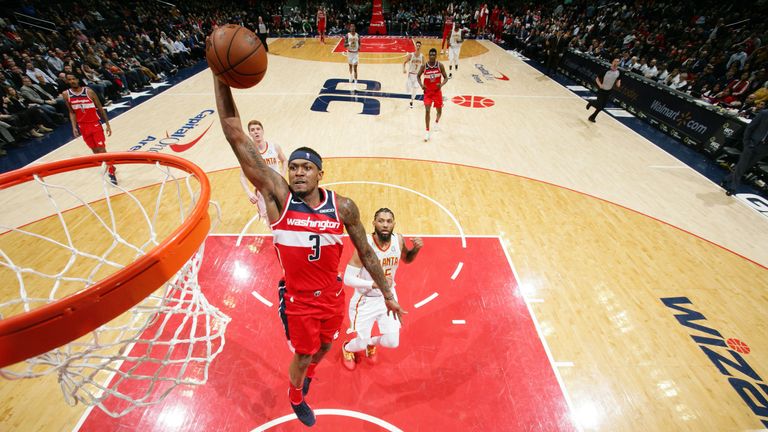 Image:
Beal has shown the ability to score at the rim and from long-range
In the twelve games he has played without Wall this season, Bradley Beal has averaged 31.5 points, 7.1 assists and 5.8 rebounds per game. Anointed as the lead guard, primary playmaker, shot taker, end-of-the-possession guy and crunch time executor, Beal has taken on the mantle of being the Wizards' leader on the court, and has had a much greater share of the ball on the offensive end because of that.
His production has thus taken a step forward accordingly. Compare his month by month splits on the season, and an obvious pattern emerges.
In November, Beal averaged 21.2 points, 4.5 assists and 4.2 rebounds per game, but shot only 31.5% from three to do so, on a 23.9 per cent usage rate. John Wall played in every game.
In December, as Wall found himself in and out of the line-up, Beal increased his usage to 28.9 per cent, and increased his scoring to 26.5 points per game in the process.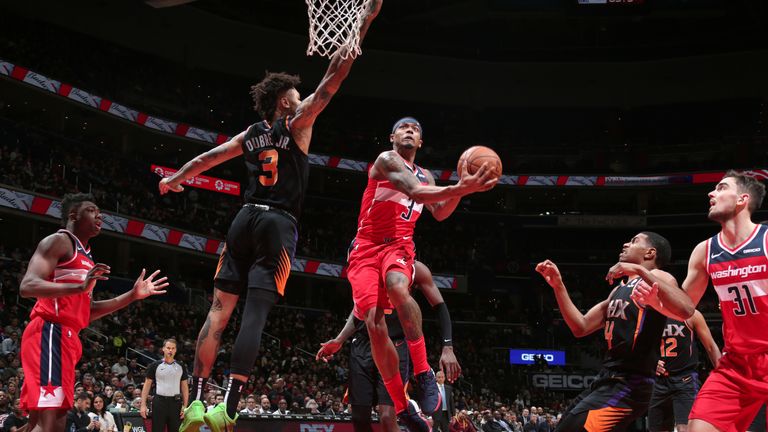 2:09
Bradley Beal leads the Washington Wizards to a 149-146 triple-overtime home win over the Phoenix Suns in a match with the highest combined score in more than ten years.
And then thus far in seven January games, on a usage rate of 30.9 per cent, that would be fourth in the league if extrapolated over the full season (behind only James Harden, Joel Embiid and Devin Booker; ahead of LeBron James and Russell Westbrook), Beal has poured in 31.3 points per game on a sky high .596 true shooting percentage.
As a point of reference, Westbrook is shooting a .477 true shooting percentage on the season.
Were those numbers solely existing in a vacuum outside of team success, they could be more easily discredited as being place-filling volume numbers born more out of opportunity than ability. Yet in this instance, they are tied to team success. In those 12 games, the Wizards have gone 7-5, with wins over the Milwaukee Bucks, Philadelphia 76ers, Indiana Pacers and Oklahoma City Thunder in that time.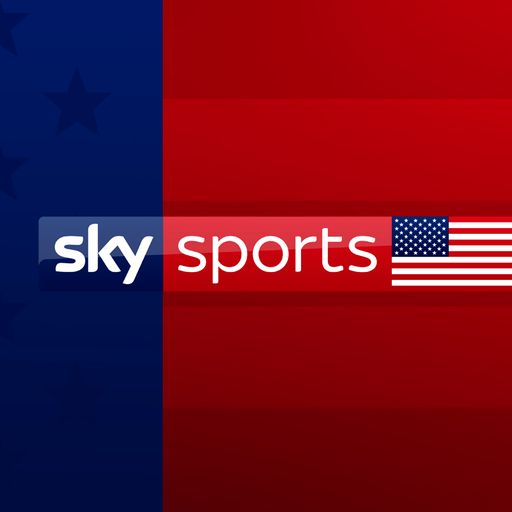 Get Sky Sports USA
Want to watch the NFL or NBA on the Sky Sports USA channel? Upgrade here
It could in theory be a flash in the pan, a product of small sample size, a fluke. Yet the idea that Beal and the Wizards are now better without Wall seems more to be a product of continual gradual improvement.
When Wall went down for the vast majority of the second half of last season, he was replaced in the starting line-up by Tomas Satoransky, just as he has been this season. Satoransky is a very different type of guard to Wall, a player who puts in much more off-ball movement than the notoriously static Wall, and who also puts forth a much more consistent defensive effort as well.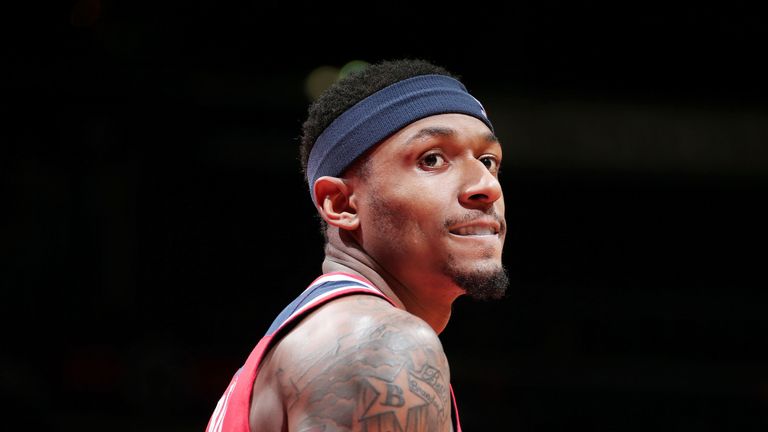 Image:
Beal has excelled in the absence of fellow All-Star guard John Wall
He is much less dynamic in transition and off the dribble than Wall, yet he is more effective without the ball as a cutter and spot-up shooter, and it is his judiciousness which allows him to pair so effectively (52.3 per cent shooting from the field last season, on a .613 true shooting percentage) with a first-option type of guard alongside him.
That player is what Beal has shown himself to be capable of in these two stints. Catalysed by Wall's injuries and Satoransky's limitations, the Wizards have now twice given Beal this role, and his growth in that time has been evident.
With Wall out last season, Beal started slow; in his first eleven such games, he averaged 23.3 points and 2.3 assists per game, clearly seen to be struggling to get the kind of regular separation that a go-to guy needs, and not often coming through in clutch situations. When first thrust into this role, he looked overmatched.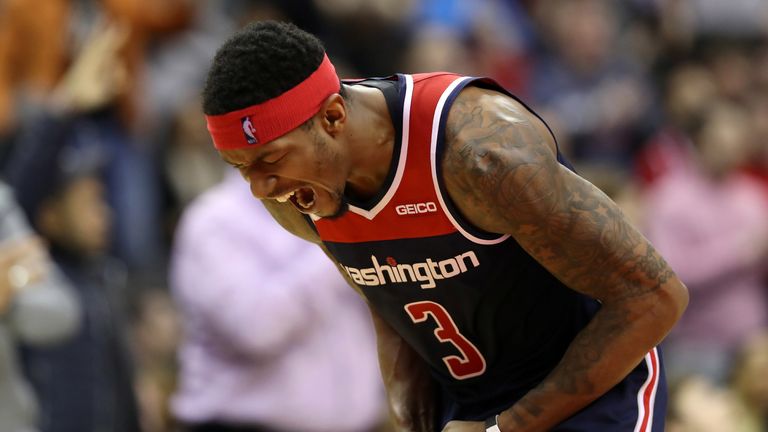 4:26
Bradley Beal played almost 55 minutes and scored 43 points in the Washington Wizards' double-overtime loss to the Toronto Raptors.
Later in the season, however, and with the help of Satoransky, Beal started to pick it up. He averaged 6.7 assists per game in February without Wall, leading the Wizards to an 8-4 record in that month. And by the time Wall returned for the very end of the season, the player who entered the league as much more of an off-ball shooter had taken small but appreciable steps towards becoming a lead guard who could regularly get shots for others, as well as his own. This season is a logical extension of that.
The improved Wall-less Wizards are still not exactly a contender. They arrive into tonight's game in London with an 18-26 record, two and a half games back of the Charlotte Hornets for the eighth seed in the Eastern Conference, an eighth seed that would not do much for the franchise anyway.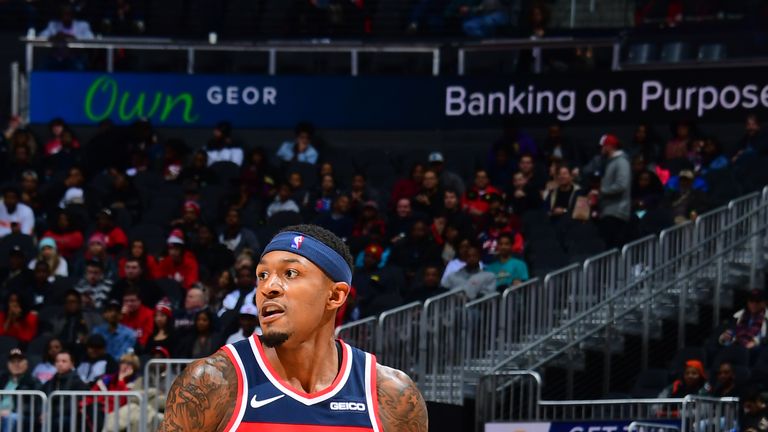 Image:
Beal has led the Wizards to a 7-5 win-loss record since Wall was injured
Perhaps it would be some salvation were they to make the playoffs this season – after all, there is only a chance of a postseason run, however unlikely one is, if you're in it. Perhaps also salvation can be found in the progress made by Satoransky at point guard and Thomas Bryant at centre, a player who became a starter as a last resort yet who has done a pretty good impression of Nene in recent weeks. Amid the struggles has been some cause for hope down the road.
The real salvation, though, will be the emergence of Beal. Wall's contract – huge, increasing in size, diminishing in returns, none of which is helped by a trade kicker – seems like one the team will not easily be able to rid themselves of, if even it is possible at all. For the foreseeable future, it seems as though Wall is here to stay. But even with that, the team should be Bradley Beal's vehicle.
Want to watch the NFL or NBA on the Sky Sports USA channel but don't have Sky Sports? Get the Sky Sports Action and Arena pack, click here.