The Boston Celtics host the Dallas Mavericks hoping to continue their climb up the Eastern Conference standings, live on Sky Sports USA.
The game marks the second game of a four-game homestand for the Celtics (22-15), who have won their last three in a row at home. They are 12-5 at home this season, but only 5-5 in their last 10 games overall.
Live NBA: Dallas @ Boston
Saturday 5th January 1:00am
Boston are coming off a solid home win over the Timberwolves in their most recent contest, where Gordon Hayward went off for a season-high 35 points in 32 minutes off the bench. Hayward has been quiet so far this season, averaging just 11 points in 27 minutes per game.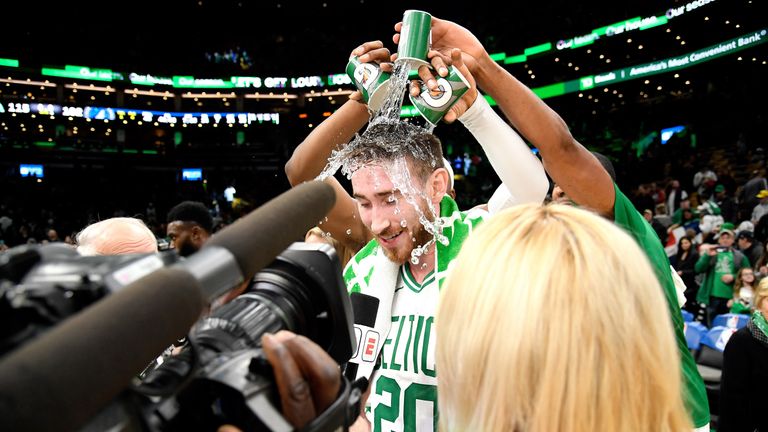 1:50
Gordon Hayward scored 35 points for the Celtics as they took down the Timberwolves 115-102
Kyrie Irving (eye) missed the last contest and has been ruled out of this game too. Terry Rozier started in his place in the last contest and played well, with 16 points, three rebounds, five assists, five steals and one block.
The Celtics are holding opponents to an average of 105.9 points per game, which is sixth best in the NBA.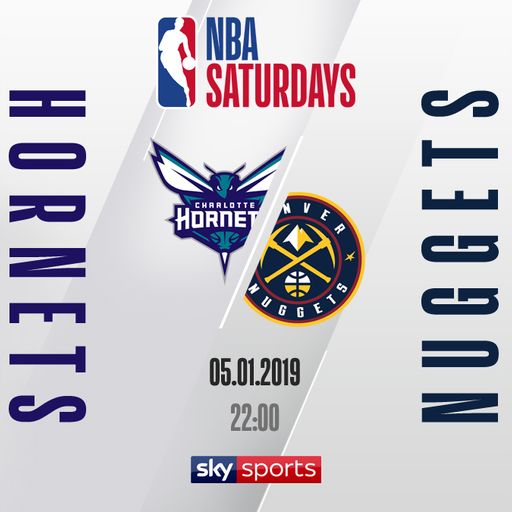 Watch Hornets @ Nuggets free on Sky Sports
Watch via free live stream on Saturday at 10pm on skysports.com or Sky Sports mobile app
For the Mavericks (18-19), this contest is the third game of a four-game road trip in which they have gone 1-1 so far. They have been awful on the road so far this season, with just three wins and 16 losses.
The Mavs are 3-7 in their last 10 games, but are coming off a win in their most recent contest, where they topped the Hornets.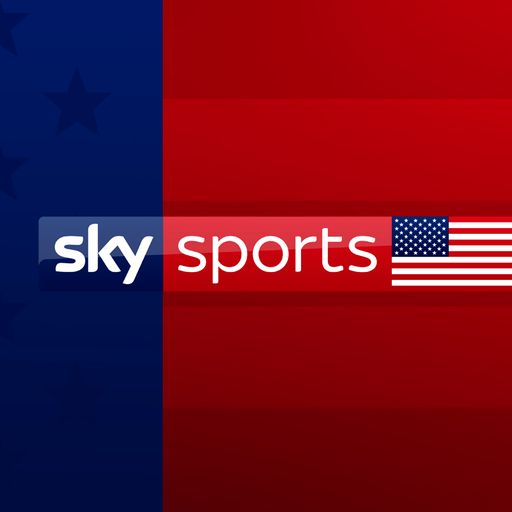 Get Sky Sports USA
Want to watch the NFL or NBA on the Sky Sports USA channel? Upgrade here
DeAndre Jordan has been solid in the middle, averaging 11.0 points, 14.1 rebounds, 2.1 assists and 1.0 blocks per game, while Harrison Barnes offers a good offensive presence averaging 18.5 points on 43 per cent shooting, 4.2 rebounds and 1.1 assists per game.
Key Battle: Luka Doncic v Jayson Tatum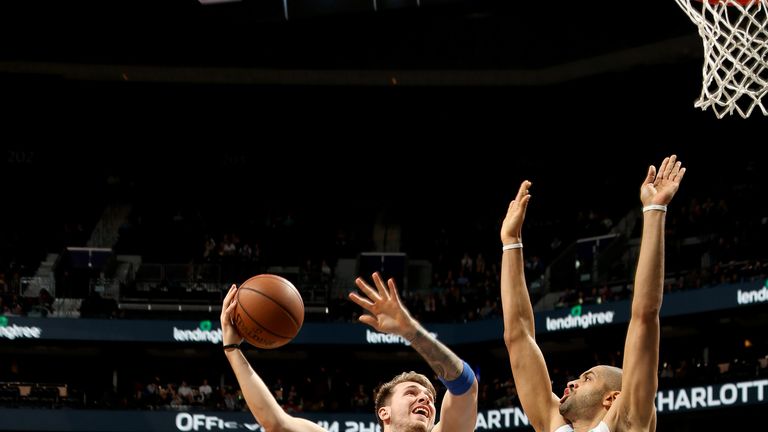 Image:
Luka Doncic lofts a sky hook against Charlotte
Two of the NBA's brightest young stars face off in this clash. Mavericks rookie Doncic has been incredible so far this season, averaging 19.5 points, 6.6 rebounds, 5.0 assists and 1.1 steals per game. His creative passing and late-game shooting have delighted Dallas fans and made the 19-year-old Slovenian star the leading candidate for rookie of the year honours.
Tatum knows all about receiving such plaudits after starring for the Celtics in the postseason last year in his first season in the league.
Tatum's performances in this campaign have been less consistent, marked by an infatuation with mid-range jump shots. He finished with just eight points in the Celtics' last contest, but is averaging 16 points, 6.5 rebounds, 1.8 assists and 1.1 steals per game overall.
Friday night's games
Utah Jazz @ Cleveland Cavaliers, 12:30am
Dallas Mavericks @ Boston Celtics, 1am, live on Sky Sports USA
Orlando Magic @ Minnesota Timberwolves, 1am
Washington Wizards @ Miami Heat, 1am
Indiana Pacers @ Chicago Bulls, 1am
Brooklyn Nets @ Memphis Grizzlies, 1am
Atlanta Hawks @ Milwaukee Bucks, 1:30am
Los Angeles Clippers @ Phoenix Suns, 2am
Oklahoma City Thunder @ Portland Trail Blazers, 3:30am
New York Knicks @ Los Angeles Lakers, 3:30am
Last time out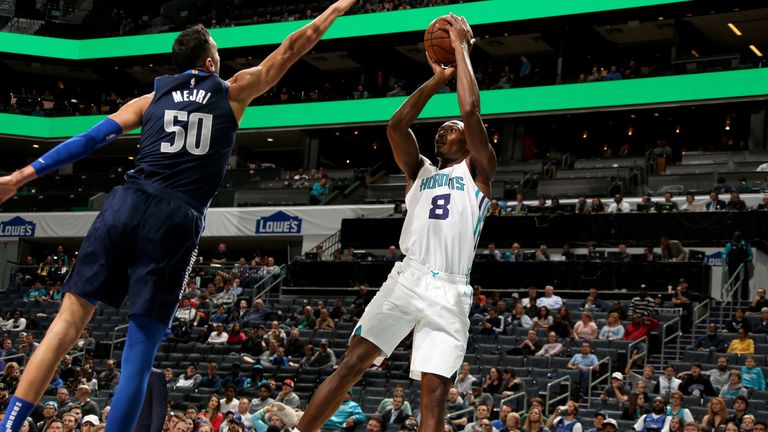 1:34
Highlights of the Dallas Mavericks' 122-84 win over the Charlotte Hornets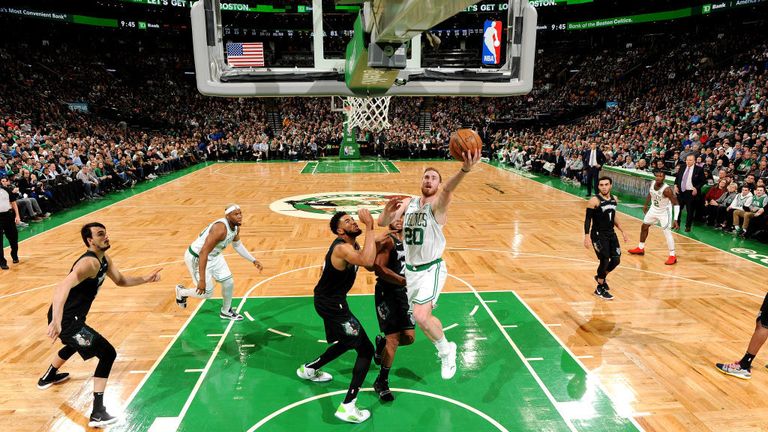 2:06
Highlights of the Boston Celtics' 115-102 win over the Minnesota Timberwolves
Numbers game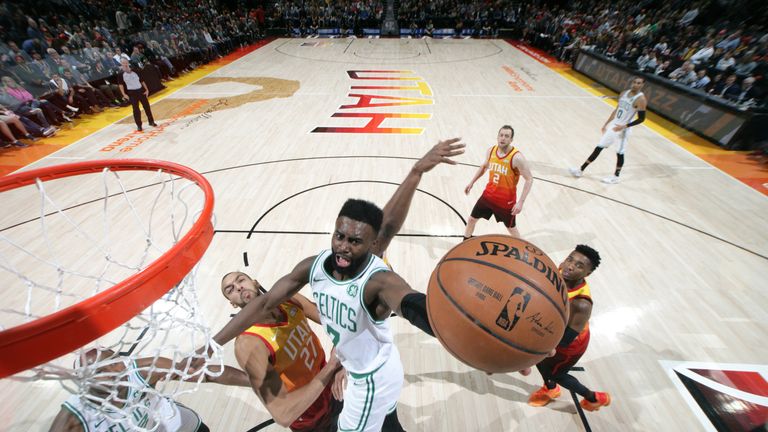 Image:
Jaylen Brown attacks the rim against Utah
20.1 – That's the number of free throw attempts the Boston Celtics earn per game. It's the second-worst figure in the league.
For a roster that boasts Tatum, Gordon Hayward, Jaylen Brown and Terry Rozier – all of whom have proven the ability to drive to the basket and finish in past campaigns – that number is astonishing.
It reflects a team too willing to settle for inefficient mid-range and long-range jump shots and explains the drop off in offensive output endured by Brown and Tatum following their successful 2017/18 campaigns.
One to watch (Mavericks): Dirk Nowitzki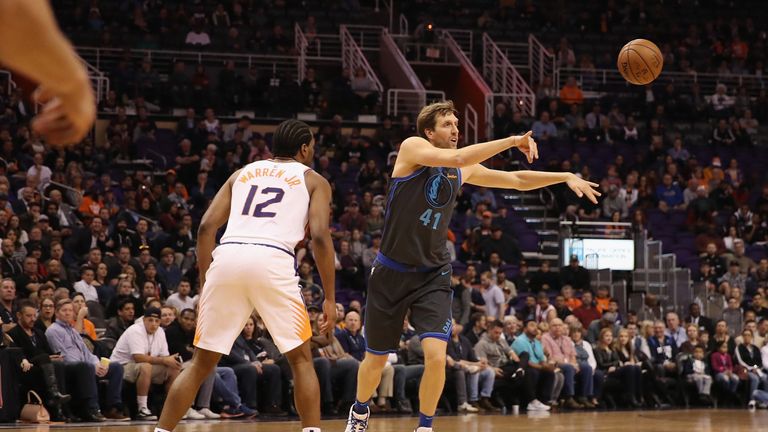 Image:
Dirk Nowitzki passes the ball during his season debut
Now in his 21st season with the Mavs (an NBA record for a player's tenure on a single NBA team), the 'Tall Baller from the G' is a shadow of the MVP and title-winning star he was in his prime.
Nowitzki's contributions since returning from injury have been minimal but there is something poetic about the NBA's greatest European player passing the torch to rookie team-mate Luka Doncic, a player with the potential to eventually take that crown from the German.
This is likely to be Nowitzki's final campaign. However infrequently they now occur, cherish every trademark arcing three-pointer and one-legged fadeaway jump shot he has left to offer in his swansong season.
One to watch (Celtics): Marcus Morris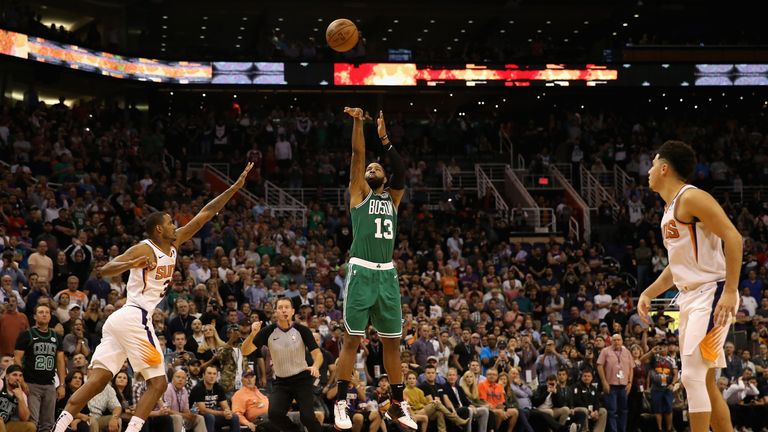 Image:
Marcus Morris sends Boston's game against Phoenix into overtime with a clutch three-pointer
While Kyrie Irving has routinely wowed the league with his scoring eruptions, Morris has quietly been putting together an excellent season. He's averaging a career-high 15.4 points per game, hitting 49.7 per cent of his shots and shooting at 43.5 per cent from beyond the three-point arc. He has also proven strong in crunch time, delivering clutch three-pointers to help close out games.
Morris is listed as questionable to play owing to a neck injury. He will be a big miss if he is unable to suit up, especially given Irving is also out.
Want to watch the NFL or NBA on the Sky Sports USA channel but don't have Sky Sports? Get the Sky Sports Action and Arena pack, click here.
Sky Sports is the home of the NBA in the UK with live coverage throughout the week, including selected live games free to all Sky subscribers via Sky Sports Mix. www.skysports.com/nba will be your home for news, reports, video and features throughout the season while you can follow us @SkySportsNBA