Dallas Mavericks' rookie star Luka Doncic made a buzzer-beating 'rainbow' three-pointer to force overtime against the Portland Trail Blazers.
With 0.6 seconds left in regulation, the Mavericks trailed 107-104 but had possession on an in-bounds play.
Doncic escaped the attentions of Portland defender Maurice Harkless and raced for the corner where he received the ball from Jalen Brunson's in-bounds pass.
Before Harkless could recover, Doncic used his quick release to loft an arcing three-pointer which rattled home as the buzzer sounded, sending the game into overtime.
And every Mavs fan shouted Halleluka. pic.twitter.com/cBKM9SKnhp
— Dallas Mavericks (@dallasmavs) December 24, 2018
Doncic finished the game with 23 points, 11 rebounds and six assists but he could not stop the Blazers from taking control in the extra session and sealing a 121-118 win.
Sunday night's scores
Memphis Grizzlies 107-99 Los Angeles Lakers
Dallas Mavericks 118-121 Portland Trail Blazers (OT)
Atlanta Hawks 98-95 Detroit Pistons
Washington Wizards 89-105 Indiana Pacers
Charlotte Hornets 103-119 Boston Celtics
Phoenix Suns 103-111 Brooklyn Nets
Chicago Bulls 112-92 Cleveland Cavaliers
Miami Heat 115-91 Orlando Magic
Minnesota Timberwolves 114-112 Oklahoma City Thunder
New Orleans Pelicans 117-122 Sacramento Kings
Los Angeles Clippers 127-129 Golden State Warriors
Click the video at the top of the page to watch Doncic's buzzer-beating three then click the video below to watch the 10 best plays from a busy Sunday night of NBA action, including huge dunks from CJ McCollum and Paul George and a delicious no-look assist by Jose Calderon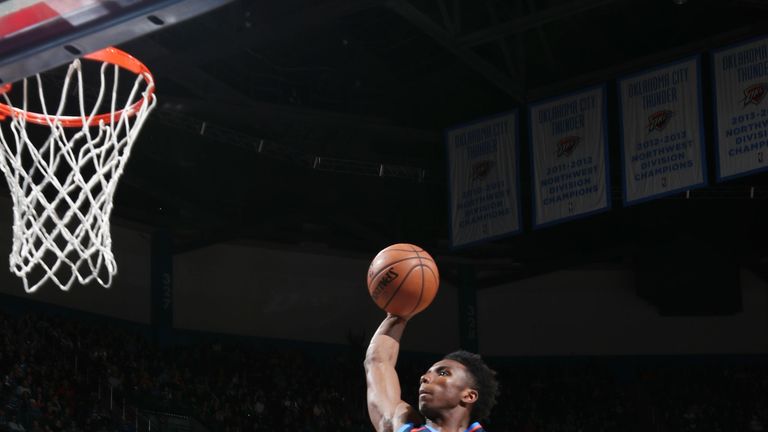 2:33
Check out the 10 top plays from Sunday night in the NBA.
Sky Sports is the home of the NBA in the UK with live coverage throughout the week, including selected live games free to all Sky subscribers via Sky Sports Mix. www.skysports.com/nba will be your home for news, reports, video and features throughout the season while you can follow us @SkySportsNBA