LeBron James and Steph Curry face off as part of NBA Christmas Showdown as Golden State Warriors and Los Angeles Lakers headline a four-game slate, live on Sky Sports.
With presents opened and turkey digested, NBA fans can settle in for a four-game feast of live action on Sky Sports featuring the league's biggest stars from 5pm on Christmas Day.
In addition to James and Curry, Giannis Antetokounmpo, Russell Westbrook, James Harden, Joel Embiid and Kyrie Irving will be on hand looking to round off the day's yuletide festivities with some big plays.
All four games will be available on Sky Sports Action (channel 407) while non-Sky Sports subscribers can also tune in via Sky Sports Mix (channel 121).
Milwaukee Bucks @ New York Knicks, 5pm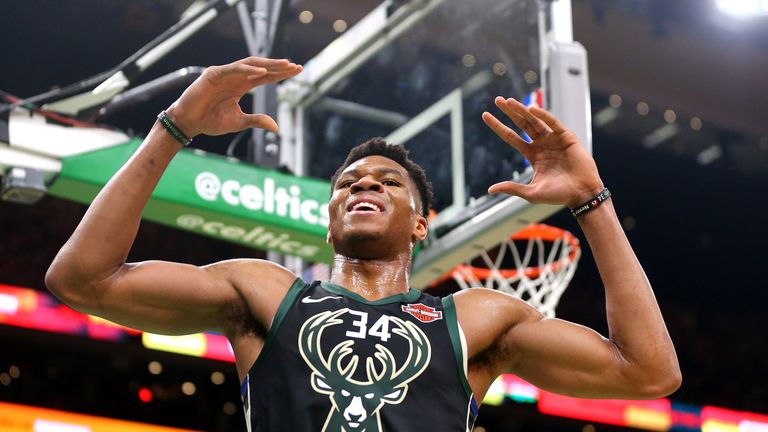 Image:
Giannis Antetokounmpo celebrates a basket
The Bucks (22-10) aim to step up their pursuit of Eastern Conference leaders the Toronto Raptors with a Christmas Day win at Madison Square Garden against the lowly Knicks (9-25).
Live NBA: Milwaukee @ New York
Tuesday 25th December 5:00pm
The young Knicks roster, navigating the season without star man Kristaps Porzingis, have lost nine of their last 10 games and will need something special to turn over the Bucks, for whom regular season MVP candidate Giannis Antetokounmpo is averaging 26.2 points and 12.8 rebounds per game.
Oklahoma City Thunder @ Houston Rockets, 8pm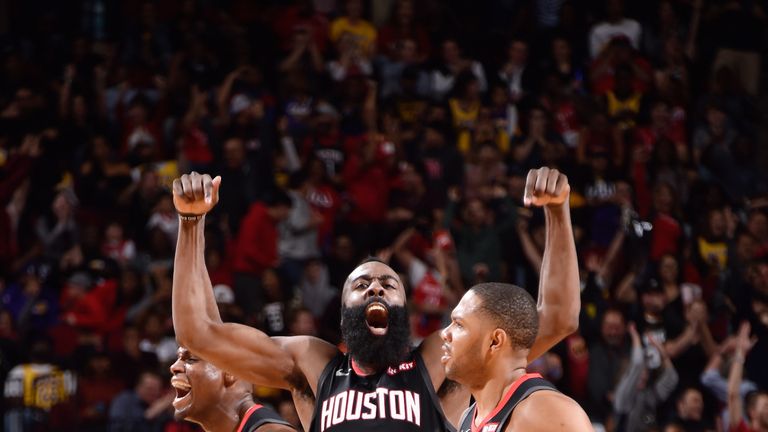 Image:
James Harden celebrates a Houston victory
Thunder guard Russell Westbrook faces off with former team-mate James Harden as two Western Conference heavyweights face off at the Toyota Center.
The Thunder (21-11) have established themselves as the NBA's premier defensive team and, thanks to the stellar play of Paul George, have won their last four games to climb to second in the West.
Live NBA: Oklahoma @ Houston
Tuesday 25th December 8:00pm
Pre-season title favourites the Rockets (17-15) have struggled mightily this season but, with six wins in their last 10 outings, have climbed into the playoff places in a tightly-contested Western Conference. They have Harden to thank for that – the defending regular season MVP has led Houston with consistent game-winning scoring performances. 'The Beard' leads the league with 32.0 points per game.
Philadelphia 76ers @ Boston Celtics, 10:30pm
Image:
Joel Embiid milks the adulation of the 76ers fans
Two Eastern Conference heavyweights clash as the Sixers (22-12) travel to Boston to face the Celtics (19-13) with both teams in hot pursuit of the Raptors at the top of the Eastern Conference.
Sixers center Joel Embiid is another player in the MVP conversation having averaged 26.4 points and 13.2 rebounds per game. The charismatic Cameroonian is well supported by distribution and athleticism of guard Ben Simmons and the two-way threat of Jimmy Butler.
Live NBA: Philadelphia @ Boston
Tuesday 25th December 10:30pm
The Celtics have endured a stuttering campaign, starting slowly before rounding into form and climbing into the playoff places. A December run of seven straight wins was followed by three defeats before the Celtics snapped that unwanted run with a 119-103 win over the Charlotte Hornets.
However, in guard Kyrie Irving, Boston have a proven match-winner able to take and make big shots under the most intense pressure. Irving is thriving as the leader of the Celtics' deep roster, averaging 22.7 points per game.
Los Angeles Lakers @ Golden State Warriors, 1am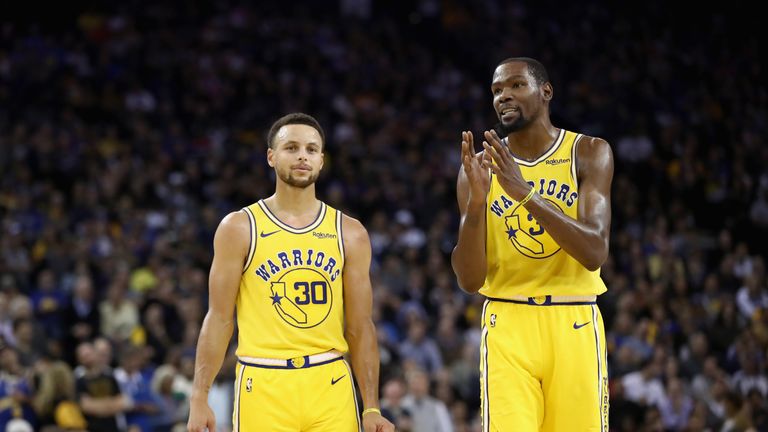 Image:
Stephen Curry and Kevin Durant are back in action
LeBron James faces the Warriors for the first time since moving to Los Angeles in the summer. The Lakers (19-14) have overcome some early trouble to ascend to fourth place in the Western Conference standings.
James has been at his masterful best this season, averaging 27.6 points, 8.2 rebounds and 7.2 assists and fueling his candidacy for a fifth regular season MVP award.
Live NBA: LA Lakers @ Golden State
Wednesday 26th December 1:00am
The Warriors (23-11) sit second in the Western Conference having recovered from a surprising four-game November losing streak and the 11-game absence of franchise star Stephen Curry.
Curry and team-mates Kevin Durant, Klay Thompson and Draymond Green offer a combined offensive threat that no team can match and their talent is such that they know they can cruise through the regular season, conserving energy for playoff battles ahead.
However, facing James for the first time since the Warriors' Finals triumph over the Cleveland Cavaliers last June will certainly provide them with some much-needed regular-season motivation.
Sky Sports is the home of the NBA in the UK with live coverage throughout the week, including selected live games free to all Sky subscribers via Sky Sports Mix. www.skysports.com/nba will be your home for news, reports, video and features throughout the season while you can follow us @SkySportsNBA