It turned out to be quite a night for 10-year-old Eric Kocher during his first NBA game courtside.
Dallas Mavericks rookie Luka Doncic awkwardly fell out of bounds after Draymond Green challenged his shot during the 120-116 defeat to the Golden State Warriors.
Doncic stumbled onto Eric who took the brunt of the fall from the 6ft 7in, 218lbs Slovenian.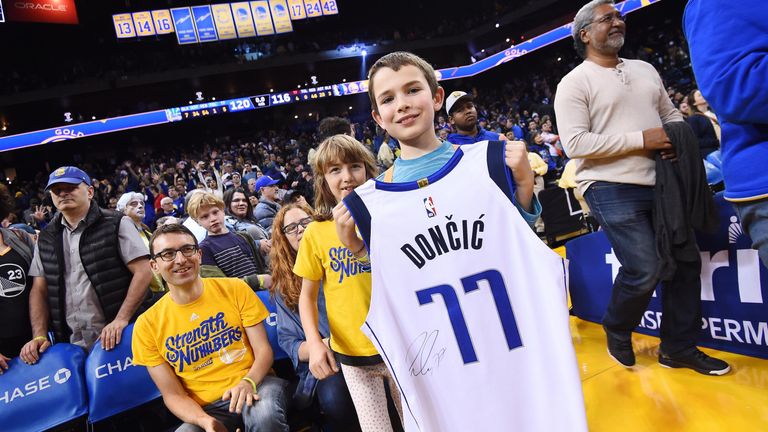 Image:
10-year-old Eric Kocher received a signed jersey for his troubles.
Doncic quickly checked on the youngster from San Francisco, who later told reporters it was his first time sitting so close to the action.
Eric was OK, and received some goodies for his trouble, including a signed Doncic jersey.
And it wasn't just any old Jersey.
Doncic whipped the jersey off his back after the final buzzer, in a moment captured by the Mavericks' social media.
#ThisIsWhyWePlay @luka7doncic | #MFFL pic.twitter.com/P5uWfKIlvo
— Dallas Mavericks (@dallasmavs) December 23, 2018
The fall meant Doncic suffered a hip injury that caused him to miss much of the second half.
After the game, Doncic walked around the locker room with slight limp and a bag of ice saddled to his hip. However, the point-forward does not think it is too serious.
"I think it is just a hit," Doncic said after the game. "We will see tomorrow how it is and if I can play."
The Mavericks play in Portland on Sunday.
Sky Sports is the home of the NBA in the UK with live coverage throughout the week, including selected live games free to all Sky subscribers via Sky Sports Mix. www.skysports.com/nba will be your home for news, reports, video and features throughout the season while you can follow [email protected]