Luka Doncic has already outstripped expectations in his first NBA season and is showing why he will be the Dallas Mavericks' centrepiece for years to come, writes Lee Harvey.
The 19-year-old Slovenian is no ordinary rookie. He signed for Real Madrid aged 13 and, at 16, became the club's youngest player to debut for their senior side. At 19, he led Madrid to the 2018 Euroleague title and was named Euroleague MVP before declaring for the NBA Draft.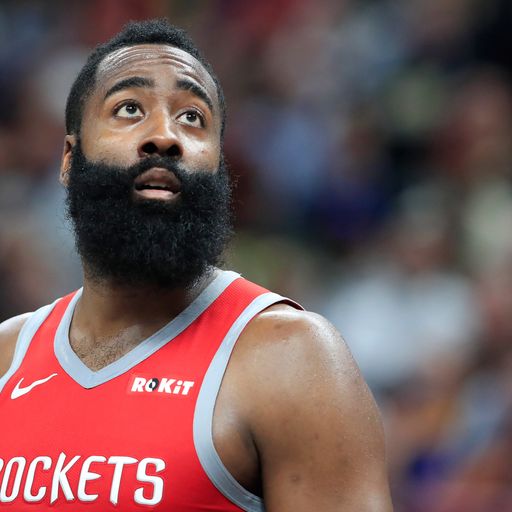 Rockets @ Mavericks free live stream
Watch the Rockets take on the Mavs via our free live stream on Saturday at 11pm
Doncic has starred at international level too, making his senior debut for Slovenia in 2016 as a 17-year-old and helping his country to win the Eurobasket title one year later, earning a place on the All-Tournament team in the process.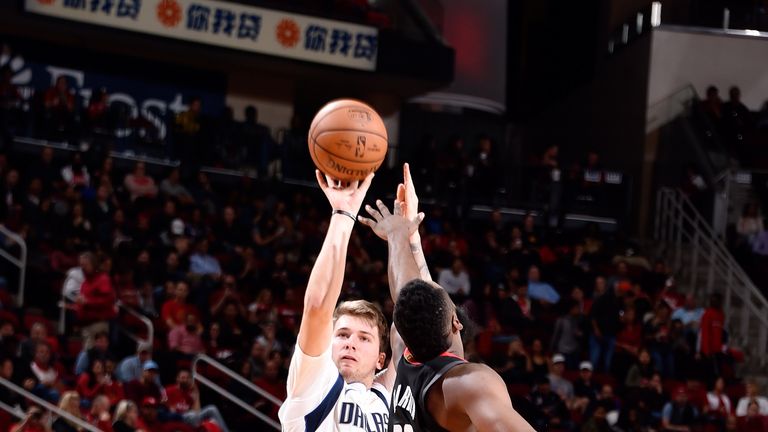 Image:
Doncic has demonstrated he can score from all over the court
Many experts viewed Doncic as a can't-miss Draft pick, a fully-formed talent with the potential to transform a franchise.
The Phoenix Suns and the Sacramento Kings did not agree, taking Deandre Ayton and Marvin Bagley III respectively with the opening two picks of the 2018 Draft.
"Luka's game is definitely ready. He needs to adjust to the speed and athleticism in this league. But everything else is there. He's going to be great."
Dirk Nowitzki on Mavericks team-mate Luka Doncic
Neither did the Atlanta Hawks, who selected Doncic at three before immediately trading him to Dallas in exchange for number five pick Trae Young (plus a future first-round pick).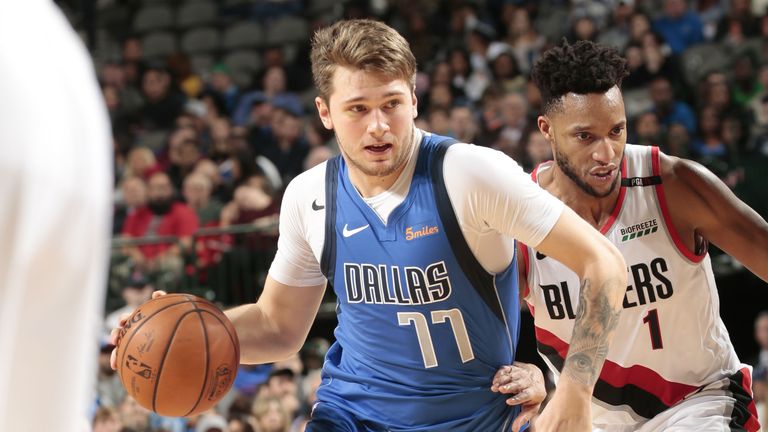 1:51
Luka Doncic grabbed three lovely assists on the way to reaching 21 points against the Portland Trail Blazers
It's too early to say those teams will rue their decisions to pass on Doncic as Ayton, Bagley and Young all have All-Star potential. What is abundantly clear is that the Slovenian teenager is everything the Mavericks hoped he would be and more.
On one level, it's a no-brainer. While American-based Draft picks were playing 30 games a season against teenagers, Doncic became more NBA-ready thanks to his heavier workload (67 club games in 2016-17, 61 in 2017-18, plus international games) gained in high-pressure games against mature professionals.
Live NBA: Houston @ Dallas
Saturday 8th December 11:00pm
Doncic was living alone in a foreign country while his Draft counterparts were enjoying the luxury of NCAA college campuses. And yet the Slovenian proved he was the standout player in the world's second-best basketball league – as a teenager.
Doncic's well-rounded game has translated well to the NBA. Through 22 games, he is averaging 18.1 points, 6.5 rebounds and 4.3 assists. He's making 38.2 per cent of his three-pointers and has already shown the ability to come through with big shots when the outcome of the game is put in his hands.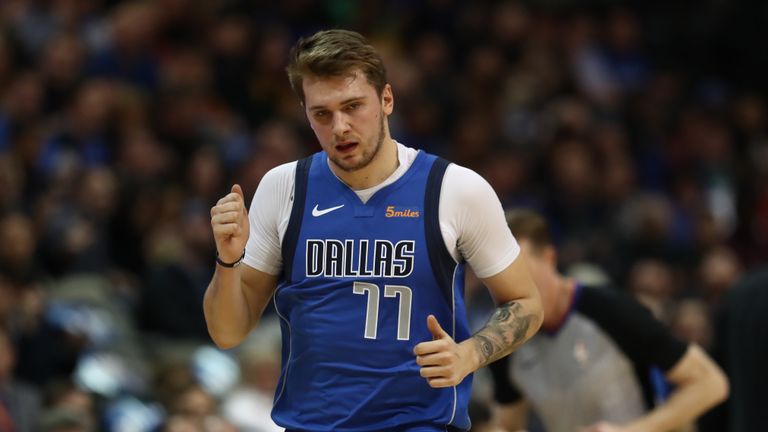 0:25
Luka Doncic turned into a quarterback for the Dallas Mavericks, finding Dennis Smith Jr from the back of the court
He's no stranger to highlight assists either, be it a court-length 'quarterback' pass or a head fake to bemuse a defender before finding a team-mate for an easy basket.
Given all that, it's no surprise Doncic is the clear leader in the race for Rookie of the Year honours. Dallas struggled to a 3-7 start to the season, but allowing Doncic to take the reins on offense resulted in them winning nine of 11 games and moved them to the fringes of the Western Conference playoff places.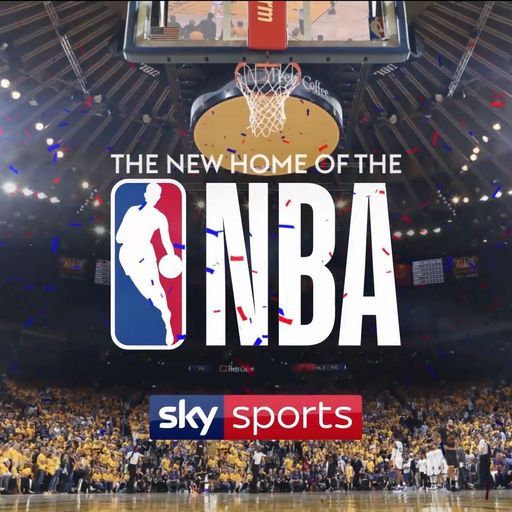 Get NBA news on your phone
Want the latest NBA news, features and highlights on your phone? Find out more
It's a better start than anyone expected and it's only going to get better as Doncic continues to develop. He is the player the Mavericks will build their franchise around, just as they did with Dirk Nowitzki 20 years ago.
The legendary German, regular season MVP in 2006/07 and Finals MVP when he led the Mavericks to the NBA title in 2011, is likely in the final year of his illustrious career. Now the Mavericks have the player to whom Nowitzki, the greatest international player in NBA history, will pass the torch.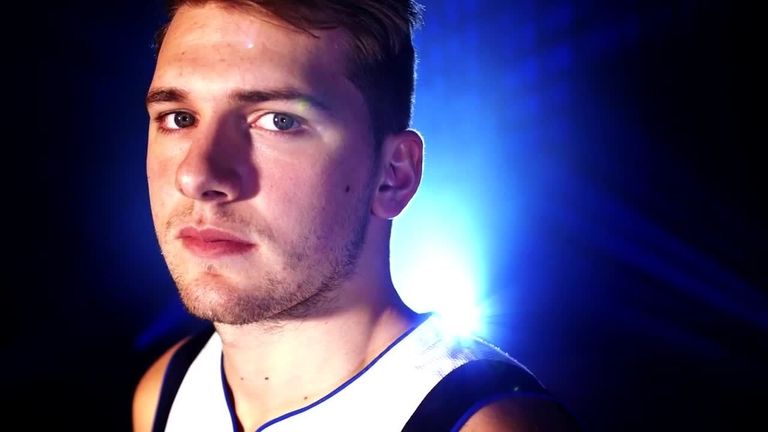 1:46
Dirk Nowitzki says Luka Doncic is further ahead in his career than he was at the same age
Nowitzki has created a legacy in Dallas for Doncic to follow and the future hall-of-famer acknowledges the Mavericks' rookie is far better prepared for NBA success than he was when he first arrived in the league in 1998.
"A big part of playing well in the NBA is feeling comfortable [away] from the floor," Nowitzki explains. "For me, it was my first time living away from home and it was tough to adjust. There was a language barrier for me at the beginning.
"[Luka] already has those boxes checked. His English is good. He has lived [away from home] in Spain for years. I really think he should be fine. His game is definitely ready. He needs to adjust to the speed and athleticism in this league. But everything else is there. He's going to be great."
Watch the Dallas Mavericks host the Houston Rockets on a free live stream on skysports.com and the Sky Sports mobile on Saturday from 11pm
Saturday night's games
Houston Rockets @ Dallas Mavericks, 11pm, live on skysports.com, Sky Sports app & Sky Sports Mix
Sacramento Kings @ Indiana Pacers, 12am
Brooklyn Nets @ New York Knicks, 12:30am
Denver Nuggets @ Cleveland Cavaliers, 12:30am
Boston Celtics @ Chicago Bulls, 1am
Los Angeles Lakers @ Memphis Grizzlies, 1am
Minnesota Timberwolves @ Portland Trail Blazers, 3am
Miami Heat @ Los Angeles Clippers, 3:30am
Sky Sports is the new home of the NBA in the UK with live coverage throughout the week, including selected live games free to all Sky subscribers via Sky Sports Mix.
And www.skysports.com/nba will be your home for news, reports, video and features throughout the season while you can follow us @SkySportsNBA