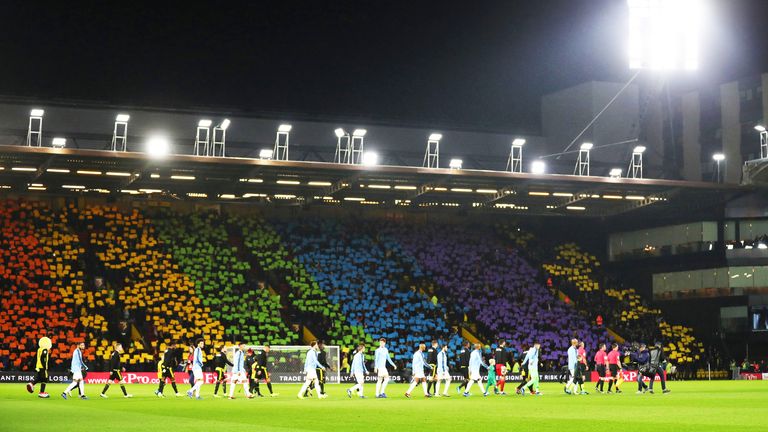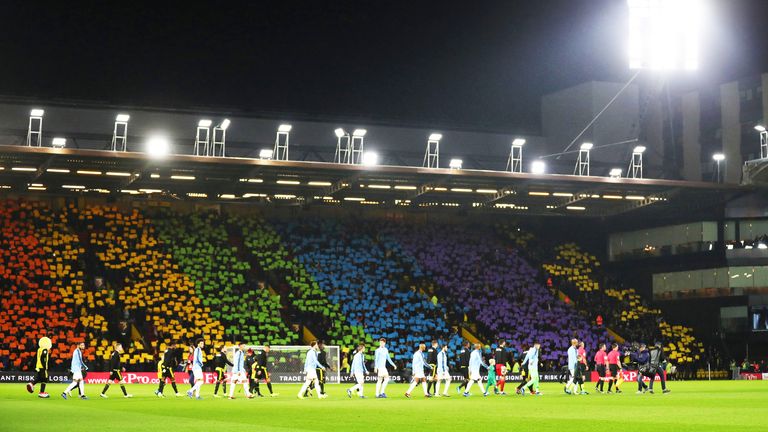 Watford's clash at home to Manchester City was the Hornets' designated Rainbow Laces match
Watford and Manchester City players walked out in front of a colourful mosaic organised by fans before Tuesday's Premier League clash at Vicarage Road.
The tifo was organised by Proud Hornets, Watford's LGBT fans group, in collaboration with The 1881, the supporters movement that helps to inject atmosphere into the club's home games through singing, chants and banners in the Rookery End.
Wow, just wow! Thank you to the whole #watfordfc family you have done us proud! We love you all so much and a huge thank you the @The1881_wfc for all of your help! #RainbowLaces #gobigorgohome #the1881movement pic.twitter.com/11EDLeHFJg
— Proud Hornets 🏳️‍🌈 (@ProudHornets) December 4, 2018
Seats in the 6,960-capacity stand were decked out in coloured card before kick-off to enable a visible show of support for inclusion, with the fixture Watford's dedicated Rainbow Laces match.
🏳️‍🌈 | @ProudHornets @The1881_wfc 👏👏👏#RainbowLaces #watfordfc pic.twitter.com/fMaSBshvob
— Watford Football Club (@WatfordFC) December 4, 2018
The annual activation period for the Stonewall campaign for LGBT inclusion in sport is coming to a conclusion this week, with every Premier League club backing the initiative at their home games on Matchday 14 or Matchday 15.
Also on Tuesday, West Ham's London Stadium was lit up in a vibrant LED display as they recorded a 3-1 home win over Cardiff City.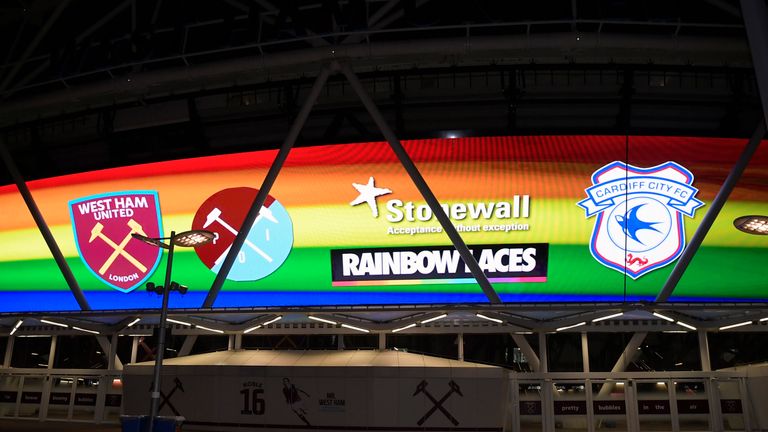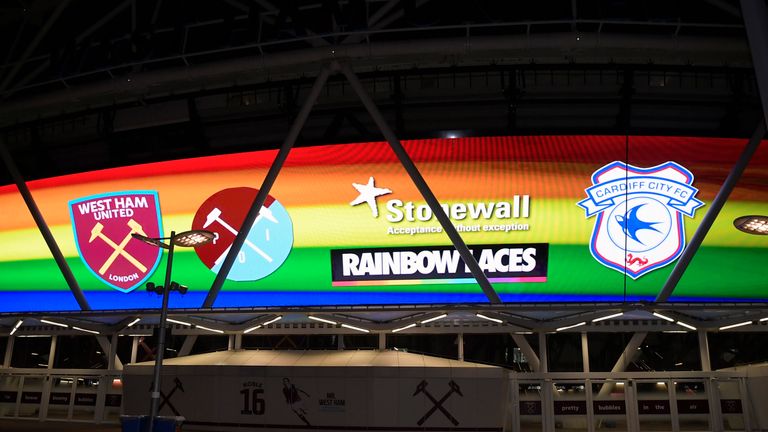 West Ham's LGBT fans group, Pride of Irons, featured in a video released before kick-off by the Premier League on their social channels, detailing the work they have done around inclusion.
"We've made a change to someone's life"
Co-chair Jim Dolan explains the impact of the support network provided by @PrideOfIrons with the help of @WestHamUtd #RainbowLaces @stonewalluk pic.twitter.com/DPFZoUVk25
— Premier League (@premierleague) December 4, 2018
Wednesday night's six Premier League fixtures are also due to recognise the campaign, which is now in its sixth year.
Sky Sports is a member of TeamPride and supports Stonewall's Rainbow Laces campaign, which is currently receiving its annual activation across British sport until December 7.
Contact us at Sky Sports if you'd like to share a story to help raise awareness around LGBT inclusion.