Every Monday, we'll look back over the previous seven days of NBA action and identify five players who shone on – and sometimes off – the court. Which players dominated week seven of the NBA season?
Stephen Curry (Golden State Warriors)
The two-time MVP returned from a three-week injury absence to play for the Warriors against the Detroit Pistons on Saturday night, but it was Curry's off-court activity that caught the eye.
Having received a letter from young female fan expressing her disappointment at none of his signature trainers being listed on the girls' section of Under Armour's website, Curry shared his handwritten response on Twitter.
Appreciate you helping us get better Riley! We got you. #MoreToCome pic.twitter.com/UBoTklvwhg
— Stephen Curry (@StephenCurry30) November 29, 2018
The father of three, who has two daughters and hosts an all-girl basketball camp, has previously gone on record in his support of women's rights.
"Unfortunately we have labeled smaller sizes as 'boys' on the website," Curry wrote.
"We are correcting this now! I want to make sure you can wear my kicks proudly."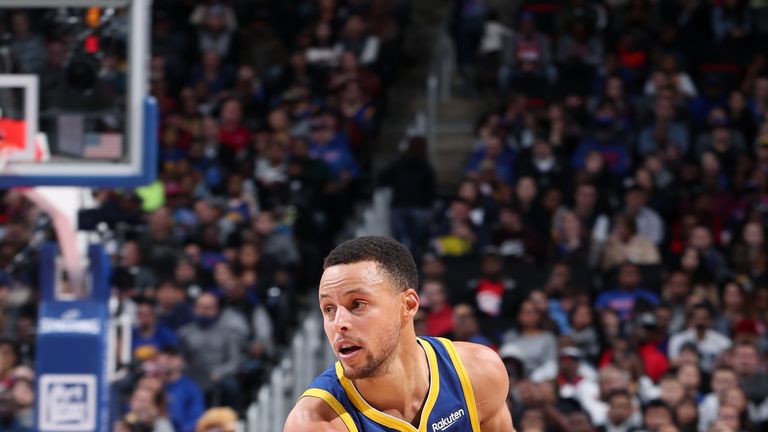 Image:
Stephen Curry made his first appearance after being sidelined for 11 games
Although Curry's return didn't go completely to plan as the Warriors lost 111-102 to the Pistons, the point guard's 27 points on 10-21 shooting suggested it won't be long before the reigning champions are firing on all cylinders again.
Kawhi Leonard (Toronto Raptors)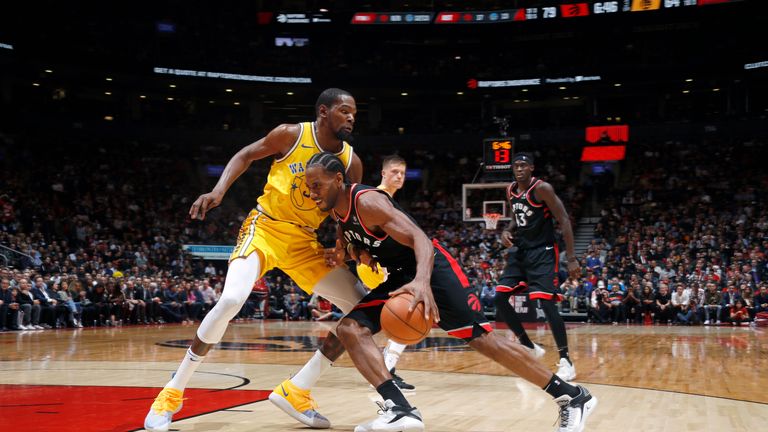 Image:
Kawhi Leonard came out on top of a duel with Kevin Durant
One man who perhaps benefited from Curry's absence was Leonard, as the Raptors beat the Warriors to seal the second of three week-seven victories.
With Curry watching from the bench, it was all about the duel between Leonard and Kevin Durant. Although Durant led the scoring with a stunning 51-point showing, Leonard's season-high 37 was enough to secure an overtime win.
Before that Leonard had put in a solid all-round showing with 17 points, 10 rebounds and five assists in a win at the Memphis Grizzlies.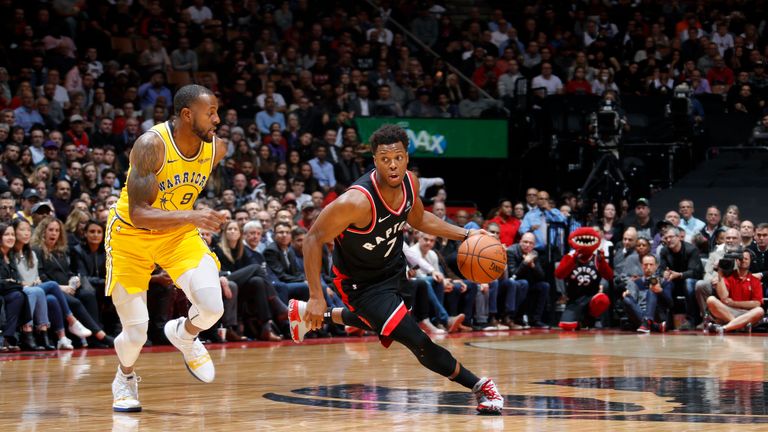 3:24
Highlights from the NBA as Golden State Warriors took on Toronto Raptors at the Scotiabank Arena.
The 27-year-old, who forced a trade away from the San Antonio Spurs during the off-season, then scored 34 points against the Cleveland Cavaliers as the Raptors stretched their winning streak to eight games and moved to 20-4 for the season.
Meanwhile, reports emerged that Leonard has agreed a new footwear deal with New Balance, which is set to be made official at some point this week.
Having walked away from the Jordan Brand, Leonard is expected to become one of the NBA's top 15 earners from footwear deals.
Luka Doncic (Dallas Mavericks)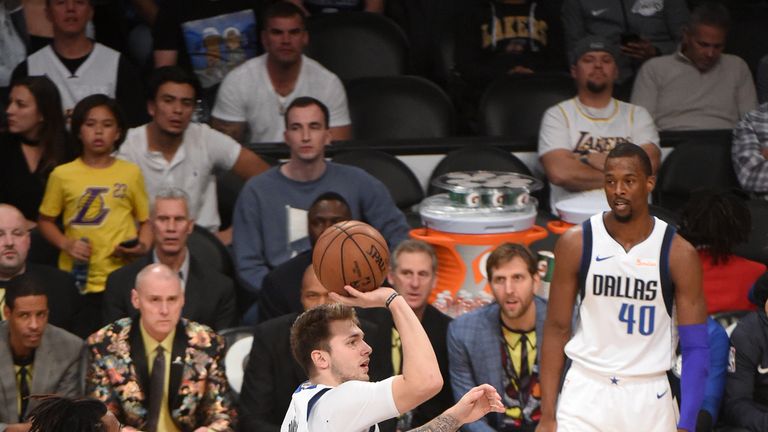 Image:
Luka Doncic has established himself as the early favourite for Rookie of the Year
The 19-year-old has surged into pole position in the race for Rookie of the Year honours.
A 20-point showing against the Houston Rockets helped his Dallas Mavericks to a commanding victory over their Texan rivals.
While the stats weren't standout for a player who is averaging 18.5 points, 4.3 assists and 6.5 rebounds per game in his debut season, a buzzer-beating three-pointer before half-time certainly was.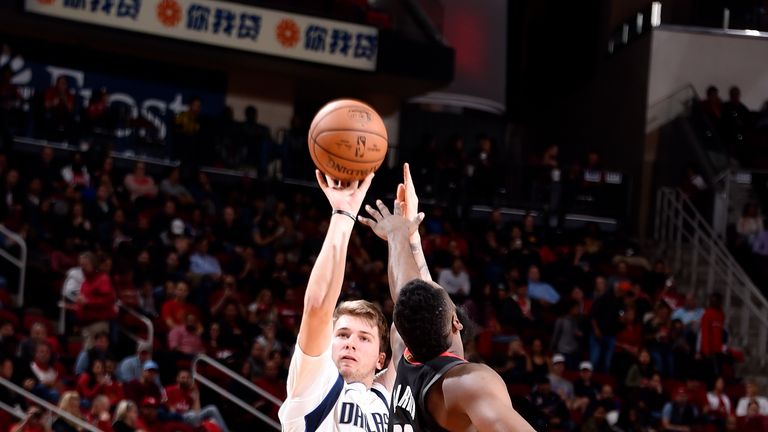 2:38
Check out all the high-flying slams and devastating blocks from a wild Wednesday night in the NBA.
"It's amazing," Rockets coach Mike D'Antoni said after the game.
"If you're really good, the transition is easy. He is really good. You knew he would be really good, or I thought he would be, just because at 18 or 17, doing what he did in Europe, that's not easy."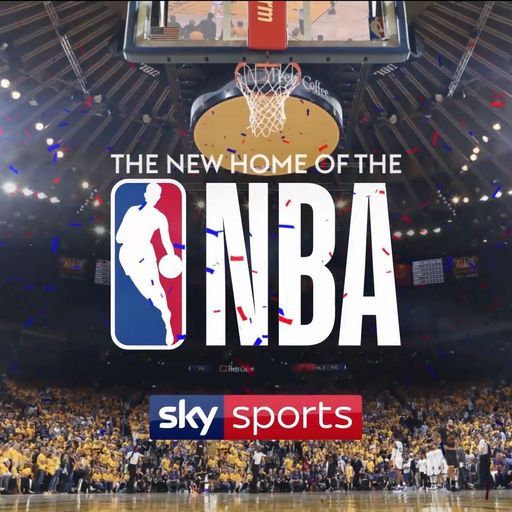 Get NBA news on your phone
Want the latest NBA news, features and highlights on your phone? Find out more
Although Dallas came up short in their following game against the Los Angeles Lakers, Doncic once more caught the eye with a double block on LeBron James.
The Slovenian missed the Mavericks' victory over the Los Angeles Clippers on Sunday night with a right hip complaint, but he has already done plenty to suggest his placing at number three in this year's draft was two places too low.
Ben Simmons (Philadelphia 76ers)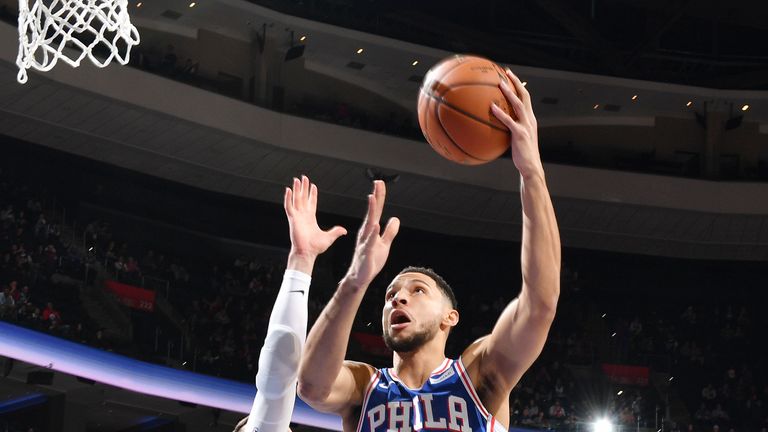 Image:
Ben Simmons is beginning to find some form
Last season's Rookie of the Year is finally finding his groove.
With his points and assists per game totals down very slightly on his debut campaign, the Australian's lack of progression was beginning to concern some onlookers.
However, Simmons enjoyed an extremely efficient week as the 76ers stayed perfect during a three-game homestand.
The 22-year-old went 18-24 from the field as his team routed the New York Knicks and Washington Wizards, before holding off a Memphis Grizzlies comeback.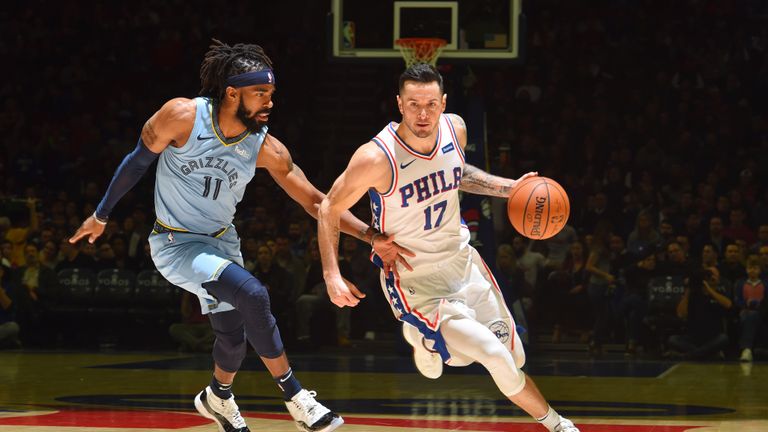 1:46
Highlights from the NBA as Memphis Grizzlies took on Philadelphia 76ers at the Wells Fargo Center Philadelphia.
Simmons and Jimmy Butler, who has established himself as the team's closer, have been wearing matching white headbands to signify their status as "defensive brothers", as they compete to see who can claim more steals.
"I'm telling you whenever he's playing like that, he's a hell of a player," Butler said of Simmons. "He's changing the game for us."
Simmons has also received extra attention due to the presence of his on-off girlfriend Kendall Jenner, who was at the Wells Fargo Center for the 76ers' last two games.
Russell Westbrook (Oklahoma City Thunder)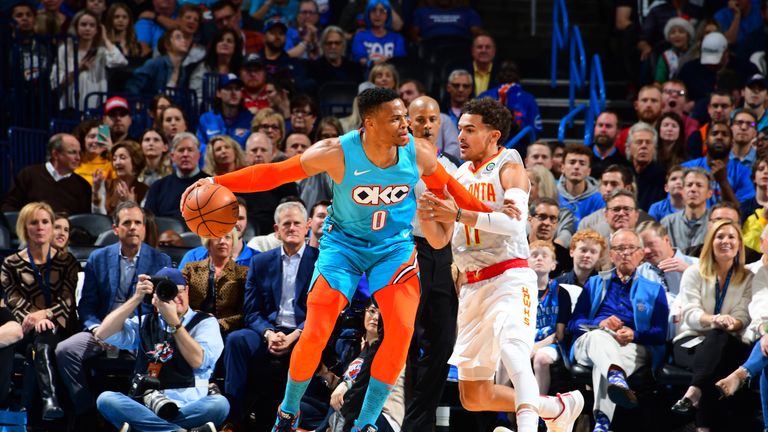 Image:
Russell Westbrook moved up to joint third on the triple-double all-time list
Another player beginning to settle into the season is the Thunder's enigmatic point guard.
After ending week six with a disappointing display in a loss to the Denver Nuggets, which saw him shoot 6-23 from the field and 1-12 from three-point range, Westbrook has bounced back in style.
The 2017 MVP delivered his 107th career triple-double, tying Jason Kidd for third on the all-time list, as the Thunder cruised past the Cleveland Cavaliers.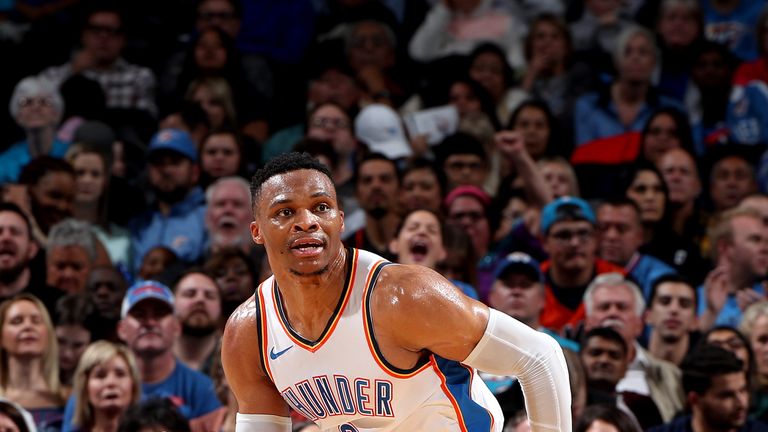 1:16
Russell Westbrook ties Jason Kidd for third all-time triple-doubles with 107 in his career, during the Oklahoma City Thunders victory over the Cleveland Cavaliers.
Two nights later he almost made third place his own, but came up one rebound short as the Thunder eased to victory against the Atlanta Hawks to improve to 14-7 for the season.
However, in the eyes of his former teammate Dion Waiters, Westbrook already has the extra triple-double he was chasing against the Hawks.
The point guard took to Instagram on Sunday to post a photo of his wife Nina, his son, and the pair's twin girls, who were born on November 17.
"Triple double literally," commented Miami Heat guard Waiters, who has missed the whole season with an ankle injury. To which Westbrook replied: "Facts."