Jimmy Butler hit two free throws with 1:31 remaining and a jumper 41 seconds later to stave off a Memphis Grizzlies comeback, helping the Philadelphia 76ers to hang on for a fourth straight win.
Sunday night's results
Phoenix Suns 96-120 Los Angeles Lakers
New Orleans Pelicans 119-109 Charlotte Hornets
Utah Jazz 100-102 Miami Heat
Memphis Grizzlies 95-103 Philadelphia 76ers
Los Angeles Clippers 110-114 Dallas Mavericks
Portland Trail Blazers 118-131 San Antonio Spurs
Memphis Grizzlies 95-103 Philadelphia 76ers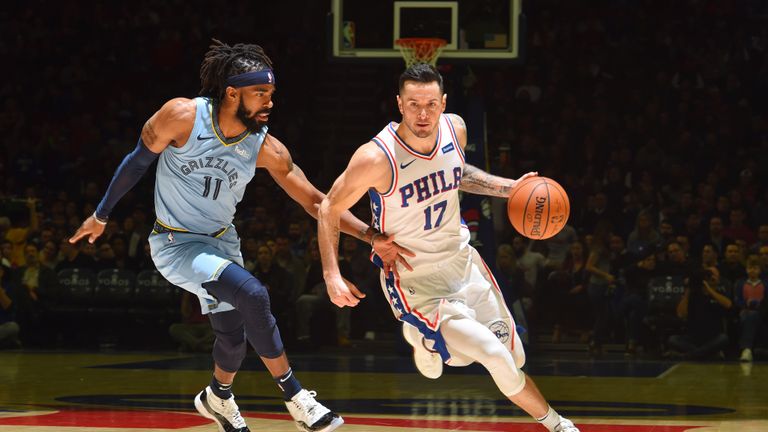 1:46
Highlights from the NBA as Memphis Grizzlies took on Philadelphia 76ers at the Wells Fargo Center Philadelphia
Ben Simmons and Joel Embiid recorded double-doubles for the 76ers, who completed a 3-0 homestand as Butler finished with 21 points and JJ Redick a team-high 24.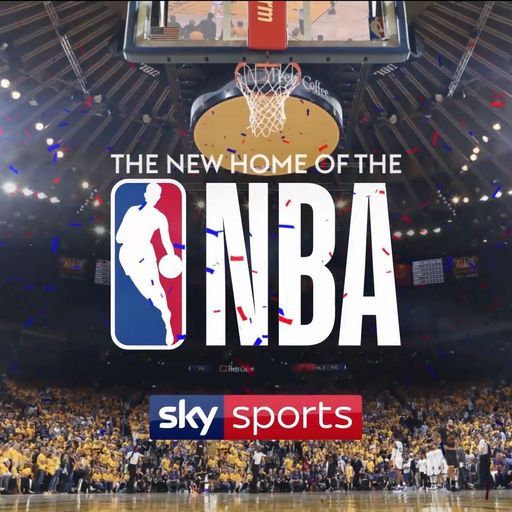 Get NBA news on your phone
Want the latest NBA news, features and highlights on your phone? Find out more
Mike Conley had a team-high 21 points and five assists for the Grizzlies, who have lost four of their last five games.
The 76ers led most of the way, extending their margin to 52-40 late in the first half on the strength of a 10-0 run, which included six points from Simmons and a JJ Redick a 3-pointer.
The Grizzlies got as close as five on a three-pointer by Conley with 2:57 to play, then to within 93-89 when he made in a pair of free throws with 2:03 to go.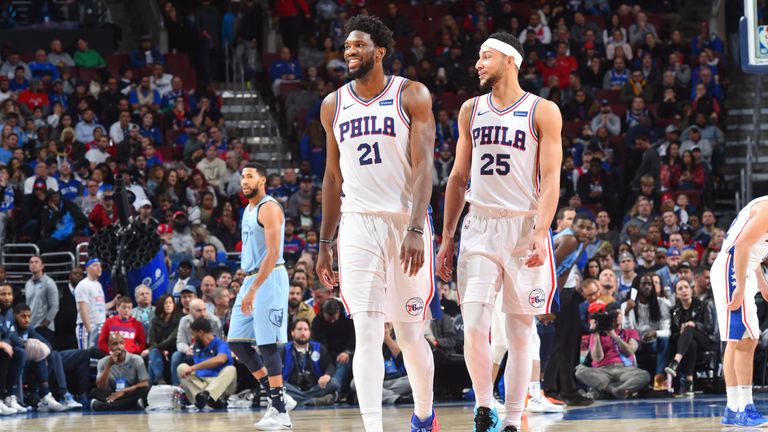 Image:
Joel Embiid and Ben Simmons both had double-doubles for the 76ers
But Butler countered with his two free throws, then made it an eight-point game with just 49.6 seconds remaining as he drained a back-breaking jumper.
Simmons had 19 points and 12 rebounds, while Embiid went for 15 points and a game-high 14 rebounds.
Jaren Jackson Jr. (17 points), JaMychal Green (14), Garrett Temple (12), MarShon Brooks (12) and Marc Gasol (12) joined Conley in double figures for Memphis, which opened a two-game trip with a double-overtime win at Brooklyn on Friday.
Phoenix Suns 96-120 Los Angeles Lakers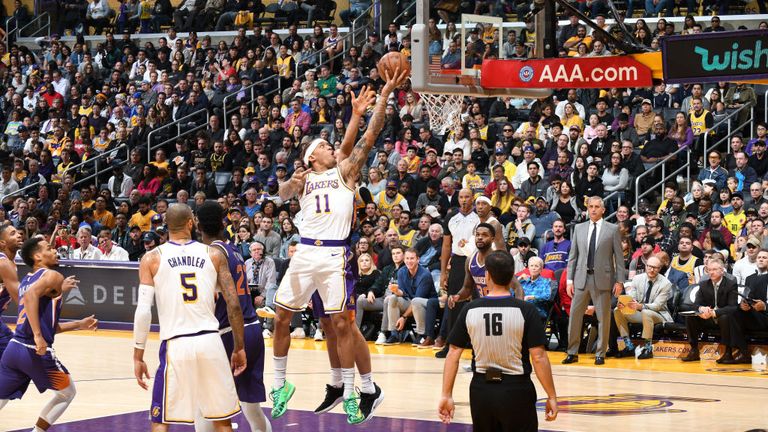 1:55
Highlights from the NBA as Los Angeles Lakers took on Phoenix Suns at the Staples Centre
Kyle Kuzma scored 23 points and grabbed eight rebounds as the Los Angeles Lakers extended their win streak to three games with a victory over the Phoenix Suns.
LeBron James had 22 points, six rebounds and eight assists, while Brandon Ingram added 15 points and Michael Beasley scored a season-high 14 off the bench for the Lakers, who climbed a season-high five games above .500.
Richaun Holmes scored a season-high 15 points off the bench for Phoenix, Trevor Ariza and Josh Jackson scored 13 apiece, and top draft pick Deandre Ayton finished with 10 points and 10 rebounds for the Suns, who have lost five in a row.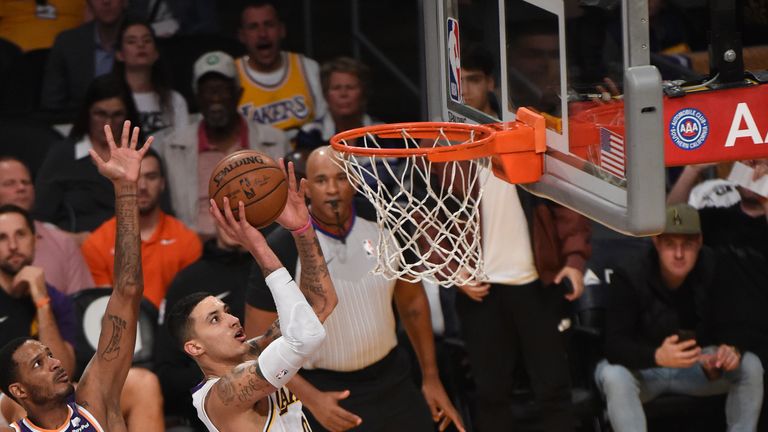 Image:
Kyle Kuzma led the Lakers with 23 points
The Suns' leading scorer Devin Booker, who came into the game 12th in the league in scoring (24.5 ppg), left the game late in the first half after straining his hamstring while chasing down a loose ball.
Booker missed three games at the end of October with a hamstring injury and sat out a 99-85 loss to the visiting Orlando Magic on Friday night because of a sore foot.
The Lakers turned the game around by outscoring the Suns 40-15 in the second quarter and never relinquished the lead from that moment onward.
Los Angeles Clippers 110-114 Dallas Mavericks
2:18
Highlights from the NBA as LA Clippers took on Dallas Mavericks at the American Airlines Center
DeAndre Jordan torched his former team for 16 points and a season-high 23 rebounds as the Dallas Mavericks earned hard-fought victory over the high-flying Los Angeles Clippers.
Dennis Smith Jr., who had a front tooth knocked out in the third quarter, came up with a game-saving block to allow the Mavericks to earn their seventh consecutive home victory.
Jordan was pivotal in the victory, scoring on a late tip-in and then tipping and stealing a Lou Williams pass attempt with 19 seconds to go as Dallas tried to hold onto a 111-110 lead.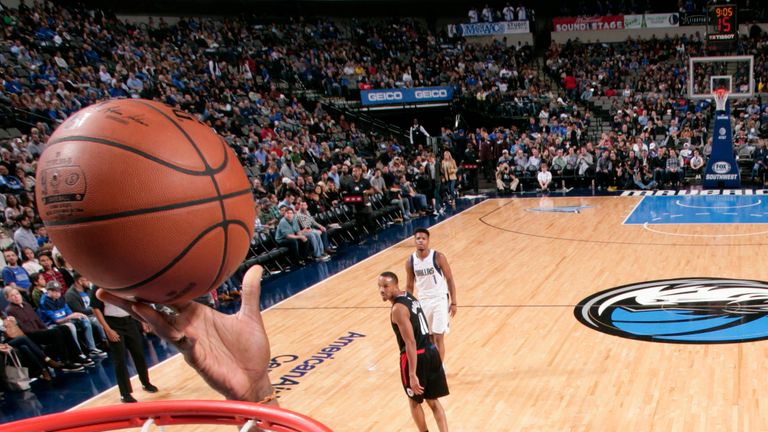 Image:
DeAndre Jordan produced a dominant display against his former team
After the Mavericks went ahead 112-110, the Clippers called timeout and went inside to Tobias Harris. However, Smith blocked the shot and then made two free throws at the other end to seal the victory.
Smith amassed nine points, five assists, two steals and two blocks. Dallas got huge contributions from Harrison Barnes, who finished with a game-high 30 points and nine rebounds, and reserve J.J. Barea, who had a season-high 24 points along with four assists and five rebounds.
Montrezl Harrell led Los Angeles with 23 points while Williams and Danilo Gallinari had 21 apiece.
Portland Trail Blazers 118-131 San Antonio Spurs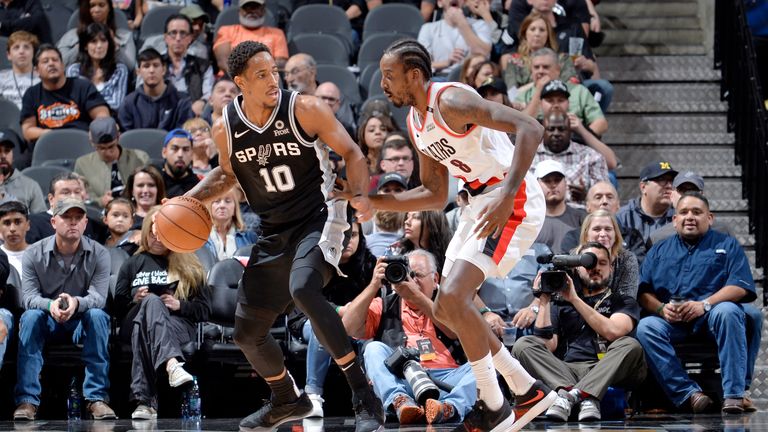 1:16
Highlights from the NBA as Portland Trail Blazers took on San Antonio Spurs at the AT&T Center
DeMar DeRozan scored a season-high 36 points — including 15 straight in the third quarter — as the San Antonio Spurs inflicted another defeat on the struggling Portland Trail Blazers.
LaMarcus Aldridge added 29 points on 11-of-15 shooting from the floor against his former team, who have now lost five of their last six games.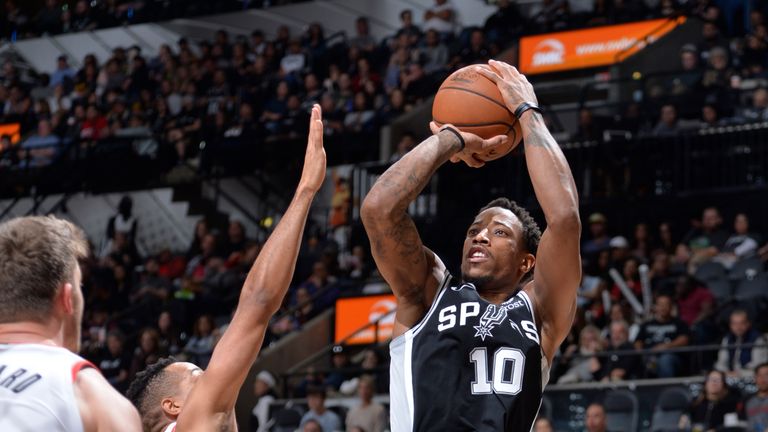 Image:
DeMar DeRozan had a season-high 36 for the San Antonio Spurs
The Spurs snapped a two-game losing streak as Rudy Gay chipped in with 18 points, while Patty Mills added 15 from the bench.
Damian Lillard led all scorers with 37 points and added 10 assists for Portland, while CJ McCollum added 24 points.
New Orleans Pelicans 119-109 Charlotte Hornets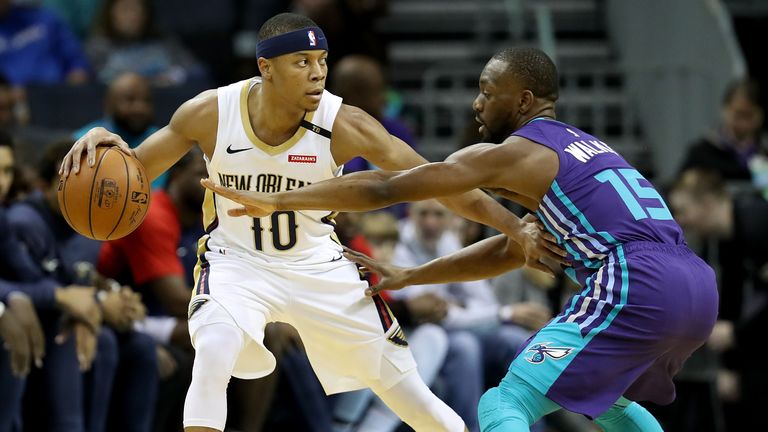 1:48
Highlights from the NBA as New Orleans Pelicans took on Charlotte Hornets at the Spectrum Center
Anthony Davis starred with 36 points, 19 rebounds and eight assists, as the New Orleans Pelicans claimed victory at the Charlotte Hornets.
The All-Star also had two steals and two blocks as the Pelicans secured just a third road victory of the season.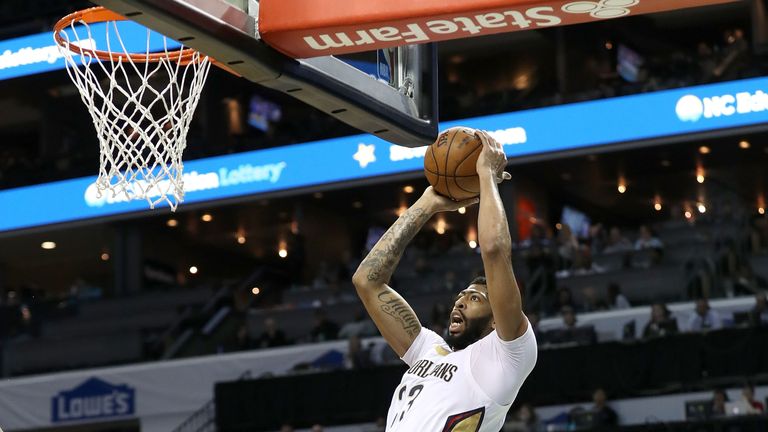 Image:
Anthony Davis had a monster game against the Charlotte Hornets
Jrue Holiday added 19 points, and Nikola Mirotic scored 16 for the Pelicans.
New Orleans won for just the second time in seven games while the Hornets lost for the fourth time in six games.
Frank Kaminsky had 19 points to lead a strong effort from the Hornets' bench, which had a combined 67 points.
Utah Jazz 100-102 Miami Heat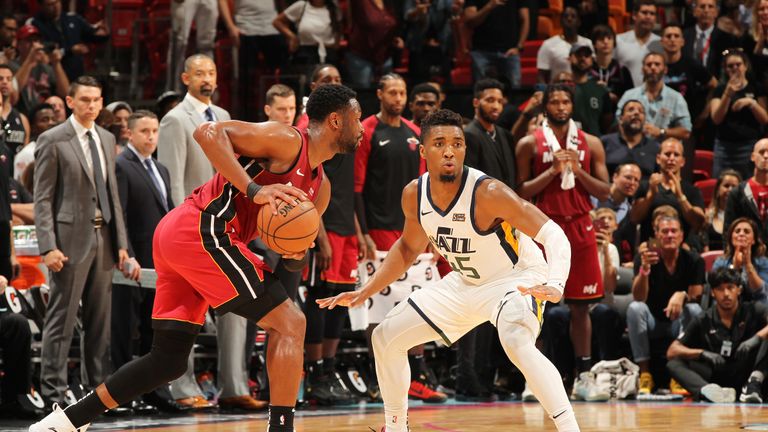 1:28
Highlights from the NBA as Utah Jazz took on Miami Heat at the American Airlines Arena
Dwyane Wade made two crucial free throws with 3.2 seconds remaining to secure victory for the Miami Heat over the visiting Utah Jazz.
Donovan Mitchell had a chance to snatch a much-needed win for the struggling Jazz, but his three-point attempt from the left elbow bounced in and out.
On the winning play, Wade drove to his right with the game tied and drew a foul from imposing Jazz center Rudy Gobert, who went for the block.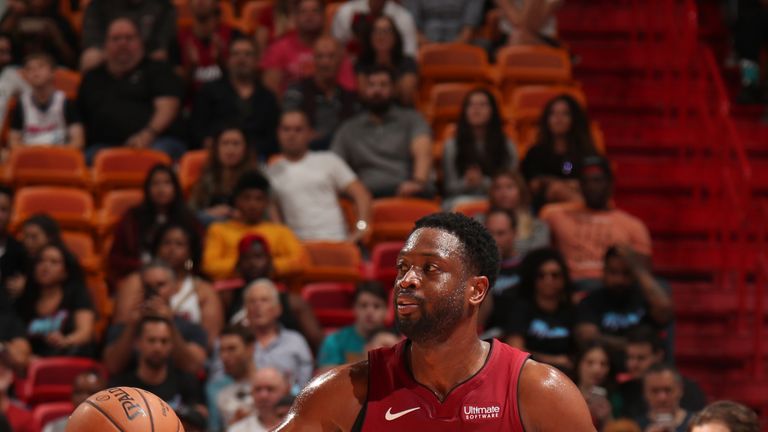 Image:
Dwyane Wade made the game-winning free throws for the Miami Heat
Mitchell scored 18 points, but he finished the game shooting just 8 of 24 from the floor and missed six of his seven three-point tries.
Miami's Hassan Whiteside had a monster game with 23 points, 20 rebounds and three blocks. It was his 11th career 20-20 game and his third this season.
Sky Sports is the new home of the NBA in the UK with live coverage throughout the week, including selected live games free to all Sky subscribers via Sky Sports Mix.
And www.skysports.com/nba will be your home for news, reports, video and features throughout the season while you can follow us @SkySportsNBA