Kyle Kuzma scored 23 points and grabbed eight rebounds to lead the Los Angeles Lakers to a 120-96 victory over the Phoenix Suns on Sunday.
Game leaders
Phoenix Suns
Points: Richaun Holmes – 15
Assists: Okobo/Carwford – 4
Rebounds: Deandre Ayton – 10
Los Angeles Lakers
Points: Kyle Kuzma – 23
Assists: LeBron James – 8
Rebounds: Tyson Chandler – 11
LeBron James had 22 points, six rebounds and eight assists, while Brandon Ingram added 15 points and Michael Beasley scored a season-high 14 off the bench for the Lakers, who have won three in a row and climbed a season-high five games above .500.
Richaun Holmes scored a season-high 15 points off the bench for Phoenix, Trevor Ariza and Josh Jackson scored 13 apiece, and top draft pick Deandre Ayton finished with 10 points and 10 rebounds for the Suns, who have lost five in a row.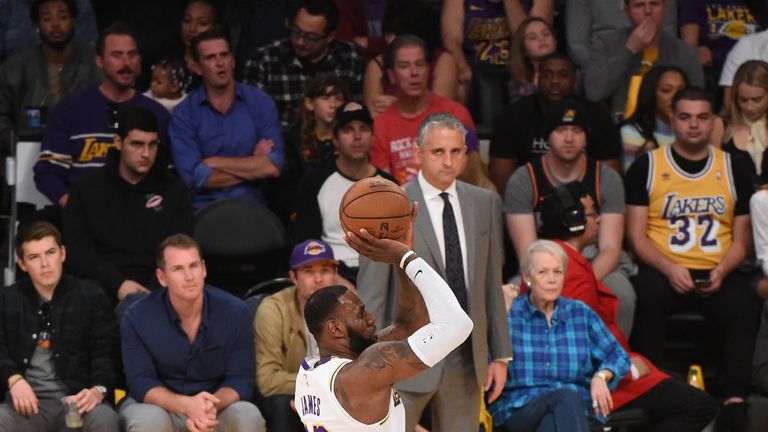 Image:
LeBron James scored 22 points along with eight assists and six rebounds
The Suns' leading scorer Devin Booker, who came into the game 12th in the league in scoring (24.5 ppg), left the game late in the first half after straining his hamstring while chasing down a loose ball.
Booker missed three games at the end of October with a hamstring injury and sat out a 99-85 loss to the visiting Orlando Magic on Friday night because of a sore foot.
The Lakers turned the game around by outscoring the Suns 40-15 in the second quarter.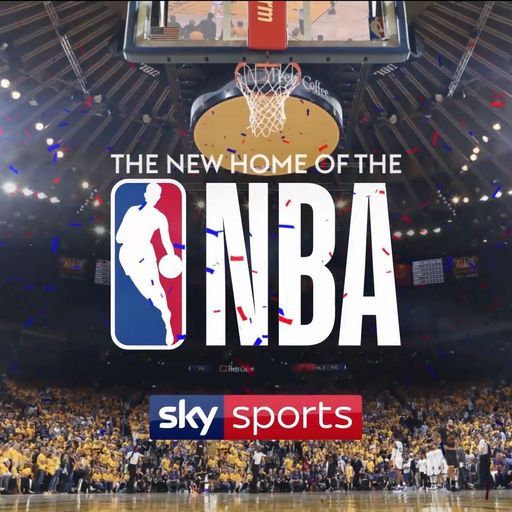 Get NBA news on your phone
Want the latest NBA news, features and highlights on your phone? Find out more
Phoenix got off to a strong start with Booker on the floor, surging to a 25-8 lead with 5:27 left in the first quarter.
The Suns still maintained a 10-point advantage entering the second quarter, but Los Angeles scored the first 10 points and tied the score at 31-31 on a 3-pointer by Ingram 2:15 into the period.
The Lakers used another 9-0 run later in the quarter to take the lead for good, 48-40, with 3:54 left in the first half.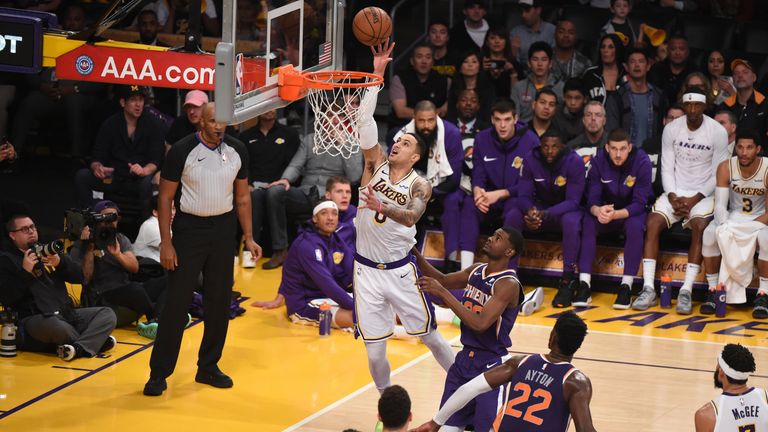 Image:
The Lakers have now won three games in a row
Mikal Bridges ended that run with a three-pointer, but Los Angeles would score the next five points to take its first double-digit lead at 53-43. During that run, Booker left with the hamstring injury.
The Lakers closed the first half by scoring the final eight points, capped by a 3-pointer by Kentavious Caldwell-Pope with 0.7 seconds left, giving them their biggest lead at 61-46.
Phoenix could only pull as close as nine with just over eight minutes left in the third quarter. Kuzma scored five points in an 8-0 surge late in the quarter to move Los Angeles ahead 92-69.
Sunday night's results
Phoenix Suns 96-120 Los Angeles Lakers
New Orleans Pelicans 119-109 Charlotte Hornets
Utah Jazz 100-102 Miami Heat
Memphis Grizzlies 95-103 Philadelphia 76ers
Los Angeles Clippers 110-114 Dallas Mavericks
Portland Trail Blazers 118-131 San Antonio Spurs
Sky Sports is the new home of the NBA in the UK with live coverage throughout the week, including selected live games free to all Sky subscribers via Sky Sports Mix.
And www.skysports.com/nba will be your home for news, reports, video and features throughout the season while you can follow us @SkySportsNBA