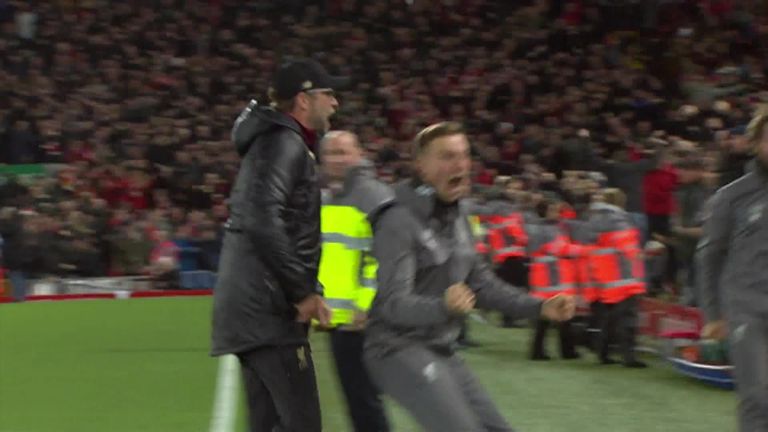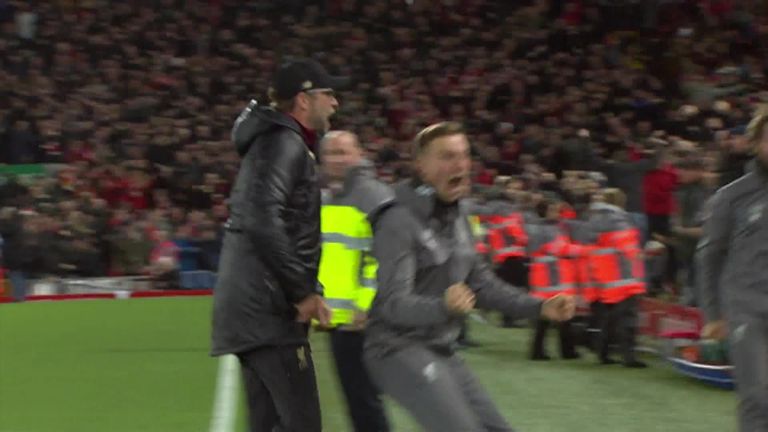 0:36
Jurgen Klopp could not hide his delight as Liverpool snatched all three points in the Merseryside derby with a last-gasp winner by Divock Origi
Jurgen Klopp could not hide his delight as Liverpool snatched all three points in the Merseryside derby with a last-gasp winner by Divock Origi
Liverpool boss Jurgen Klopp charged onto the Anfield pitch in celebration as Divock Origi scored a 96th-minute winner to secure a 1-0 win over Everton in the Merseyside derby.
Klopp embraced goalkeeper Alisson as Liverpool picked up three points in the sixth minute of injury time against their rivals, which moved them back within two points of Manchester City in the title race.
Everton had given the Reds a strong test and came close to scoring the opener before half-time but Yerry Mina and Andre Gomes both passed up fine opportunities.
Liverpool had chances to win the game themselves, with Sadio Mane and Xherdan Shaqiri among those who wasted good opportunities – but with the game appearing to be heading for stalemate, Origi's unorthadox winner sealed three points.
After the game, the Sky Sports pundits defended the outpouring of emotion from the German manager, whose side kept their 19-year unbeaten home run against Everton in tact.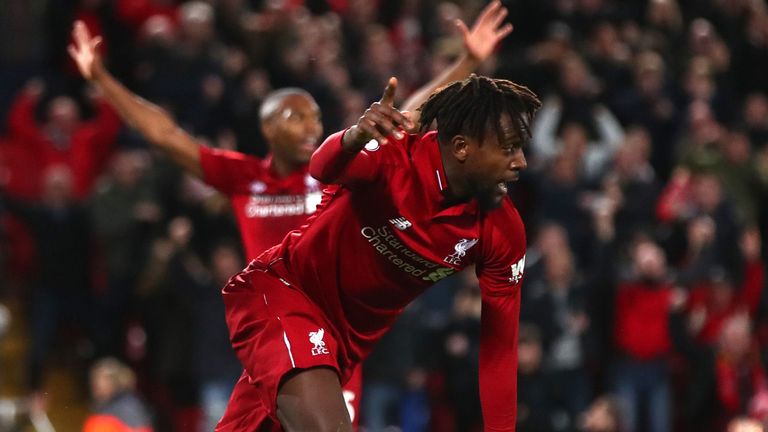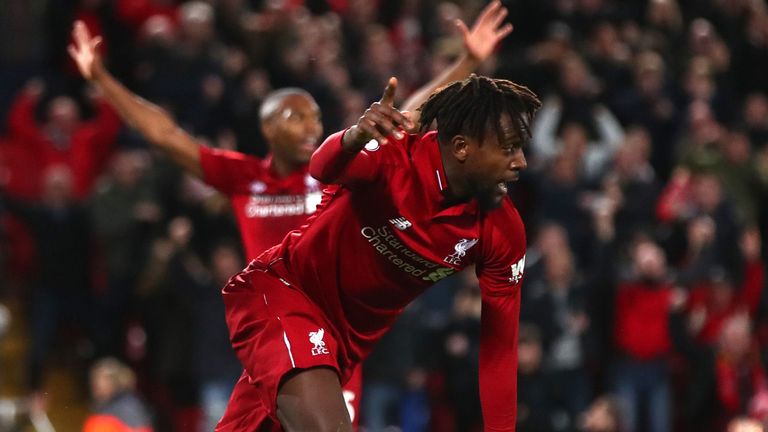 To watch Premier League action on your mobile now download the Football Score Centre on iPhone or Android
Former Liverpool player and manager Graeme Souness said: "That's how it gets you. Your head is in a different place and you want to share it with your players and he certainly did today.
"He'll be annoyed thinking they were going to draw, and then it's very strange circumstances so his head would have been in a different place. It's great he apologised. Emotion does strange things to you."
David Weir, who played in 13 Merseyside derbies as an Everton player, added: "There was a lot of emotion in the game. If Everton scored that goal in the fourth minute of added time, I'd expect our manager to be on the pitch too. That's fine.
"That's how it goes, and he thought the game was over so you can see his surprise."
Watch Klopp's 100-metre dash onto the pitch at Anfield and his jubilant celebrations in the video above.