Giannis Antetokounmpo is not going to be in the holiday spirit when the Milwaukee Bucks take on the New York Knicks on Christmas Day.
The Greek Freak says he will punch Mario Hezonja next time their paths cross after Hezonia stepped over him in the Bucks' 136-134 overtime defeat to the Knicks.
The disrespectful move was popularised by former MVP Allen Iverson, when he stepped over Tyronn Lue after flooring his opponent during game one of the 2001 Finals between the Philadelphia 76ers and Los Angeles Lakers.
Many have imitated Iverson since, but rarely has a player of Antetokounmpo's standing been on the receiving end.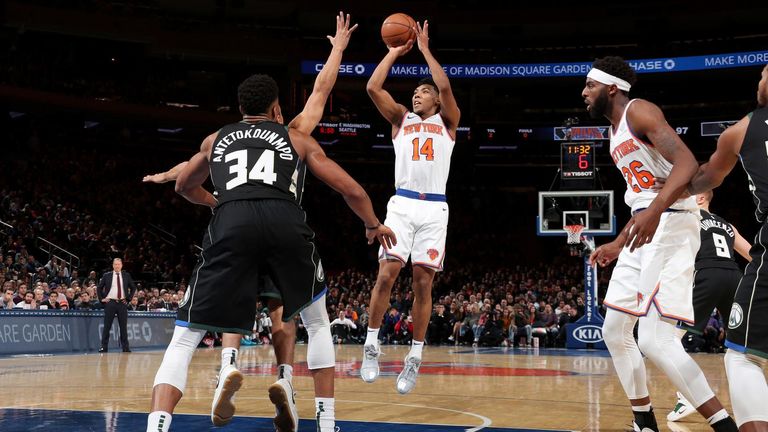 2:18
Highlights of the Milwaukee Bucks trip to face the New York Knicks.
Early in the first quarter of the game, Hezonia stole a pass and raced down the court on a solo fast break and Antetokounmpo could not quite pull off the chasedown block as Hezonia threw down a dunk.
There was plenty of contact but no foul called, with Antetokounmpo falling to the floor. As Antetokounmpo went to pick himself up, Hezonja purposefully stepped over his legs and stared down at him.
The Greek Freak came back with a vengeance. A few moments later, Giannis scored a ferocious dunk of his own as he went on to lead the Bucks with 33 points, 19 rebounds and seven assists.
After the game, he was asked if the move bothered him and Antetokounmpo was pretty direct in his response.
"Oh yeah, I'm going to punch him in the [groin] next time," he said.
Live NBA: Phoenix @ LA Lakers
Sunday 2nd December 8:30pm
The Bucks return to Madison Square Garden on Christmas Day.
Sky Sports is the new home of the NBA in the UK with live coverage throughout the week, including selected live games free to all Sky subscribers via Sky Sports Mix.
And www.skysports.com/nba will be your home for news, reports, video and features throughout the season while you can follow [email protected]