Toronto Raptors extended their red-hot form by beating Golden State Warriors 131-128 in overtime on Thursday night.
Thursday night's results
LA Lakers 104-96 Indiana Pacers
Sacramento Kings 121-133 LA Clippers
Toronto Raptors 131-128 Golden State Warriors (OT)
Warriors' Kevin Durant scored 51 in vain for the NBA champions, who succumbed to the Raptors' seventh consecutive win.
Kawhi Leonard (37) and Pascal Siakam (26) scored season-high totals to help the Raptors improve their league-leading record to 19-4.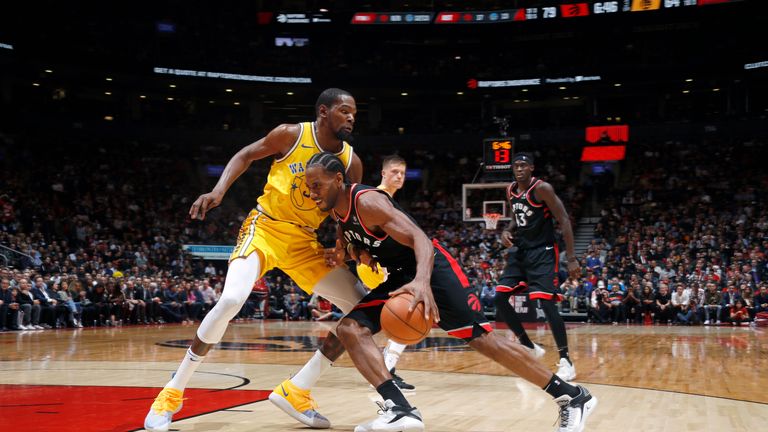 Image:
Durant defends Kawhi Leonard
"We were able to make shots, we were able to get some stops in overtime," Leonard said. "It's a building block for us, and I'm happy we got the win."
Warriors coach Steve Kerr added: "What a game. An incredible basketball game for the fans to watch. We came up just short."
The Warriors were again without Steph Curry, their star player, who was nursing a groin injury. He is expected to return on Saturday after missing 11 games while Draymond Green continues to sit out.
"Obviously we've been looking forward to getting him back but I'm proud of the way the guys have fought without him," Kerr said. "Hopefully Draymond won't be too far behind him."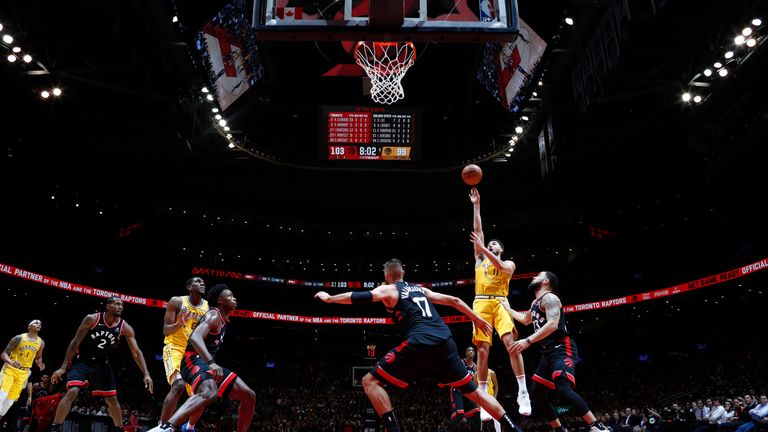 Image:
Warriors' Klay Thompson shoots the ball
Their absence was not felt too heavily because of the brilliance of Durant who, for the first time, scored 40 or more in a third consecutive game.
Trailing 119-113 with 8.6 seconds on the clock, it was Durant who scored back-to-back threes to force overtime.
"Tonight we were down early, we were down big and I just tried to be aggressive and go get a bucket," Durant said.
"When he's feeling it, there's not a whole lot the defense can do," Kerr said.
Sky Sports is the new home of the NBA in the UK with live coverage throughout the week, including selected live games free to all Sky subscribers via Sky Sports Mix.
And www.skysports.com/nba will be your home for news, reports, video and features throughout the season while you can follow [email protected]