Eastern Conference leaders the Toronto Raptors face arguably their biggest test to date as they host defending NBA champions the Golden State Warriors, live on Sky Sports Arena in the early hours of Friday morning (1am).
The Raptors (18-4) own the NBA's best record and have won their last six games, four of which came away from home. Four of those six victories came by double-figure winning margins. Last time out, they produced a fourth-quarter rally to dispatch the over-achieving Memphis Grizzlies.
Live NBA: Golden State Warriors @ Toronto
Friday 30th November 1:00am
Toronto boast a deep roster stacked with two-way players – led by Kawhi Leonard, Kyle Lowry and the blossoming Pascal Siakam – and that balance between offense and defense is reflected in their numbers. The Raptors are one of three teams (the Milwaukee Bucks and the Denver Nuggets are the others) to rank in the league's top 10 for both offensive (avg points scored per 100 possessions) and defensive (avg points allowed per 100 possessions) rating.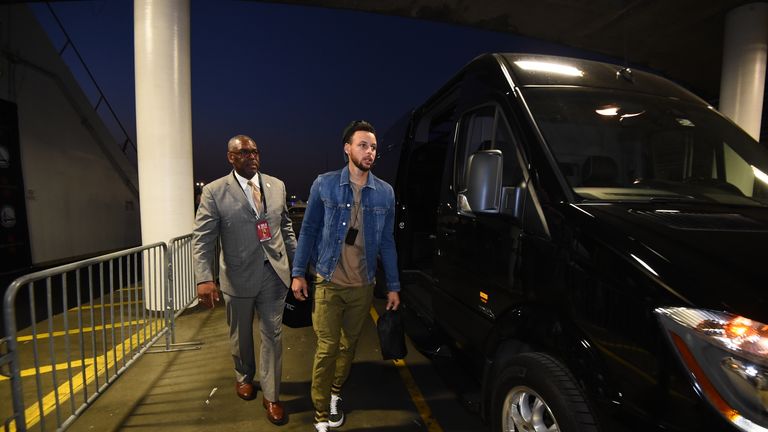 Image:
Stephen Curry is close to returning after suffering a groin injury
The opening quarter of the season has not been as smooth for the Golden State Warriors (15-7). The defending champions opened with 12 wins in the first 14 games but the loss of Stephen Curry to a groin strain triggered a run of four straight defeats. Forward Draymond Green also missed games through injury.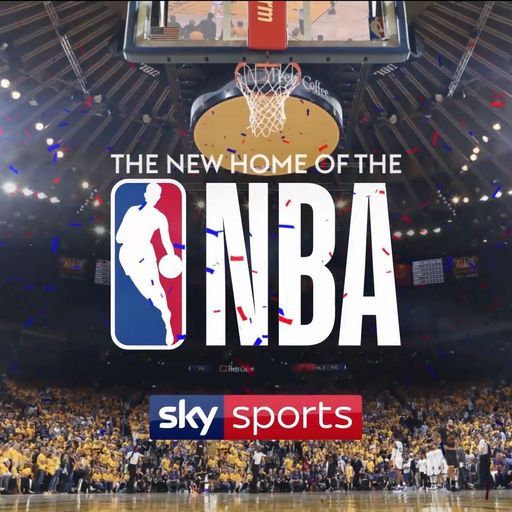 Get NBA news on your phone
Want the latest NBA news, features and highlights on your phone? Find out more
Three wins in their last three games – victories achieved thanks to heavy-duty scoring from Kevin Durant and Klay Thompson – have got the wobbling Warriors back on track and, even with Curry's return delayed (he trained on Monday and will play on Saturday against the Detroit Pistons), Golden State have more than enough talent to test the rampant Raptors to the limit.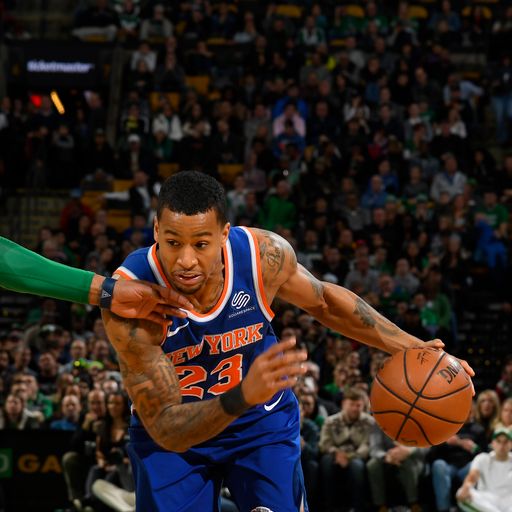 Bucks @ Knicks free live stream
Watch the Bucks take on the Knicks via our free live stream on Saturday at 10pm
Key Battle: Andre Iguodala vs Kawhi Leonard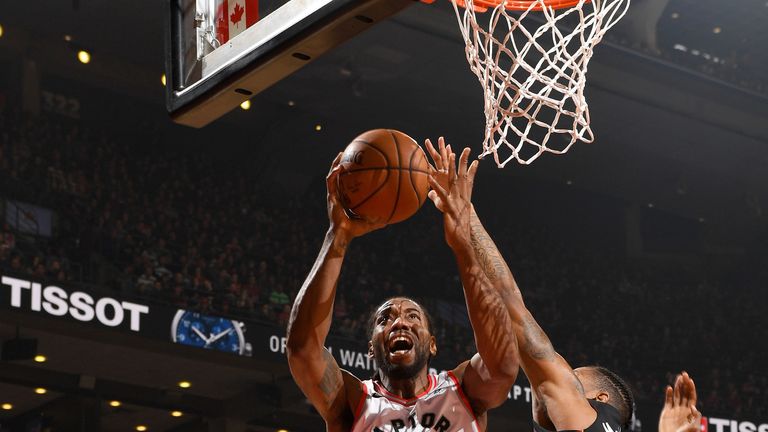 Image:
Kawhi Leonard attacks the rim against Miami
With Draymond Green out injured, it will fall to veteran small forward Andre Iguodala to handle Raptors' star Kawhi Leonard.
In his prime, Iguodala was one of the league's elite two-way players, possessing the strength and athleticism to score at the rim and lock down opposition attackers on the defensive end.
Leonard is arguably the league's best two-way player today, impacting games at both ends of the court. Igoudala will relish the opportunity to measure himself against the Raptors' star man.
Last time out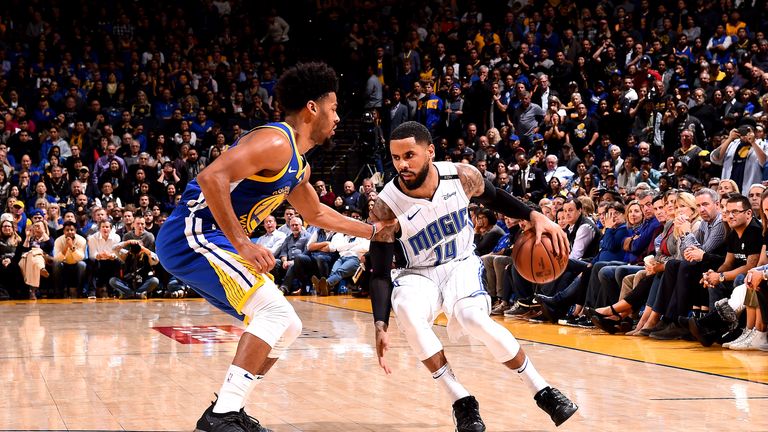 2:31
Highlights of the Golden State Warriors' 116-110 win over the Orlando Magic
1:42
Highlights of the Toronto Raptors' 122-114 road win over the Memphis Grizzlies
Numbers game
10.3 – That's the difference in the Warriors' offensive rating (avg points scored per 100 possessions) in games Curry has played this season (118.8) compared to the games he has missed (108.5).
Curry's sharpshooting paces the Warriors but his presence also makes his team-mates' shooting better – his elite distribution gets them easier shots.
Draymond Green, who has missed eight of the Warriors' last 10 games, acknowledged as much, telling the San Francisco Chronicle: "Steph isn't just a big part of our system, he is the system".
One to watch (Raptors): Pascal Siakam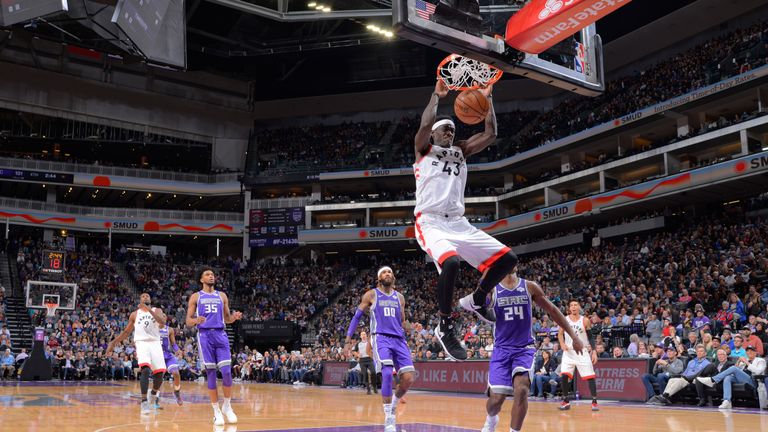 Image:
Pascal Siakam dunks on the Sacramento Kings
Third-year pro Siakam already has an Eastern Conference Player of the Week award to his name this season and is making the transition from promising young player to breakout star.
Siakam has established himself as a starter this season and his excellent defense complements his efficient offensive output. He is posting career-best averages in minutes, points, rebounds and field goal percentage and, playing alongside Leonard, has the perfect role model to help him take his game forward this season.
One to watch (Warriors): Klay Thompson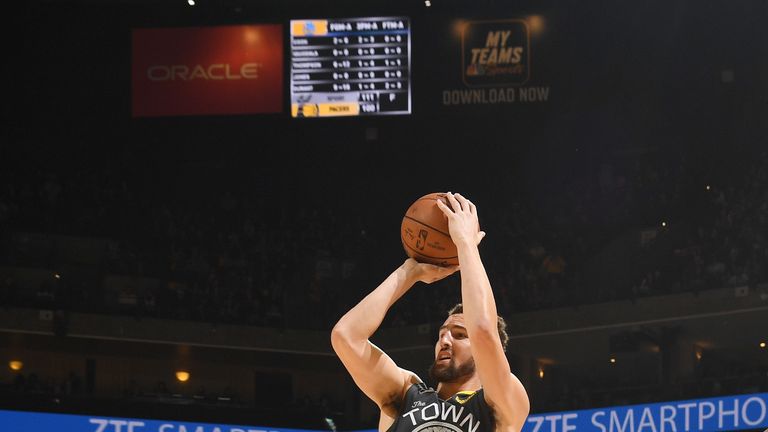 Image:
Klay Thompson shoots a jump shot against Portland
Golden State's unassuming shooting guard has shown the ability to win games singlehandedly with his three-point prowess throughout his career.
Although Thompson has yet to find consistency from beyond the arc this season, his 52-point, 14-three-pointer blitz against the Chicago Bulls served notice that he can find his touch at any time. When he does, it is spectacular.
Thompson has scored 29, 31 and 31 points in the Warriors last three games. If Curry is unable to suit up against the Raptors, a vintage Klay display may be required for the Warriors to get the win.
Thursday night's games
Golden State Warriors @ Toronto Raptors, 1am, live on Sky Sports Arena
Indiana Pacers @ Los Angeles Lakers, 3:30am
Los Angeles Clippers @ Sacramento Kings, 3:30am
Sky Sports is the new home of the NBA in the UK with live coverage throughout the week, including selected live games free to all Sky subscribers via Sky Sports Mix.
And www.skysports.com/nba will be your home for news, reports, video and features throughout the season while you can follow us @SkySportsNBA