Giannis Antetokounmpo scored a season-high 36 points as the Milwaukee Bucks battled to a 116-113 win over the Chicago Bulls.
Wednesday night's results
Chicago Bulls 113-116 Milwaukee Bucks
New York Knicks 91-117 Philadelphia 76ers
San Antonio Spurs 89-128 Minnesota Timberwolves
Atlanta Hawks 94-108 Charlotte Hornets
Utah Jazz 101-91 Brooklyn Nets
Dallas Mavericks 128-108 Houston Rockets
Washington Wizards 104-125 New Orleans Pelicans
Cleveland Cavaliers 83-100 Oklahoma City Thunder
Orlando Magic 112-115 Portland Trail Blazers
Phoenix Suns 99-115 Los Angeles Clippers
Chicago Bulls 113-116 Milwaukee Bucks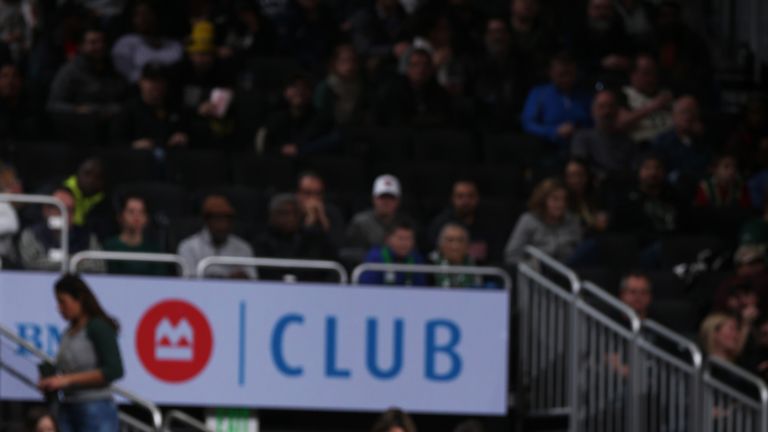 1:48
Highlights of the Chicago Bulls' clash with the Milwaukee Bucks in Week 7 of the NBA
Khris Middleton's three-point shot from the top of the key with 5.2 seconds remaining lifted the Milwaukee Bucks past the visiting Chicago Bulls 116-113 on Wednesday night.
Justin Holiday had a clean look from 27 feet to tie the game, but his shot bounced high off the rim and tumbled into Malcolm Brogdon's arms to seal the Bucks' win.
Giannis Antetokounmpo had put the Bucks up 113-111 with a pair of free throws with 36 seconds left but Zach LaVine's lay-up set the stage for Middleton's heroics.
Antetokounmpo finished with a season-high 36 points, 11 rebounds and eight assists for Milwaukee.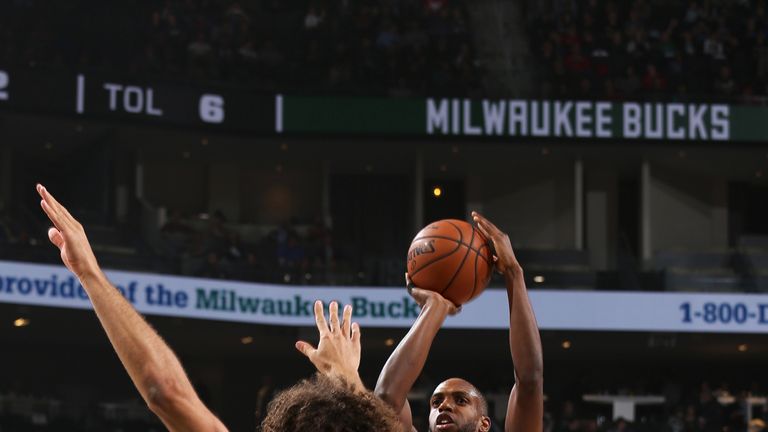 Image:
Khris Middleton shoots over Robin Lopez
Brogdon went 5-for-5 from 3-point range in the third quarter and finished with 24 points, making all six of his three-point tries in the game. Middleton added 17 points, including going 3-for-6 from beyond the arc as the Bucks improved to 11-2 at their new home, Fiserv Forum.
Zach LaVine and Jabari Parker led the Bulls with 24 points each. Lavine also contributed nine rebounds and seven assists while Parker, the former first-round pick of the Bucks, added eight rebounds and five assists.
There were 14 lead changes and the game was tied 13 times.
New York Knicks 91-117 Philadelphia 76ers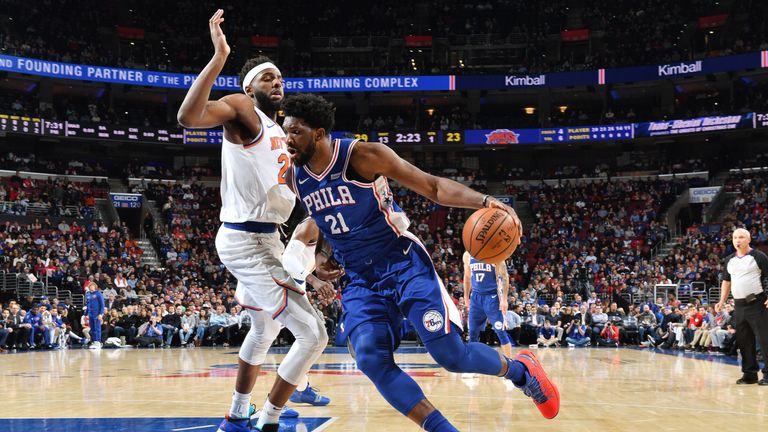 1:38
Highlights of the New York Knicks' visit to the Philadelphia 76ers in Week 7 of the NBA
Joel Embiid had 26 points, 14 rebounds and seven assists as the Philadelphia 76ers crushed the visiting New York Knicks 117-91.
Embiid secured his league-best 21st double-double. In addition, he put together his 18th game with at least 20 points and 10 rebounds.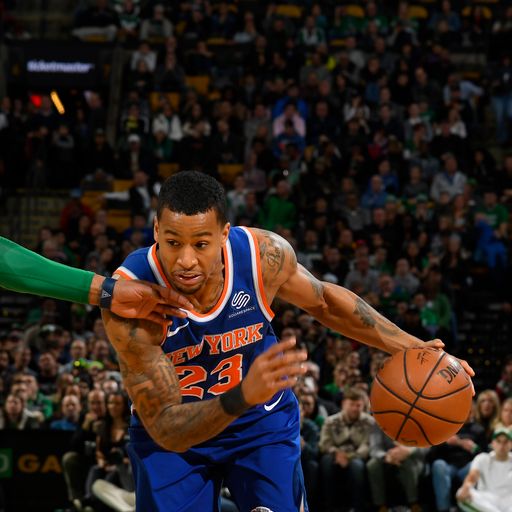 Bucks @ Knicks free live stream
Watch the Bucks take on the Knicks via our free live stream on Saturday at 10pm
JJ Redick added 24 points on 10-of-14 shooting while Ben Simmons contributed 14 points, eight rebounds and seven assists for Philadelphia as the Sixers won their second in a row.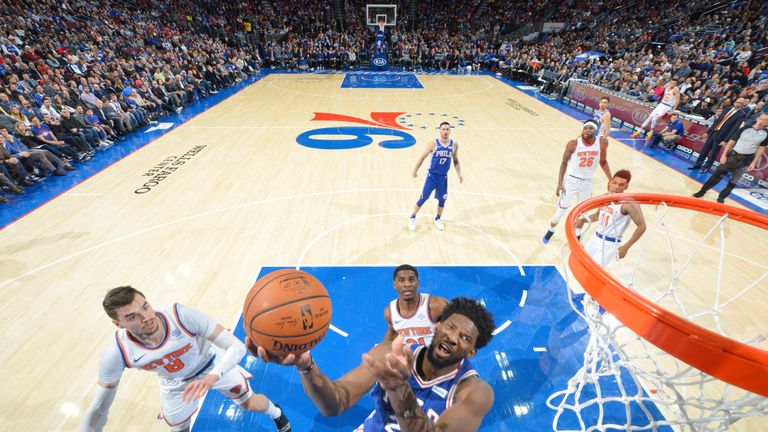 Image:
Joel Embiid swoops to score against the New York Knicks
The Sixers also improved to 11-1 at home while posting their sixth victory in seven games.
Enes Kanter produced 17 points and six rebounds for the Knicks, and Mario Hezonja also had 17 points.
The Knicks have lost five consecutive games to the Sixers.
San Antonio Spurs 89-128 Minnesota Timberwolves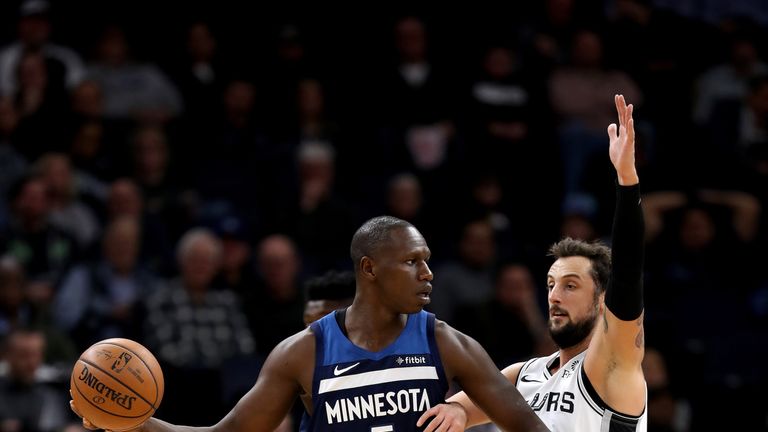 1:27
Highlights of the San Antonio Spurs' trip to the Minnesota Timberwolves in Week 7 of the NBA
Robert Covington scored 21 points in three quarters of action to lead a balanced offense that saw seven Minnesota players score in double figures as the Timberwolves routed the visiting San Antonio Spurs 128-89.
Minnesota took charge of the game in the second period when they outscored the Spurs 29-9 and turned a three-point lead after the first quarter into a 23-point advantage at half-time.
The Timberwolves kept the pedal to the metal in the third quarter, after which they led 91-58, and cruised to the win with both teams' starters on the bench for the final period.
The Timberwolves are 7-2 in their past nine games since Jimmy Butler was traded to the 76ers for Covington and Dario Saric.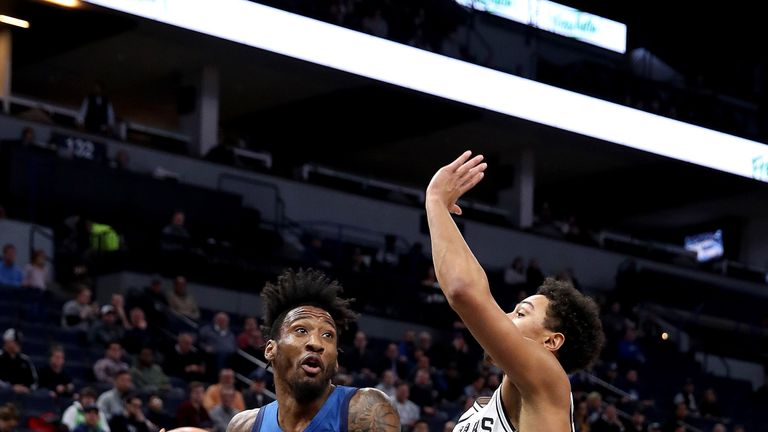 Image:
Robert Covington attacks the basket against San Antonio
Meanwhile, the Spurs continue to struggle. They are 4-9 in their past 13 games and are below .500 for the third time this season. It's the first time San Antonio are below the break-even mark through 21 games since the 2003-04 campaign.
Karl-Anthony Towns added 16 points and 11 rebounds for the Timberwolves, with Derrick Rose hitting for 16 points.
San Antonio was led by Jakob Poeltl's 14 points off the bench while Quincy Pondexter added 13 points. LaMarcus Aldridge and DeMar DeRozan scored 10 points each for the Spurs.
Atlanta Hawks 94-108 Charlotte Hornets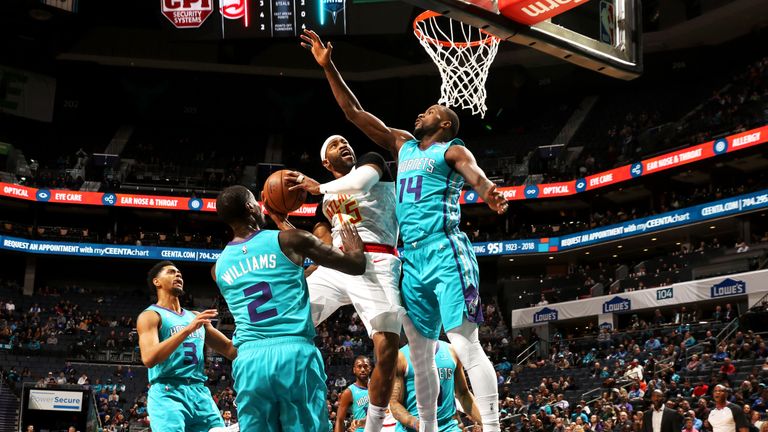 1:47
Highlights of the Atlanta Hawks' trip to the Charlotte Hornets in Week 7 of the NBA
Jeremy Lamb scored 22 points as the Charlotte Hornets turned up the defense to roll to an easy 108-94 victory over the visiting Atlanta Hawks.
The Hornets gained a measure of revenge after losing to the Hawks 124-123 in Atlanta on Sunday night.
Charlotte held the Hawks, who were playing on the second night of a back-to-back after winning in Miami on Tuesday, to just 34.4 per cent from the field.
The Hornets were a season-low 4-of-20 from three-point range, but made up for it by going to the free-throw line 37 times and making 28. Lamb was 9-for-9 from the line.
The Hornets also got 19 points each from Kemba Walker and Cody Zeller, and Nicolas Batum scored 13. They lost Malik Monk to a quad injury in the second quarter.
Trae Young led the Hawks with 18 points. Taurean Prince and Kevin Huerter scored 12 each.
The Hornets have now won two straight, while the Hawks had a two-game winning streak snapped. Oddly, the Hornets have not won more than two straight or lost more than two straight this season.
Utah Jazz 101-91 Brooklyn Nets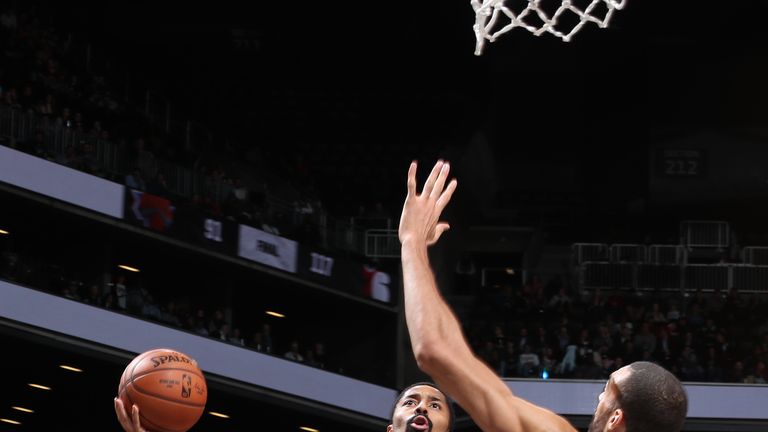 1:47
Highlights of the Utah Jazz's visit to the Brooklyn Nets in Week 7 of the NBA
Donovan Mitchell scored 14 of his 29 points in the fourth quarter, including the go-ahead layup with 3:42 remaining, as the road-weary Utah Jazz overcame some early sluggishness and recorded a 101-91 victory over the host Brooklyn Nets.
Playing in a different time zone for the third time in four games, the Jazz won for the third time in their last nine games thanks to Mitchell, who returned after missing two games with a rib contusion and made 12 of 24 shots.
Mitchell put Utah ahead 88-87 when he banked in a right-handed layup off the glass after getting by D'Angelo Russell with 3:42 left.
He then hit a floater and a three-pointer to put Utah ahead 93-89 with 2:37 remaining.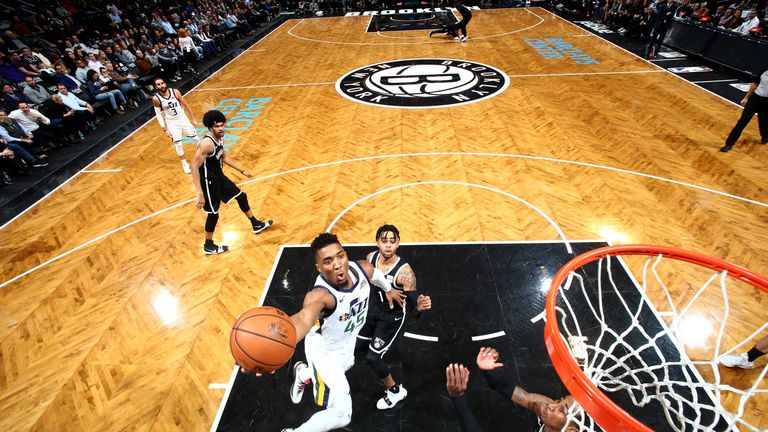 Image:
Donovan Mitchell attacks the rim against Brooklyn
With about a minute left, the Jazz expanded their lead to 97-91 on a dunk by Rudy Gobert and finished off the win when Mitchell banked in a jumper with 34 seconds left.
Gobert posted his 19th double-double by adding 23 and 16 rebounds as Utah outscored the Nets 31-13 in the final 12 minutes.
Dallas Mavericks 128-108 Houston Rockets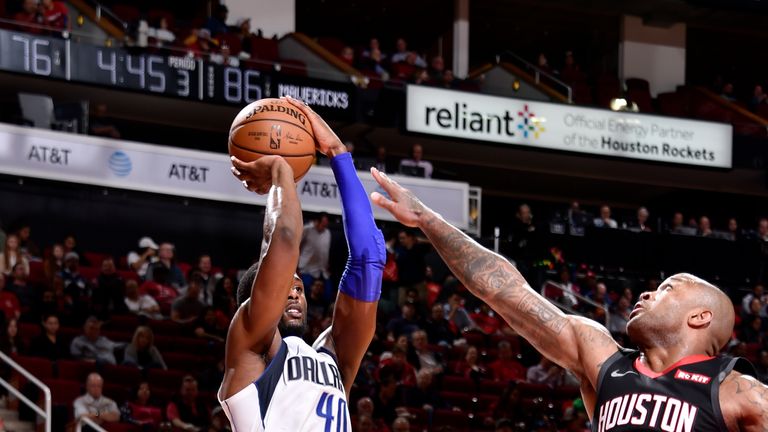 1:42
Highlights of the Dallas Mavericks' clash with the Houston Rockets in Week 7 of the NBA
Reserve guards JJ Barea and Devin Harris played the role of co-closers and supported a balanced attack from the starters as the visiting Dallas Mavericks won for just the second time on the road by throttling the shorthanded Houston Rockets 128-108.
Harris scored 15 of his 20 points in the fourth quarter while Barea posted a double-double of 13 points and 12 assists in just 18 minutes. The Rockets trailed by as many as 23 points before cutting the deficit to five points late in the third quarter only for Barea and Harris to apply the knockout blow.
Houston dropped their fourth consecutive game following a five-game win streak.
Before Barea and Harris finished off the Rockets, Mavericks rookie forward Luke Doncic and the four remaining starters helped craft that insurmountable lead. Doncic posted 20 points on 6-of-11 shooting plus six rebounds while center DeAndre Jordan added 13 points and seven boards.
James Harden produced his first triple-double on the season with 25 points, 11 rebounds and a career-high-tying 17 assists. Harden also nabbed six steals but posted eight turnovers in 37 minutes as the Rockets again played without guard Chris Paul and swingman Gerald Green.
Washington Wizards 104-125 New Orleans Pelicans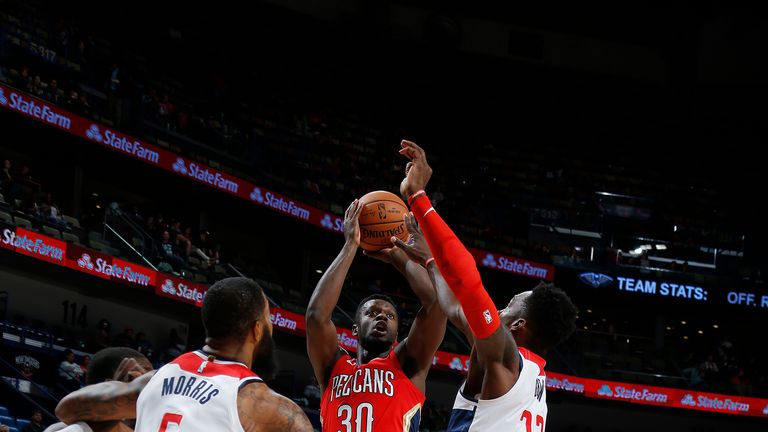 1:09
Highlights of Washington Wizards' trip to the New Orleans Pelicans in Week 7 of the NBA
Jrue Holiday had 29 points to lead six New Orleans scorers in double figures as the host Pelicans ended a four-game losing streak by beating the Washington Wizards 125-104 on Wednesday night.
Anthony Davis added 28 points and 15 rebounds while point guard Tim Frazier, whose insertion into the starting lineup allowed Holiday to return to his natural shooting guard position, also had a double-double, finishing with 12 points and 12 assists.
Holiday had struggled while playing point guard in the absence of starter Elfrid Payton, who is sidelined due to finger surgery that is expected to keep him out for another month.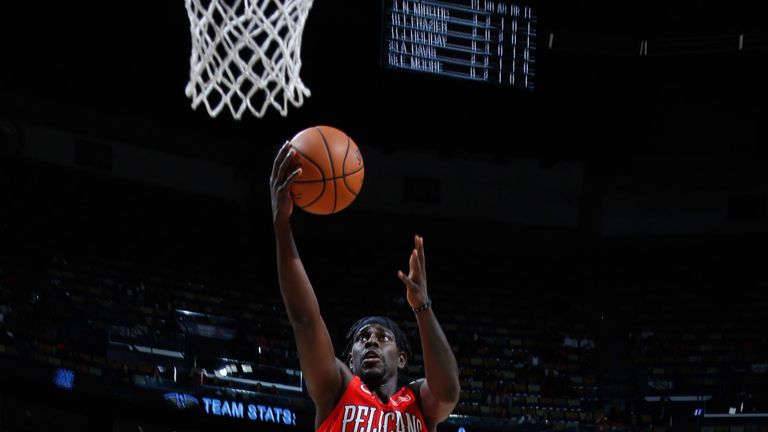 Image:
Jrue Holiday scores with a lay-up against Washington
Julius Randle came off the New Orleans bench to add 23 points and 12 rebounds, Nikola Mirotic had 15 points and nine boards, and E'Twaun Moore added 10 points.
Kelly Oubre Jr and Markieff Morris scored 22 each, and John Wall added 17 for Washington, who had won three of their previous four games. Bradley Beal contributed 16 points and 11 assists, and Jeff Green came off the bench to score 10.
Cleveland Cavaliers 83-100 Oklahoma City Thunder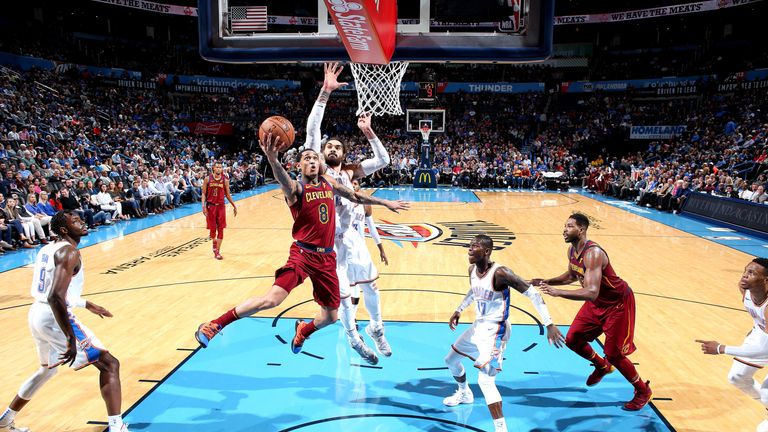 1:47
Highlights of the Cleveland Cavaliers' trip to the Oklahoma City Thunder in Week 7 of the NBA
Russell Westbrook had his 107th career triple-double, leading the Oklahoma City Thunder to a 100-83 victory over the visiting Cleveland Cavaliers.
Westbrook had 23 points, 19 rebounds and 15 assists. Jerami Grant added 21 points – one off a career high – for the Thunder while Paul George added 18.
Westbrook had the triple-double wrapped up in the third quarter. The career feat tied Jason Kidd for third in NBA history in the category behind Oscar Robertson (181) and Magic Johnson (138).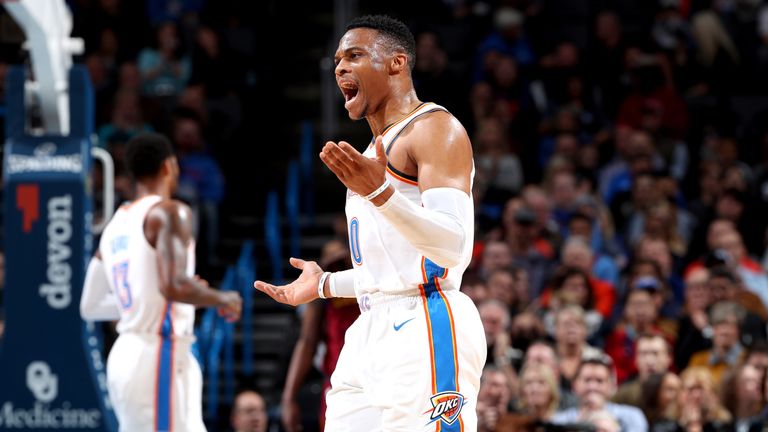 Image:
Russell Westbrook appeals to the officials
Oklahoma City locked in on defense in the second half, holding Cleveland to just 15 third-quarter points while taking command thanks to a 13-0 run as they built a lead of 11.
Grant added four blocks, part of the Thunder's season-high 11.
The Thunder have won 13 of their last 16 games.
Orlando Magic 112-115 Portland Trail Blazers
Damian Lillard scored 41 points and set a franchise record for three-point shots made in a game as the Portland Trail Blazers held off the visiting Orlando Magic 115-112.
Lillard was 10-for-15 from beyond the arc and also grabbed eight rebounds as the Trail Blazers snapped a three-game losing streak. Nik Stauskas scored 18 points off the bench and Jusuf Nurkic finished with 16 points and 13 rebounds for Portland.
Nikola Vucevic tallied 20 points, eight rebounds and seven assists for the Magic, while Evan Fournier added 17 points in the loss.
Lillard, who finished 13-for-22 from the field, broke the record of nine 3-pointers made. He had co-held the record with Nicolas Batum.
The Magic led 74-63 early in the third quarter, but Lillard knocked down three consecutive treys as the Blazers drew even at 78-78. Portland went ahead 95-84 when Lillard hit his sixth three-pointer of the quarter and his 10th of the game with 33.9 seconds to go heading into the final 12 minutes.
Portland increased the lead to 108-98 on an Evan Turner putback with 5:16 to play. But Orlando responded with 10 straight points to tie it at 108-108 with 2:57 to go.
CJ McCollum drained a three to give Portland a 111-108 lead, but Fournier answered with a long jumper to cut it to 111-110 with 2:23 remaining.
Neither team scored again until Lillard converted a runner for a 113-110 lead with 55.7 seconds left. Lillard made only 2 of 4 free throws to make it 115-110 with 21.0 seconds to go.
Orlando's Jonathan Simmons scored on a drive with 6.7 seconds left to close the gap to 115-112. Turner missed two free throws with 5.7 seconds to go, but the Magic failed to get off a shot in the closing seconds.
Phoenix Suns 99-115 Los Angeles Clippers
Danilo Gallinari scored 28 points and grabbed 10 rebounds while Lou Williams added 20 points as the Los Angeles Clippers delivered a strong third quarter and cruised to a 115-99 victory over the visiting Phoenix Suns in their first game this season as Western Conference leaders.
The Clippers moved into the top spot in the West after a comeback victory at Portland on Sunday but looked sluggish while struggling to a 49-49 half-time tie against the last-place Suns.
Los Angeles outscored Phoenix 40-25 in the third quarter, behind 12 points from Gallinari. The Clippers won their third consecutive game, earned their eighth victory in the last nine games and improved to 9-1 at home.
Devin Booker scored 23 points and Elie Okobo added 19 for the Suns, who lost their third consecutive game and fell for the sixth time in their last seven games.
Clippers forward Tobias Harris, the reigning Western Conference player of the week, scored 18 points and grabbed 10 rebounds.
Sky Sports is the new home of the NBA in the UK with live coverage throughout the week, including selected live games free to all Sky subscribers via Sky Sports Mix.
And www.skysports.com/nba will be your home for news, reports, video and features throughout the season while you can follow us @SkySportsNBA